While the average hours nationals spend each week with family and friends in-person and online fell across the Arab region since 2017, the drop among Qataris is stark; Qataris spent 43 hours each week in 2017 in-person with family compared to 11 hours in 2019, a 75% decrease. Nationals in other countries also registered a significant but less dramatic decrease: from an average of 32 hours per week in 2017 to 25 hours in 2019.
---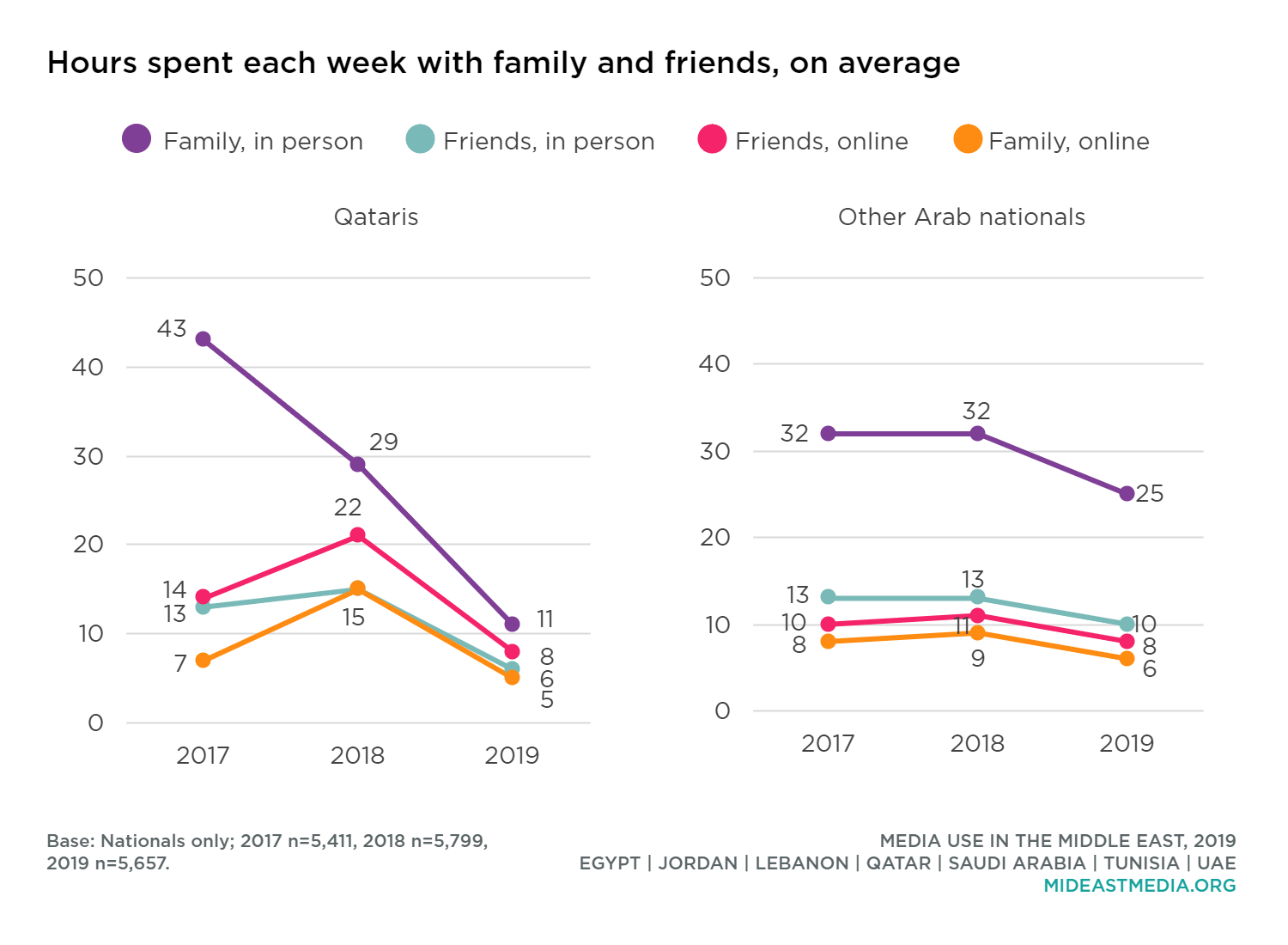 ---
Also declining is the share of Qataris who exercise or play sports each week—down by nearly half in the past year, from 58% to 30%. The UAE and Tunisia saw similar decreases in weekly physical exercise since 2018. Exercising increased in Egypt.
---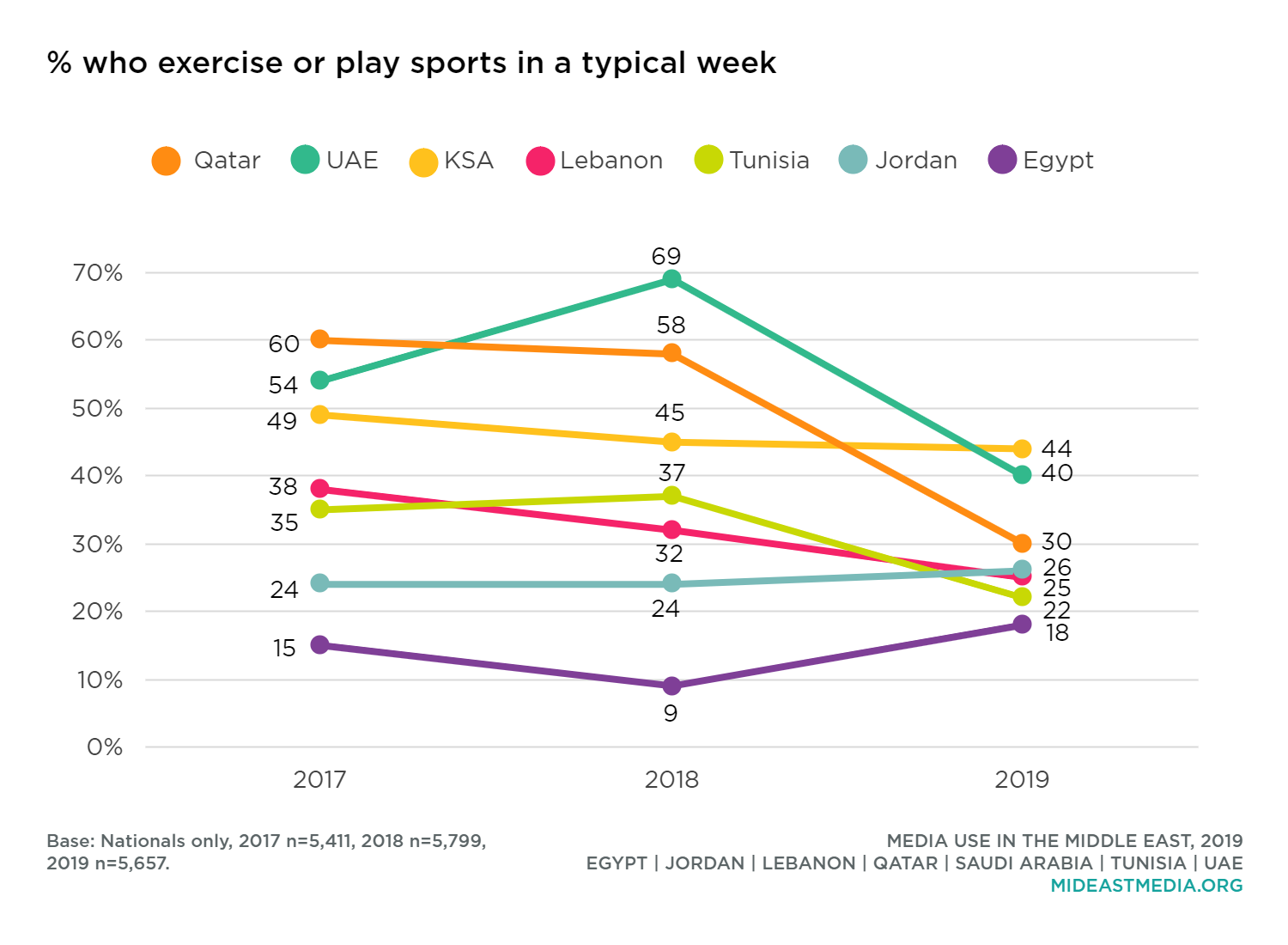 ---
Only among Qatari nationals did the average amount of time spent online each week drop. Qataris say they spend 24 hours per week online (compared to 48 hours in 2017), which is the least amount of time spent online among the countries. In contrast, Emiratis say they spend an average of 10 more hours each week online compared to 2017.
---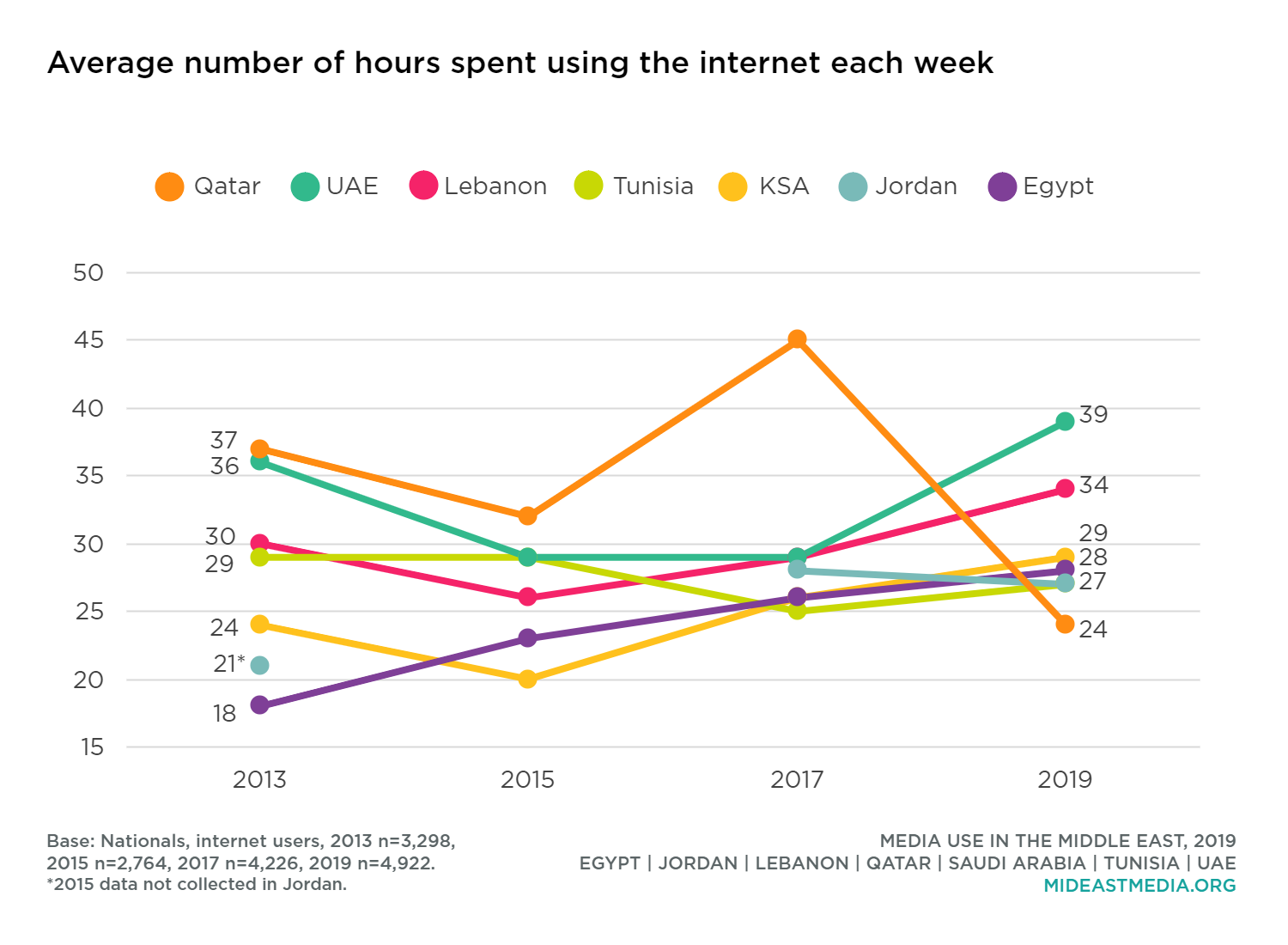 ---
Similarly, the number of Qataris who say they get or send direct messages at least once a day is down from nearly three-quarters in 2017 to just over half in 2019. Daily messaging also declined in Saudi Arabia and Tunisia, while it increased dramatically in Egypt since 2017, consistent with an increase in internet penetration in that country.
---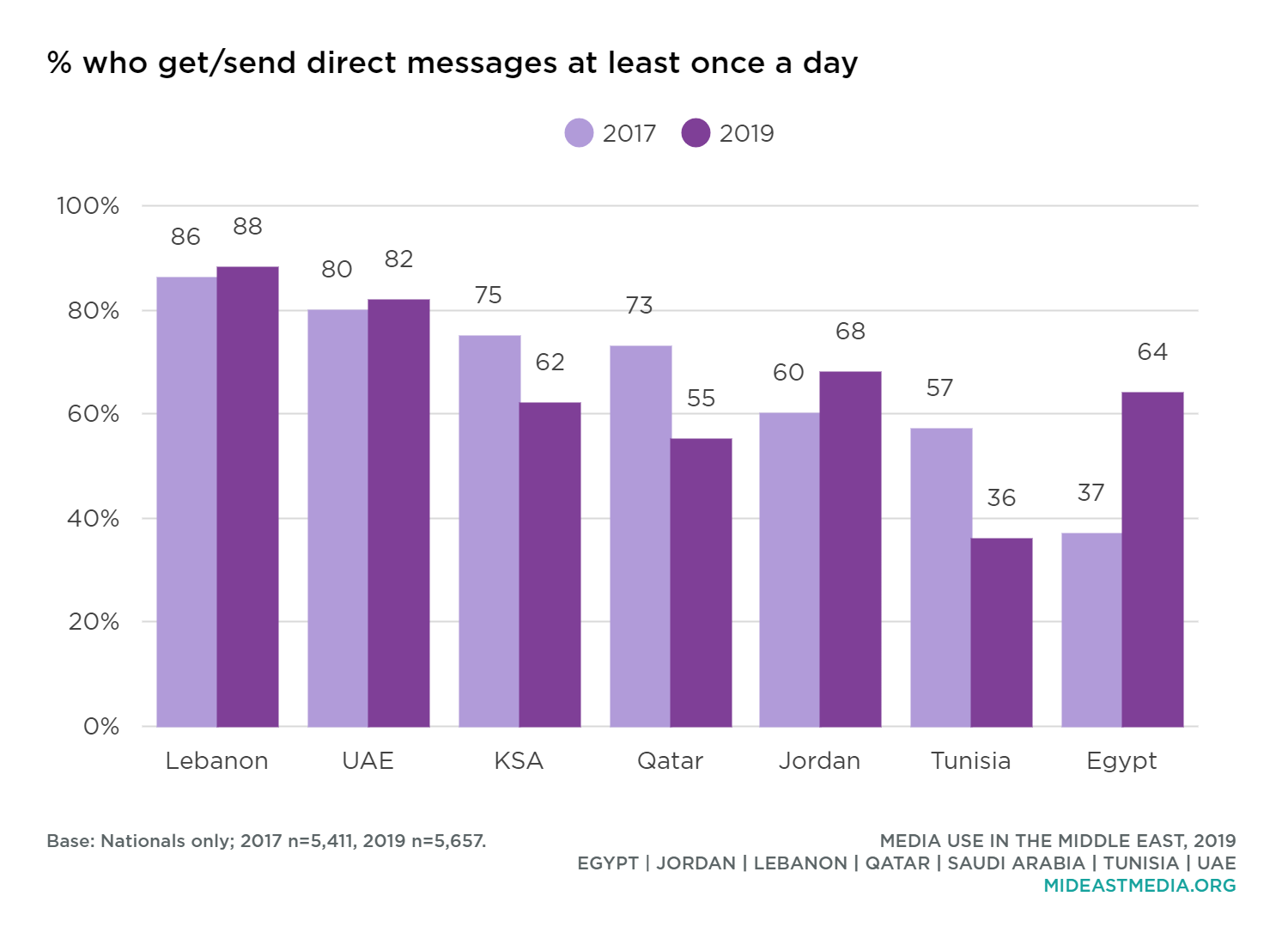 ---
Use of several social media platforms is low and/or has been declining in Qatar. WhatsApp remains, by far, the most popular platform, still used by seven in 10 Qataris but down 16 percentage points since 2017. No more than one-third of Qataris in 2019 say they use Snapchat, Instagram, Facebook, or Twitter. Facebook has had a resurgence in Qatar, used by 30% of Qataris, up from 9% just since 2018.
---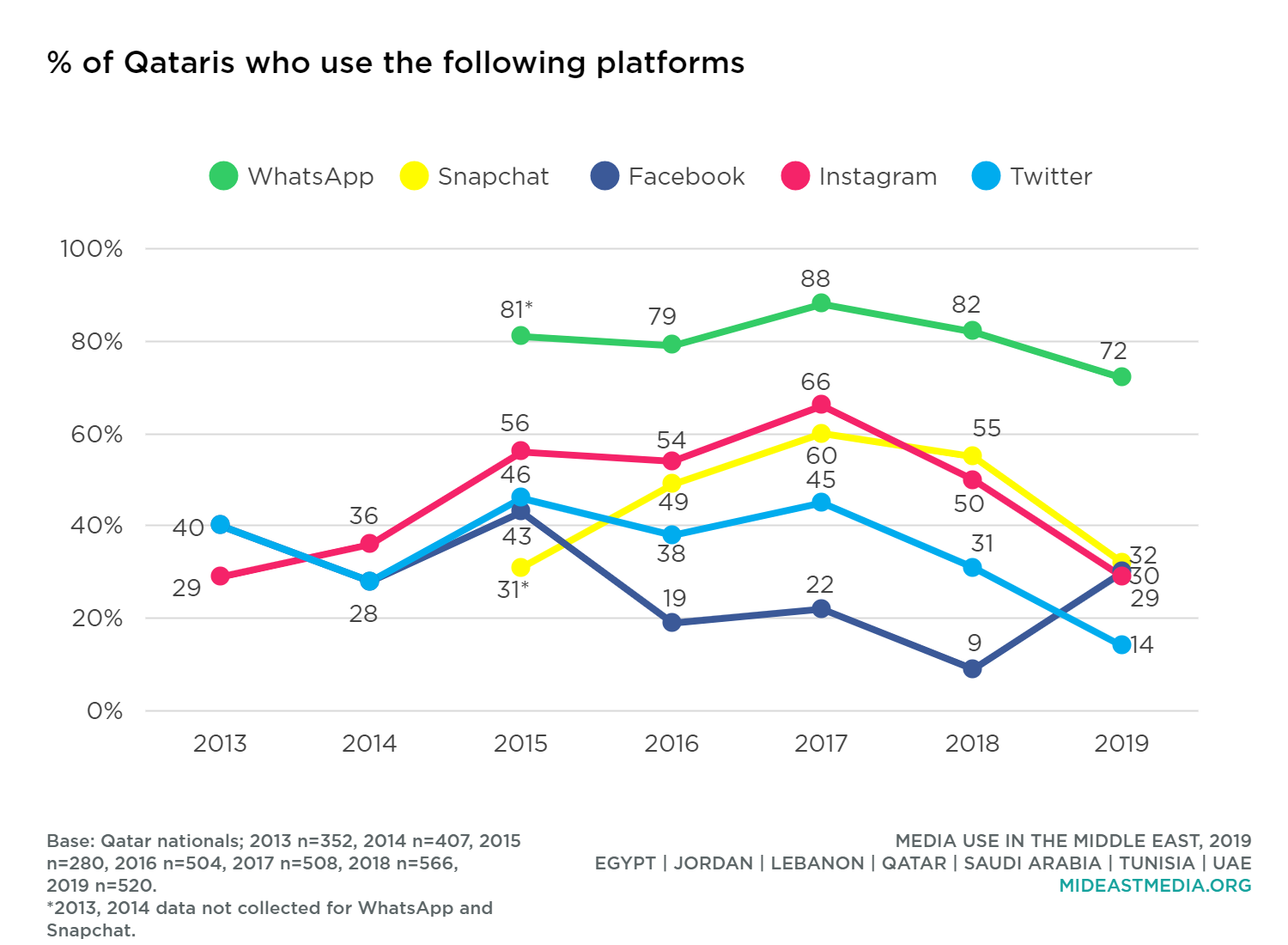 ---
In Qatar, Instagram is the preferred platform of both nationals and non-nationals to follow social media influencers. Qatari nationals, though, are more likely than non-nationals in the country to follow social media influencers on both Instagram and Facebook. Non-nationals in the UAE, though, follow social media influencers at higher rates than any other national or non-national group in the Gulf countries.
---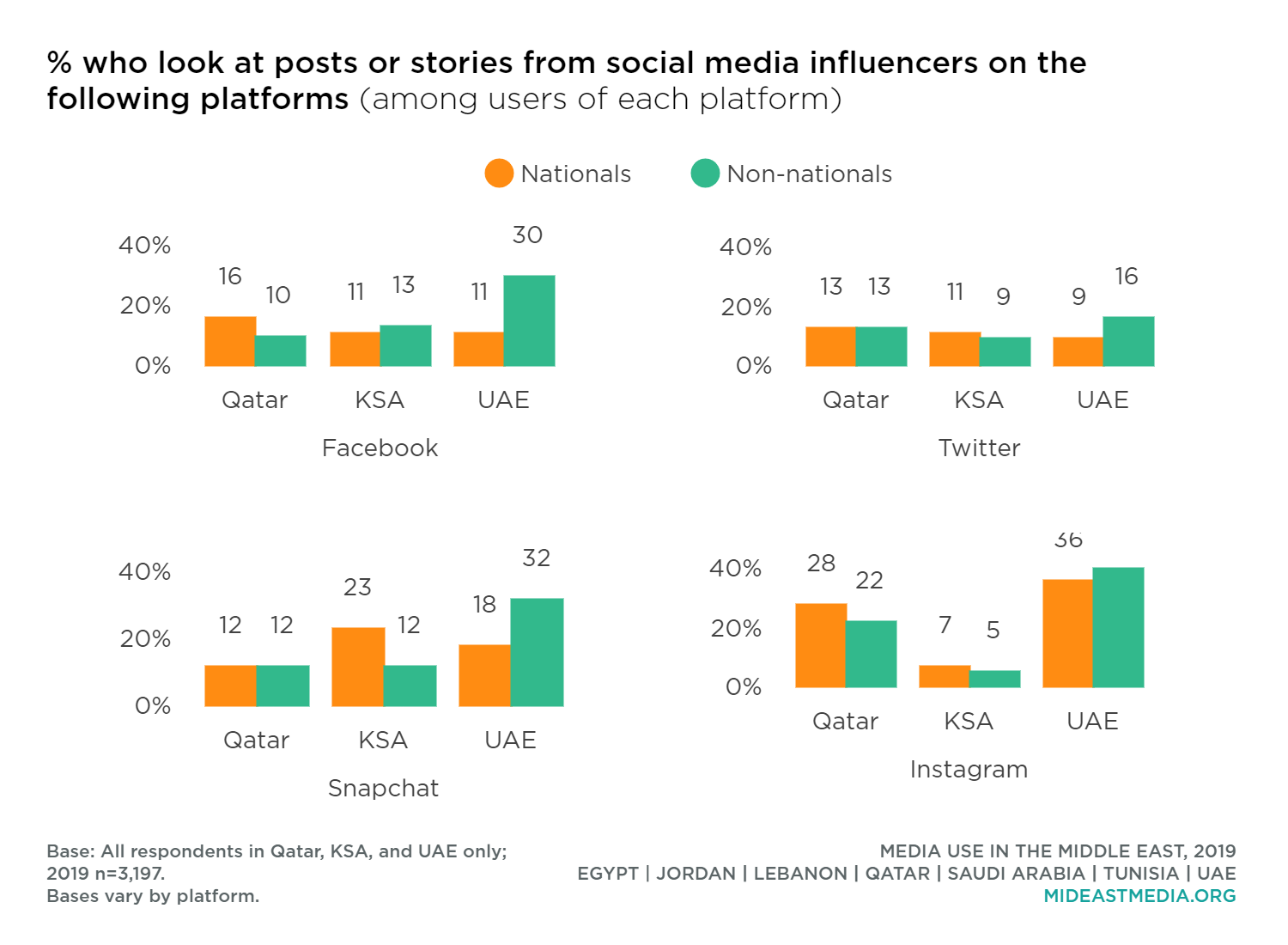 ---
In 2015, Qataris, more than other nationals said people benefit from getting news from foreign media organizations, but in 2019 Qataris are the nationals least likely to agree with that statement, perhaps because Qatar has been confronted by fake news assaults from Saudi Arabia, the UAE, Egypt, and other countries. Fewer than three in 10 Qataris in 2019 believe people benefit from foreign news, in contrast to four in 10 or more in all other countries.
---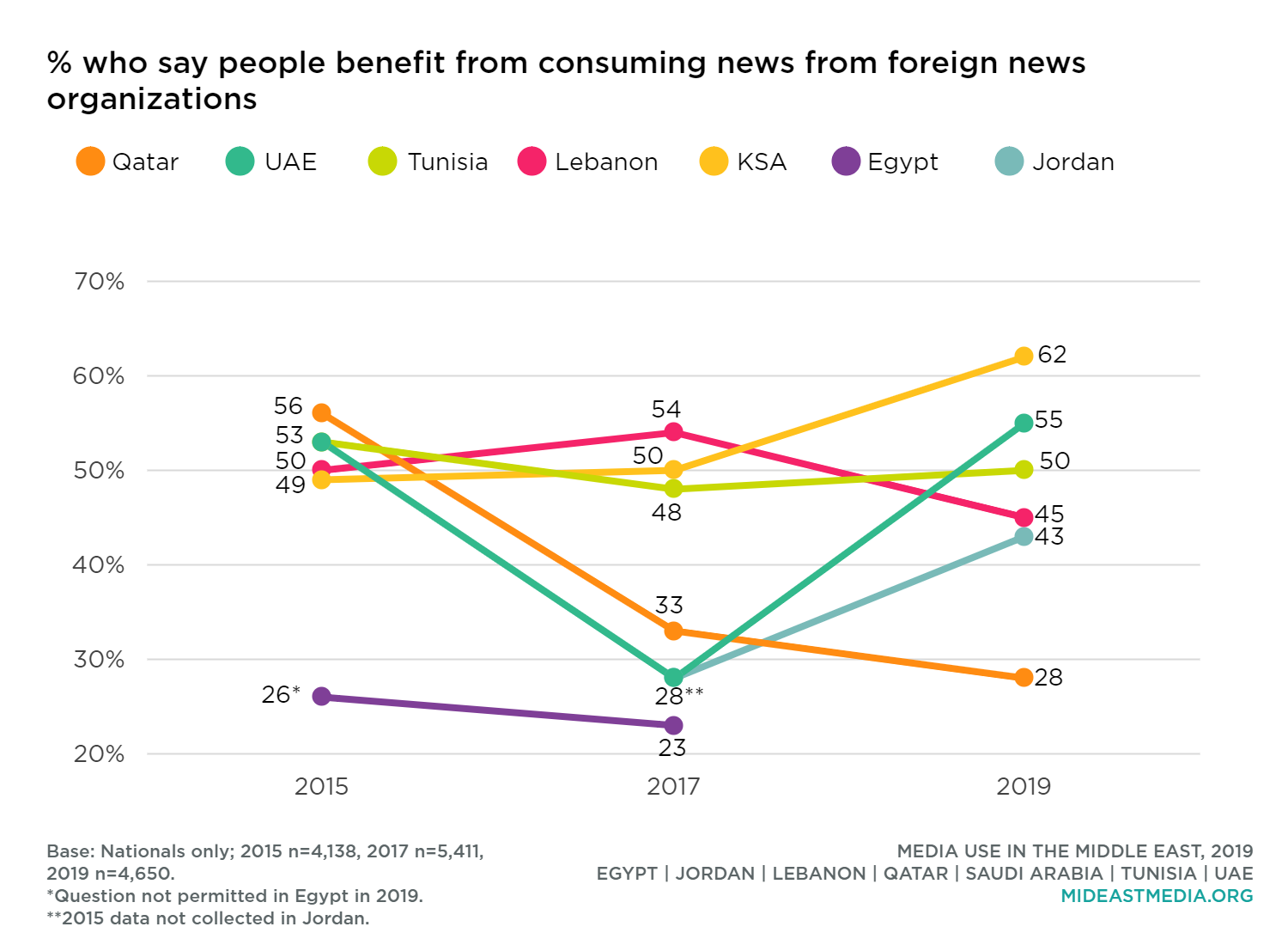 ---
As in previous years, Qataris are less likely than other nationals to worry about governments or companies checking their online behavior; both are at less than half the rates among other Arab nationals.
---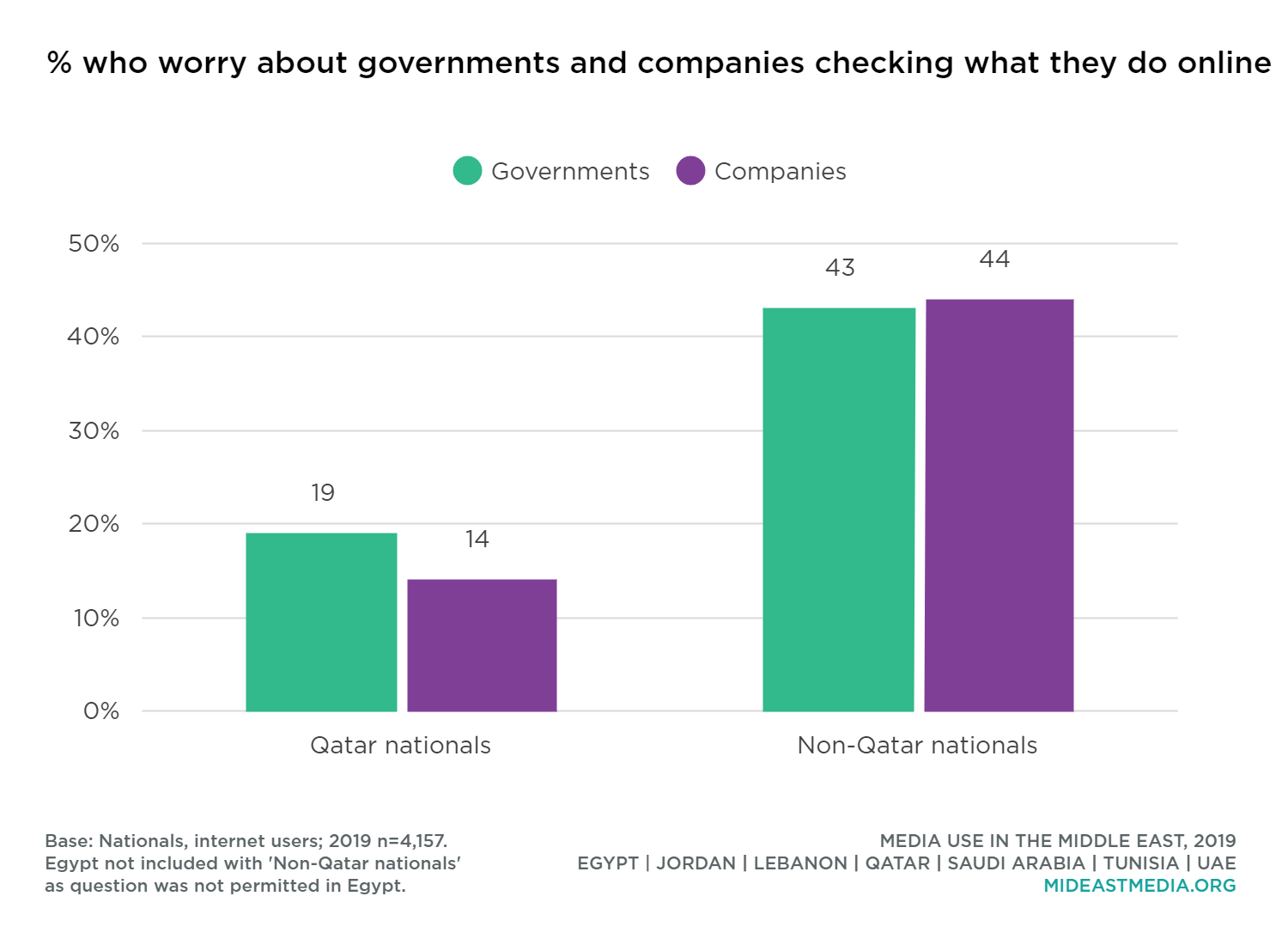 ---
Only about three in 10 Qataris favor tighter internet regulation in their country, in stark contrast to majorities in the other countries who want more internet regulation; the one exception is the UAE, where the proportion is roughly the same as in Qatar.
---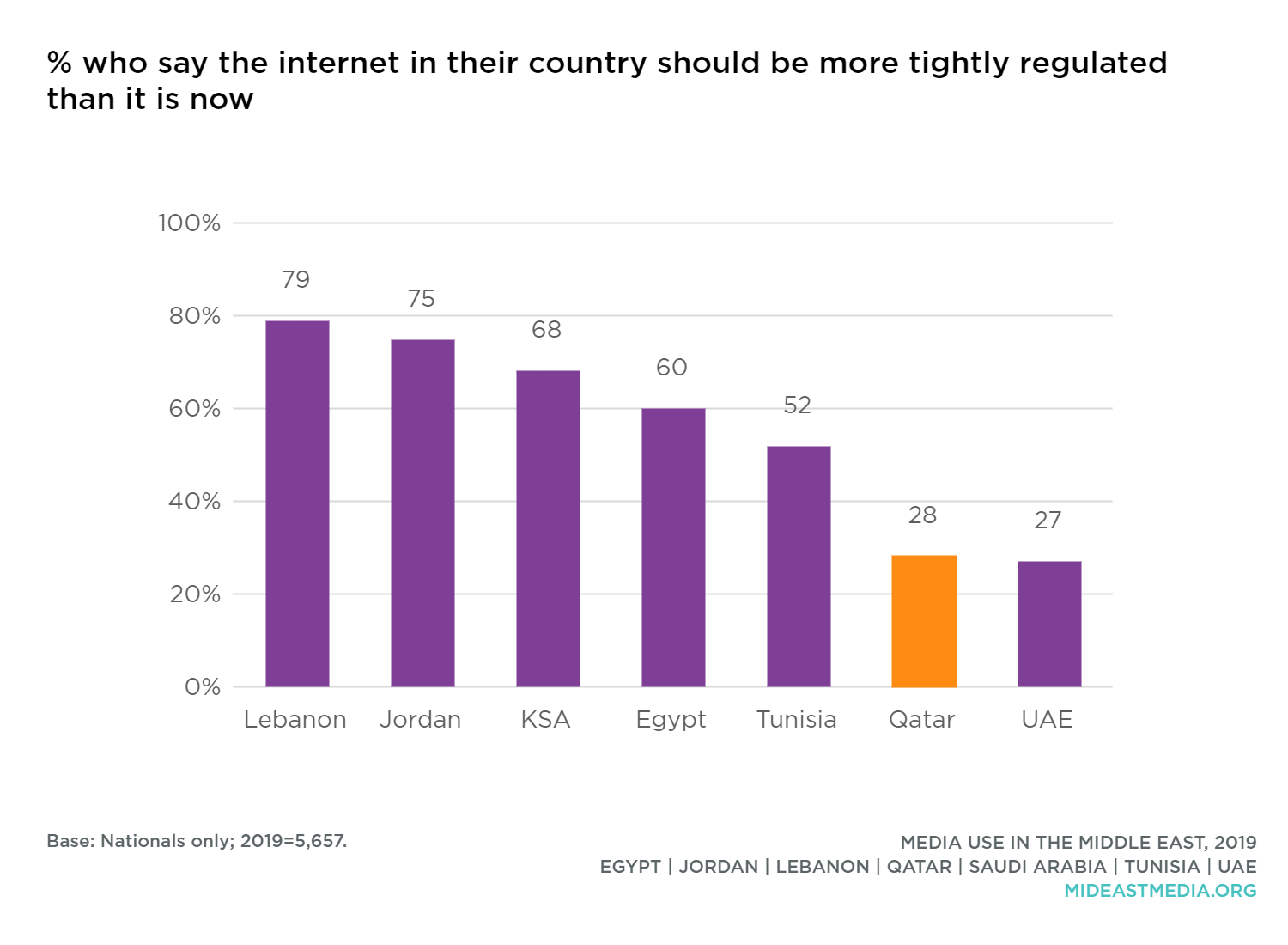 ---
Qataris are far less likely to favor regulation of online political or cultural content than nationals in any other country, about half the rates among Emiratis and Saudis, and the gap is even greater compared to Jordanians and Lebanese.
---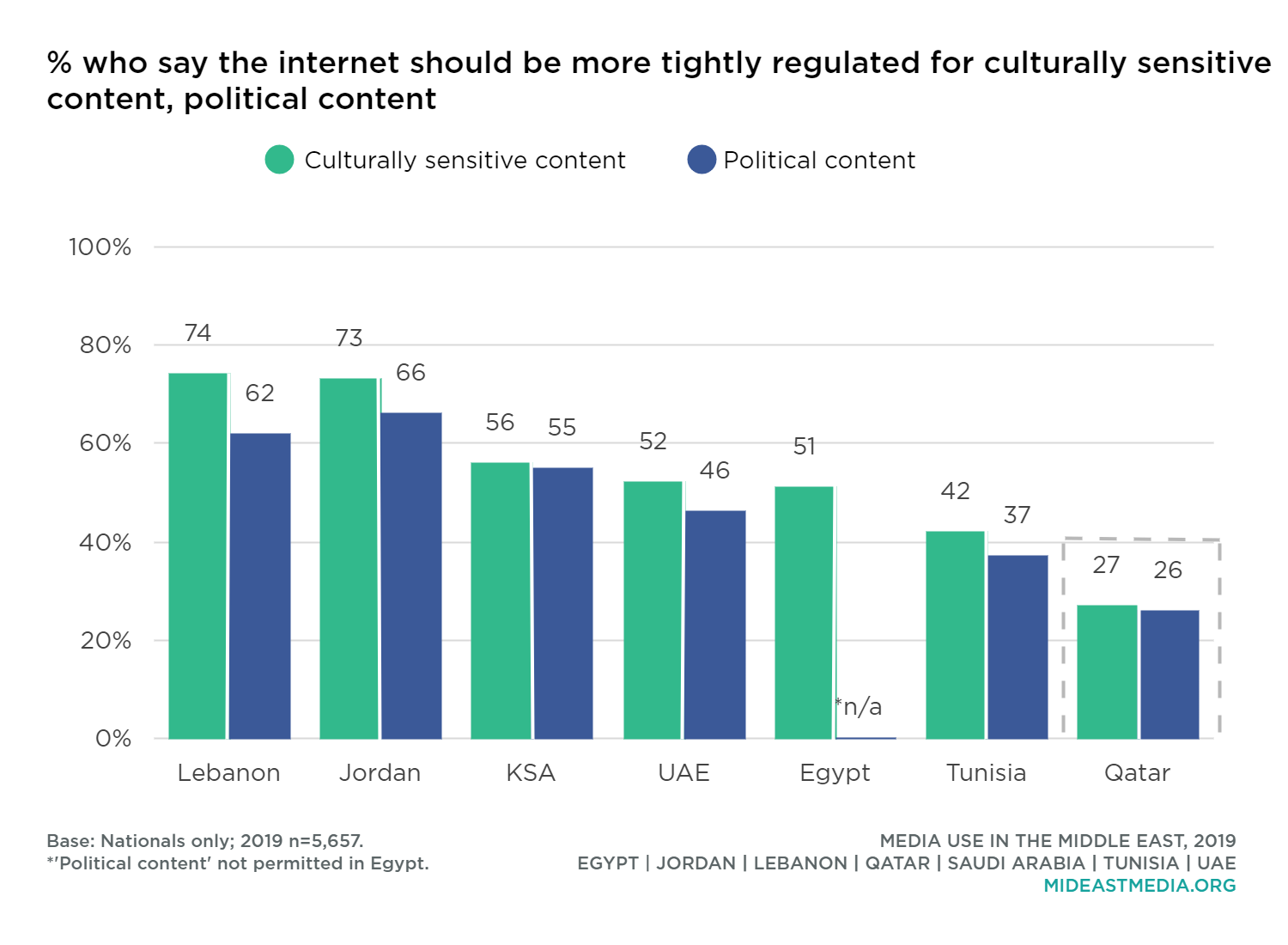 ---