Compared to 2014, TV remains the primary source of news for most nationals, and newspaper readership is declining. The internet is an important news source across the region, especially among the young and more highly educated. Egypt is a notable exception, as consuming news—both on TV and online—dropped significantly among Egyptians in the past two years. This decrease could mean that following news is less critical due to increasing political stability since the most recent regime change in 2013.
Newspaper readership dropped across the region between 2014 and 2016. Overall readership fell seven percentage points (54% vs. 47%), and daily newspaper readership decreased by four percentage points (17% vs. 13%). Reading newspapers in general is most common among Emiratis and Saudis (81% and 66%). Qataris still report the highest rates of daily newspaper readership, despite a significant drop from 2014 (47% in 2014 vs. 32% 2016).
Most national internet users check news online (84%) and four in 10 check news daily. The share of internet users accessing news online daily ranges from 30% in Lebanon and the UAE to 52% in Tunisia. Nationals overall are twice as likely to read news online every day as read newspapers daily (29% vs. 13%).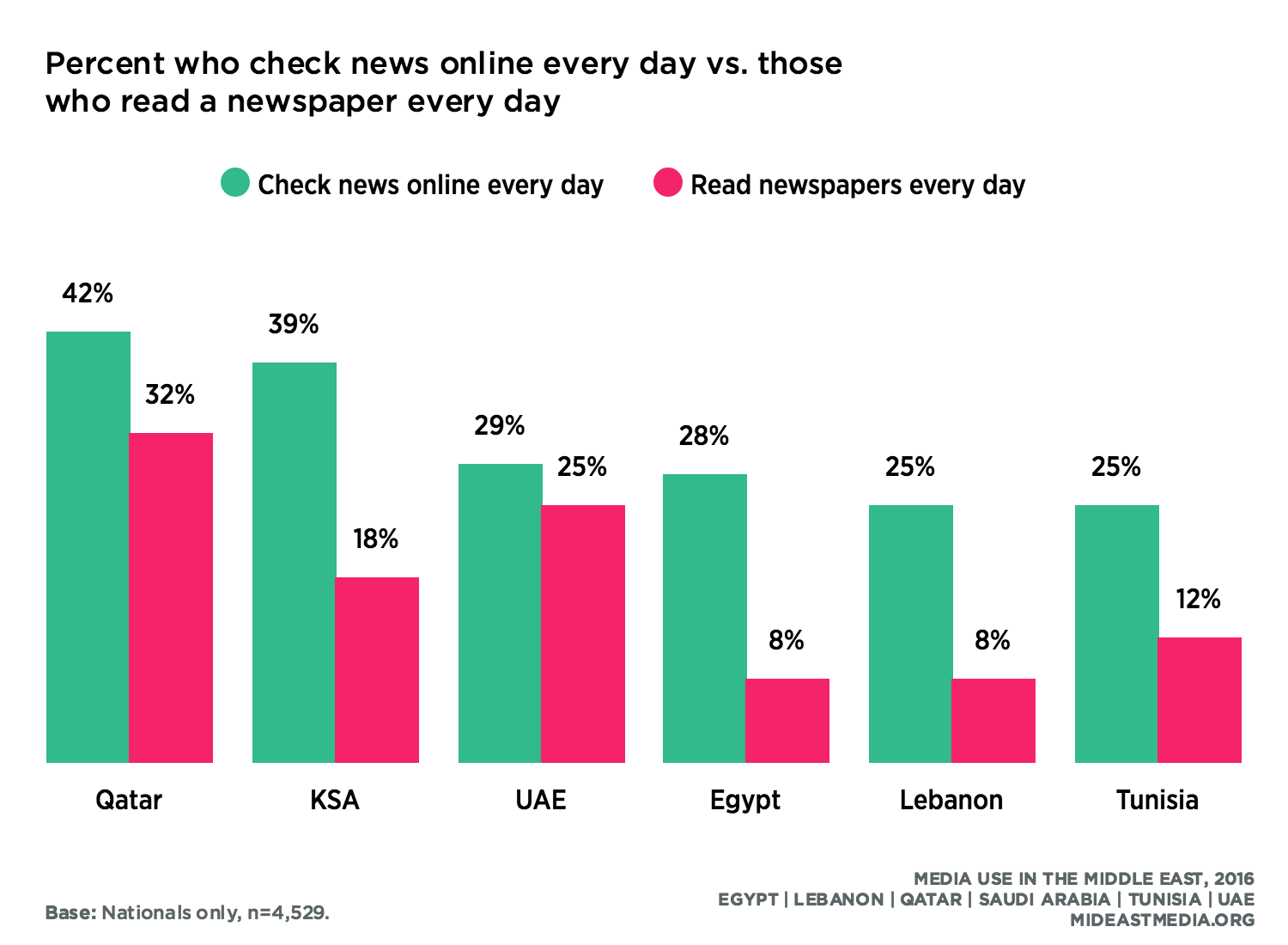 More men than women read newspapers in all countries, except in Tunisia and the UAE. Newspaper readership declined among both men and women in Lebanon and the Gulf states; readership among Egyptian and Tunisian women remained relatively stable at just over one-third in each country.
Among internet users, more men than women consume news online. The biggest gender gaps are in Lebanon and Qatar where more men than women read online news by 12 (Lebanon) and 10 (Qatar) percentage points. Egypt is the exception, where approximately 90% of both men and women check news online. Relatively equal portions of men and women read news online daily in Tunisia, Saudi Arabia, and the UAE.
The percentage of internet users checking news online rises from 60% among those with a primary education to 76% for intermediate, 82% for secondary, and up to 88% among the university-educated. Similarly, the percentage of people reading newspapers rises from 17% at the primary level to 36% for intermediate, 49% for secondary, and 60% for those with a university or higher education. Reading online news daily is more common than reading newspapers daily, but both increase significantly with a secondary and a university education.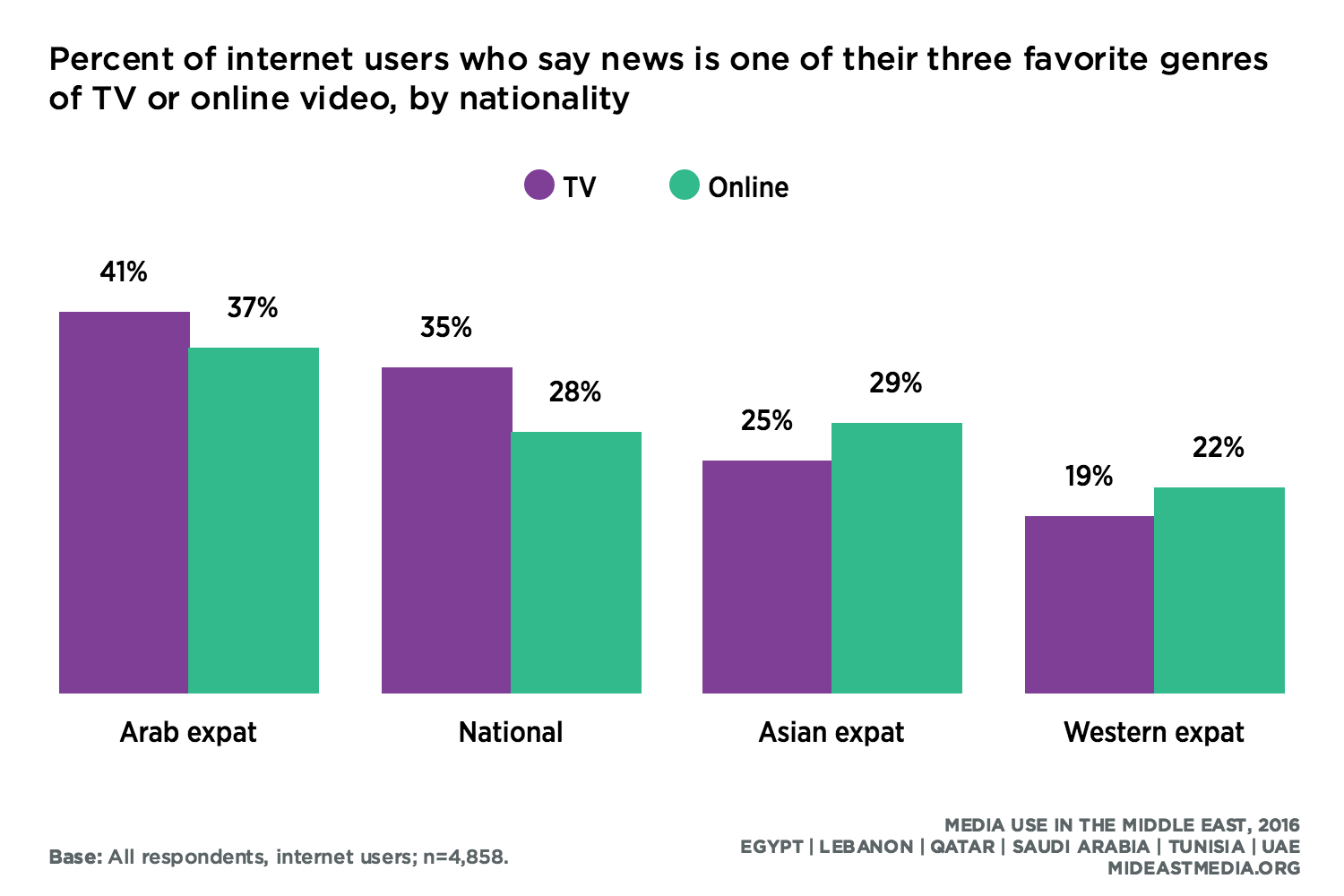 Television is the most common news platform across all nationals (84%), with Qatar the only exception, where online news is preferred over TV (56% online vs. 40% TV). Emiratis are the most diversified news consumers, broadly accessing TV, radio, and online formats (55% TV, 50% radio, 45% online).
Younger adults are more likely than older adults to access news online. Over half of nationals under 35 years old access news online, compared to 20% of those 45 years and older. Most of the oldest nationals (45+) access news on TV, far more than get news from the radio or from the internet (91% TV, 31% radio, 20% internet). One in four respondents 18 to 24 years old accesses news on the radio, only modestly lower than radio news penetration for older respondents.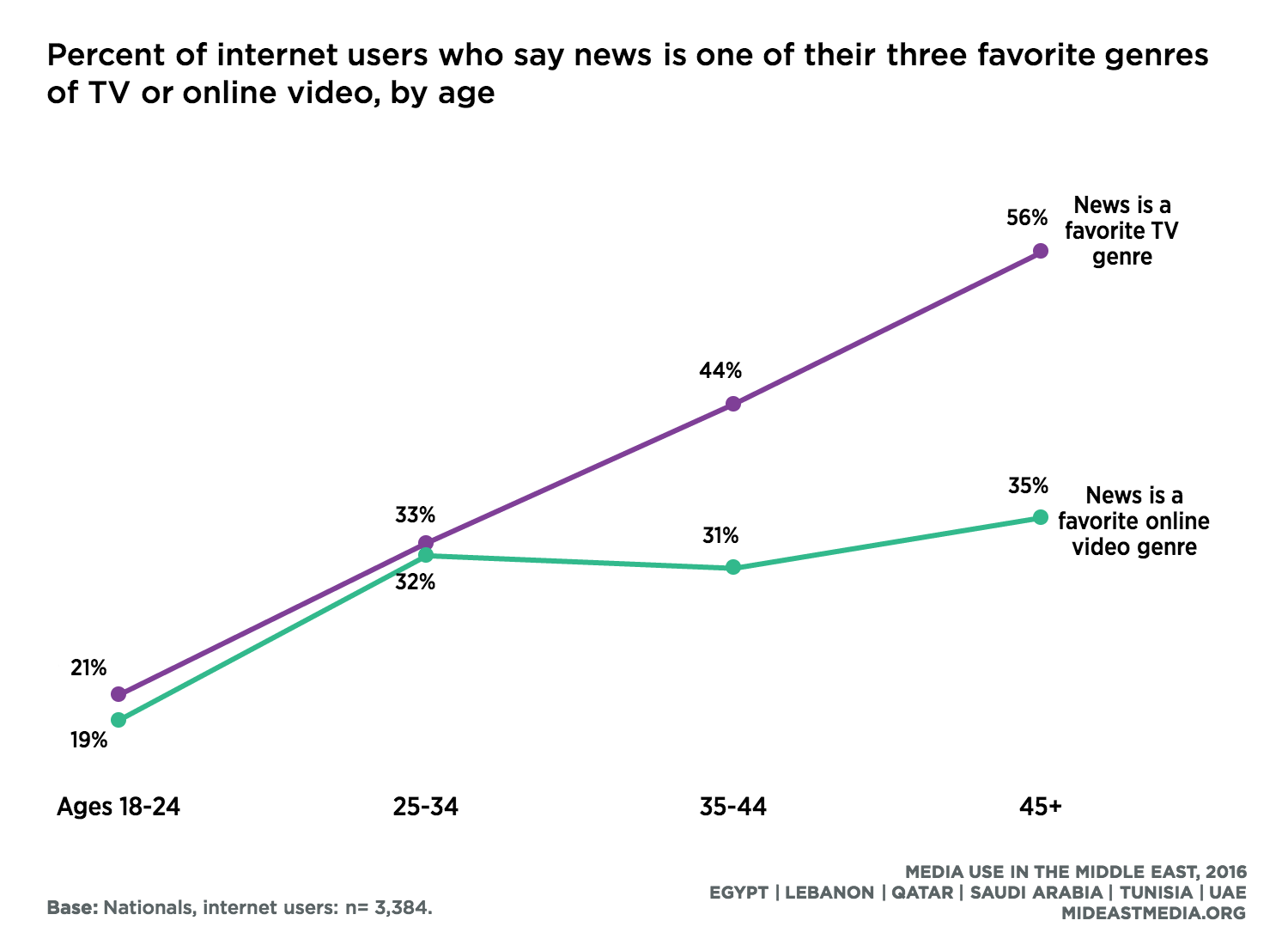 Nationals with at least a university education are over six times as likely as those with a primary education to use the internet for news. While TV is the most common news platform across education groups, watching TV news is most common among those with a primary education and least common among those with a university education or higher (93% vs. 79%).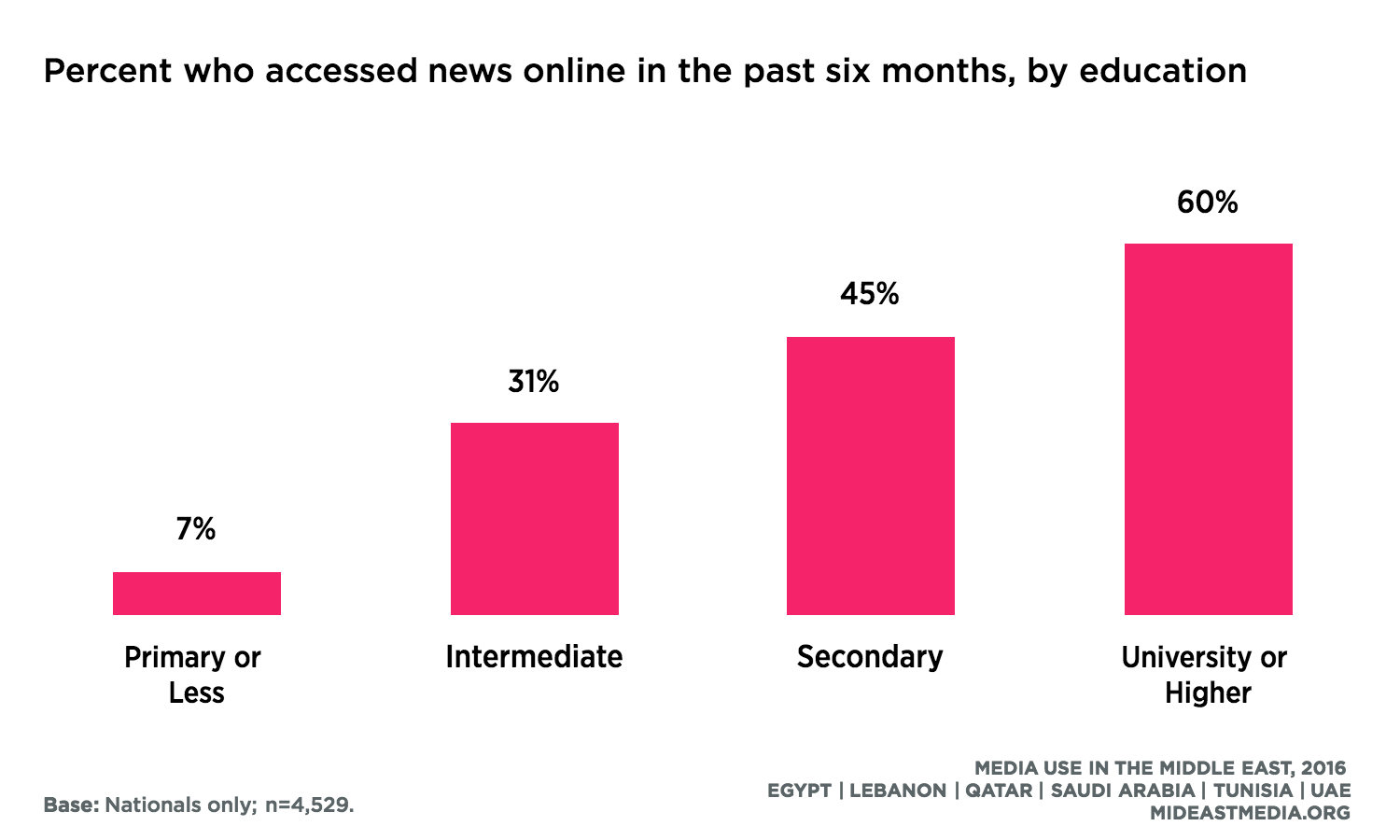 Nationals who say people benefit from consuming content from other parts of the world are more likely to access news online than those who disagree (47% vs. 36%).
News remains a top-three favorite TV genre among all respondents behind comedy and drama (37% news vs. 56% comedy and 44% drama). The popularity of news changed little across countries, but fell significantly in Egypt (42% in 2014 vs. 32% in 2016).
News is the third most popular online video genre, behind comedy and music videos (28% news vs. 53% comedy and 33% music videos) and is most popular in Tunisia (38%). As with TV news, however, online news dropped as a favorite video genre among Egyptians (41% in 2014 vs. 25% in 2016).
More men than women say news is a favorite video genre, both on TV and online. The exceptions are Saudi Arabia and the UAE, where relatively equal proportions of men and women favor news online (about 30%). The difference between genders is more pronounced for news on TV than online. The difference in proportions of men and women who list news as a favorite genre is 18 percentage points for TV (46% men vs. 28% women), but only eight percentage points for online news (32% men vs. 24% women).
While 37% of all nationals name news as a favorite TV genre, this percentage ranges from 21% to 54% between the youngest (18-24) and oldest (45+) age groups. Internet users 45 years and older are more likely to cite news as a favorite online genre than the 18 to 24 year-olds (35% vs. 19%).
Listing news as a favorite TV genre decreases with education, but preference for online news videos is similar across education levels. Arab nationals and expatriates cite news as a favorite TV and online genre more frequently than do Western and Asian expatriates.
Internet users are generally not interested in paying for any online content, especially news. Only 3% paid for online news in the past year, and only 5% are willing to pay for it. Emiratis are the most likely to have paid for news online (10%).
Three in 10 national internet users send, share, or post about news online. Men and women in most countries are equally likely to discuss news online, except in Lebanon and Qatar, where more men than women discuss news online.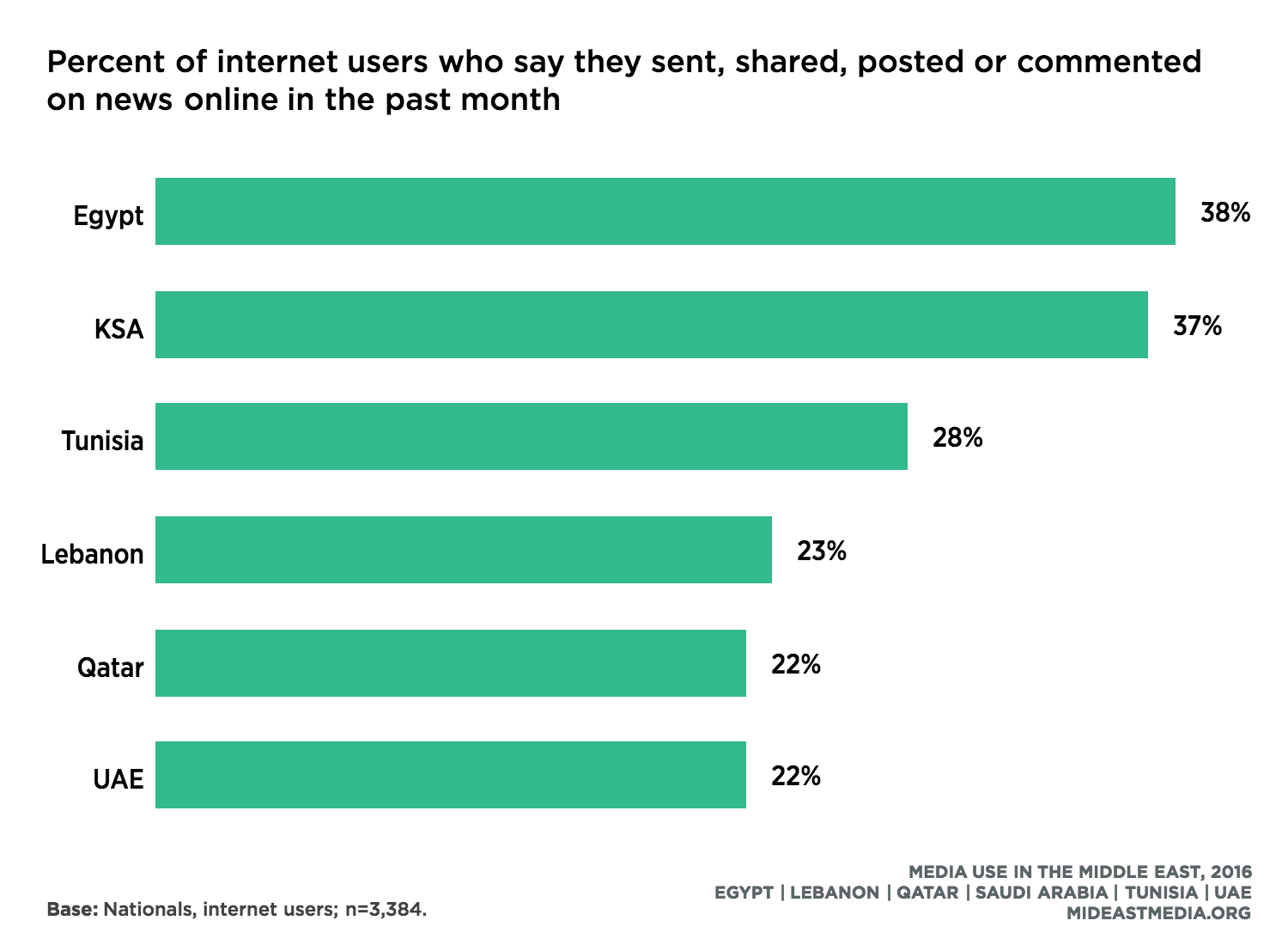 Across all countries in this study, the use of TV news is relatively consistent from year to year, and accessing internet news is either stable or increasing; Egypt presents a singular and significant exception. The popularity of TV and online news as favorite genres dropped significantly among Egyptians between 2014 and 2016 (TV: 42% vs. 32%, online: 41% vs. 25%).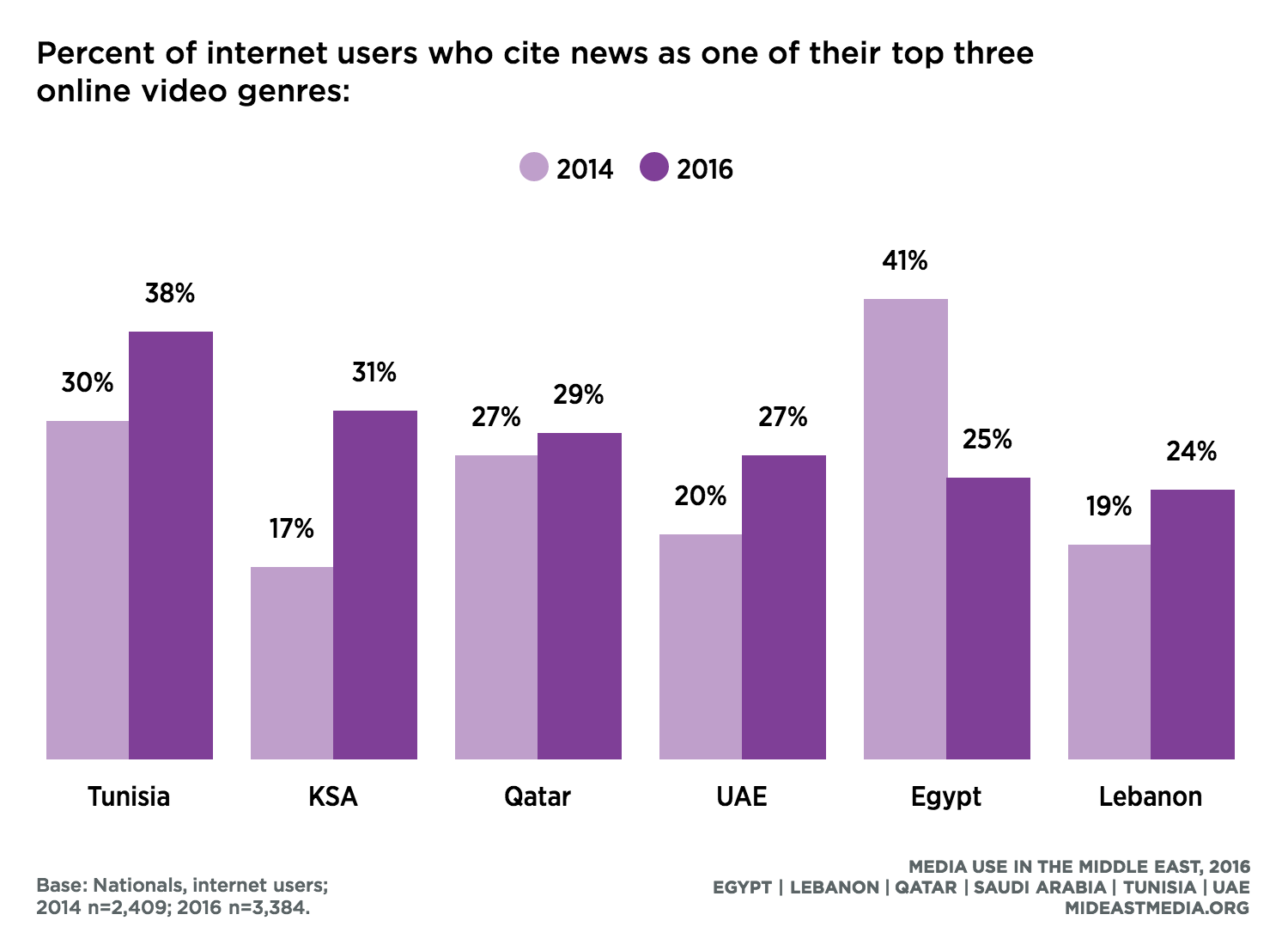 In 2014, data collection in Egypt took place just six months after military strongman Abdel Fattah el-Sisi took power from Mohamed Morsi. Since then, despite a weak economy and several high-profile terrorist attacks, power in Egypt has been stably consolidated by Sisi's regime.
In 2014, 41% percent of Egyptians listed news as a favorite online video genre, compared to 30% of Tunisians, 26% of Qataris, 20% of Emiratis, 19% of Lebanese, and 17% of Saudis. The 16 percentage point drop in 2016 puts Egyptians closer to the proportion of other nationals' naming news as a favorite online video genre: 25% of Egyptians vs. 38% of Tunisians, 31% of Saudis, 29% of Qataris, 27% of Emiratis, and 24% of Lebanese. The same is true for TV, as the proportion of Egyptians citing news as a favorite TV genre regressed to the average in 2016: 32% of Egyptians vs. 49% of Lebanese, 39% of Tunisians, 36% of Qataris, 28% of Emiratis, and 27% of Saudis.
People are more likely to follow news, especially online, during volatile times. A more predictable political situation in Egypt may help explain why Egyptians' interest in news in 2016 aligns more closely with their Arab contemporaries.
Non-news TV and online video genres gained popularity in Egypt between 2014 and 2016. Egyptians now express greater preference for drama, sports, children's programming, music videos, and religious/spiritual programming on TV, and for dramas, religious/spiritual content, comedy, and documentaries among online videos.