Television remains ubiquitous, but internet users are watching less of it

People in the region use a variety of media. Nearly everyone in the region watches TV (97%) and two in three listen to the radio (65%). Fewer read newspapers, books, or magazines (49%, 43%, and 38%, respectively). However, respondents spend the greatest portion of their time with media online. Presumably because they are spending more of their time online, internet users spend less time watching TV (18 hours vs. 24 hours) and listening to radio (7 hours vs. 13 hours) compared to those who are not online.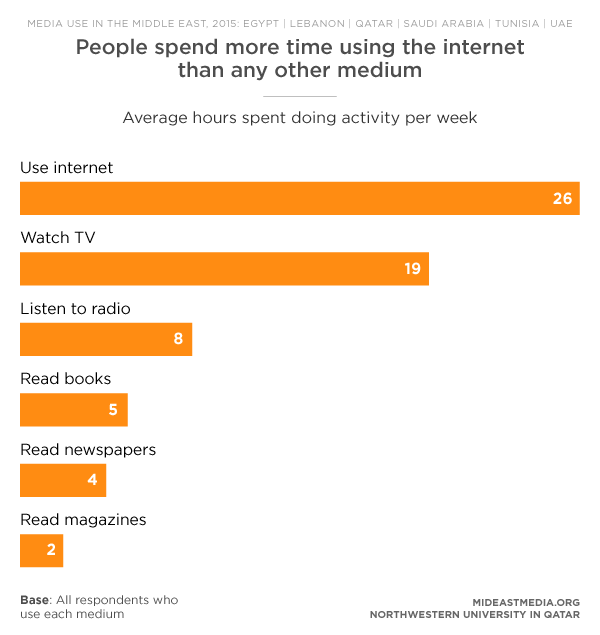 There is a clear distinction between younger and older nationals in how they choose to spend media time; younger adults spend more time online than watching TV, while the opposite is true of older cohorts. Each week, younger adults (18-24 year olds) are online for an average of 31 hours and spend 19 hours watching TV. In contrast, those who are 45 and older watch an average of 23 hours of television per week and are online for 19 hours.
The news Arabs follow: national and international, cultural and political

In all countries surveyed, nationals are active news consumers; sizeable majorities say they follow national news closely. While respondents are most interested in their national news, many also follow international news. Saudis are most likely to follow international news, while Egyptians are least interested in news outside their borders.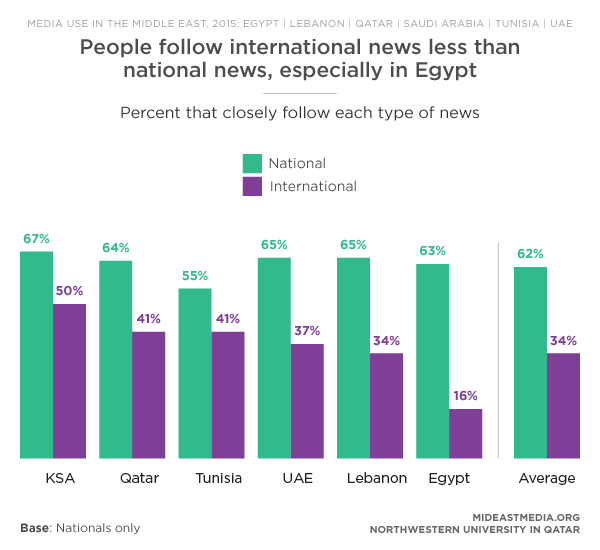 Nationals who follow news closely are inclined to share it online. Those who share news online are more likely than those who don't to follow national news (62% vs. 54% follow closely), regional news (45% vs. 37%), and international news (37% vs. 30%).
Nationals with greater international exposure tend to have a larger appetite for global news. Those who traveled outside the Middle East in the past three years are more likely to closely follow international news than those who did not (50% vs. 31%).
Majorities in all countries except Saudi Arabia say their favorite news organization is based in their own country, suggesting a strong interest in national news. Women and older nationals are more likely than their respective counterparts to favor news organizations in their country.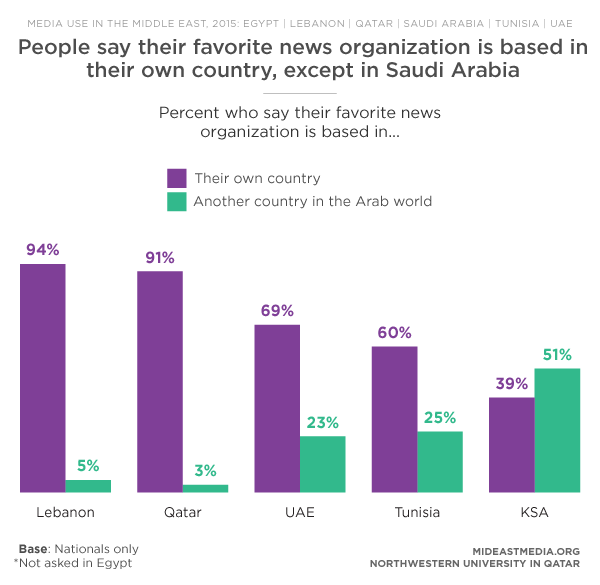 As avid consumers of news overall, nationals are interested in a variety of news genres. Seven in ten report interest in public affairs news. Respondents also express interest in news about entertainment/culture, comedy/satire, and religious/spiritual content (65%, 61%, and 57%, respectively). Fewer are interested in sports or business/economy (45% and 35%).
Qataris and Egyptians express less interest in news of public affairs (59% Qatar, 62% Egypt), entertainment and culture (60% and 45%), and comedy and satire (52% each) than do other nationals. Qataris and Emiratis express the most interest in religious and spiritual news (77% and 70%). Gulf states also show more interest than others in sports news, as do men (68% vs. 22% of women) and younger adults (54% 18-24 vs. 37% 45+).
Respondents more willing to pay for online and television news content than other formats

People in the region look to a variety of sources for news. Three in four say TV, interpersonal sources and the internet are important for news and information, and six in ten cite social media. Those who find the internet an important news source grew from 62% in 2013 to 73% in 2015. More than half of internet users (55%) look for news online on a daily basis, compared with 48% in 2013.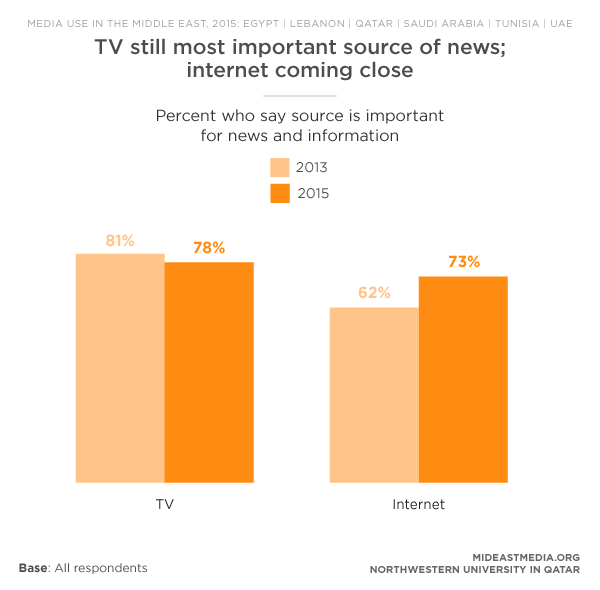 Despite evident desire for news from multiple sources, nationals have mixed responses to the idea of paying for it. About one in five respondents is willing to pay for television news (22%) and digital content subscriptions (18%), but these numbers fall for other news formats. Tunisians are less likely than those in other countries to be willing to pay for any news content (25%), while people in Qatar and UAE are more likely to pay for any news source (62% each).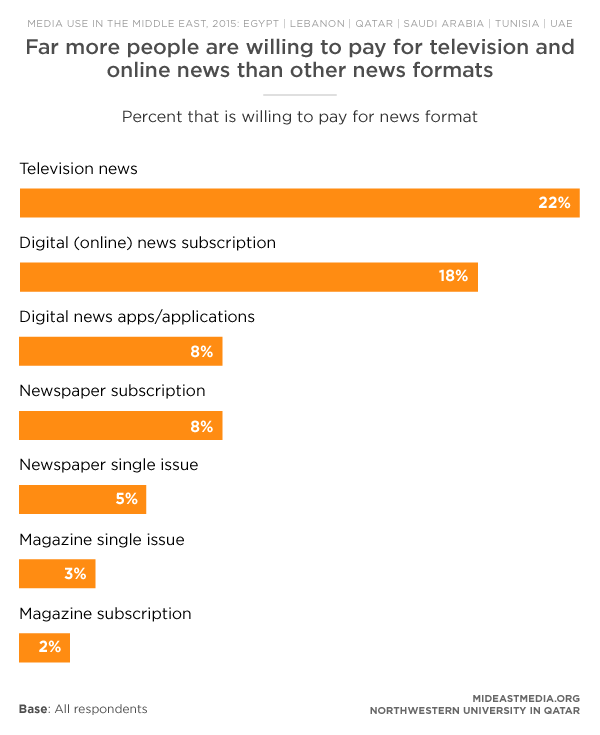 More nationals access Arabic internet content; reliance on English falls

Nationals access media primarily in Arabic, with more than nine in ten following all media in Arabic. English is a distant second, used more frequently for internet and television than radio or newspapers. Notably, compared with two years ago, nationals are more likely to access Arabic content on the internet (89% in 2013 vs. 93% in 2015) and less likely to access English content (41% in 2013 vs. 33% in 2015), perhaps due to greater availability of Arabic content online.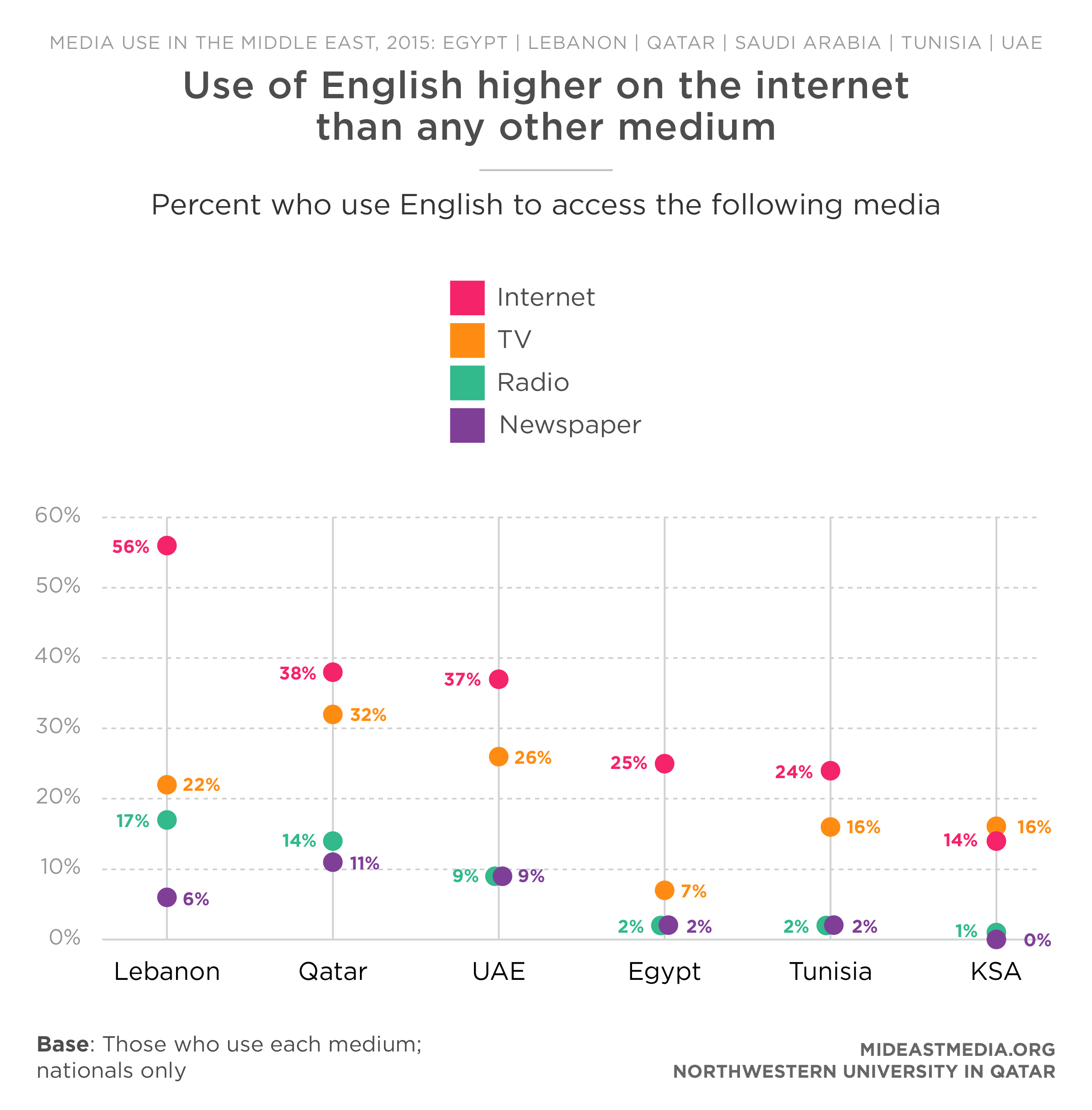 Those who say it is OK for people to express their ideas online, even if they are unpopular, are more likely than those who don't to use the internet in English (36% vs. 26%). Younger nationals are more likely to use English on the internet (38% 18-24 year olds vs. 28% 45 or older) and to watch television in English (24% vs. 8%)
Few nationals access media in languages other than Arabic and English, with the exception of French in Lebanon and Tunisia. Tunisia is the clearest exception; most Tunisians access the internet in French.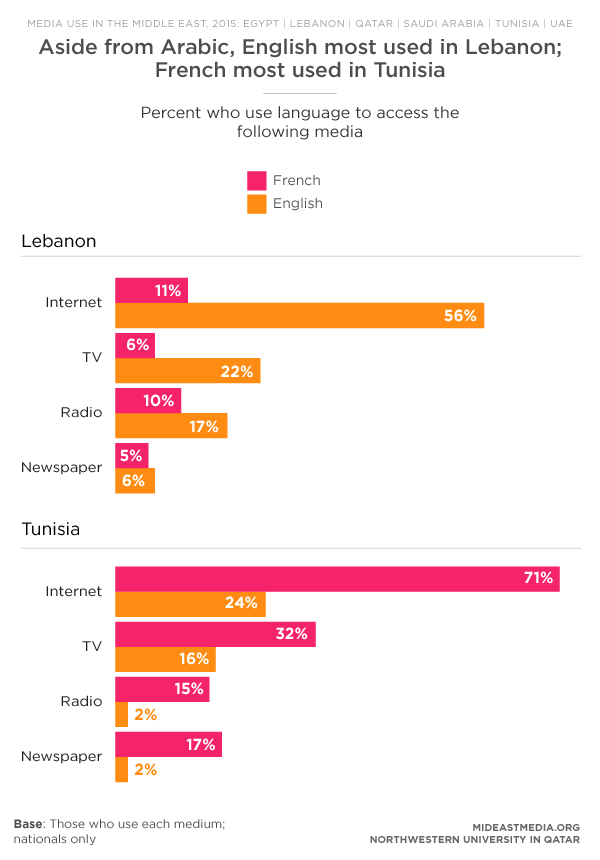 Arab world closing the digital divide; internet penetration up in most countries, doubled in Egypt since 2013

In internet penetration, the gap among countries is narrowing, although there remains variation across the region. Most notably, use of the internet has more than doubled in Egypt in the past two years.
Internet use is strongly correlated to education. Ninety-four percent of those who attended university use the internet compared with nineteen percent with a primary school education. A sizeable difference is seen in all countries, but the gap is not as wide in Qatar and Saudi Arabia. Men continue to be more likely to be online than women, but that distinction is closing. In 2013 there was a 10 percentage point difference between genders in internet usage (71% vs. 61%), as compared to a six percentage point gap (77% vs. 71%) in 2015.
People in the region utilize their phones for internet more often than a computer except in Egypt. Tablets are moderately popular in the region (31% use tablets), especially in the Gulf (41%, 40% and 36%, respectively in UAE, Saudi Arabia and Qatar).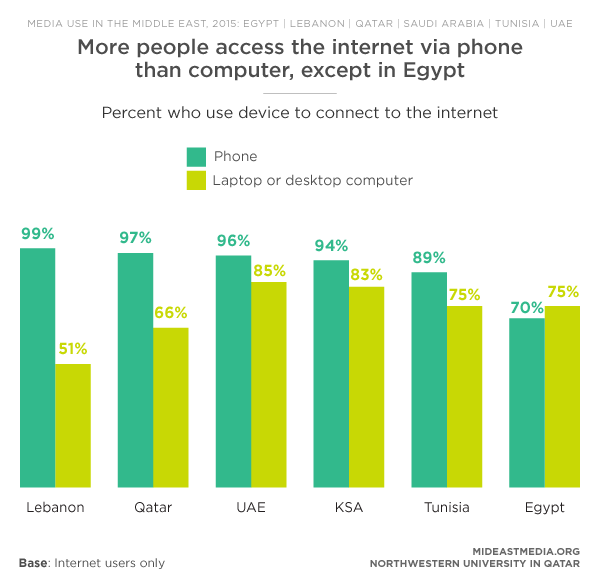 News, comedy, and religious programming top TV and online video genres

Comedy and news/documentary are the most common types of video content watched both online and on TV. Women are more likely than men to watch comedy (79% vs. 72%) and social satire (53% vs. 45%) on TV. Across the region, women express more interest in religious or spiritual content than men.
Younger internet users (18-24 year olds) are more likely than those 45 and older to use the internet to watch comedy (62% vs. 45%) and social satire (49% vs. 40%). The younger group is just as likely to watch news and documentaries online as TV, reflecting their acclimatization to the internet as a news source. Those 45 and older watch more news/documentaries on TV than younger people (78% vs. 61%).