Popularity of Video Games and Time Spent Playing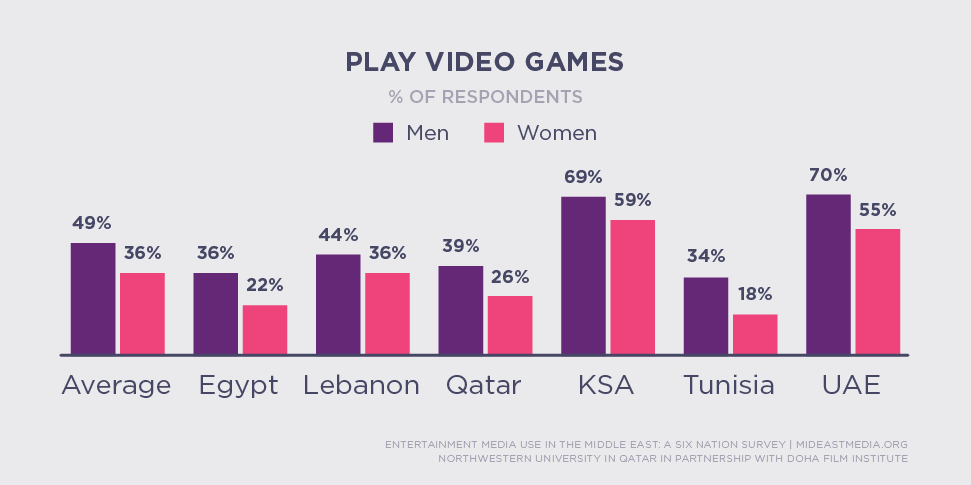 About two-thirds in Saudi Arabia and the UAE play video games (65% and 63%, respectively), while closer to three in ten in Qatar and Egypt do so (33% and 29%, respectively). Four in ten play in Lebanon, and only a quarter play video games in Tunisia.
Video games are most popular with men and younger individuals. Nearly half of men play video games, compared with one-third of women (49% vs. 36%). Use of video games decreases with age; those under 25 are four times more likely to play videos games than those 45 and older (68% vs. 16%). Children are even more likely to play video games, as nearly four in ten children play on a daily basis (74% at all, 37% daily).[1] Education and income are also factors in playing video games. More than half of those with a university education play video games, compared with one in ten of those with a primary school education or less (54% vs. 10%). Also, only a third of those in the lowest income quartile play video games compared with half of those in the highest quartile (33% vs. 49%).
Video games have not garnered as much popularity with Arabs in the MENA region as with Westerners. Two-thirds of Western expats play video games (67%), compared with about four in ten Arab nationals and Arab expats (38% and 44%, respectively). Asian expats fall in the middle (54%).
Relatively few gamers play video games on a daily basis (14%), although those under 25 are more likely to do so (29%). This said, a quarter of those who play video games do so for at least ten hours each week — or between one and two hours a day. The typical (median) time gamers spend playing video games is five hours each week, but time spent playing video games differs considerably by country – gamers in less developed countries devote much more time to it. In Egypt, Lebanon and Tunisia, over a third of gamers play for more than ten hours a week (39%, 35% and 36%, respectively), compared to just one in ten in the UAE. Saudi Arabia and Qatar fall in the middle (22% and 20%, respectively, play more than 10 hours per week).
Younger gamers also spend more time at it. Over a third of those under 25 spend at least ten hours each week playing video games (38%), compared to fewer than one in five of those over 25. Men typically spend more time playing video games than women – about two hours more each week. While non-Arab expats are more likely to play video games overall, they play for less time each week. Asian and Western expats play about three hours per week (median), compared with seven and five hours for nationals and Arab expats.
Playing video games is viewed as less important for entertainment than other more general pursuits. A quarter of those in the MENA region describe playing video games as important to them for entertainment (27%). For comparison, 76% say watching television is important and 56% say listening to music is important. Among those who play video games, half say this is an important medium for entertainment.
---
[1] Respondents that have a child under 18 in the household were asked about their children's consumption of media for entertainment; children were not interviewed.