When and How People Watch Television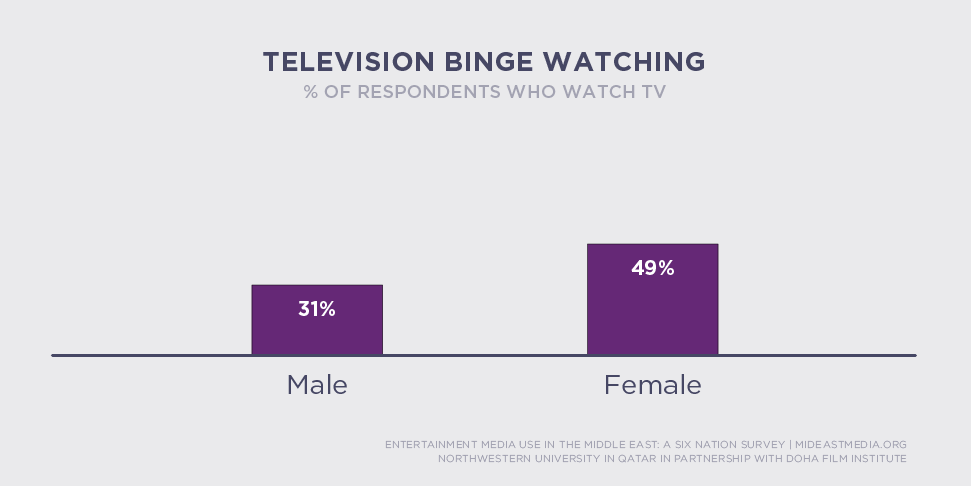 Residents in the six MENA countries in the study enjoy some flexibility in choosing when to watch TV programs, but still generally watch shows at the time they air. AboutRoughly half of respondents watch a TV program at the scheduled broadcast time, while over a quarter watch a recorded version at a time of their choosing (28%). Another 12% do both equally. This behavior is broadly consistent among all sub-groups of the population.
Additionally, four in ten report binge watching TV programming, watching multiple episodes in the same sitting. Binge watching is most common in Lebanon, undertaken by half of Lebanese, and slightly less common among Egyptians and Tunisians (27% and 34%, respectively).
Women are far more likely to binge watch than men (49% vs. 31%). Young viewers are also more likely to binge watch their favorite shows – 46% among those under 25 vs. 34% of those over 45.
A quarter of internet users discuss TV shows online and fewer have a "multiple device experience" in terms of discussing the show online while watching it (27% and 6%). Residents of Qatar, Saudi Arabia and Tunisia are more likely to discuss TV shows online, about a third in these countries do so. There are few differences by sub-groups of the population.
Those who discuss TV online are more likely to do so via social media – reading and/or posting comments (50% and 41%, respectively) – than through official sites for a TV show such as the show's website or a fan site (24% and 12%, respectively).
Fourteen percent of respondents report voting for a contestant on a reality or talent show. There is variability by country, with one in five casting votes in Saudi Arabia (22%), but almost no voting reported in Egypt and Tunisia (4% and 9%). Younger viewers are more likely to participate. The youngest age group (under 25) is three times more likely than those 45 or older to have placed a vote for a contestant (21% vs. 7%).