Regional Sources for Television Program Content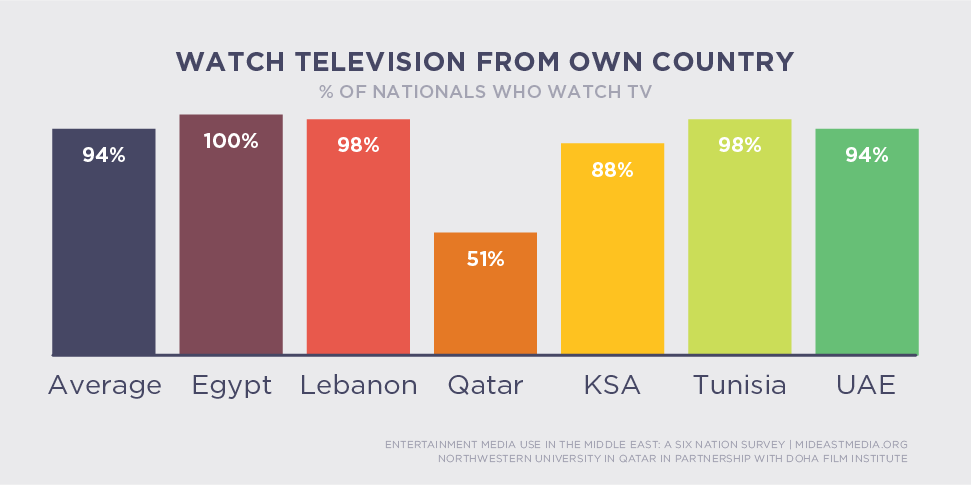 TV programming content from the viewer's own country is watched most often; three-quarters of viewers in the MENA countries in the study watch TV content from their own country. Viewership of country-produced programming is near universal in Egypt, Lebanon and Tunisia and also common in Saudi Arabia (73%). Only about half of UAE residents watch entertainment TV produced in their country, and even fewer in Qatar (47%, 30%). UAE nationals are far more likely to watch entertainment TV from that country (94%), while only half of Qatari nationals watch Qatar-produced television for entertainment, perhaps because fewer programs originate in that country.
Respondents were asked about their viewing habits for entertainment content from various areas in the region – Mashreq-Levant countries (Egypt, Lebanon, Jordan, Syria, Iraq), Maghreb countries (Morocco, Tunisia, Algeria) and Arab peninsula/Al Khaleej countries (Saudi Arabia, Kuwait, UAE, Qatar, Bahrain, Oman, and Yemen) – as well as from around the world. In Saudi Arabia, respondents most often watch content from that country, but also from Mashreq-Levant countries as a whole, and also Maghreb countries. In Qatar, TV viewers watch entertainment programs from a variety of sources; they are more likely to watch TV programming originating within the Arab peninsula countries as a whole than in Qatar, and as likely to watch programs from the United States as the Arab peninsula. In the UAE, TV programs from the Mashreq-Levant countries and from India are almost as popular as those from the UAE itself. Turkish programming is fairly popular in Lebanon, but not nearly as popular as Lebanese programming.
Expatriates tend to watch entertainment TV from their own countries or regions, whether these regions are in MENA, Europe, U.S. or elsewhere in the world.