Summary
As might be found in any region, MENA residents rely on television as their primary form of entertainment; a large majority watch TV every day (70%). The prevalence of television in the lives of individuals is largely consistent across all the countries in this study and across demographic groups.
Television viewers are most likely to watch entertainment content produced in their own country, with the exceptions of Qatar and the UAE. Fewer than half in the UAE and only three in ten in Qatar watch television programming from their country for entertainment. Those in Qatar are more likely to watch programming from the Arab peninsula and the United States than from Qatar.
People are beginning to take more control of their television viewing. More than a quarter of respondents watch television shows when they choose to do so "all" or "most" of the time, and two-thirds do so at least some of the time. Additionally, four in ten have "binge" watched a television show, choosing to watch two or more episodes in one sitting. Women and younger individuals are more prone to binge viewing.
Some people are "interacting" online with the TV shows they watch. About one-quarter of internet users discuss television shows online, but a very small number (6%) does so while watching the show. Additionally, 14% say they have voted for a contestant on a reality or talent show.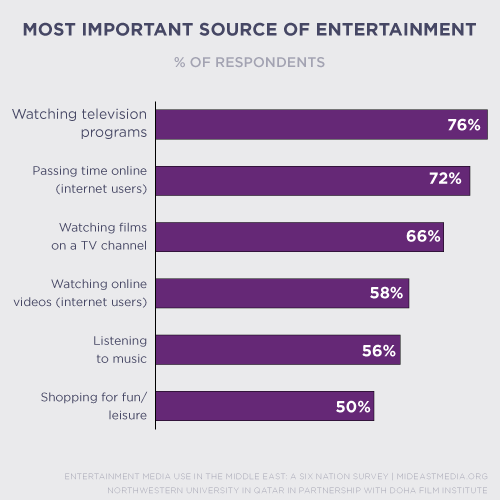 Television Sub-chapters