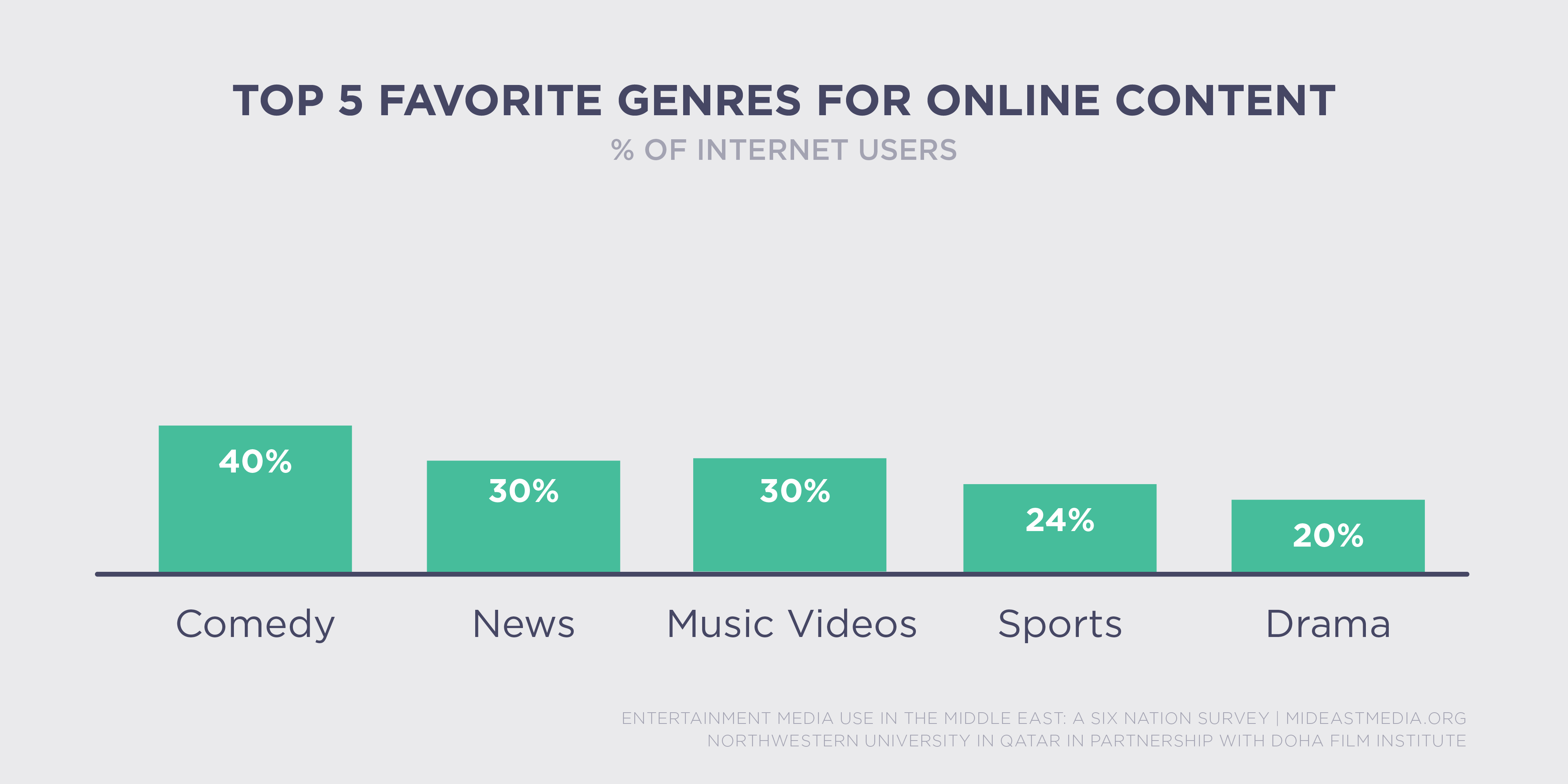 As with film and television, comedy is the most preferred format of online content. Four in ten viewers put comedy in their top three favorite genres; music videos and news round out the top three (30% each). Sports and drama are the next most popular forms of online entertainment (24% and 20%, respectively). Music videos are an equally popular genre in all countries except Qatar, where only 19% prefer this genre. Comedy is cited
most often in Egypt and Tunisia as their favorite form of online entertainment (54% and 47%, respectively). As with television, news is more preferred than comedy in Qatar, and two in five Egyptians also show a preference for news (42% and 44%, respectively).
There are a few other notable distinctions in content preferences by country. Nearly 25% of people in Tunisia look for documentaries and public commentary online, compared with less than one in five throughout the region. One in four in the UAE values content related to food and cooking, and one in four in Saudi Arabia prefers children/family content online – this compared with less than one in five overall. In Qatar, documentaries and religious content are among the most preferred online material, with a third of Arab expats in the country looking to the internet for religious and spiritual videos, compared with 13% of all online video viewers. Online interests are quite varied in the UAE and Saudi Arabia, where just about every genre of content is named as a "favorite" by at least one in ten residents.
Preferences for online content also vary across demographics. Men watch more news and sports online while women like content about food/cooking and home improvement. Younger viewers are more likely to enjoy comedy, music videos, sports, and game shows online, while older viewers prefer news and religious/spiritual content.
Western expats are less likely than other groups to say comedy is one of their favorite genres for online content (although they still enjoy comedy). Arab and Asian expats are the most likely to prefer watching news online, while nationals and Western expats are more likely to say they like watching sports online. Nationals are also more likely to name religious/spiritual content as a favorite genre.