Sourcing of entertainment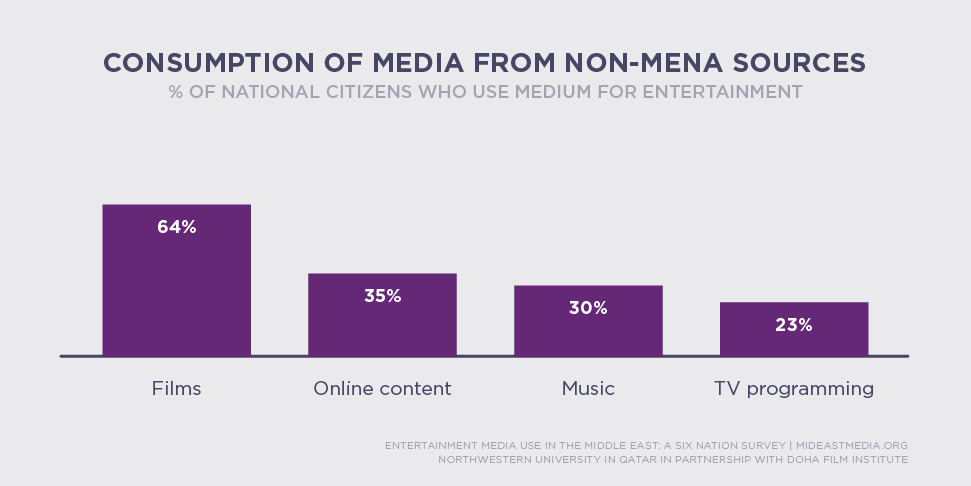 As with language, the source of entertainment consumed varies considerably by country and nationality. A large majority of Arab respondents – about nine in ten – consume film, television, music and online content produced in the MENA region, compared with two in ten non-Arabs who do so. Additionally, more than nine in ten country nationals watch television and listen to music from their own country and eight in ten watch films and online content from their country. Qatari nationals are different from other country nationals in this respect. Half of Qatari nationals watch television produced in the country (51%) and one in three listen to music and watch online content from Qatar (32% and 29%, respectively). Only one in five Qatari nationals watch films produced in Qatar (18%).
Films from the United States are fairly popular across all nationalities. Six in ten Western and Arab expats watch U.S. (Hollywood) films (60% and 62%, respectively), as do nearly half of Arab nationals (46%) and a third of Asian expatriates (34%). Lebanese and UAE nationals are the most likely to watch U.S. films (7 in 10 do so in both countries), while those in Egypt and Tunisia are less likely to do so (29% and 34%, respectively). More than half of Qatari nationals watch U.S. films (55%).
People in the MENA region are less likely to consume other types of media – online content, music, television – from the U.S. (32%, 27% and 17%, respectively).
Three in ten respondents watch films from India, likely due to the presence of Asian expats; one quarter of all respondents watch European films. Fewer watch films from Turkey or Asia-Pacific (17% and 8%, respectively). One in five or less consumes music, television and online content from Europe, India, Turkey or Asia-Pacific.
Younger respondents are more likely than older participants to consume content from around the world, including the MENA region (film, music, television, online content), as well as the United States (film and music), Europe (film and music) and Turkey (film and television).