Involvement in entertainment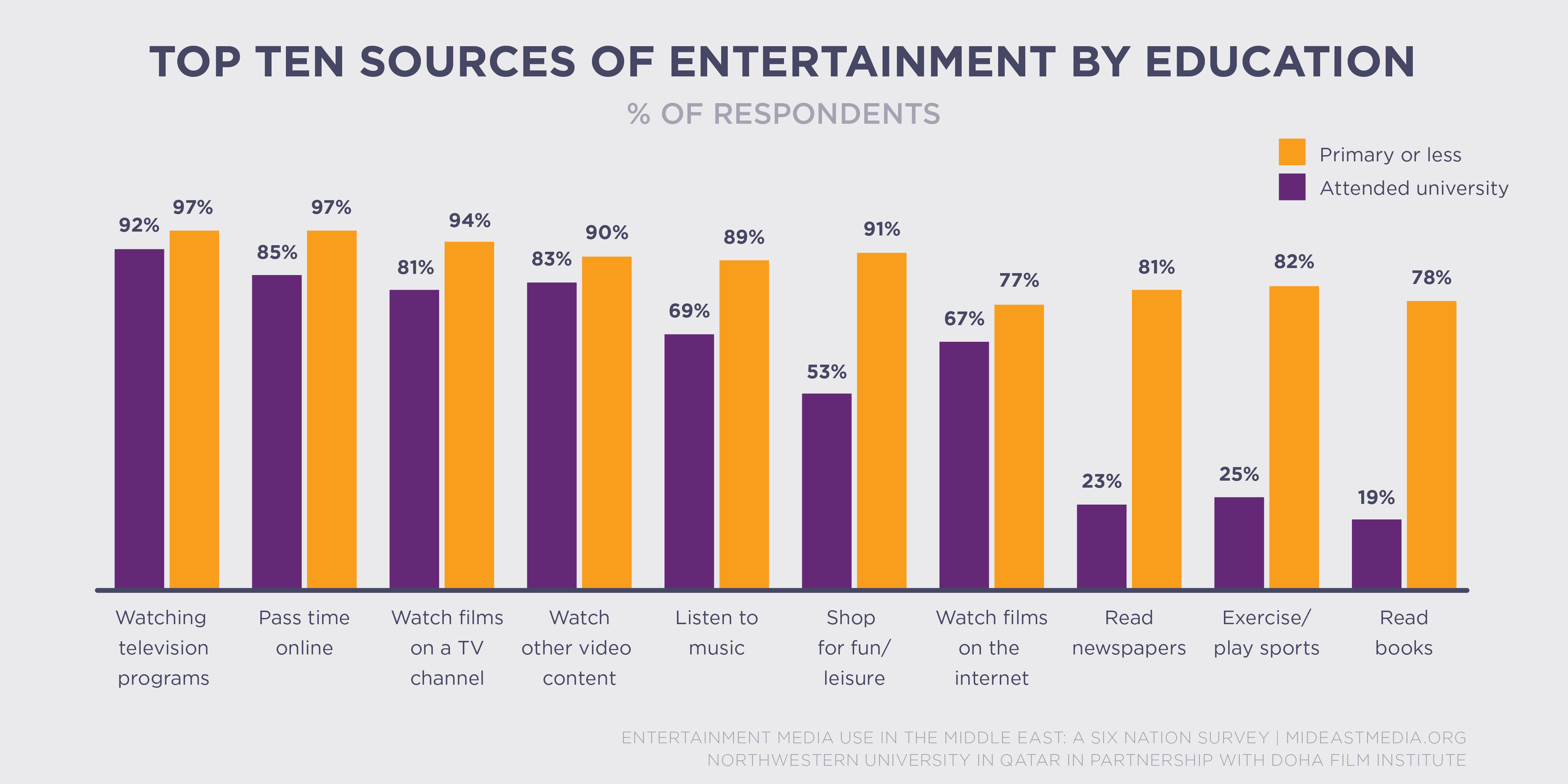 The results suggest entertainment is an integral part of life for people in the MENA region, and their entertainment interests are wide and varied. Television is the dominant form of entertainment across the board; more than nine in ten watch television programming and films on television (96% and 92%, respectively), and seven in ten watch television every day. Almost all internet users pass time online for entertainment (96%), and six in ten do so daily. Large majorities also listen to music and shop for fun and leisure (84% and 82%, respectively). While half of respondents listen to music on a daily basis, shopping is more of a weekly or monthly activity. Large majorities of internet users watch films and other online video content for entertainment (76% and 88%, respectively); a third watch online videos daily (35%) but watching full-length films online is less common.
The majority of those surveyed read for entertainment, but this is not as popular as other forms of entertainment. Two-thirds read newspapers and slightly fewer read books and magazines (65%, 60%, and 56%, respectively). Nearly four in ten read comic books (38%). While a quarter of survey participants read newspapers daily for entertainment, other materials are not read as frequently.
Two-thirds play sports and exercise for entertainment (65%); 15% say they play sports or exercise every day, while four in ten do so at least once a week (39%). More people exercise than play video games, although some are as committed to gaming as exercising; nearly half play video games at all(43%), and 14% play every day (similar to 15% who exercise daily). While film viewing is highly common overall, physically going to the cinema is less common (45% do so).
Residents of all six countries in this survey watch television (including films on TV) and listen to music for entertainment, and all internet users, for the most part, pass time online and watch online videos. After that, we see some variation in use of other forms of entertainment by country. Those based in Saudi Arabia and the UAE are generally more likely to participate in all forms of entertainment. Egyptians and Tunisians are less likely than others to participate in the more "active" forms of entertainment such as playing sports (37% and 45%, respectively) and going shopping for fun (62% and 66%, respectively). Additionally, residents of Egypt, Lebanon and Tunisia are much less likely than those in the Gulf states (UAE, Saudi Arabia and Qatar) to read for entertainment, including all types of material such as newspapers, books, magazines and comic books. Video game playing varies considerably by country, from about two-thirds in Saudi Arabia and the UAE (65% and 63%, respectively) to only a quarter of those in Tunisia and Egypt (26% and 29%, respectively). Watching films in the cinema also varies considerably. Most UAE residents go to the cinema (82%) and about half of the residents of Qatar and Lebanon do so (52% and 46%, respectively). Going to the cinema is far less common in Egypt and Tunisia (28% and 15%, respectively).
Men are more likely than women to access entertainment content in general, with the exceptions of watching television and shopping, which both do equally. The most marked differences between the genders are reading newspapers (71% men vs. 58% women), exercising and playing sports (75% vs. 54%) and playing video games (49% vs. 36%). There is also large variation in entertainment activities by age. The youngest age group (under 25) is far more focused on entertainment pursuits than their older counterparts (45 and older). Notably, young people are much more likely than the most senior group to listen to music (94% vs. 70%), shop for fun (86% vs. 72%), exercise and play sports (74% vs. 48%), watch online videos (92% vs. 79%), play video games (68% vs. 16%), read comic books (43% vs. 24%) and watch films via all formats (TV, DVD, internet, cinema).
Generally speaking, those in the lowest income quartile spend far less time accessing entertainment than those with more income. Entertainment is also associated with education; those with only a primary school education or less are far less likely to consume entertainment or participate in entertaining activities, while those who have attended university are the most likely to participate in all forms of entertainment.
The level of importance assigned to a form of entertainment is generally related to the time devoted to that activity. For example, nearly all of those under 25 listen to music (94%) and the majority do so on a daily basis (63%). It is therefore not surprising that the large majority in this age group consider music important for their entertainment (71% say it is very or somewhat important vs. 40% of those 45 and older). A few exceptions are observed, though. While men and women are equally likely to shop for fun, women find this to be more important for their entertainment (55% women vs. 45% men). Those under age 25 are less likely than those older to consider watching television and reading important for entertainment, while they are more likely than those older to consider listening to music, passing time online and watching videos as important for their entertainment purposes.