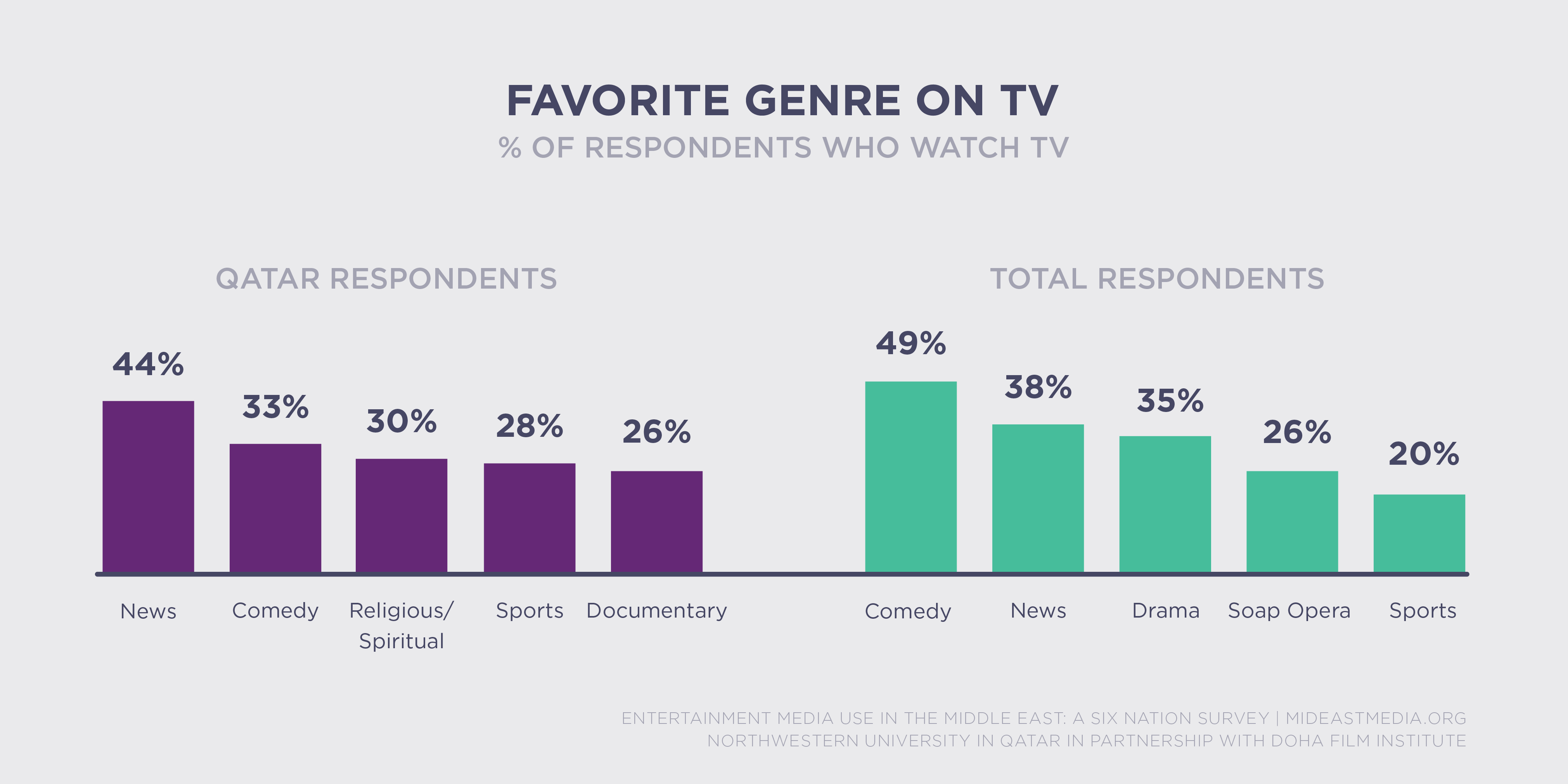 Almost everyone in Qatar watches television. The large majority – three-quarters – say this is an important part of their entertainment, and seven in ten watch TV daily. The large majority of all nationalities in Qatar watch TV daily, although Qataris are slightly less likely to view TV this often (62%).
Free-to-air and subscription television are the primary formats for watching TV, but there are stark differences by nationality. Most Qatari nationals and Arab expats watch television programming on free TV (72% and 64%, respectively), while Asian and Western expats are more likely than Qataris to watch subscription TV (44% and 57%). There is likely a connection with the type of programming available on free versus subscription TV, with the latter likely to air more shows preferred by non-Arabs.
A third of internet users in Qatar watch TV online, either streaming or downloaded. This practice is more common in Qatar than other countries participating in the study (33% Qatar vs. 26% total sample). In Qatar, Arab expats are the most likely to watch television shows online (41%).
Residents of Qatar prefer news over other genres of television, followed by comedy and religious content (44%, 33% and 30%, respectively, cite these among their top three favorite genres). Sports and documentaries round out the top five (28%, 26%). All expatriate groups in Qatar express a greater preference for news as entertainment than nationals, perhaps as a way to stay current with what is happening in their own country and other parts of the world (37% Qatari nationals, 50% Arab expats, 43% Asian expats, 58% Western expats). Qatari nationals and Arab-expats are unique in their preference for religious programming (39% and 44%), which is much higher than others living in the country or around the MENA region (14% overall put religious/spiritual programming in their top three favorite genres of television).
"Binge watching" television shows - consuming two or more episodes of the same program in one sitting - is common in Qatar. Nearly half of adults report watching two or more episodes of a series at a time (45%). Western expats are the most likely to binge watch their favorite shows, with seven in ten reporting having done so (71%); more than four in ten among each of the other nationalities binge watch as well. People in Qatar prefer to have some control over when they watch television, watching their shows when they choose to do so. Nearly half say they do this all or most of the time (45%); this is consistent across all nationalities. However, an equal number of Qataris watch most television shows at their scheduled time (47%) compared with only a quarter of Asian and Western expats who do so.
A sizeable minority of internet users in Qatar likes to research and discuss television shows online – one-third does so. Arab expats – who also watch the most television online – are the most likely to discuss television their favorite shows online (40%). People in Qatar are as likely as others in the region to vote for contestants on reality or talent shows (13% Qatar, 14% total sample).