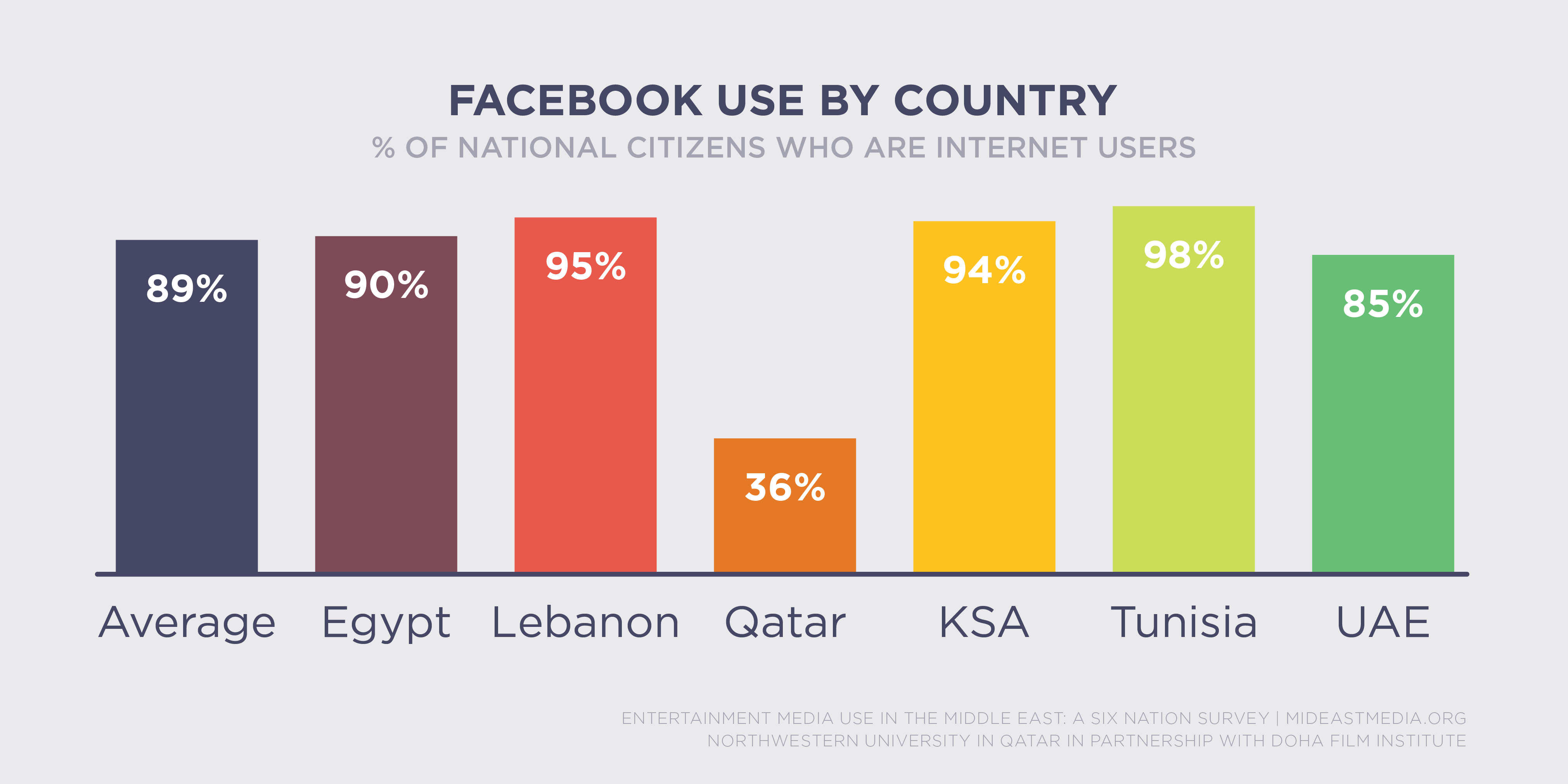 Internet penetration is high in Qatar; 85% are online. All Westerners living in Qatar are online, compared with 78% of nationals. Arab and Asian nationals fall between the two (84% and 91%, respectively). More men are online than women (90% vs. 80%). Nine in ten of those under 45 are online but internet use is still high among the oldest age group (75%).
For all nationalities in Qatar who are online, the internet plays a large role in their entertainment. Almost all internet users pass time online for leisure (94%) – three-fourths daily – and passing time online is important for entertainment (71%). A similarly high 83% watch online videos, but fewer do so every day (38%). Watching online videos is also important for entertainment (59%).
In Qatar, "news" is the most popular form of online entertainment, followed by comedy (42% and 39% put them in their "top 3" favorite genres). In fact, only in Qatar are news videos accessed more often than entertainment videos (news 50%, entertainment 36% of the time). Comparatively, across all internet users in the region, 43% of the videos they access are related to news and 49% to entertainment.
Expatriates in Qatar are more interested in online news than Qataris, similar to their greater interest in news on TV, again, possibly as a means to stay current with what is happening in their own countries and/or regions. Notably, this strong interest in news as entertainment is unique to Qatar.
After news and comedy, one-quarter of Qatar residents put online sports, documentaries and religious content among their favorite genres of online entertainment. Interest in religious content is strongest among Qataris and Arab expats (28% and 34%). One-quarter of non-Arabs in Qatar like to watch online music videos, a preference seen across the MENA region. One in four Qataris name soap operas as a favorite genre and one in four Asian expats favor food/cooking videos.
While the majority of internet users enjoy watching videos and other content online, they are not likely to pay for them. Roughly 80 percent say they are not likely to pay to stream or download films, music or video games (though a third of Qataris would pay for video games); and only one in ten would pay for television series. One in three Qataris, Arab expats and Westerners say they would pay to watch sports events. This is similar to residents of the UAE (27%), but much lower than in Saudi Arabia (64%). Residents of Saudi Arabia are much more likely than all other countries to say they would pay for all types of internet content.
In the context of robust worldwide adoption of social media, it is noteworthy that adults in Qatar, while clearly attracted to social media, are not as overwhelmingly committed to it as residents of the other five countries in this study. Social media is one area Qataris – and to some extent expatriates in the country – behave differently from others in the region.
As in other countries, the top social networking sites used in Qatar are Facebook, Google+, Twitter, and Instagram. However, use of these sites varies considerably by subsets of the population. Usage of Facebook is nearly universal across the MENA region, as well as among all expat groups in Qatar. Qataris, however, have not embraced Facebook for social networking to the same degree; only one in three Qatari nationals say they are on Facebook. In fact, Qataris are more likely to use Instagram (46%) and as likely to use Twitter as Facebook (37% and 36%). This variable differs for Qataris by age. Fifty-three percent of Qatari nationals under 35 say they use Instagram, 47% Twitter and 41 percent Facebook.
Overall, Twitter use is far lower in Qatar than in the region overall. A third of nationals use Twitter, and just a quarter of expats in the country use Twitter. This compares with half of internet users overall in the region. Non-Arabs living in Qatar are more likely to use Google+ than Twitter – four in ten use Google+ – which is similar to use by others in the region. Comparatively, only one in five Qataris and Arab expats use Google+. Instagram is highly popular among Qatari nationals (46%) but not as much among others living in the country. After the "top 4" social networking sites, a third of Westerners connect with other professionals on LinkedIn (35%), but this site is not as popular with other groups in the country.
Of note, while there is not much variation in social media use in Qatar by age, younger people in Qatar (under 25) are more likely to be on Twitter and Instagram (43% and 45%, respectively). Those 25-34 are the most likely to be on Facebook (77%).