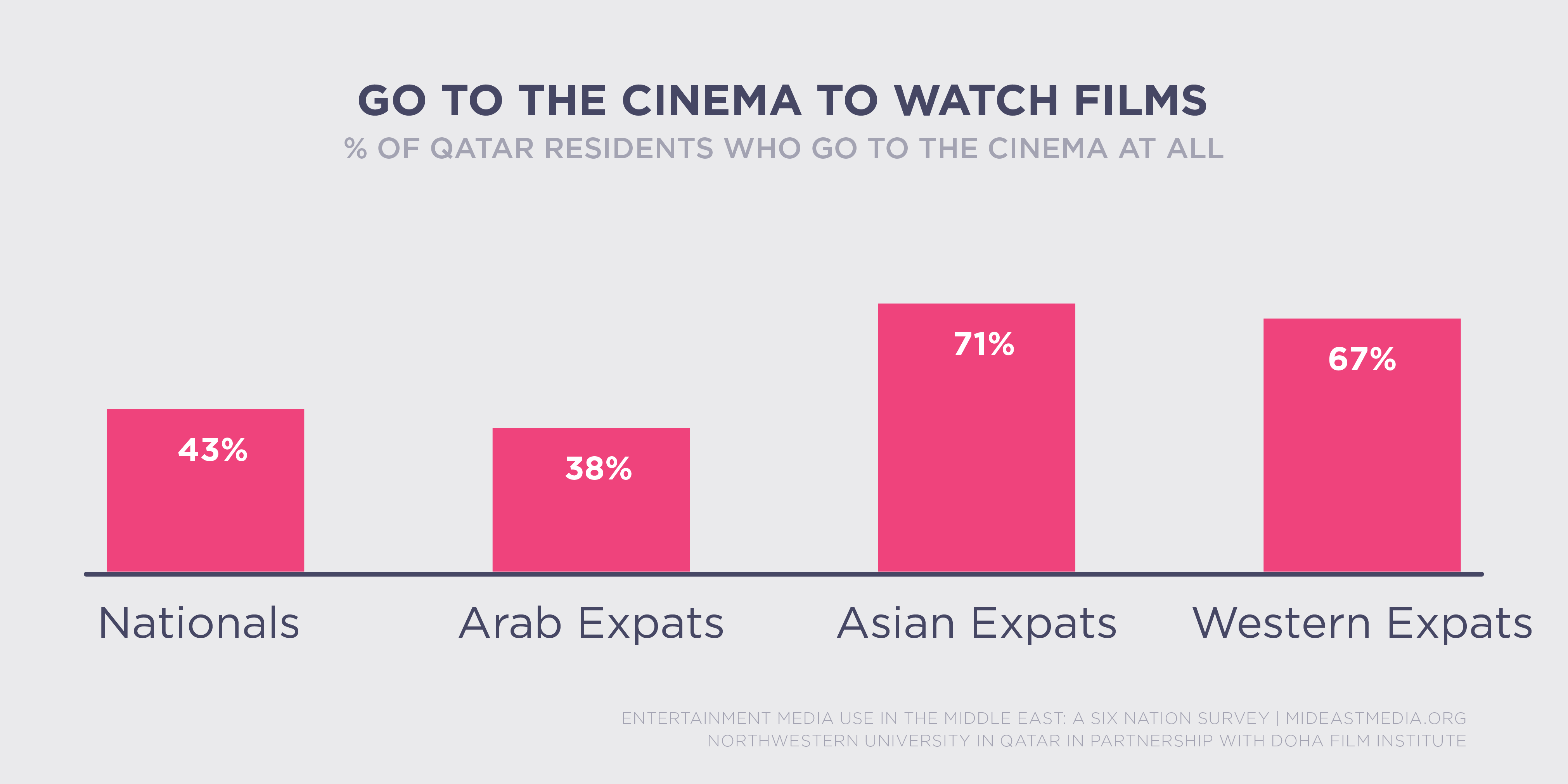 Films – in a variety of formats – are important for entertainment in Qatar, as they are throughout the region. A large majority of Qatari residents watch films on television (85%) and this behavior is consistently high among all nationalities. Additionally, the majority of internet users – regardless of nationality – watch films on the
internet (66%). There are differences among residents, though, in cinema attendance and use of discs such as DVDs and BluRay to watch films. Going to the cinema to watch films is a popular pastime among non-Arab expats, but not as much among Arabs in Qatar. Two-thirds of non-Arabs go to the cinema (71% Asian expats, 67% Western expats), compared to fewer than half of Arabs who ever go to the cinema (43% Qatari nationals, 38% Arab expats). Similarly, non-Arabs are more likely to watch films on disc, possibly because this is one of the few means of watching films from outside the region that they enjoy. More than half of non-Arabs in Qatar view films on disc (53% Asian expats, 60% Western expats), compared with one-third of Arabs who do so (34% Qatari nationals, 36% Arab expats).
While a large number of both Asian and Western expats watch films in the cinema and on disc, Westerners are more likely to find these to be "important" sources for their entertainment. Asian expats assign more importance to the internet than to cinema or discs for viewing films. Men in Qatar are more likely than women to watch films via all channels, with the exception of films on TV. Younger individuals (under 35) also tend to prefer films more than those who are older, regardless of format.
Film-watchers among all nationalities in Qatar list comedy and action/adventure among their favorite genres to watch, and many enjoy dramas as well (57%, 53% and 30%, respectively). One in five Qataris put horror/thriller, documentary and religious genres in their "top 3 favorites"; they are more likely than other groups to prefer religious-themed films. A third of Asian expats put children's/family films and Bollywood among their favorites, while a third of Western expats enjoy documentaries.