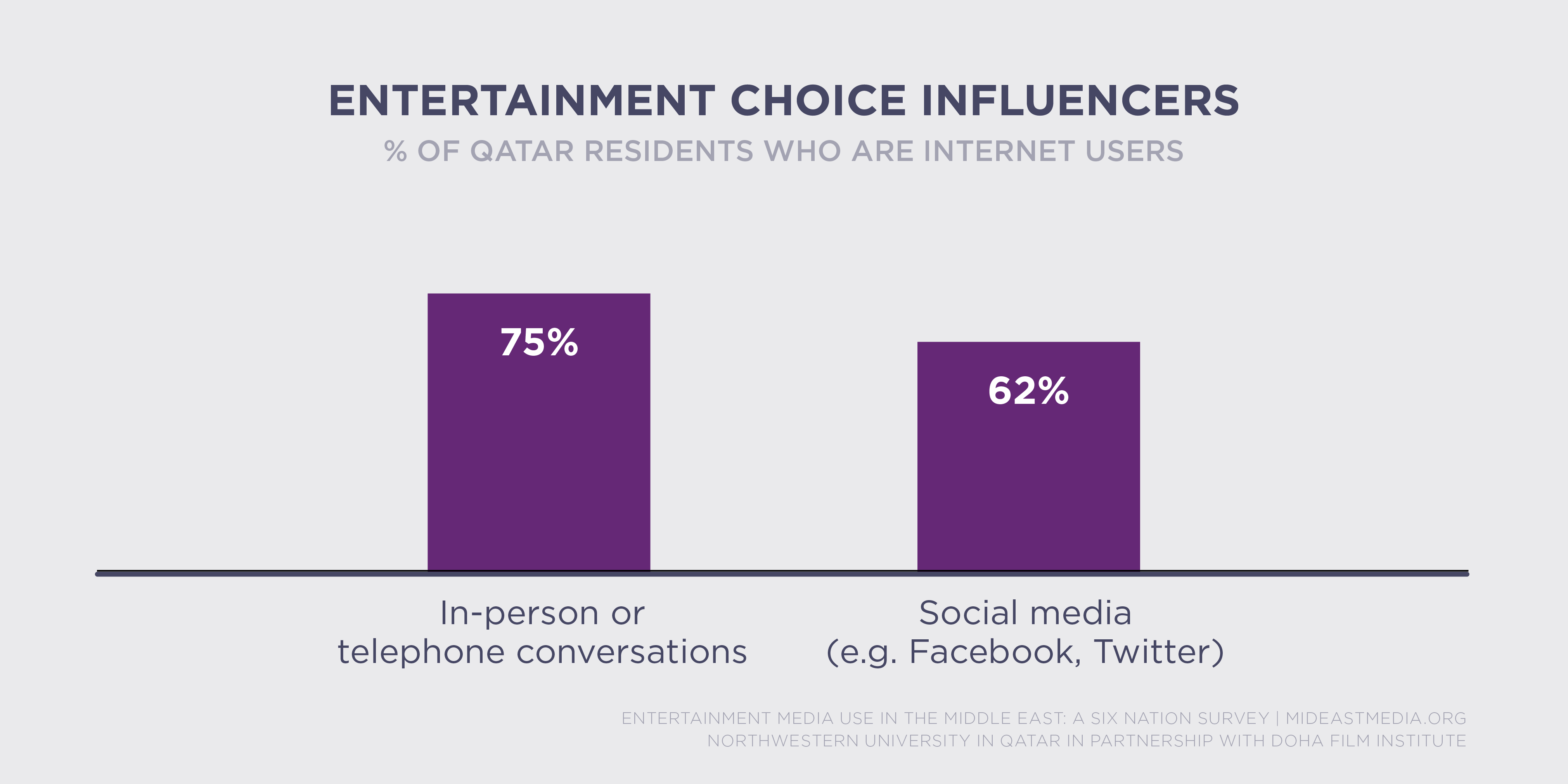 Adults in Qatar tend to rely on different sources of information more than others in the region when making choices about entertainment. Personal communications with others, in-person or via the internet, may influence entertainment choices more among those in Qatar than for others throughout the MENA region. Three-fourths
say in-person and telephone conversations with others are important, compared with half of adults across the region (73% vs. 54%). Similarly, seven in ten internet users in Qatar say texts/instant message/email are important for entertainment compared with half of all other internet users across the region (70% vs. 53%). Personal communications are even more important in Qatar among internet users than social media in perceived influence on entertainment choices (62%).
After that, those in Qatar rely more on "objective" sources of information about entertainment options, such as news stories and professional reviews, than on promotional material such as advertising and user opinions. Six in ten in Qatar say news stories and articles are important for entertainment, choices, compared with fewer than half across the region (59% vs. 43%); half rely on professional reviews (49%). Those in Qatar are much less likely than others around the MENA region to list advertising as important in their entertainment choices (31% vs. 52%) or user reviews (40% vs. 50%). There are not many differences across nationalities in the country, but non-Arabs in Qatar rely a little more than Qataris on reviews, both professional and user-generated.
Half of internet users in Qatar share their opinions about entertainment content with others online (49%). Qatari nationals and Westerners are generally less likely to share with others online (38% and 34%, respectively), while more than half of Arab and Asian expats do so (53% each). People are most likely to comment on news stories (18% do), especially Arab and Asian expats (22% each). About one in seven share opinions about sports (14%), a similar figure across nationalities.