Censorship and Regulation of Entertainment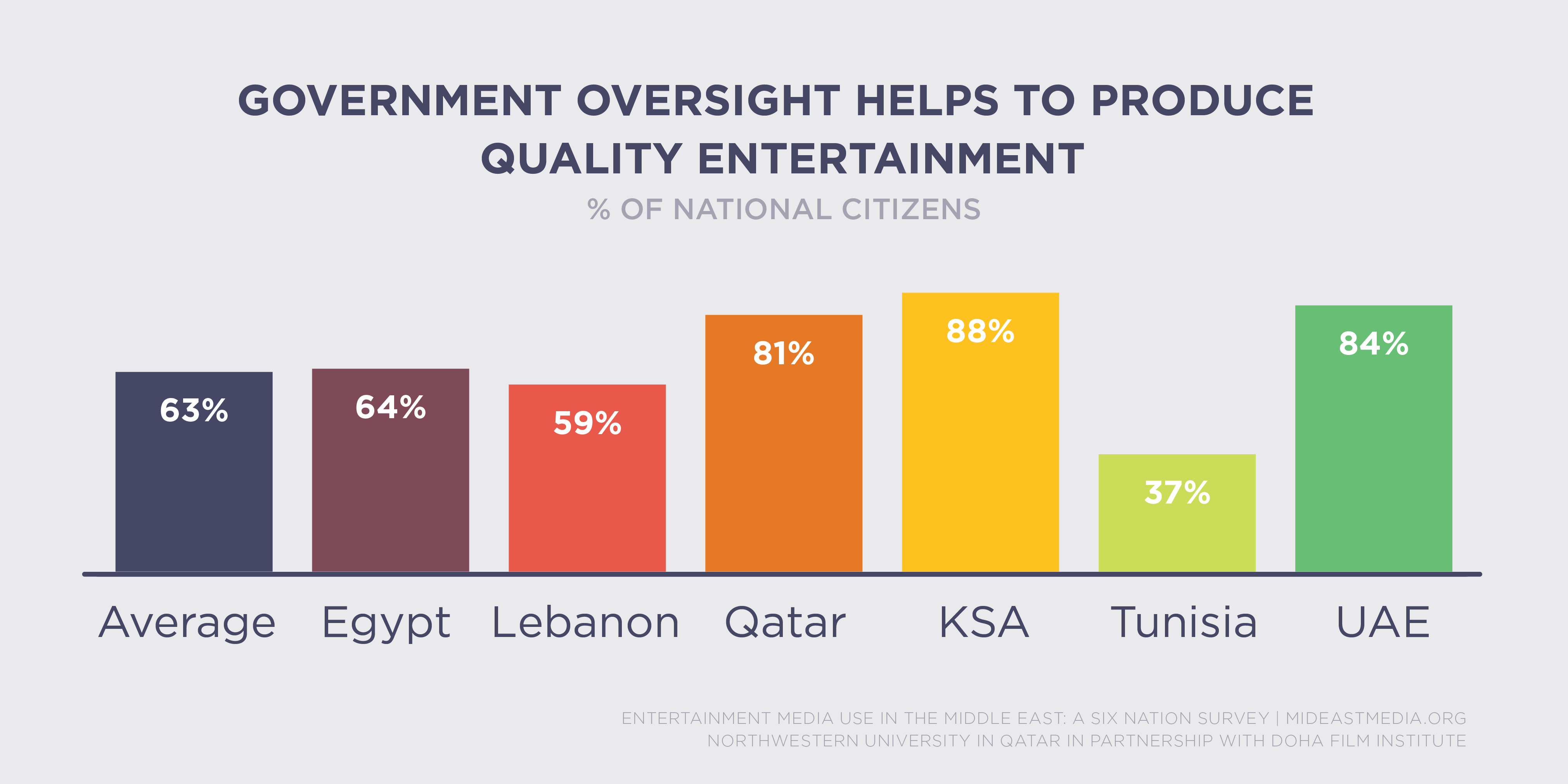 Residents in Qatar generally support censorship and regulation of certain entertainment content. However, there is a sharp divide in perceptions about regulation and censorship of entertainment among nationalities in Qatar. Qatari nationals and Arab expats are most supportive of regulation and censorship. Nearly all Qatari nationals feel content should be deleted, or whole programs banned, if some people find them offensive (91% and 89%). Over eight in ten Qatari nationals agree that violent and romantic content should be more tightly regulated (85% and 84%) and that government oversight helps to produce quality entertainment (81%). Arab expats in Qatar express similar opinions to Qatari nationals. Asian expats also express strong agreement with regulation and censorship, but not to the same degree as Qatari nationals.
Westerners living in Qatar do not agree. While about half support regulation of violent content and the deletion of some sensitive scenes in entertainment (51% and 48%, respectively), they do not feel romantic content should be more tightly regulated or that material some people find offensive should be banned (59% and 55% disagree). Additionally, a minority of Westerners agree that government involvement helps the quality of entertainment media (43% agree). Residents in Qatar with children in the household are more likely than those without children to feel entertainment programs should be banned if some people find them offensive (76% vs. 61%) and violent content should be more tightly regulated (82% vs. 73%).
Despite their support for some entertainment content, residents in Qatar agree more than others in the region, that it is OK for entertainment to portray problems in society. They also agree that people benefit from watching entertainment from other parts of the world – three-fourths agree, which is consistent across nationalities in the country.