Summary
Film is an important outlet for entertainment in the MENA region, though not necessarily in the traditional sense of going to the cinema. In fact, the majority of individuals in the countries surveyed say they never watch films in the cinema (55% never do). By far, the most popular means of watching films is on television (nearly all people in the region do so at 92%). The internet also is an important method for viewing films; three-quarters of internet users watch films online. A majority also watches films on disc, such as DVDs, BluRay, etc. (53%). Those who watch films on the internet are twice as likely to stream films online as they are to download films to a device, and a third are likely to pay to stream or download films online. Younger viewers (under age 35) are more likely to watch films overall and do so via multiple channels.
Comedy, followed by action/adventure and drama, are the favorite genres of film. All demographic groups like comedies, but preferences for other genres vary by age, gender and method of viewing.
While Arab-produced films generally are preferred, there is widespread viewership of films from around the world. On the whole, though, film preferences are tied closely to one's national origins. Those of Arab descent (nationals and Arab expatriates) prefer to watch films in Arabic, but many also watch films in English. They also prefer to watch films produced in the MENA region, but many watch films from other regions as well, including the United States in particular. Western expats watch films almost exclusively in English, and almost all the films they watch are from the U.S. and Europe. Very few Western expats watch films produced in the MENA region or other parts of the world.
People in MENA watch films from a variety of regions, yet consider films from the Arab region to be a better mirror of Arab culture than films from other parts of the world. They also consider Arab films to be a more positive influence on morality.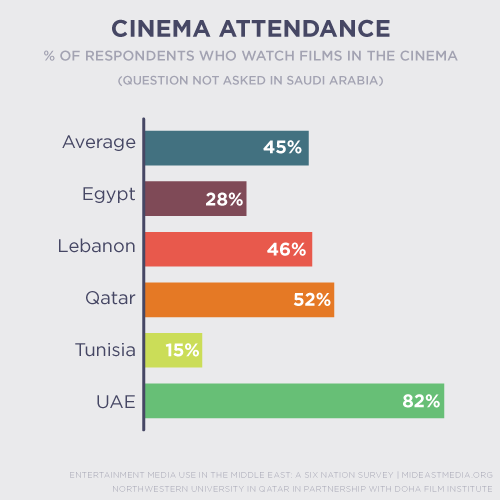 Film Sub-chapters