Entertainers who Exemplify Arab Culture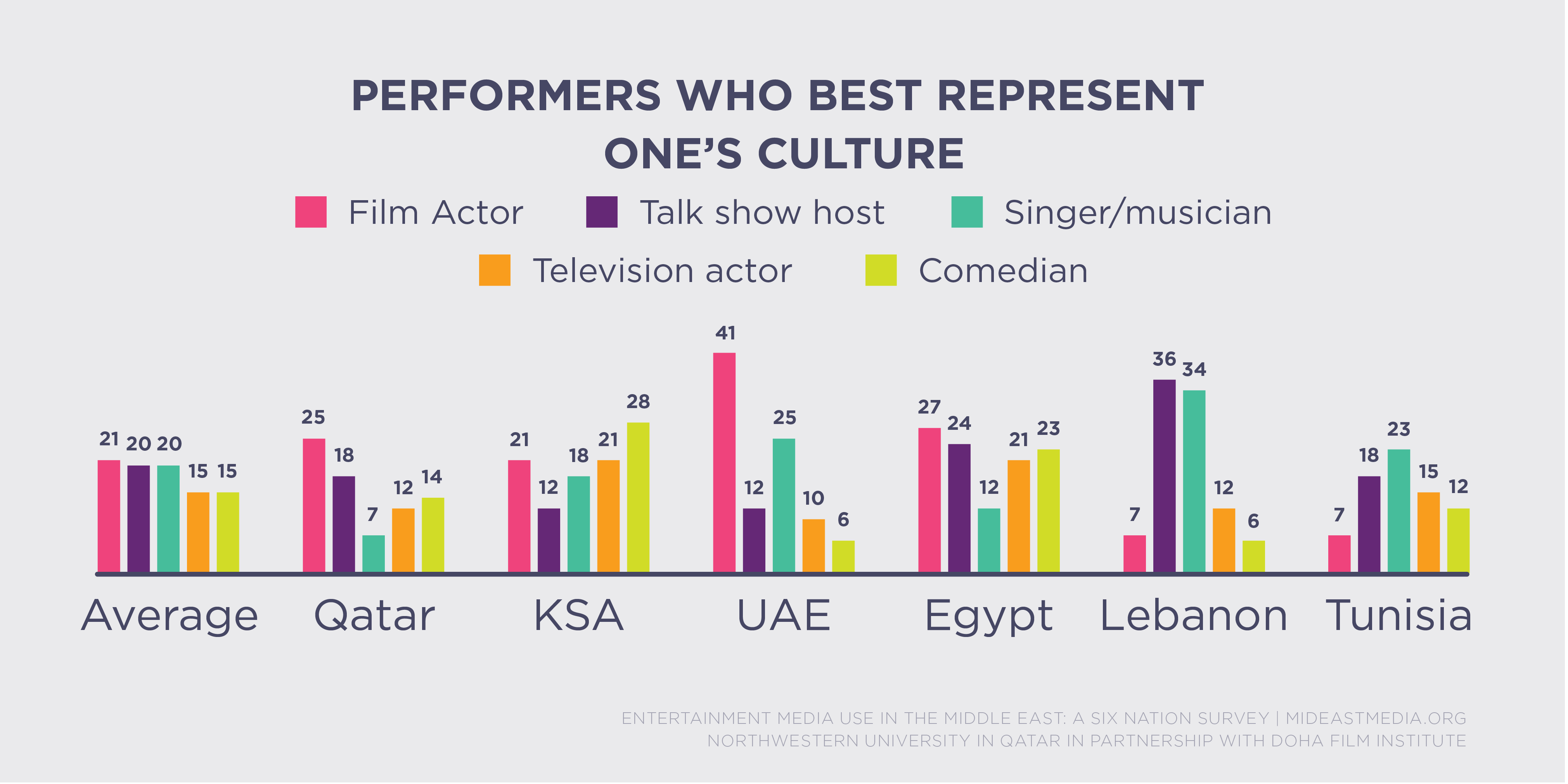 When people were asked which actor or performer they feel best represents their culture, the responses were almost as varied as the number of people surveyed. No one genre of entertainment stood out. People were equally likely to name a film actor, talk-show host or singer/musician as fulfilling this role (about 20% named someone from each of these genres), and television actors and comedians were also well represented on the list (15% each).
The selection of who best represents the culture varied by country, however. Residents of the UAE were much more likely to name a film actor than any other type of performer (41%), whereas Lebanese named talk show hosts and singers/musicians most often (36% and 34%, respectively). Comedians were named most often in Saudi Arabia (28%), and singers/musicians were named most often in Tunisia (32%). Lebanese and Tunisians rarely named film actors and those in Qatar were less likely to name a singer/musician.
Younger people were much more likely to mention singers/musicians as best representing their culture (28%), a finding consistent with their greater consumption of music overall. Asian and Western expats named film actors much more often than other entertainment figures as representative of their own cultures.
The specific individuals named were numerous. There was almost no overlap across countries, and so here named are those figures cited most often as cultural representatives. Only those named by at least 4% in a given country are reported here:
Lebanon: 10% named Tony Khalife (musician) and 8% Marcel Ghamen (talk show host). After that, Fairouz (musician) and George Khabbaz (actor) were each named by 4%
Tunisia: 4% named Ala Chebbi (TV personality); no one else was named by more than 3%
Egypt – 8% named Adel Imam (actor), and 4% each named Ahmed Elsakka (actor) and Ahmed Helmy (actor)
Saudi Arabia –7% named Nasser Al Qasabi (actor); no one else was named by more than 3%
Qatar and UAE– no one was named by at least 4%