Television remains a resilient, growing, and increasingly dynamic platform in the Middle East. The region's TV market base currently stands at just 50 million TV households, and is dominated by satellite television. Other channels of distribution, including cable and digital terrestrial television (DTT), remain relatively small, although Internet protocol television (IPTV) is growing faster than the global average. But IPTV is still largely a GCC phenomenon focused on high-bandwidth markets such as the UAE and Qatar.
MENA's traditional TV industry was worth more than USD 3.37 billion in revenues in 2015, composed of more than USD 2.39 billion in free-to-air (FTA) advertising and USD 0.75 billion in pay TV subscription revenues. To a greater extent than many other international markets, TV is still largely driven by FTA, representing 71 percent of MENA TV revenues. Further, with 43 percent of total net ad spend, TV in the Middle East has one of the highest shares of media ad spend in the world (compared to 37 percent in Asia-Pacific, 36 percent in North America, and 29 percent in Western Europe). This share has increased from 37 percent in 2010 to 43 percent in 2015.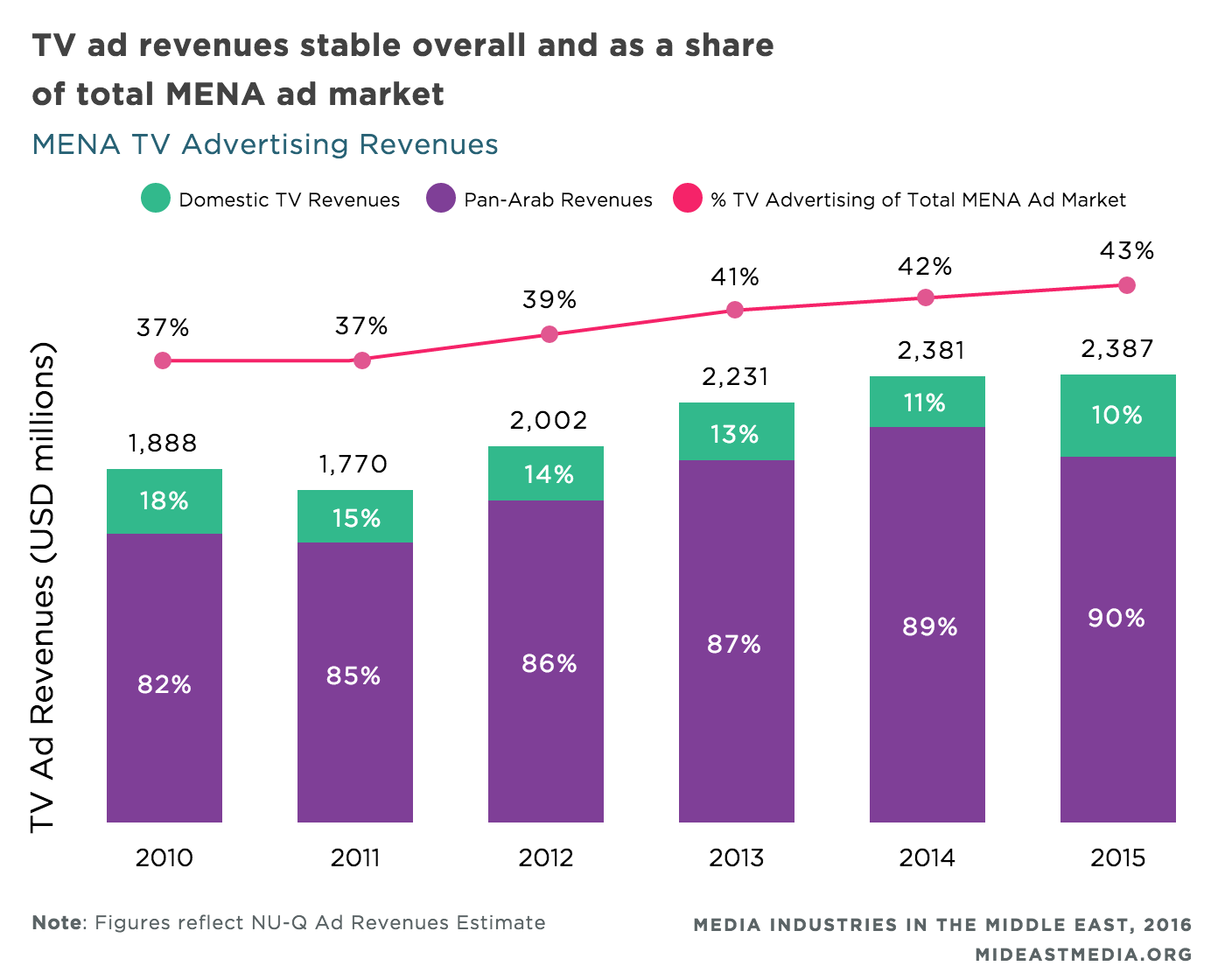 Local TV production is largely concentrated on Lebanon, Egypt, and the UAE. Along the TV value chain and segments, the local market is becoming distributed among fewer players, yet with more intense competition.
Scripted content such as international movies and Arabic-language TV series – especially Egyptian dramas – remains the Arab preference, retaining a significant share of local TV productions and audience. Comedies and thrillers have started to gain better traction, accounting for more local productions. However, the rise in the production and popularity of talk shows, talent shows, game shows, and reality shows over the past few years has tilted the balance somewhat in favor of non-scripted material.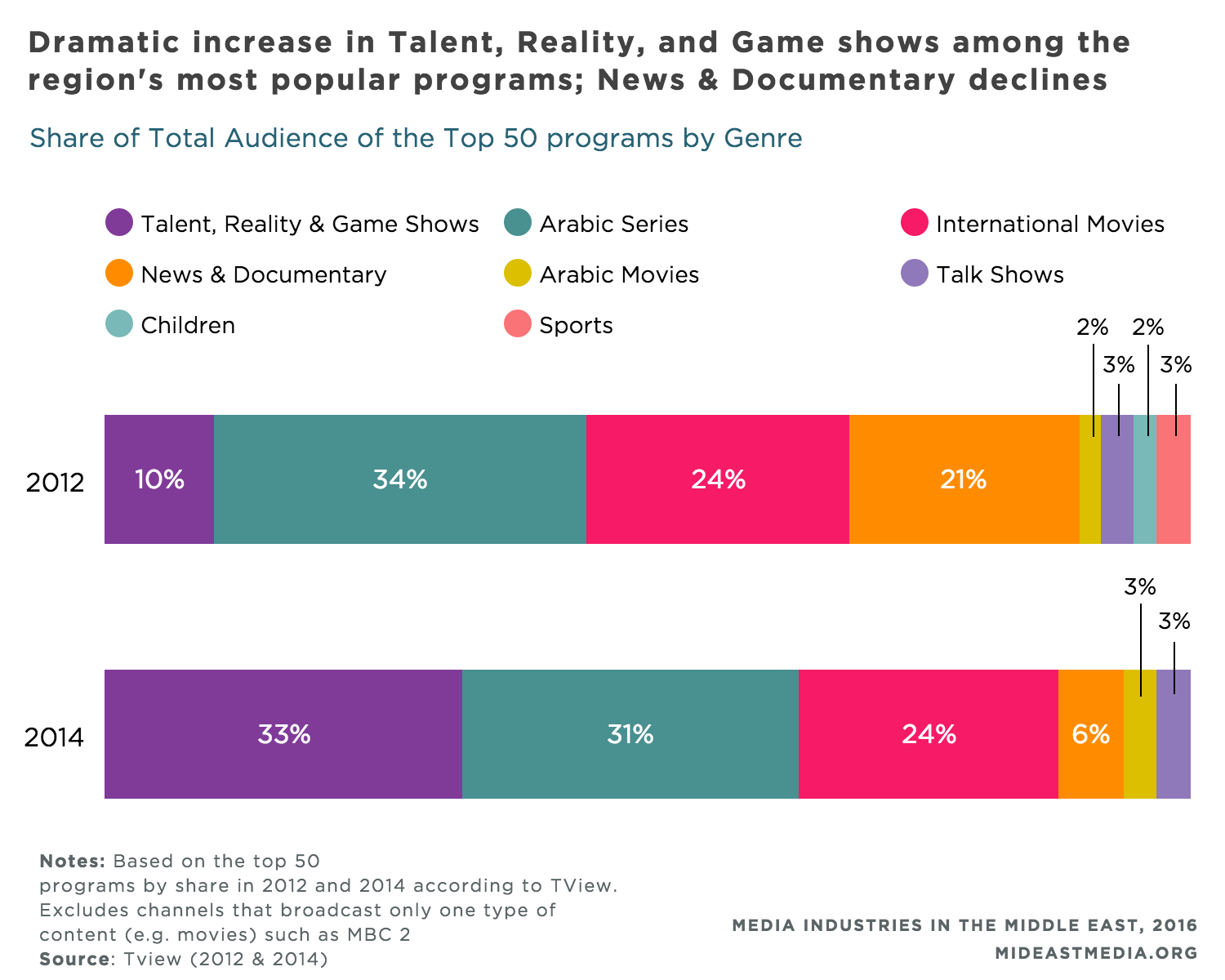 In 2014, FTA offered 724 channels. Although they are highly dispersed and headquartered in more than 35 locations, Egypt, the UAE, and the KSA continue to be the primary countries for FTA stations. In terms of share of audience (SoA), entertainment channels are by far the most popular. Due to their often Pan-Arab nature, they are driving Pan-Arab's almost 90 percent share of advertising revenues.
Pay TV and online video (online streaming and on-demand services) still constitute a small part of the industry compared to other parts of the world, but account for much of the recent growth. TV players along the value chain (from producers to distributors) are increasingly engaging with digital possibilities, opening up new revenue streams. YouTube's impact in the region has been impressive. The recent entry of international players into the region, such as STARZ Play and heavyweight Netflix, will benefit consumers through more nonlinear programming at lower prices.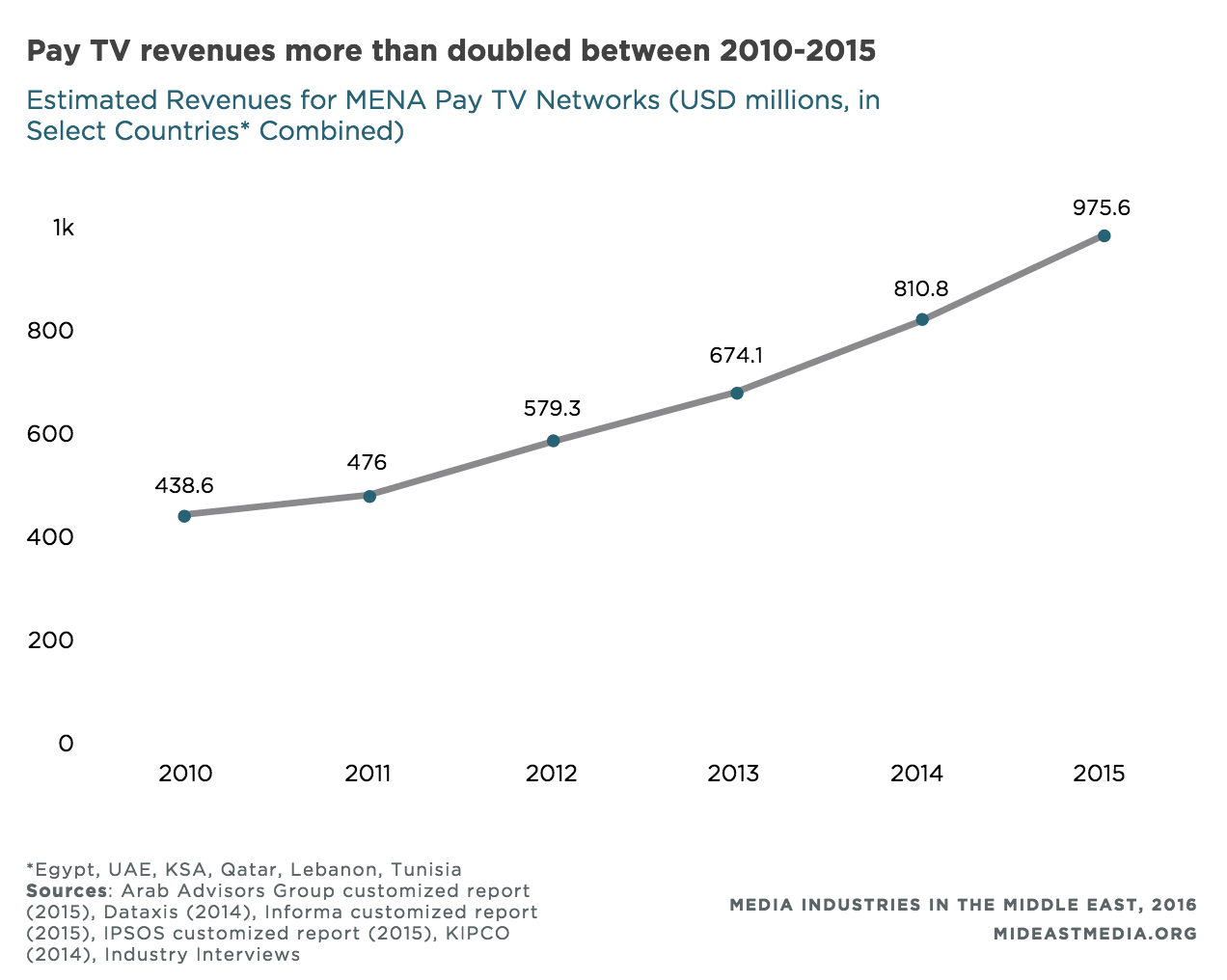 Notes for this chapter:
TV is defined as the media platform on which audio and video are transmitted to the viewer. This definition also encompasses online video services including video on demand (VoD) and online video streaming (e.g., YouTube).
TV content consists of non-scripted content and scripted content. Non-scripted content includes talk shows, game shows, reality shows, talent shows, children's programs, sports, news, and business. Scripted content includes TV series (drama, comedy, thriller, historical, biography), movies (international movies, Arabic movies, music, and documentaries).
TV households in the MENA region have been increasing in line with other developing markets, with a compound annual growth rate (CAGR) of 2.6 percent (Latin America: 3.7 percent, Asia-Pacific: 2.2 percent) between 2010 and 2015.
While cable remains the largest TV platform globally with a share of 37 percent, satellite accounts for almost 80 percent of the region's TV households. However, IPTV and DTT are the fastest-growing platforms from 2010 to 2014, with CAGRs of 25 percent and 35 percent, respectively. These platforms are outpacing the global growth rate, but from a much smaller base. Poor Internet infrastructure in non-GCC MENA countries has also hindered the adoption of IPTV in the region.
MENA's adoption of these types of TV distribution has been driven by the richer GCC countries, due to more high-speed broadband penetration and regulations (e.g., bans of satellite dishes in new developments). As a result, IPTV accounts for more than a 50-percent share of TV households, while UAE accounts for a 40-percent share of TV households.
In contrast, in countries such as Egypt, IPTV is virtually non-existent, and terrestrial TV is declining as satellite TV gains a larger share. This is mainly due to the wider multi-channel choice proposed by satellites and the delays in DTT roll-out.
The region boasted more than 700 FTA channels in 2014 and has seen a CAGR of 13 percent since 2012. FTA channels in the MENA region are headquartered in more than 35 locations, with Egypt, the UAE, and Saudi Arabia as the primary headquarters for FTA channels. In most markets, free direct-to-home (DTH) continues to be the dominant form of TV distribution.
Pay TV subscriptions continue to show a significant growth despite the ubiquity of free content on offer. In markets like the UAE and Qatar, pay TV was present in more than 80 percent of the TV households in 2015.
TV Production – Location and Economics
Most of the production houses for non-scripted programs are based in Lebanon (four companies with 70 shows) and the UAE (four production companies with 10 shows). TV production is split evenly between in-house channel production and independent studios. While low costs and the availability of talent make Lebanon the preferred regional production hub, the UAE is offering high-quality facilities (e.g., Studio City), aggressive incentive mechanisms and the presence of a leading anchor tenant (i.e., MBC). Other countries, such as the KSA, have a very limited potential for the production of local shows, although recent announcements to launch a new media city in the KSA might be changing the equation. In Qatar, production is limited to locally broadcast shows. Syria has historically played an important role for TV production, but current events have significantly slowed down the production of non-scripted shows in the country.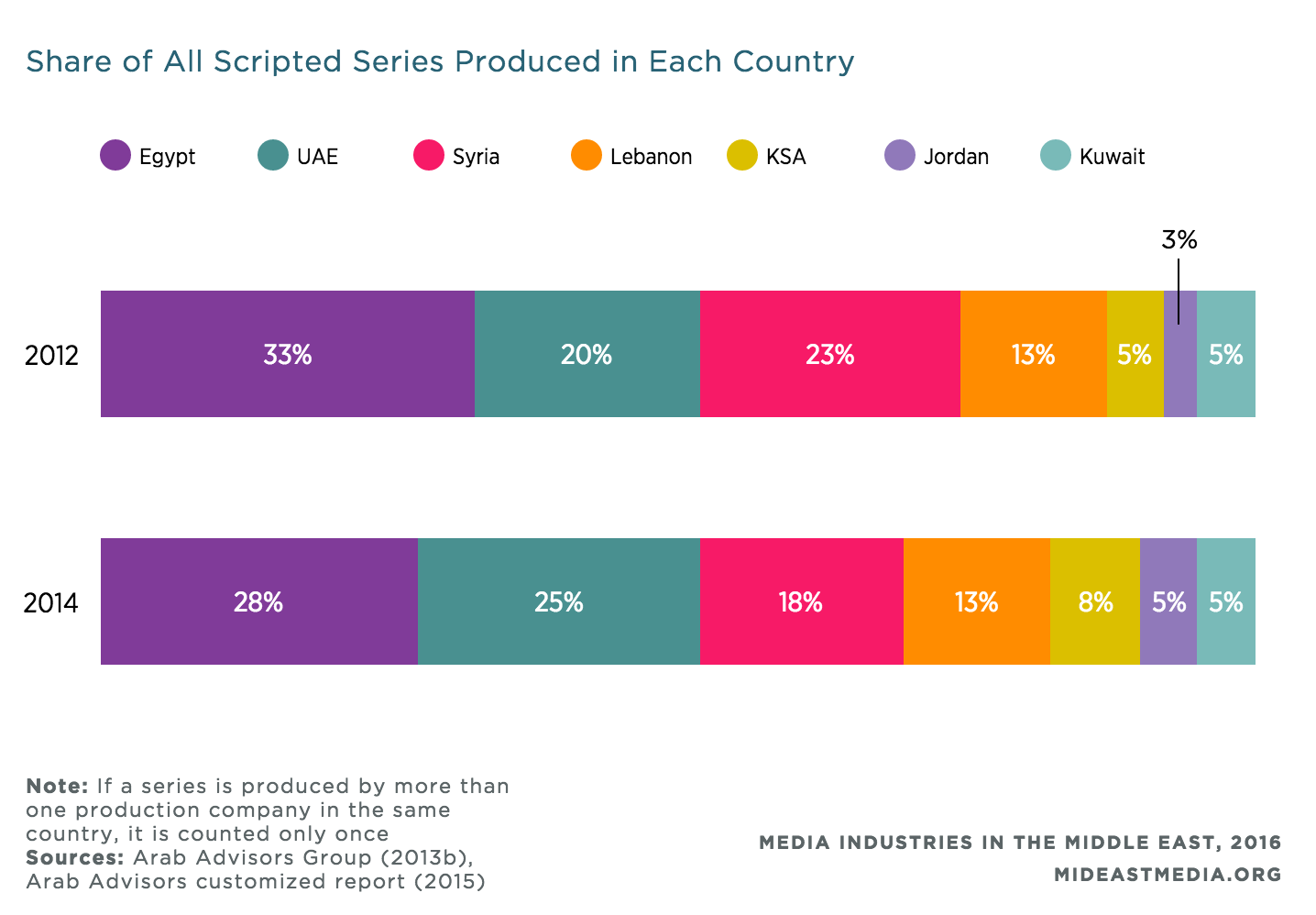 The production of scripted programs (i.e., TV series) is more widespread across the MENA region. In Egypt and the UAE, 25–30 percent of TV series are produced locally. In Lebanon and Syria, this is 12–17 percent, and between 5–7 percent in Jordan, Kuwait, and Saudi Arabia. Over the last few years, political turbulence in Egypt and Syria has contributed to a smaller share of series production in the UAE and the KSA. Among the more prolific TV production companies, Cedars Art Production (Lebanon), King Tut for Media Production (Egypt). and Sabbah Pictures (UAE) are noteworthy.
Actors and support staff account for 40–60 percent of the total TV series production cost. Egypt, the UAE, and Lebanon are major hubs for scripted content due to the availability of actors and technical crew and the relatively lower salaries in those countries. While the UAE has state-of-the-art facilities when it comes to production of TV series, it suffers from a lack of local talent and the higher salaries there.
Competitive Dynamics and Key Players
The TV market is competitive, yet very concentrated on a few large players. While the FTA market has a wide range of companies with more than 700 channels, five major networks in the region (MBC, Rotana Group, Al-Hayat, DMI, and ADM) attract around 30 percent of the audience (SoA), with the other 70 percent scattered across a large number of smaller stations. All five major networks offer entertainment and series. MBC is the market leader by far, with more than 23 percent as SoA and close to 30 percent of all revenues. Rotana is the closest competitor with almost 7 percent as SoA and around 13 percent of all revenues. Lebanon is considered the least concentrated market where the top 10 channels account for 21 percent as SoA. Saudi Arabia is the most concentrated with the top 10 channels accounting for as much as 59 percent SoA.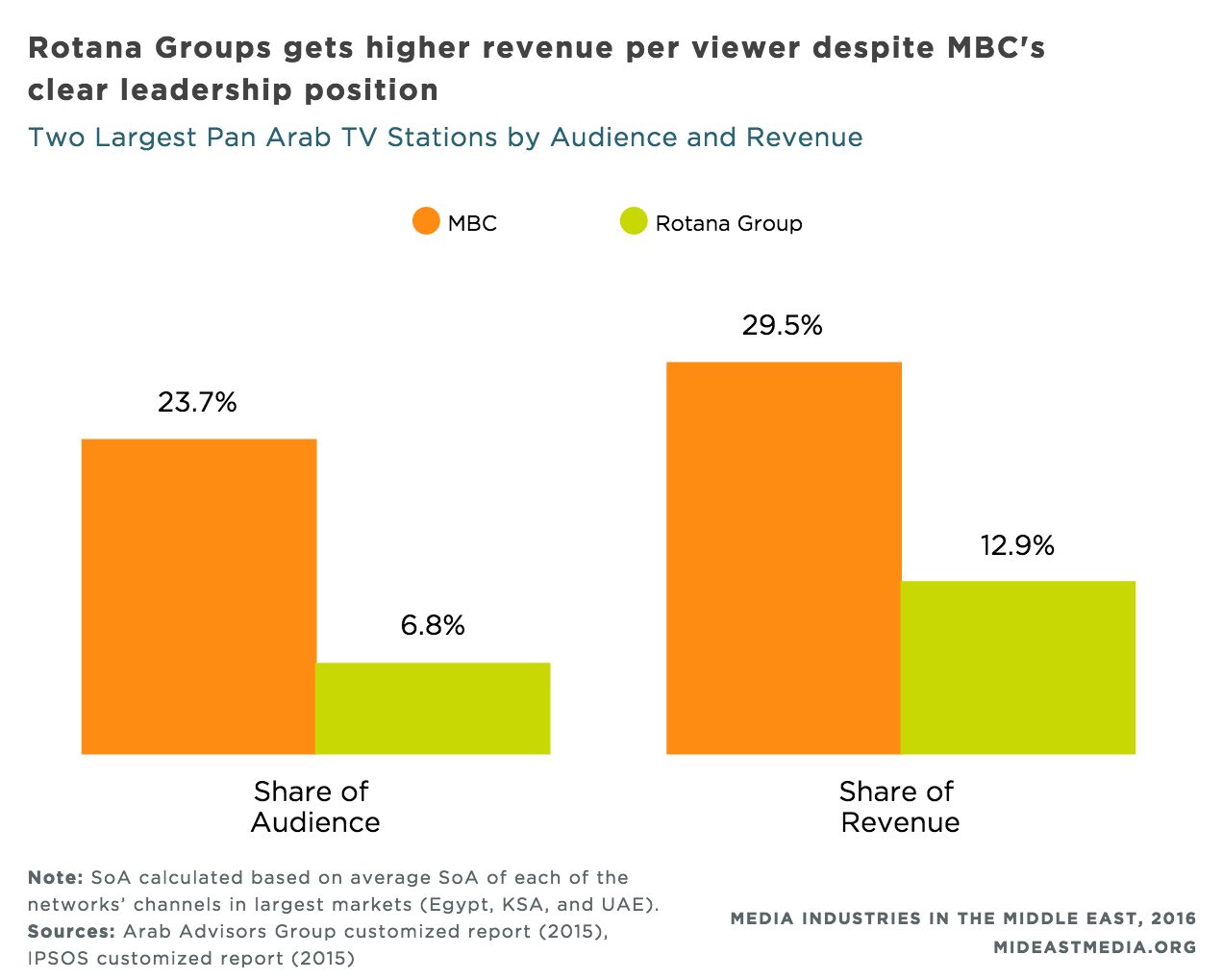 The Pay TV market in the Middle East is divided into mainstream, multi-platform pay TV operators, and IPTV providers (i.e., mainly telecommunication companies). OSN is the region's leading pay TV operator, both by revenue and growth, since 2010. beIN Sports has the most subscribers (58 percent of all subscribers) in the MENA market, thanks to the exclusive coverage of premium sports content and comparatively low subscription prices. IPTV primarily consists of GCC telecom operators Etisalat and du in UAE, STC in the KSA, and Ooredoo in Qatar. They usually bundle an offering of largely FTA channels with add-on packages from the mainstream pay TV players and occasionally in-house developed channels (e.g., Etisalat's e-masala). The pay TV market in the Middle East will face some significant changes in the next few months with the expansion of beIN into entertainment, beyond its core sports offerings.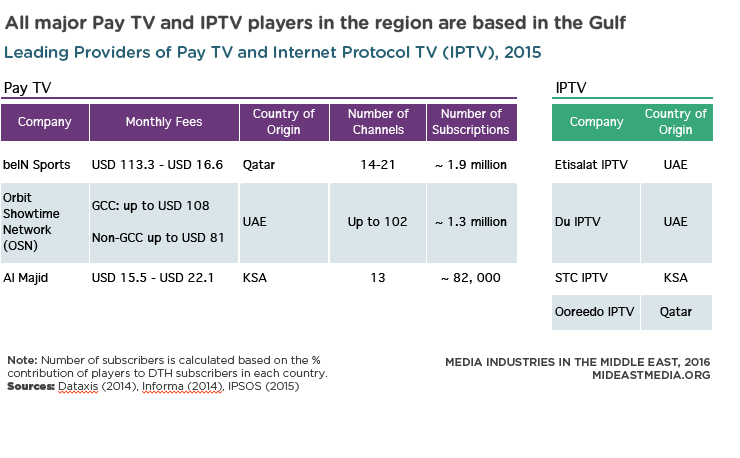 Online video has fewer players compared to other markets. Free legal online video streaming in the region is dominated by YouTube. The video-on-demand (VoD) market in the Middle East consists of only 10–15 players (compared to more than 3,600 in Europe) but no particular one has captured a large market share yet. This could change with international heavyweights, such as Netflix, expanding into the region.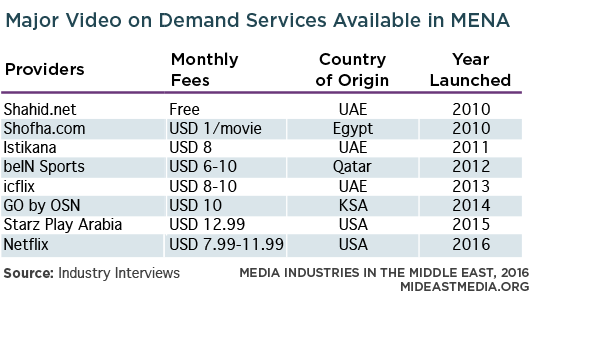 Scripted content, largely consisting of Arabic TV series and international movies, reached approximately 75 percent as share-of-audience (SoA) in 2012. In 2014, international movies and Arabic TV series still retained the lion's share of the region's audience. But the popularity of content has become more balanced, with a sizeable shift towards non-scripted content. It reached 42 percent as SoA, compared to 25 percent in 2012. In just two years, non-scripted talent shows, such as "Arab Idol," "Arab's Got Talent," and "The Voice," almost doubled in their SoA.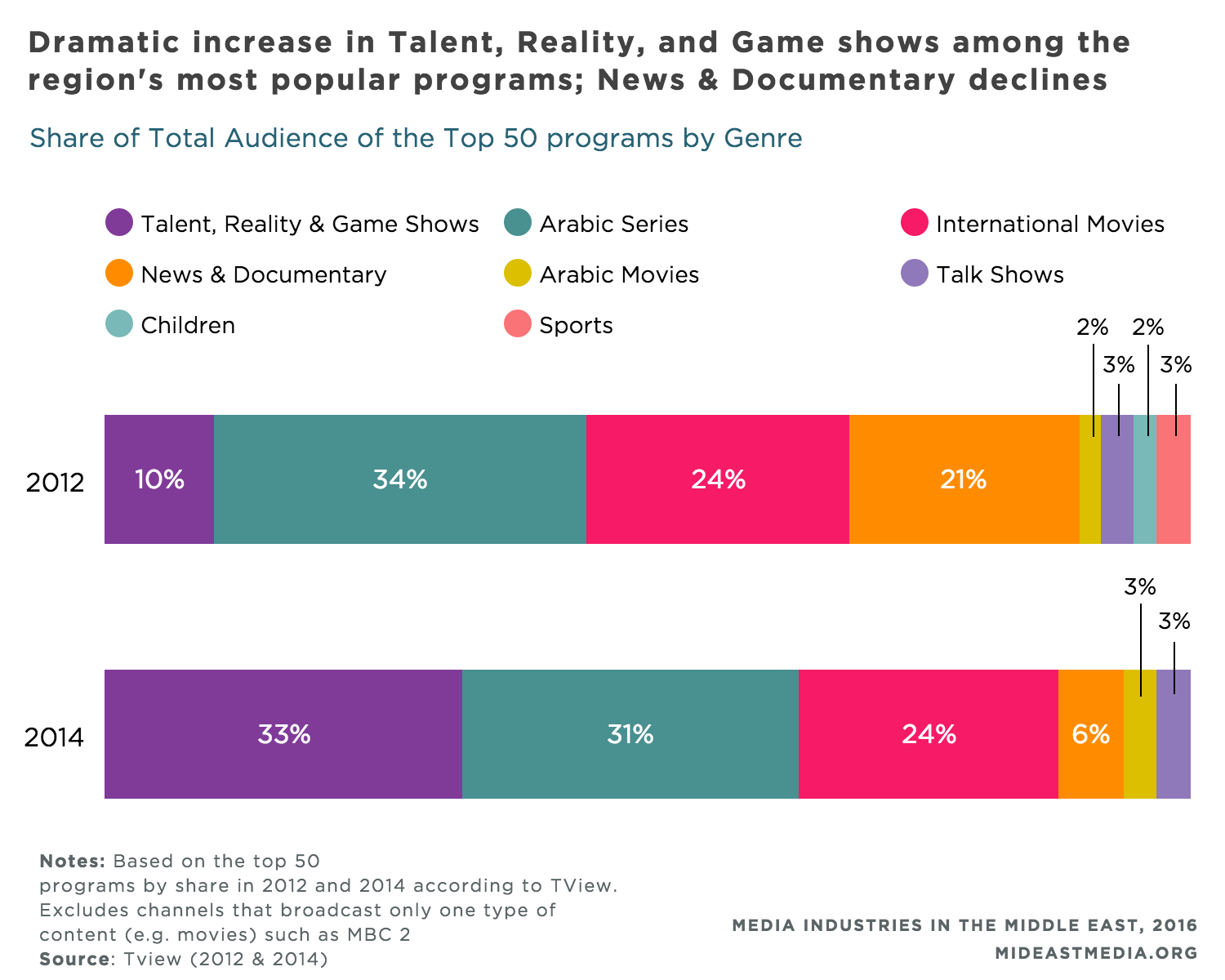 Non-Scripted Content
Talk shows are the most frequent non-scripted programs, but talent and game shows have been gaining popularity over the past few years in FTA channels.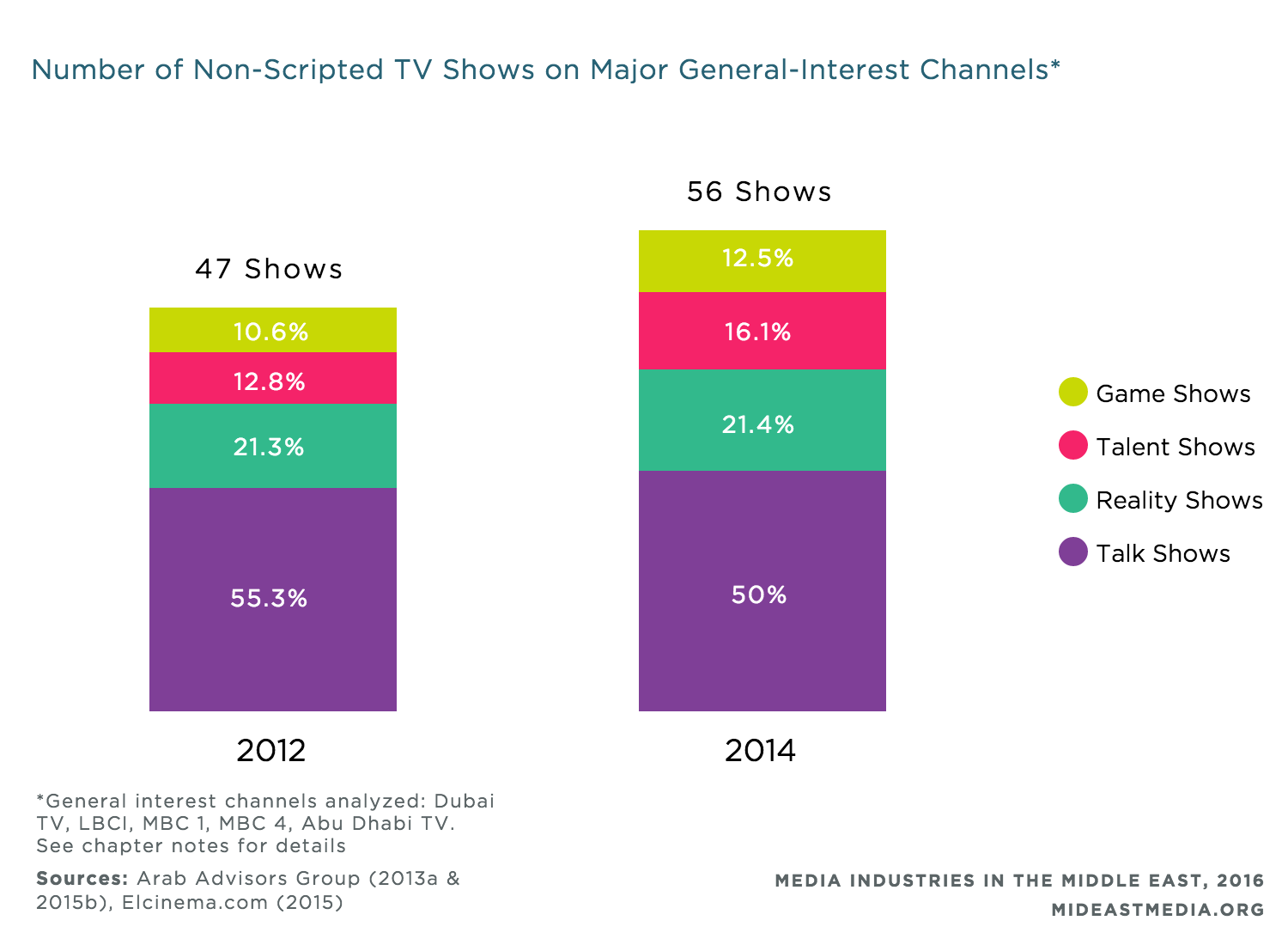 Talent shows are mainly licensed, but talk shows, reality shows, and game shows are mostly original formats. Reality shows in the region tend to be focused on celebrities from the MENA region, limiting the importance of international formats.
The MBC Group, with 28 programs aired in 2014, is the dominant player across the MENA region in the non-scripted TV show category.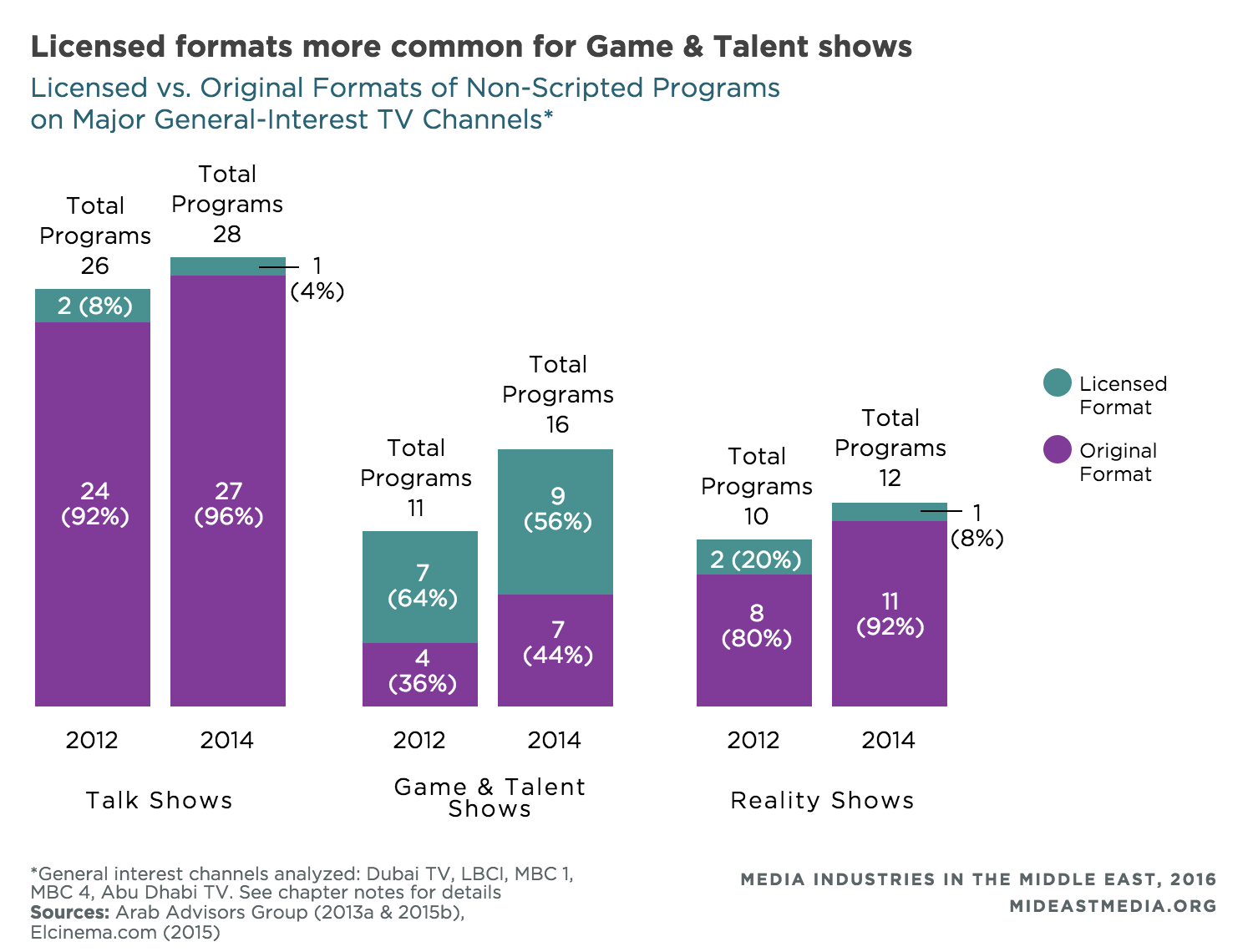 Scripted Content: TV Series
Drama remains the main genre with 61 percent of all TV series produced in MENA. It is mainly driven by Ramadan and Egyptian drama productions. Egyptian drama series have dominated the MENA region's drama scene, consistently representing eight out of the top 10 drama series. Although drama remains dominant, it has lost somewhat to comedy and thriller genres. Not only drama, but also Egyptian comedy belongs to the most watched comedy series in MENA – with almost all entries of the top 10 comedy series from Egypt.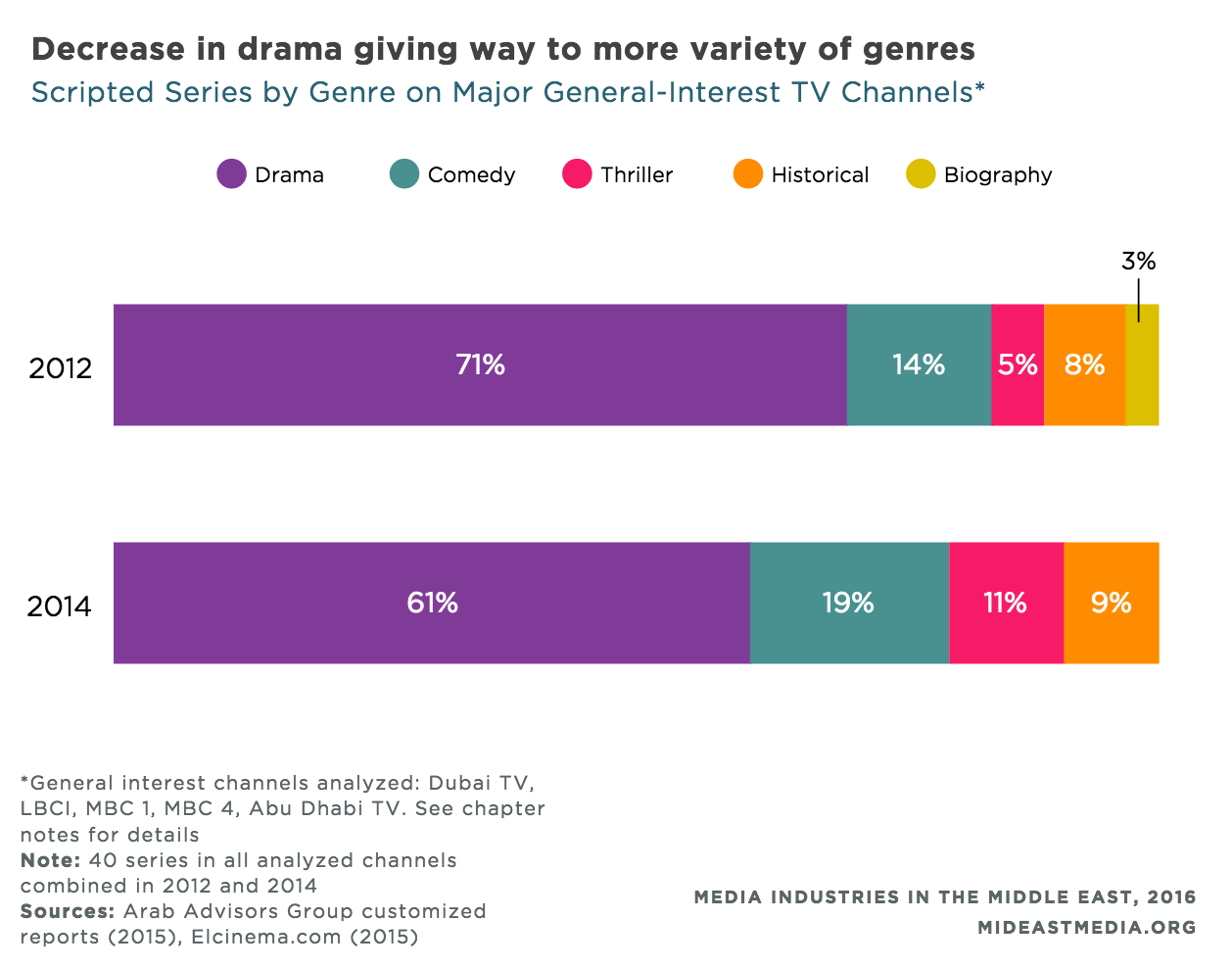 Free-to-Air
The MENA region is largely an FTA market. As of 2014, the region is home to 724 FTA channels, up by almost 40 percent since 2011. The region's supply of FTA channels is rather evenly distributed across the different genres. Most of these genres have seen a double-digit CAGR growth between 2012 and 2014. As an exception, "general" content occupies the largest share at 33 percent of all FTA channels, but by its nature also contains all other genres. In our focus countries, except Egypt, entertainment channels constitute a major portion of the top channels with around 30–40 percent as SoA, mainly due to their Pan-Arab nature.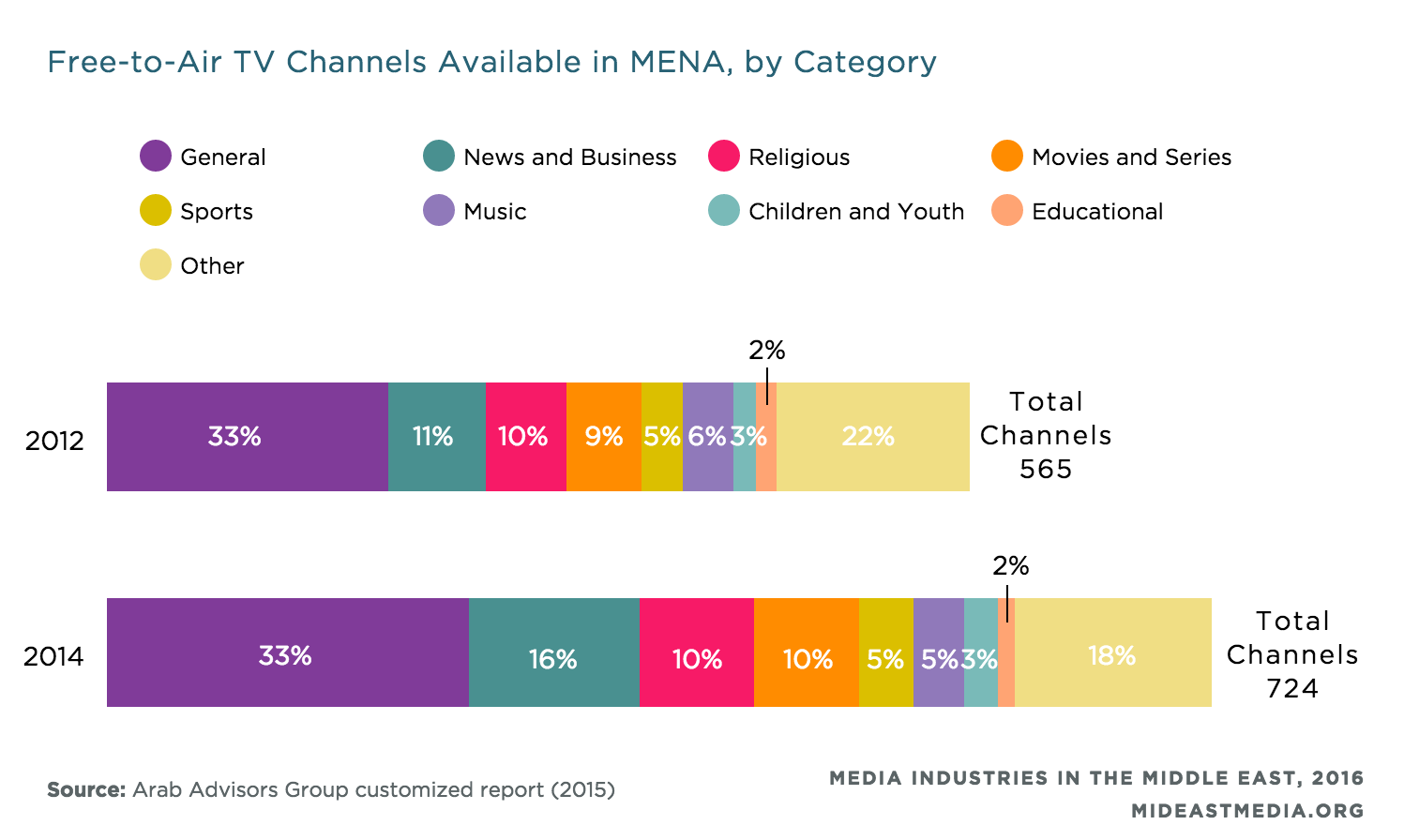 Approximately 20 percent of the FTA TV channels in the GCC and Egypt are state-owned, much more compared to the Levant countries. By genre, governments – mostly the Saudi, Qatar, and UAE governments – own 71 percent of MENA sports channels. Around 17 percent of news and current affairs channels are also state-owned, due to GCC and North African government regulations around news and content dissemination.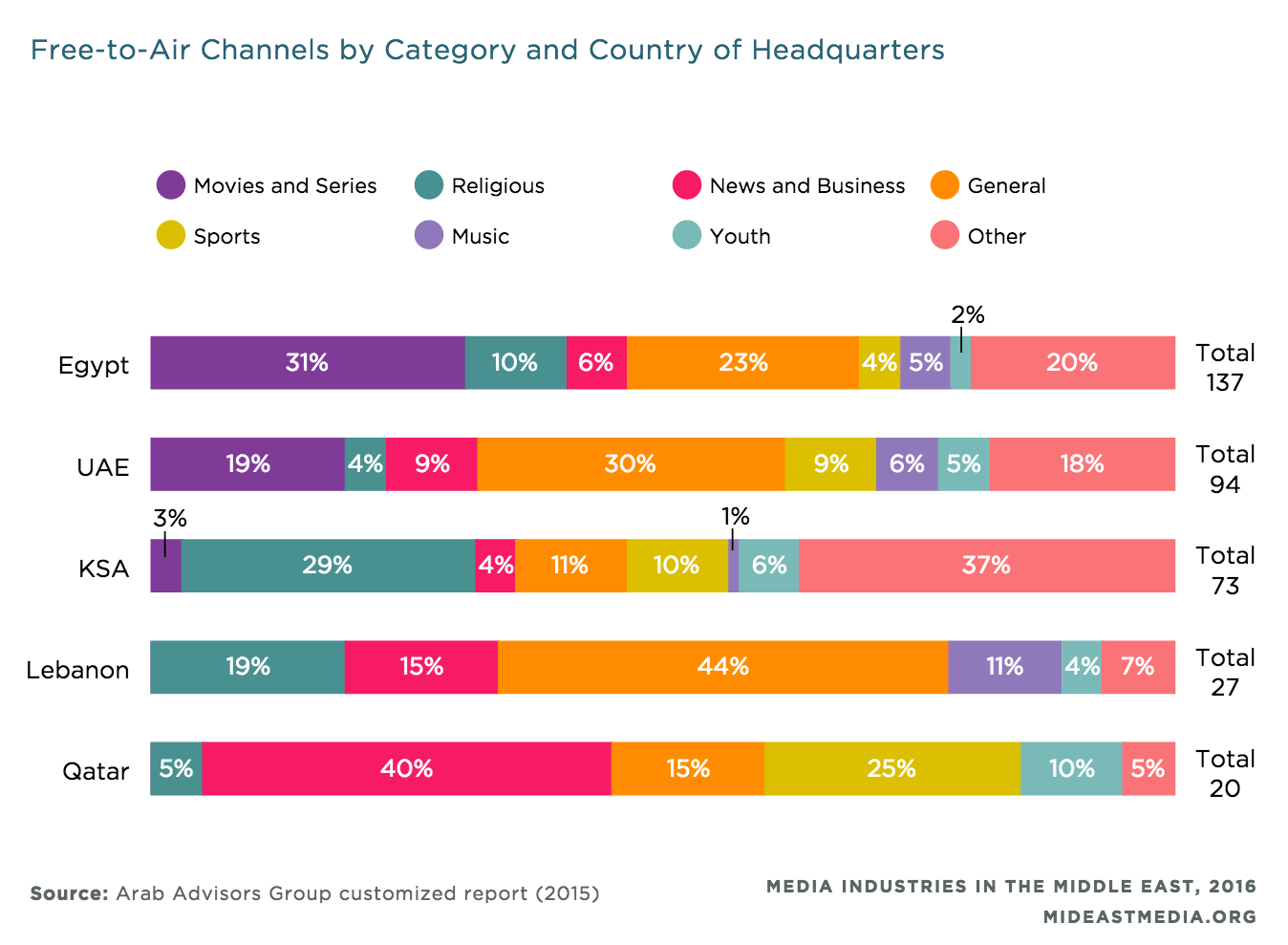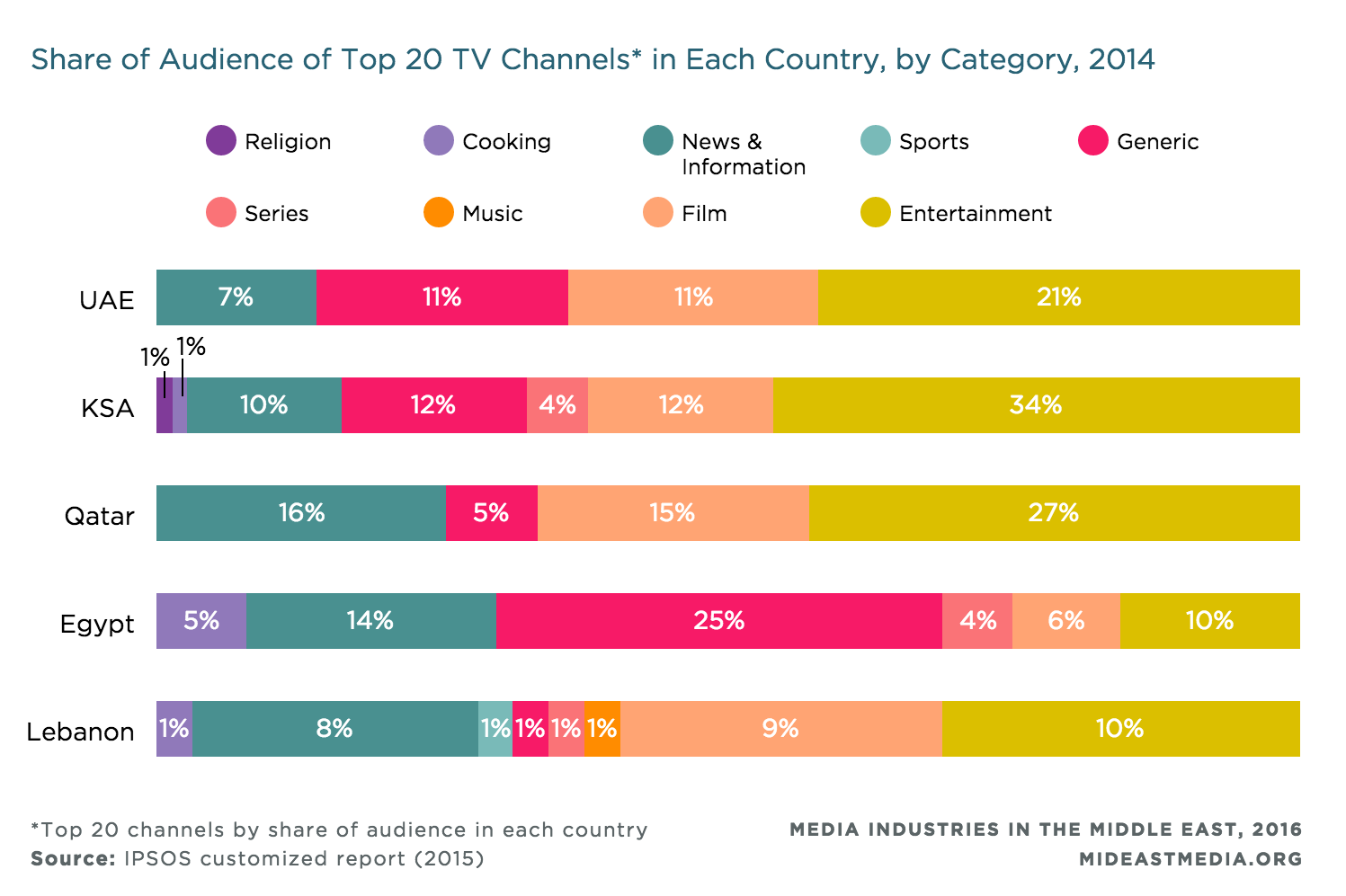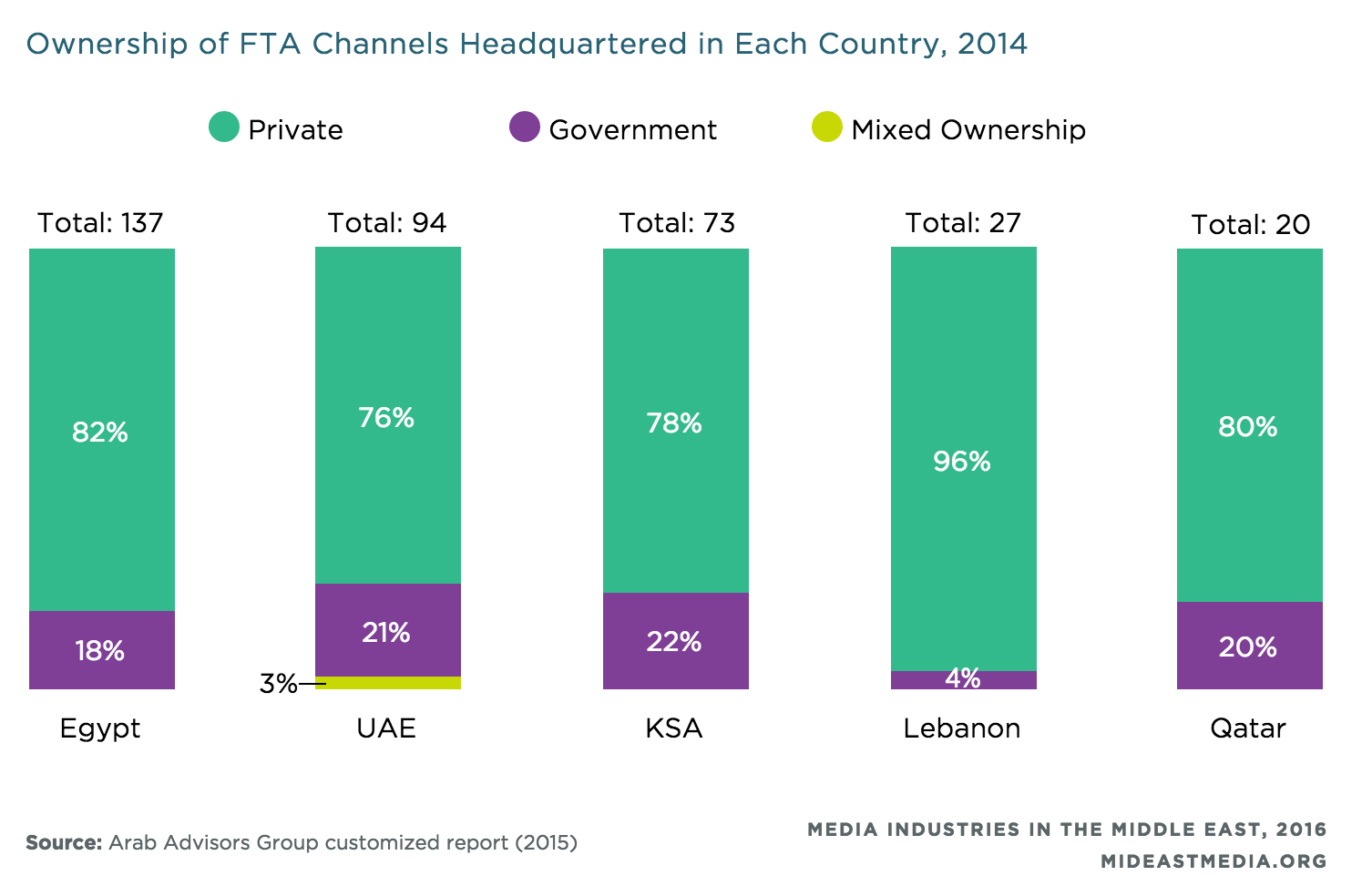 Pay TV
Compared to other world regions, MENA's pay TV market is still very small. At only around 9–10 percent penetration of MENA TV households, the market is still far behind other markets, with penetration rates typically closer to 50–60 percent and even as much as 86 percent in the U.S.
However, despite a strong FTA offering and frequent piracy, subscriptions continued to grow in the region at a healthy CAGR of 8.4 percent from 2010 to 2015. IPTV in particular has taken off in the GCC countries. Its proportion of total pay TV subscriptions has more than doubled between 2010 and 2015, from 8.5–17.7 percent
There is still a large gap in pay TV penetration levels between the GCC and other sub-regions. Qatar and the UAE, with large expat populations, have around 80 percent pay TV penetration, fairly split between IPTV and direct-to-home (DTH) pay TV operators. The KSA with the second highest population base, has much fewer Pay TV subscribers (30 percent) with a focus on DTH. Levant and North Africa sub-regions are all more DTH-oriented, with very low penetration rates between 2–6 percent. Egypt in particular is an undersized market. With the largest population, it still has exceedingly low penetration levels.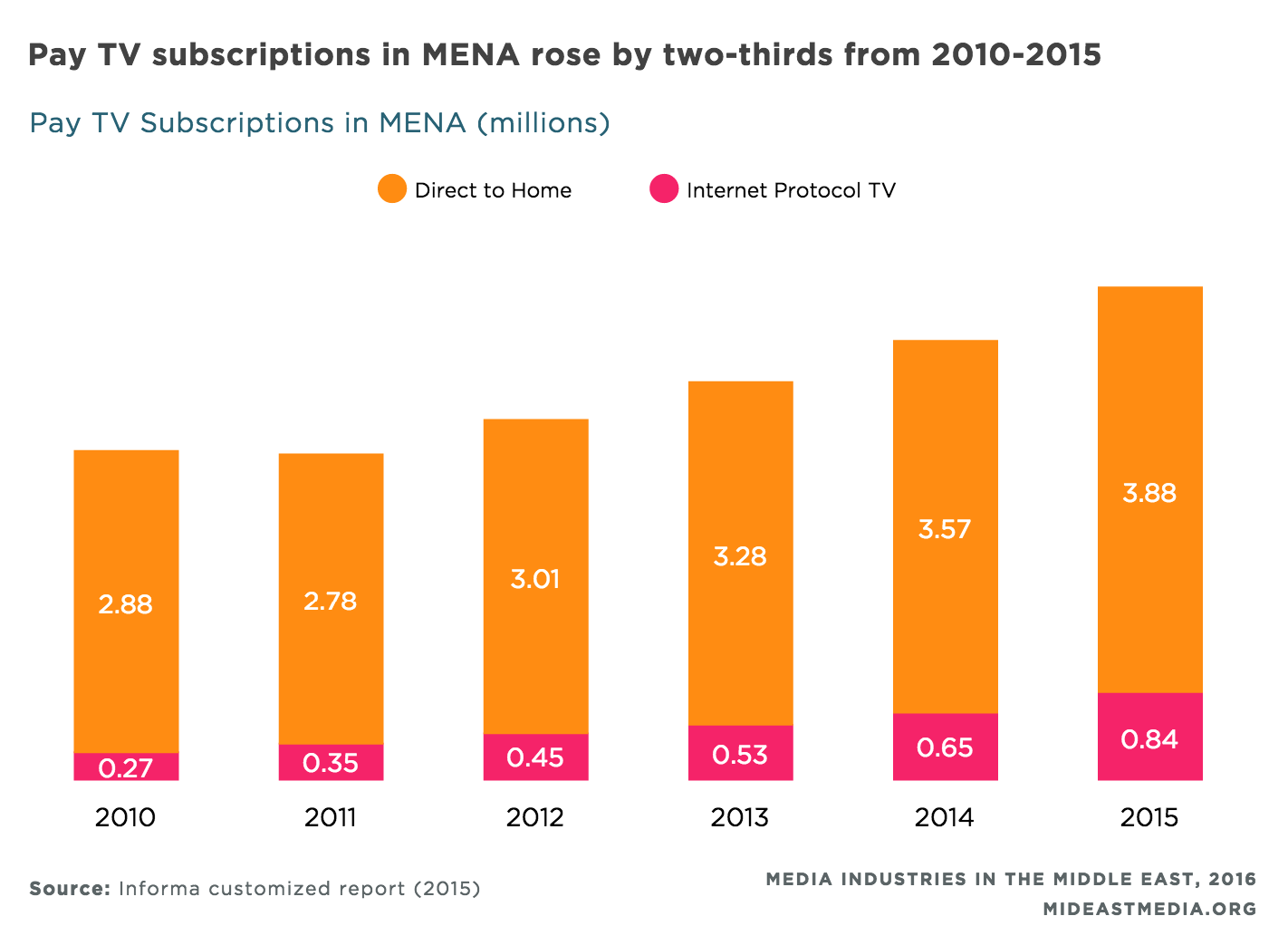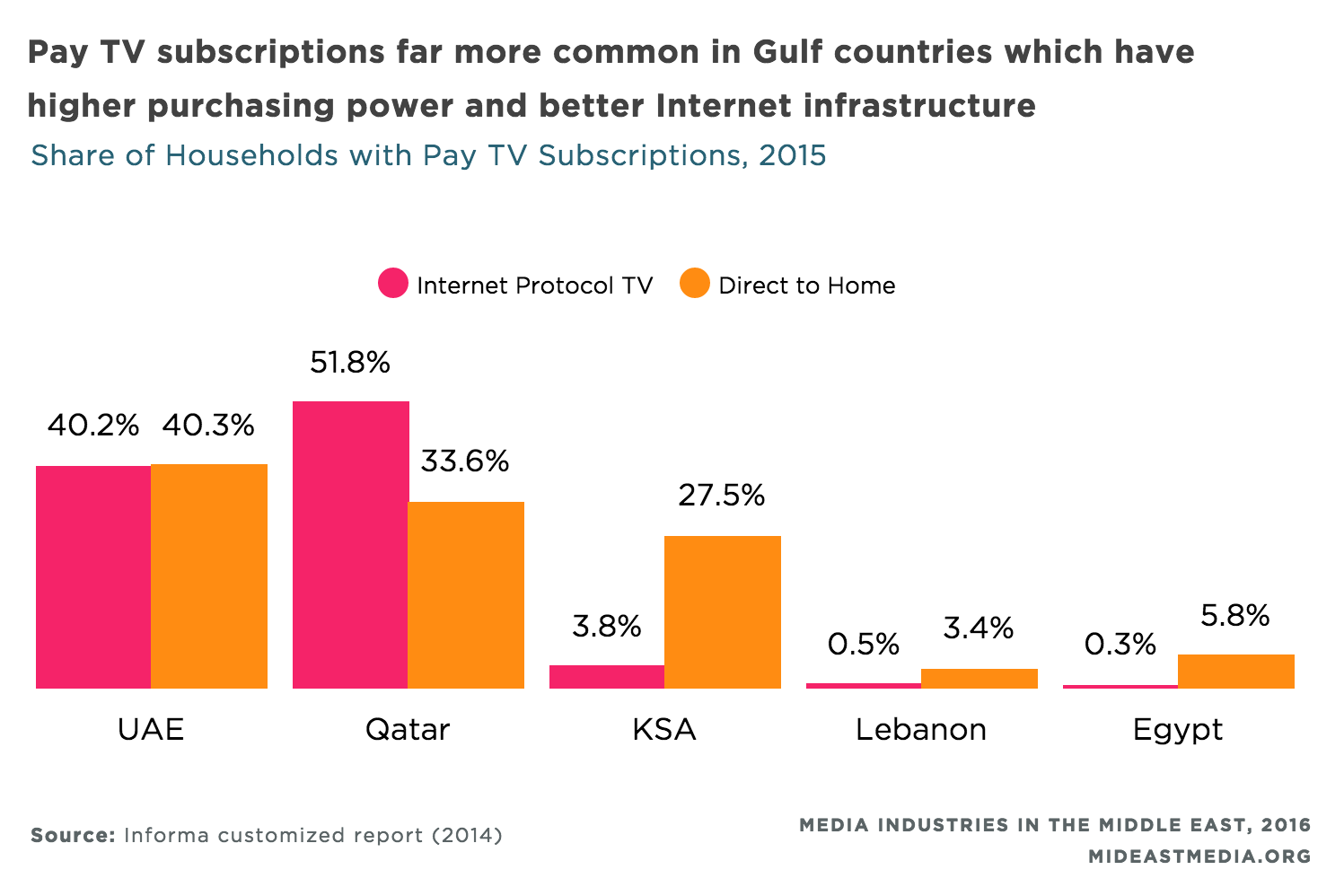 Online Video
Online video (e.g., YouTube) consumption in MENA is the second highest globally – with 510 million views per day (up from around 300 million views per day in 2013). YouTube reports a 50 percent growth per year in MENA's online video views since about 2013. An analysis of the top 500 YouTube channels across key markets – the KSA, the UAE, Levant, and Egypt – also suggests a potential of around two billion monetizable monthly video views. Structurally, broadcaster-led online video platforms have a stronger presence in markets such as the UAE and Egypt, whereas regional and international multi-channel networks (MCNs) represent more than a 50-percent share of views in the KSA and the Levant.
Video-on-demand (VoD) has also seen increasing traction across the region. The success of MBC's Shahid.net, for instance, has led the platform to consider a subscription model targeted largely at Arabs in the diaspora. In Lebanon, several TV channel groups are discussing opportunities to develop a joint VoD platform to compete with major players like Shahid.net. Istikana and icflix are working on their own regional content productions to be distributed exclusively on their platforms – actually quite similar to global players such as Netflix, renowned for their proprietary popular TV shows (e.g., "House of Cards," "Orange is the New Black"). IPTV companies (mainly telecom operators) in the GCC region have recently launched new subscription-video-on-demand (SVoD) services of their own, and are expanding their VoD content libraries. Most significantly, global players such as Netflix and STARZ Play Arabia have recently entered the local SVoD market.
While both short-form and long-form videos are assumed to be viewed on desktops or TV, interviews with major MCN and VoD players in the market suggest that 60 percent of viewers access content via a mobile device – much more than in other regions, where mobile streaming on YouTube is typically around 35–45 percent. This development is mainly driven by the increasing smartphone and tablet penetration in the MENA region as well as the increased broadband speed and bandwidth.
Overall, the MENA region's traditional TV industry is worth more than USD 3.37 billion in revenues (from FTA advertising and pay TV subscriptions). More than in other international markets, the region's TV market is still largely driven by FTA, as opposed to pay TV, highlighting the region's low propensity to pay for content in general and TV in particular. Of MENA's total TV industry revenues, FTA net ad spend represents as much as 71 percent.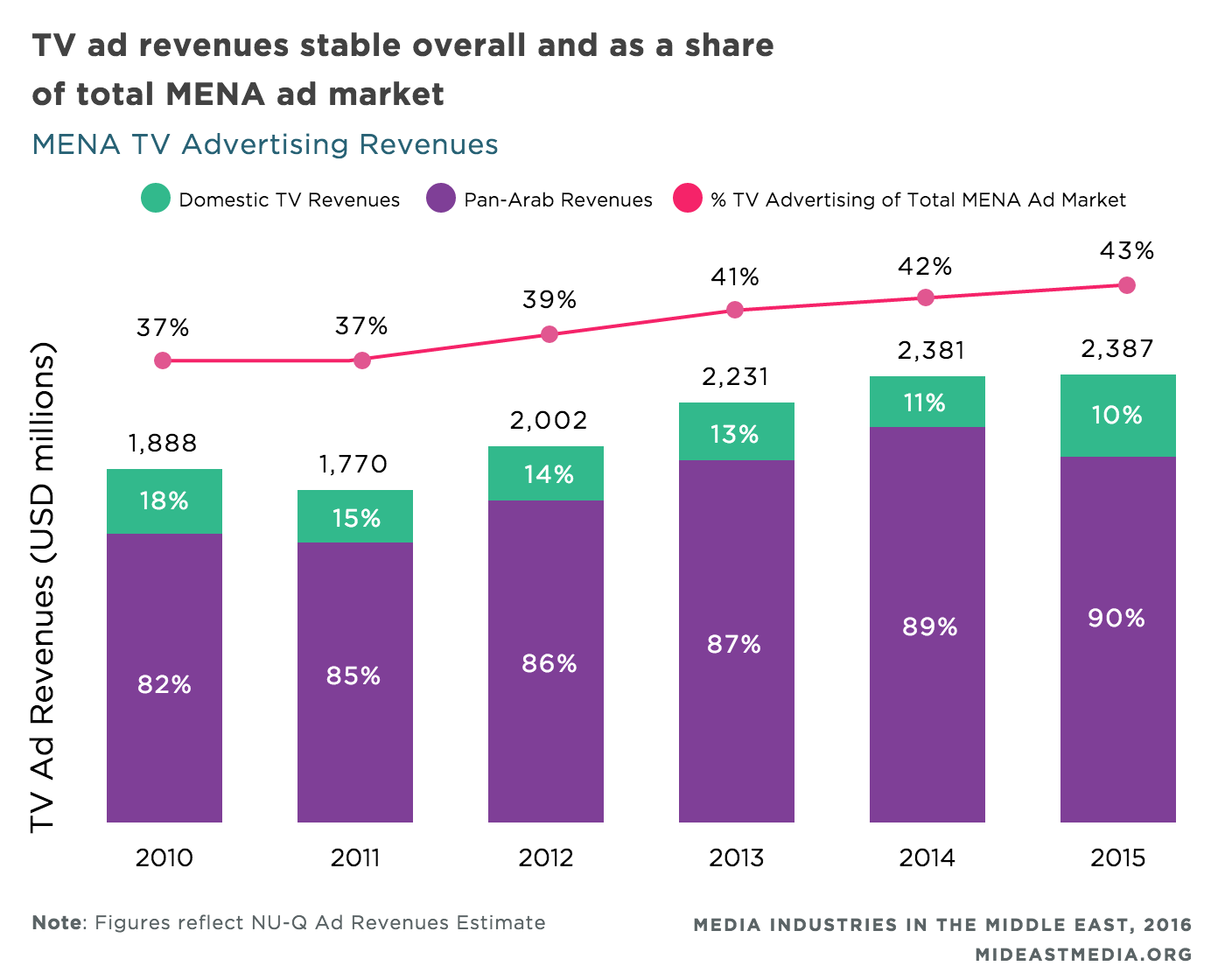 Free-to-Air
Everywhere in the world, TV is still the major advertising platform today. But in the Middle East, TV's dominance over other media platforms in net ad spend is even clearer. It is valued at more than USD 2.3 billion, with an even higher share (43 percent) of net ad spend in 2015 – among the largest globally, compared to 37 percent in Asia-Pacific, 36 percent in North America, and 29 percent in Western Europe.
Television ad spend per capita in MENA, at USD 17 in 2015, is on par with Asia-Pacific but lags significantly behind Western Europe (USD 80) and North America (USD 195). A major cause of MENA's undersized TV ad market, as with that of other media platforms, is its relatively lower monetization levels. This is due in part to the problem of wide-beam technology that reaches a large population spread across multiple countries, while the core target market (that advertisers are willing to pay for) is essentially just one country. Monetization is even more difficult because credible audience measurement systems are missing. Television advertising spend is often based on artificially inflated rate cards resulting in huge gaps (often more than 80 percent) between gross advertising spend (based on rate cards) and net spend (after commission and discounts).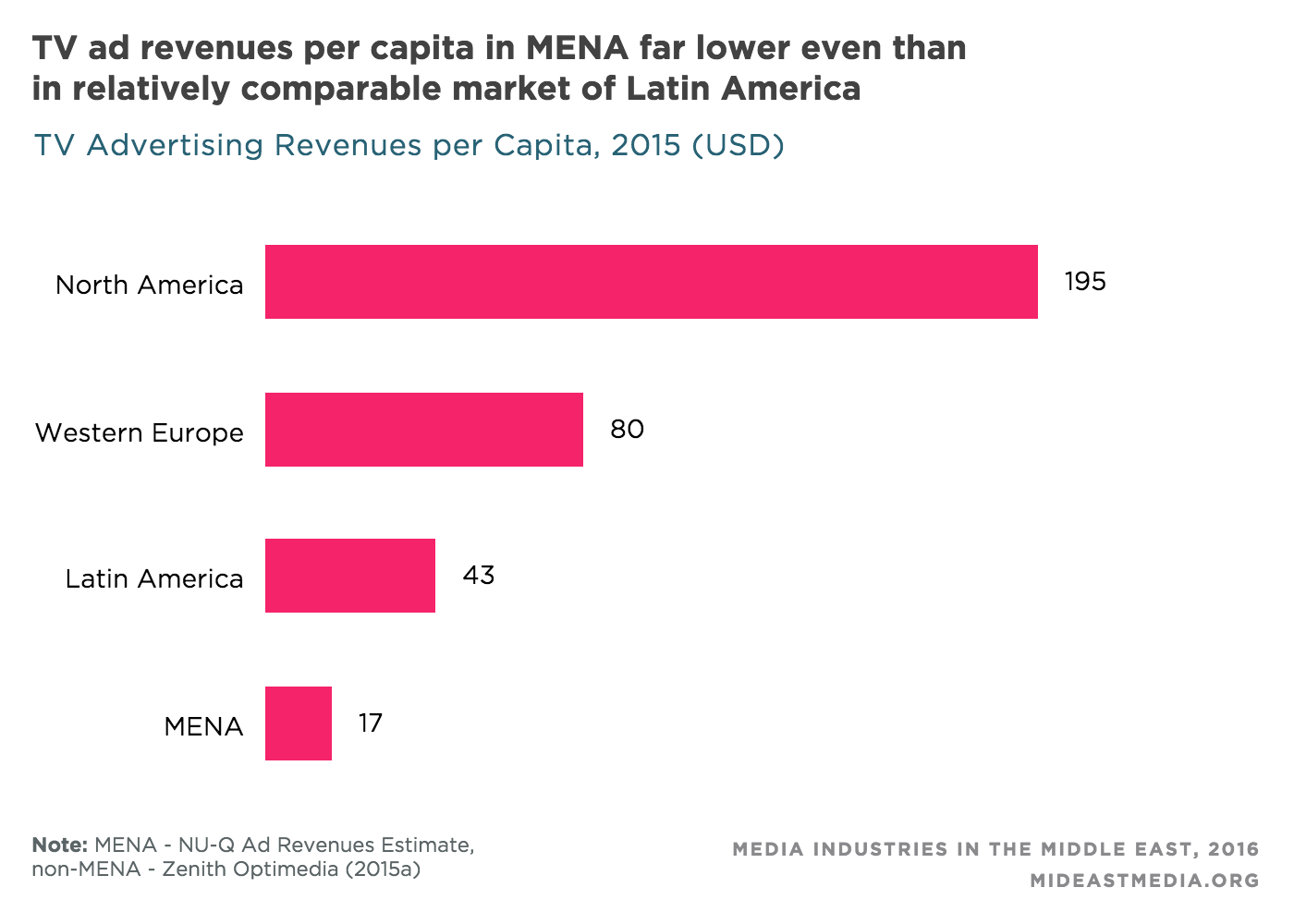 Pan-Arab channels remain the main beneficiaries of ad spend in the MENA region, with almost a 90 percent share of FTA TV net ad spend. Egypt and Lebanon are the major markets for local TV, capturing more than half of the local (minus Pan-Arab) FTA TV net ad spend. Jordan and the UAE are the only markets with an ad spend increase on local TV stations.
The top 10 FTA channels in the GCC account for a 50–60 percent share of revenues, compared to a somewhat lower 40–50 percent in Egypt and Lebanon.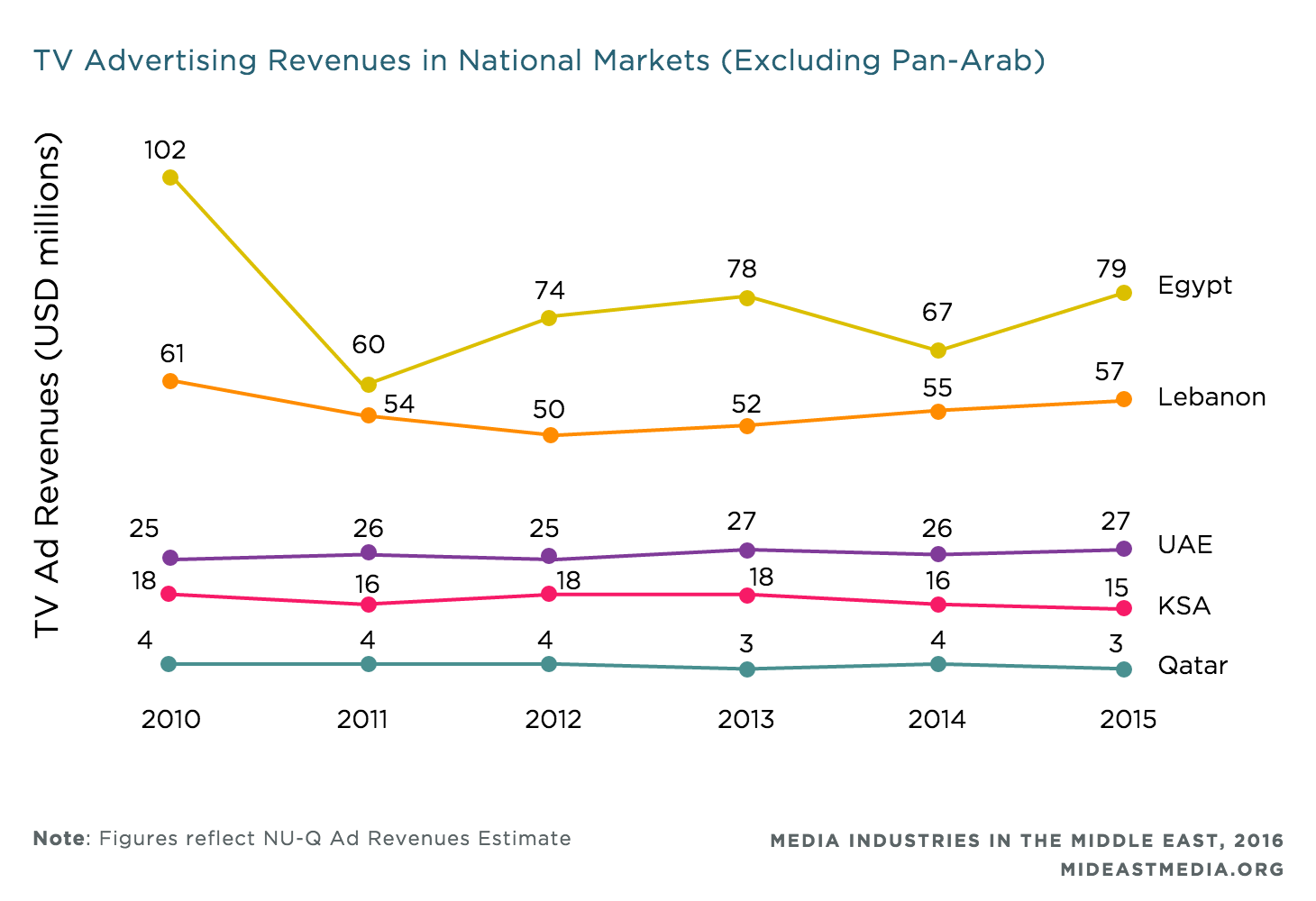 Pay TV
MENA's pay TV market in terms of revenues is secondary to the one of FTA, representing only 29 percent of TV revenues. Globally, the pay TV accounts for as much as 50 percent of revenues. This difference is attributed to pay TV penetration rates and consumer spend: Pay TV penetration as a percentage of households in MENA is only 10 percent, far behind North America and Europe, with 80–85 and 55–60 percent each. A similar gap exists in terms of the spend on pay TV per household and per capita. In North America, pay TV subscriptions are shared by 1.7 people on average, especially among millennials who live outside their parents' home. On average, they spend around USD 26 per month.
Although the region's pay TV market is behind others on a number of fronts, it has developed markedly and fared much better in revenue growth than FTA. Between 2010 and 2015, MENA's pay TV revenues more than doubled from USD 438 million to USD 975 million (a 17.4 percent CAGR). This growth has been supported by increasing subscription rates. They rose by two-thirds over the past five years, particularly in the richer Gulf countries with their higher GDP per capita spend and more rapid IPTV adoption.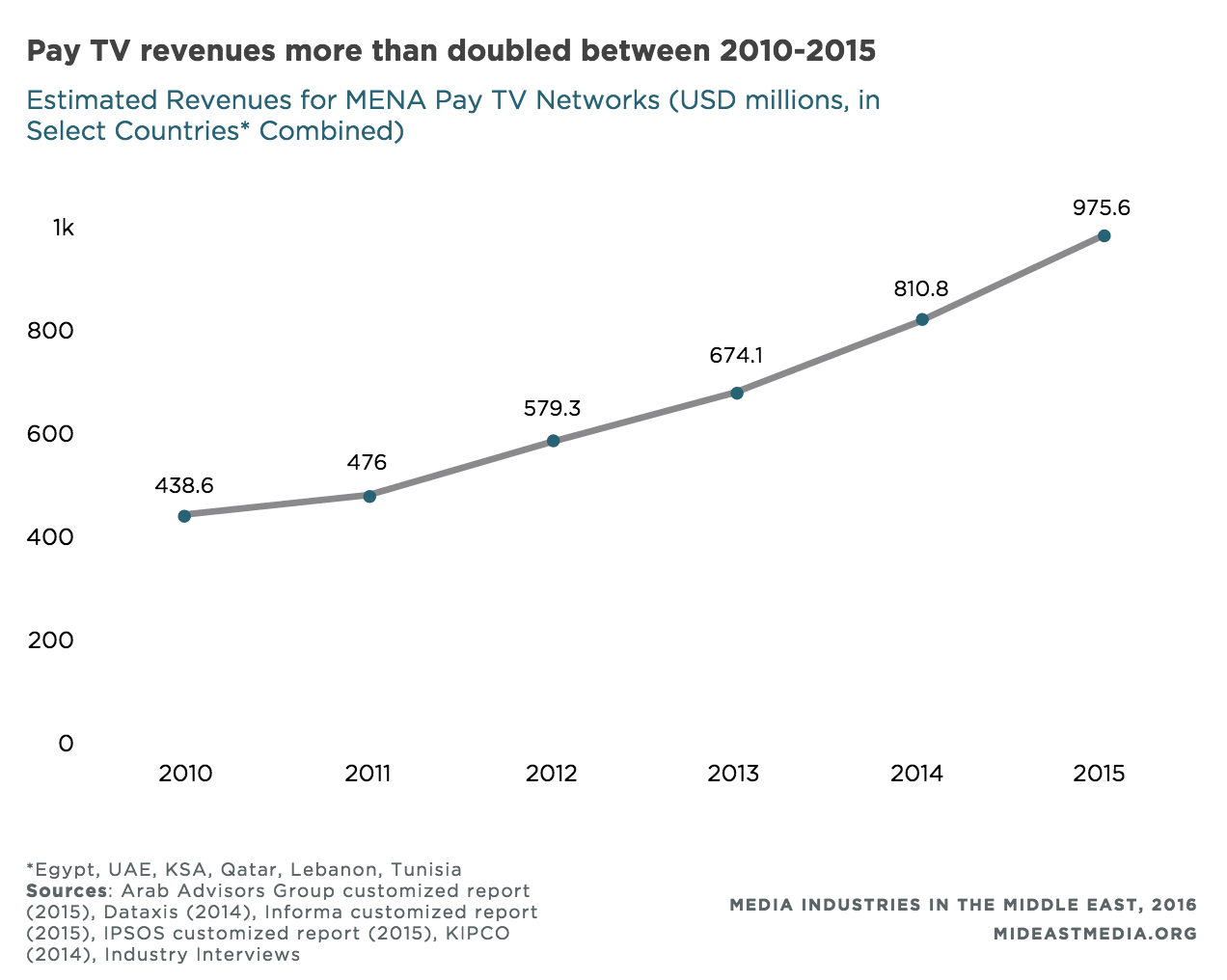 Online Video
The Middle East is a small market for SVoD, with about ten service providers and less than 1 percent of the global revenues. Their MENA portion is worth less than USD 69 million. This accounts for less than 10 percent of its total pay TV market, However, in line with other markets, the region's SVoD market is expanding quickly. Local pure players (e.g., icflix), pay TV operators (e.g., GO OSN), broadcasters (e.g., MBC's Shahid.net), IPTV telecom operators (e.g., STC's Shashtri) and most recently global players, such as Netflix, have all entered the market.
Experts estimate that the MENA revenues of short-form videos will be fairly small, despite the volume of their consumption: 545 million hours per month, compared to 23 billion hours for long-form videos. The market is fairly crowded, however, with global as well as regional multi-channel networks (MCNs) and broadcasters competing. A few home-grown MCNs currently generate modest revenues, but have considerably grown in video consumption in the last few years: Diwan Videos, Alfan Group, UTurn, Kharabeesh, and Telfaz 11.
Aside from SVoD and short-form video, traditional TV stations are also offering a number of online features to complement and enhance viewers' experience and interaction with TV programs. Online TV scheduling, member registrations, and streaming are the most popular. Sixty-three percent of FTA Arabic-language channels now have an online presence, and a third of them generate online revenues.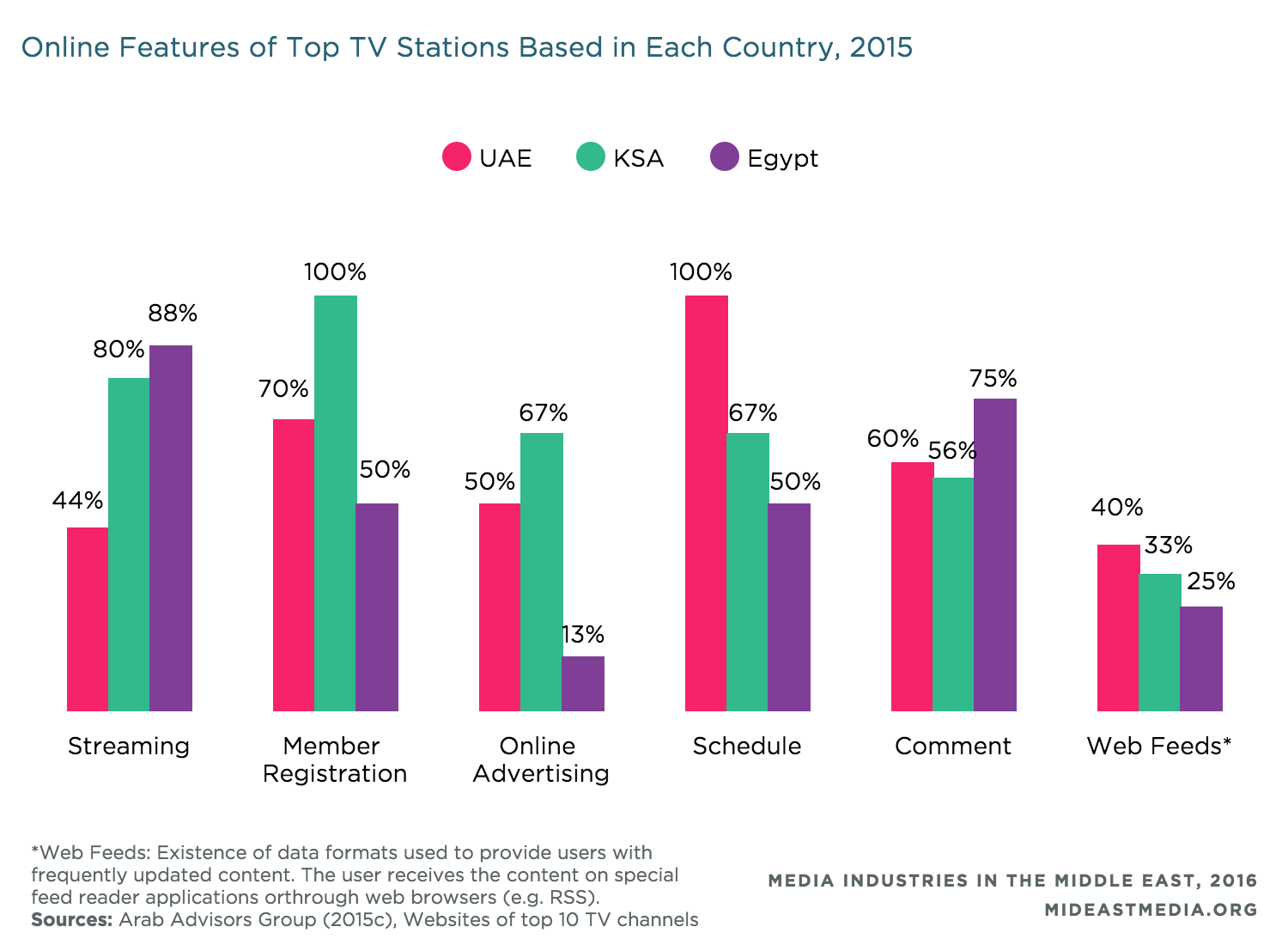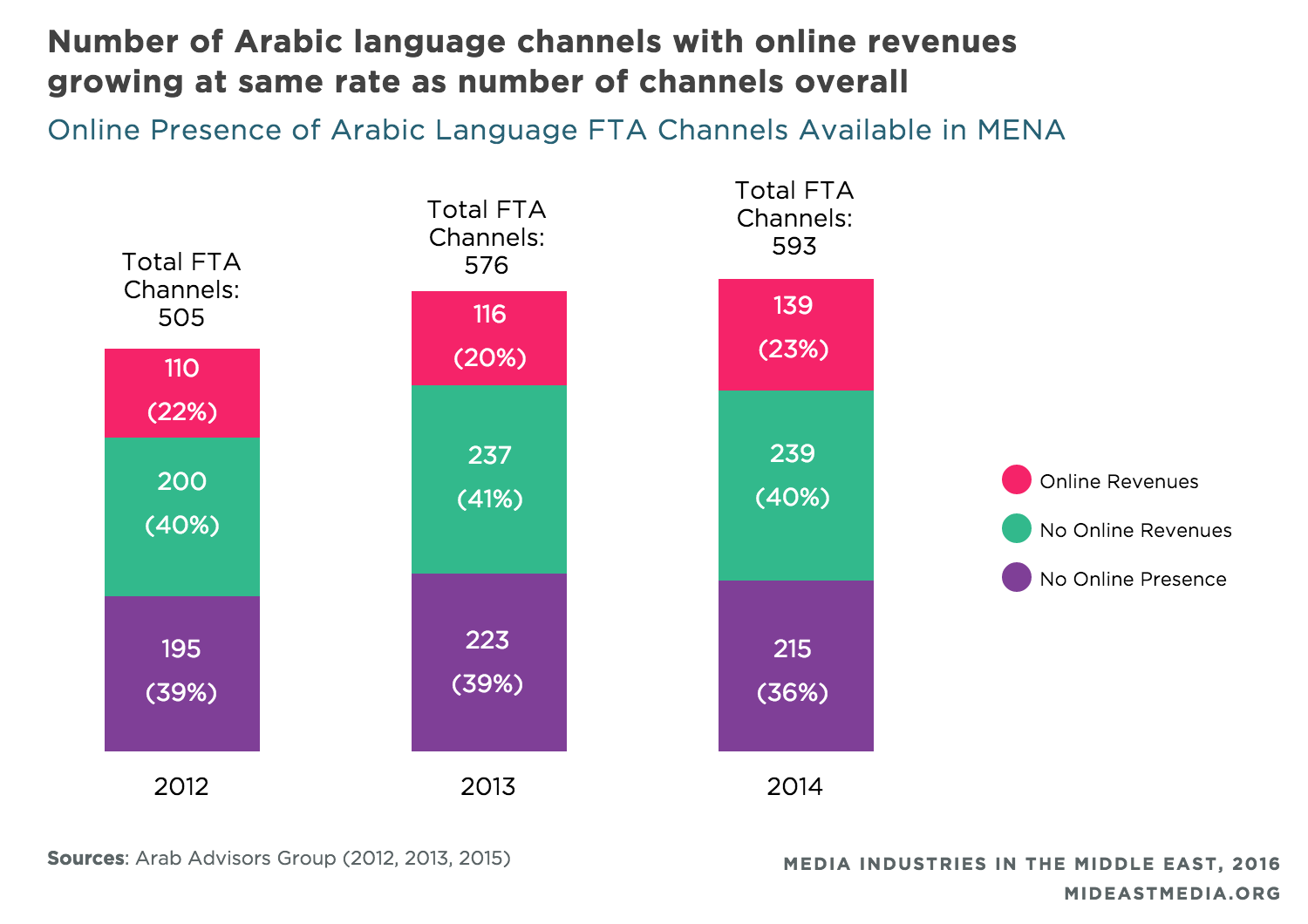 The Blurring Line Between Government and Commercial TV
By Joe Khalil
Associate Professor in Residence, Communication Program
Northwestern University in Qatar
In the early 1990s, the introduction of satellite television ushered an era of alternative and different choices. First broadcasting from outside the Arab world, commercially-owned channels became symbols of individuality and choice, tools for expanding permissible entertainment and commercialization, promoters of liberal agendas with fresh and edgy programming. Today, it is becoming difficult to ignore the growing similarities between the state broadcasters and the commercially owned channels.
Structurally, state-owned channels are emulating multi-channels offering niche services based on geography, interests, demographics, or languages. In addition to the classic Western-oriented channel, they have sports, cultural, news, and other niche channels.
Operationally, these channels are employing staff, on-air talent, production companies formerly associated with the commercial sector, and borrowing similar production, programming, and scheduling practices. And as a sign of the economic policies of the times, state broadcasters are increasingly seeking advertisement funding.
As this study shows, the Arab countries are also witnessing growth in satellite DTT and IPTV offerings and are expected to complete a switch to the digital-video-broadcasting-terrestrial (DVB-T). When completed, additional spectrum will be available for channels that could act as public service broadcasters, or should we expect more of the same channels?
This growth and the increased digital and satellite penetration also reveals gaps in regulatory frameworks and channel licensing that push channels to seek satellite transmission to reach national audiences. In other words, these numbers reveal that technically these channels have a Pan-Arab reach but not necessarily a regional audience.