In this section, we look at religious television content in the MENA region. For the purposes of this chapter, religious TV channels are defined as focusing on religious content. This excludes channels that may be associated with religious sects but offer more general programming and would not describe themselves as primarily religious in nature.
Religious channels in the MENA region are approximately 10 percent of all free-to-air (FTA) channels from 2012 to 2014. This is a relatively high share compared to many markets outside the region, such as the U.K., where religious channels only represent one percent of FTA channels.
Religious channels increased by 50 percent from 2012 to 2014, keeping pace with other genres such as Sports and Movies & Series, which grew at 14 percent and 19 percent over the same period respectively.
The Arab world is home to more than 315 million Muslims, with a majority presence of Sunnis in all countries except Bahrain, Iraq, and Lebanon. With more than 82 million people, 94 percent of whom are Muslim, Egypt has the largest general and Muslim population in the Middle East. Less than 2 percent of the Muslim population in Egypt are Shia Muslims, while the remainder consists of Egyptians from other faiths (e.g., Coptic Egyptian Christians). The GCC countries also have significant Shia Muslim populations.
The market structure and trends in religious content follow the region's faith demographics. This is why Sunni Muslim channels are more numerous. At an overall market level, 88 percent of religious FTA television channels are focused on Islam content and the remaining 12 percent on Christian content. Of Muslim channels, 83 percent are Sunni and 17 percent are Shia. The region currently has no FTA TV channels dedicated to other faiths.
Growth in religious channels remains driven by the Sunni Muslim sub-segment, which contributed almost half of new religious channels (12 out of 25 from 2011 to 2014). At the same time, the region is also seeing significant growth in Shia and Christian channels. Over the same period, the number of Shia channels more than doubled from five to eleven, and the number of Christian channels expanded more than four-fold from two to nine.
The KSA and Egypt, two of the region's most populous countries, host a relatively high 28 percent and 17 percent of MENA's religious FTA channels, respectively.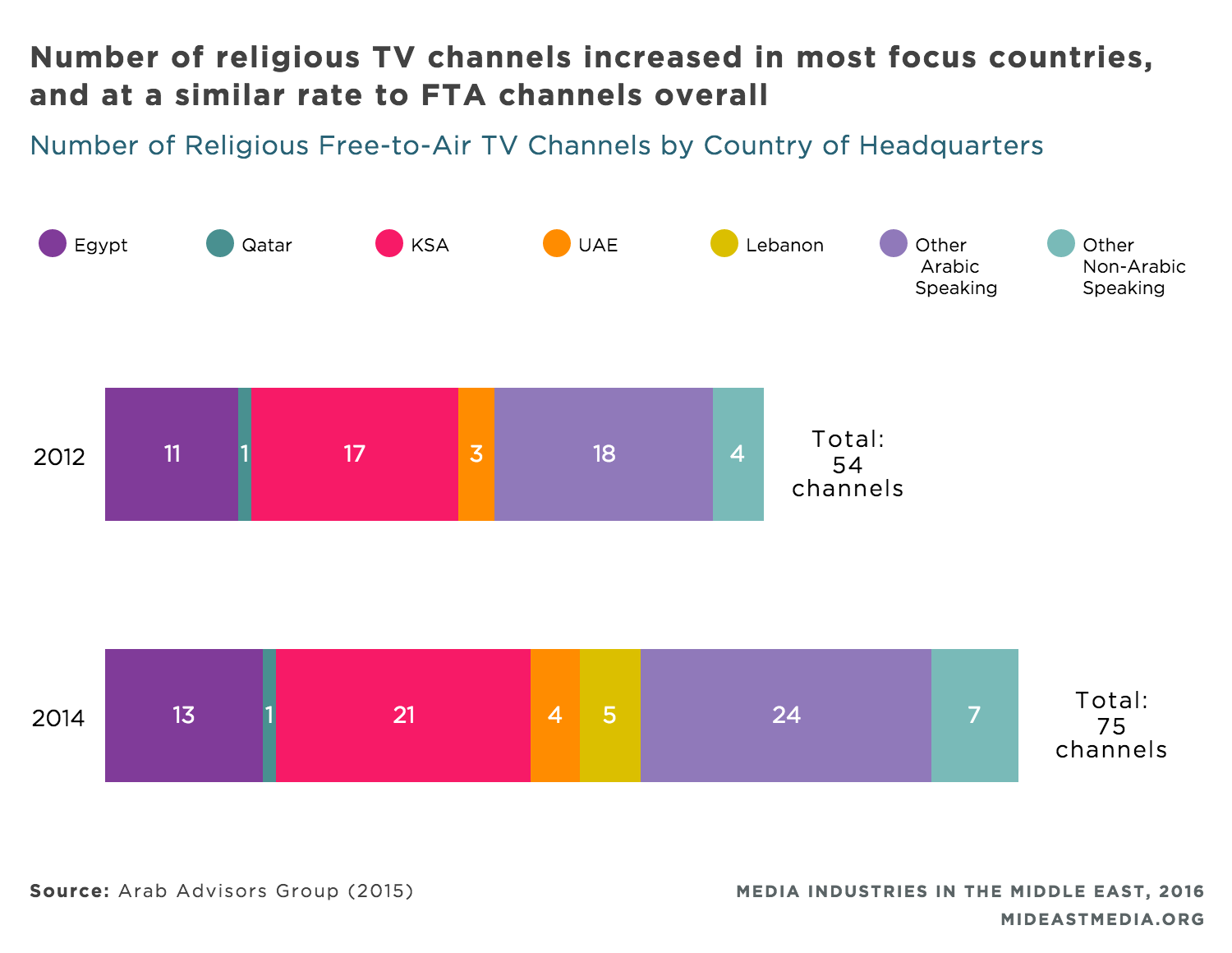 Lebanon has emerged as a headquarter for religious TV, having introduced five new religious FTA channels between 2012 and 2014. The growth in Shia and Christian channels has come in part from Lebanon, with one of the religiously most diverse populations in the region. Egypt also has a considerable Coptic Christian population segment (more than 5 percent) - one possible explanation for the increase in Christian channels following the regime change in 2013.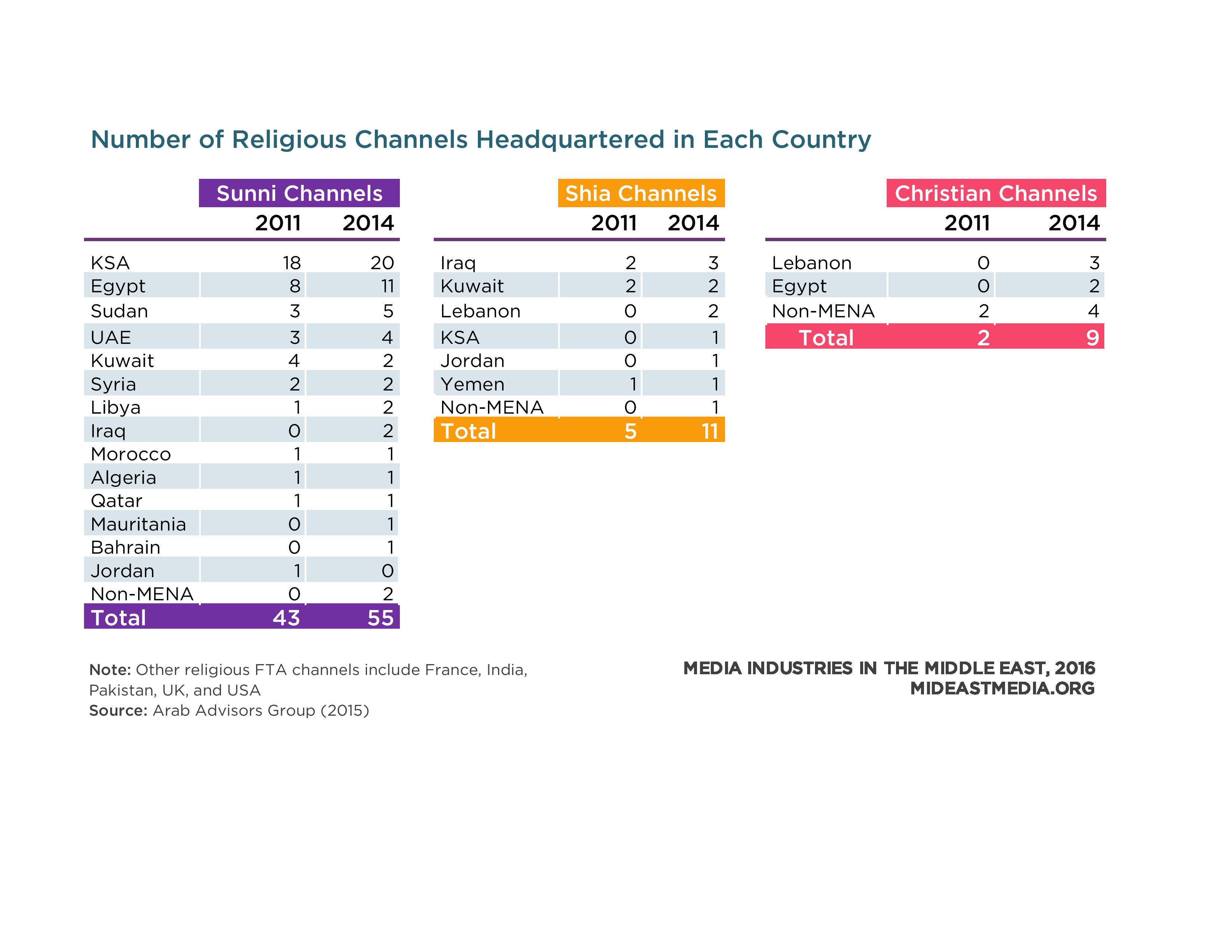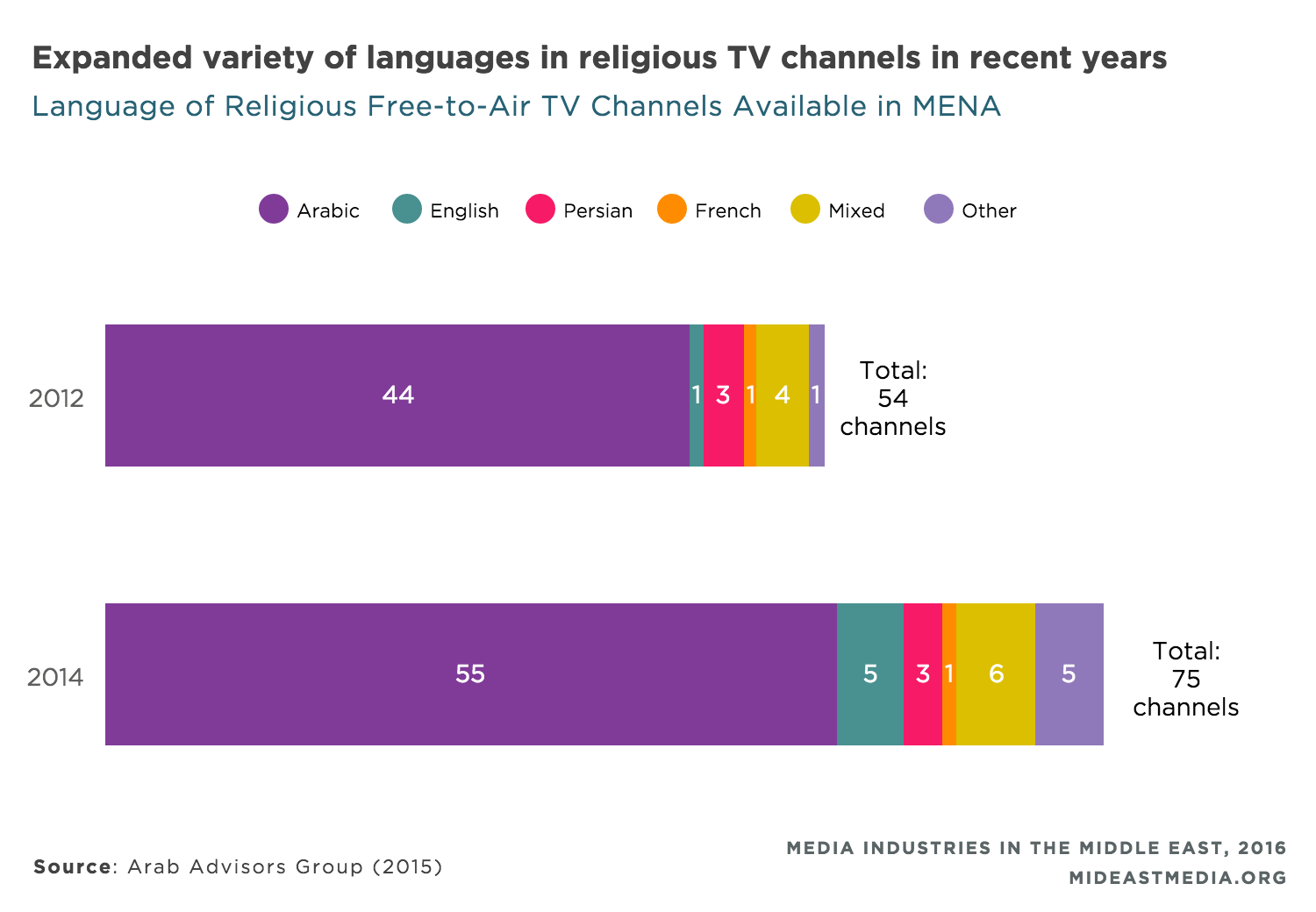 Nearly three-quarters of the religious channels from the region offer Arabic content. Like Shia and Christian channels, non-Arabic ones are few but have increased in number significantly, doubling from 2012 to 2014. Growth in non-Arabic channels was led by the increase in English and mixed-language channels, perhaps catering to large non-Arabic speaking expatriate communities in MENA (e.g., India, Pakistan, U.K., and U.S.) or possibly to the Islamic world outside the Middle East.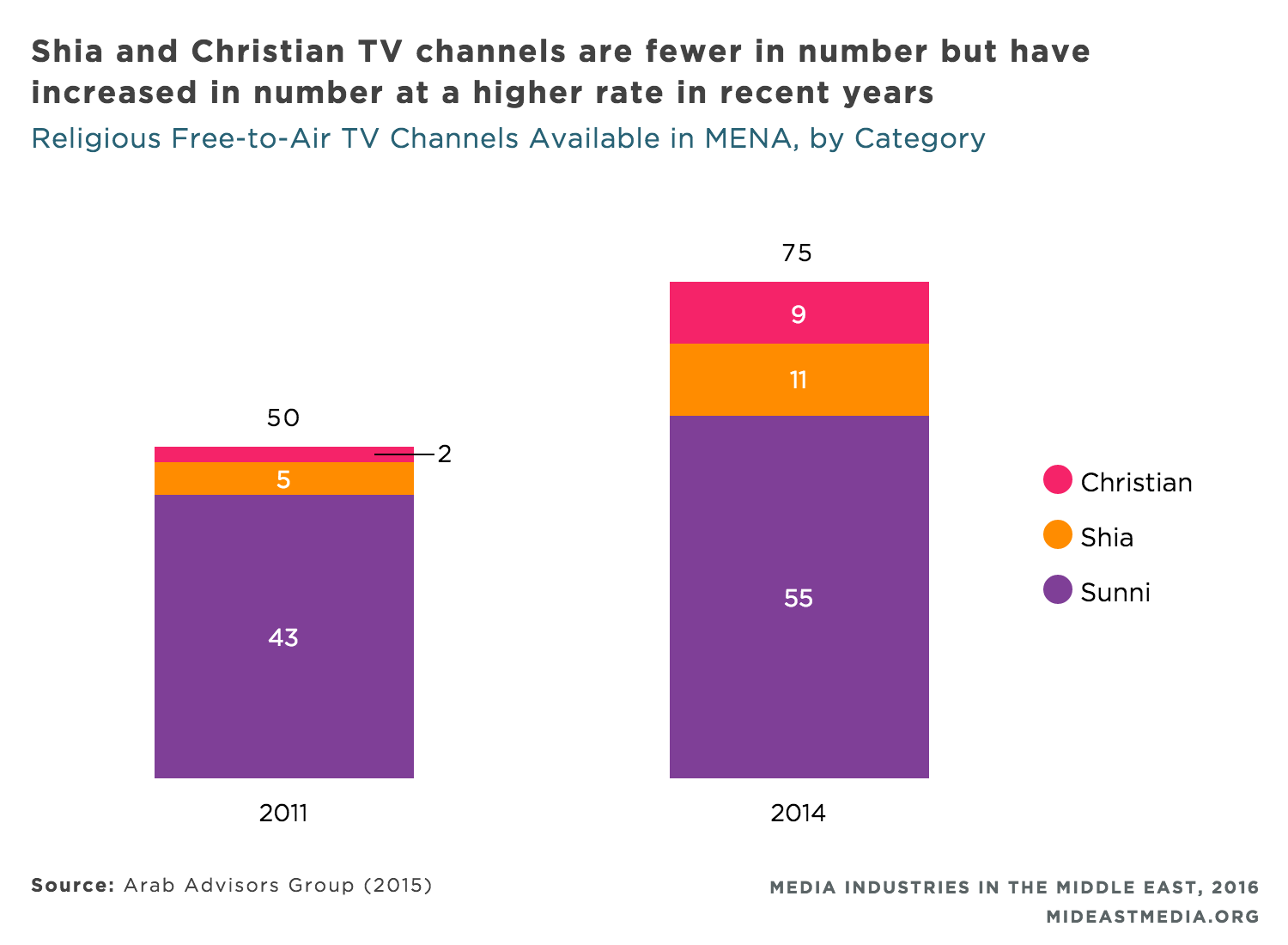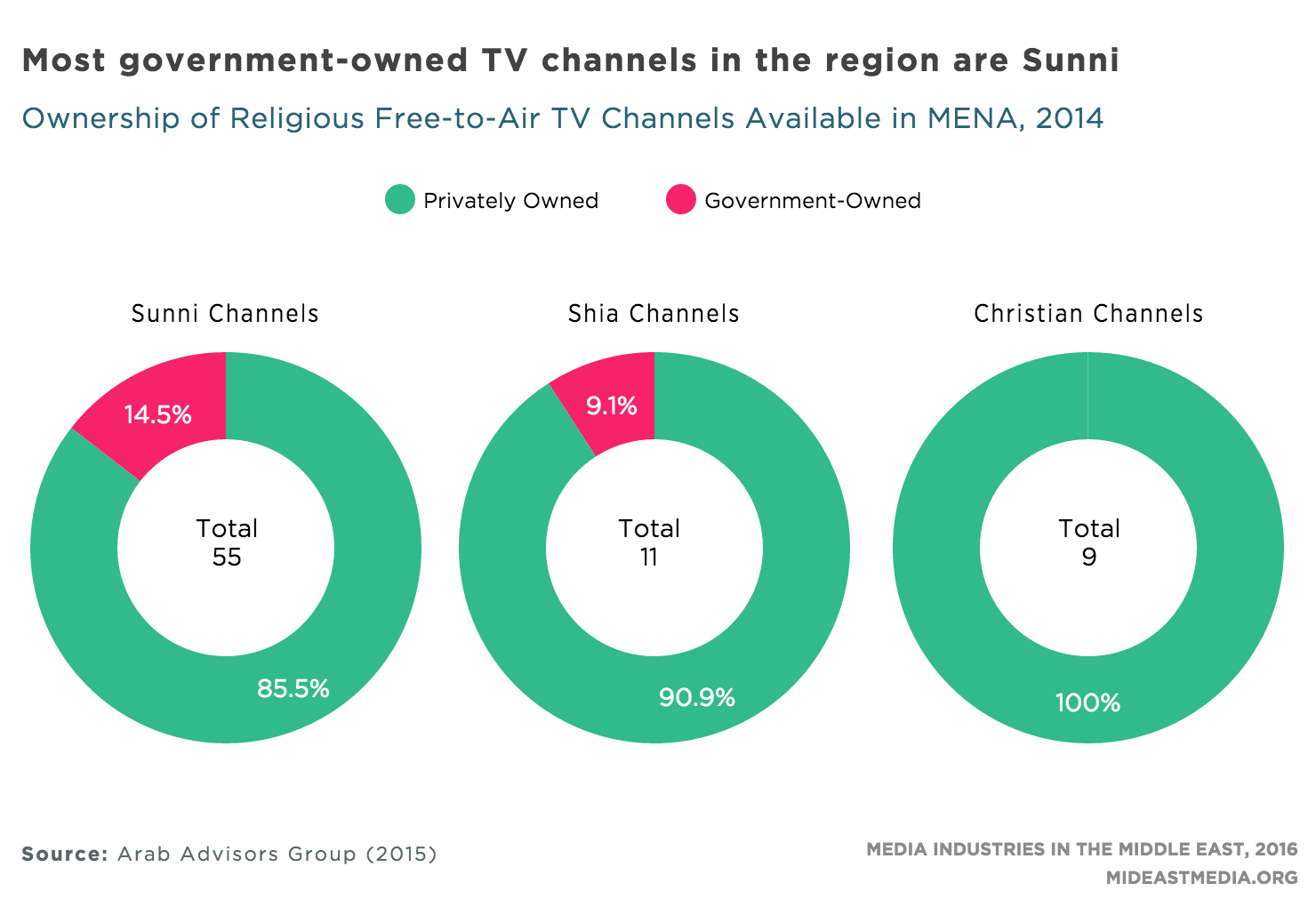 Most religious channels are privately owned, regardless of their faith. The Sunni Muslim segment has the highest level of government ownership and has seen a slight decrease in private ownership (from 88 percent in 2011 to 85 percent in 2014).
Al Majd, Al Resalah, and Iqraa are the most popular channels, with a cumulative share of audience (SOA) of around three percent in the KSA. Anwar, a Shia FTA channel, has significant viewership in Lebanon and Iraq.
Although all of the prominent channels highlighted above are FTA channels, religious television also has a significant presence on pay TV as well. Al Majd is the main example.
Religious content also fares well on other media platforms in the region. A number of radio stations are dedicated to religious programming, especially popular during Ramadan. Al Koran has a number of radio stations and significant listenership in Qatar, the KSA, and Egypt. Radio stations in these countries tend to be owned by the government.
The Politics of 'Non-Political' Theological TV Channels
By Khaled Hroub
Professor in Residence, Northwestern University in Qatar
Researching religious TV broadcasting in the Middle East is perhaps one of the most challenging areas in media studies. The list of challenges spans agreement on a clear definition, consideration of content and agenda, close examination of ownership and related political economy, and investigating audiences. All this should always be explored against the given context in time and regional politics. Starting with the definition, a bold demarcation between purely "theological" and "non-theological" religious channels is extremely difficult, if ever possible. In a volatile, regional atmosphere marked by sectarian politics and Saudi/Iranian rivalry, state and non-state actors deploy whatever they have at their disposal to the "battlefield" including the media, religious, and otherwise. Such a context impacts religious media at various levels. Theological argumentation is used in ways that seem to be politics-free, where in fact messages of political and religious de-legitimization are delivered against rivals. Similarly, state and non-state involvement are active either to set up religious channels at different arm lengths from the real founders or to exert full or partial control of existing ones. The official statements made by the vast majority of these channels are, however, to claim private ownership.
Emphasizing the context of any given time or study is imperative. If today's sectarian regional context is immensely crucial in locating the right position of religious broadcasting, another state-exploited context for religious channels was created in previous years. Then, dozens of "theological" and allegedly apolitical channels were founded in or by states such as Saudi Arabia and Egypt. The intentions behind setting up these channels were to keep the youth in a controlled and pacified religious sphere, fending off the lure of politicized religious calls and groups.
The last, but not least, challenge that needs to be kept under close scrutiny in the Middle East is the outreach and the audiences of religious channels. Despite their mushrooming, the ratings and viewership of these channels seem to stay modest compared to news and entertainment channels in the region. I would confidently argue that the viewership of the top 10 rated religious shows on these channels put together would not beat the highly popular "Arab Idol" on the MBC, one of the most leading entertainment channels in the region. The increase in the number of religious channels is thus not reflective of real market demand.