Ramadan is a very important time for television in the Middle East. The Holy Month sees a large viewership and a focus on scripted programming – a departure from the more even split between scripted and non-scripted content during the rest of the year. There is also a surge in the popularity of Arabic series – especially dramas – and production is ramped up to allow for new episodes of major programs to be released every day of the month. The most popular shows during Ramadan tend to be broadcast after Maghreb prayer, with a concomitant increase in average advertising prices (although advertising prices tend to be significantly higher throughout the whole month, compared to non-Ramadan rates).
The focus on Arabic content also has an impact on production locations. For instance, Turkey's typically large share of the series market disappears completely, whereas Egypt, the UAE, Syria, and Saudi Arabia all experience a substantial increase in shares.
Ramadan content is characterized by an abundance of Arabic-scripted series material – created especially for Ramadan – due to the large viewership throughout the month. Three-quarters of all programs shown during Ramadan are scripted, compared to about half during the rest of the year. This may be due to the presence of major social and cultural shows, such as "Taratata," "Arab Idol," and "Arabs Got Talent," that typically do not air during Ramadan. Drama is by far the most popular category. Prayers and religious programs also increase substantially, accounting for an average of eight hours of programming per week during Ramadan, versus two hours during non-Ramadan months.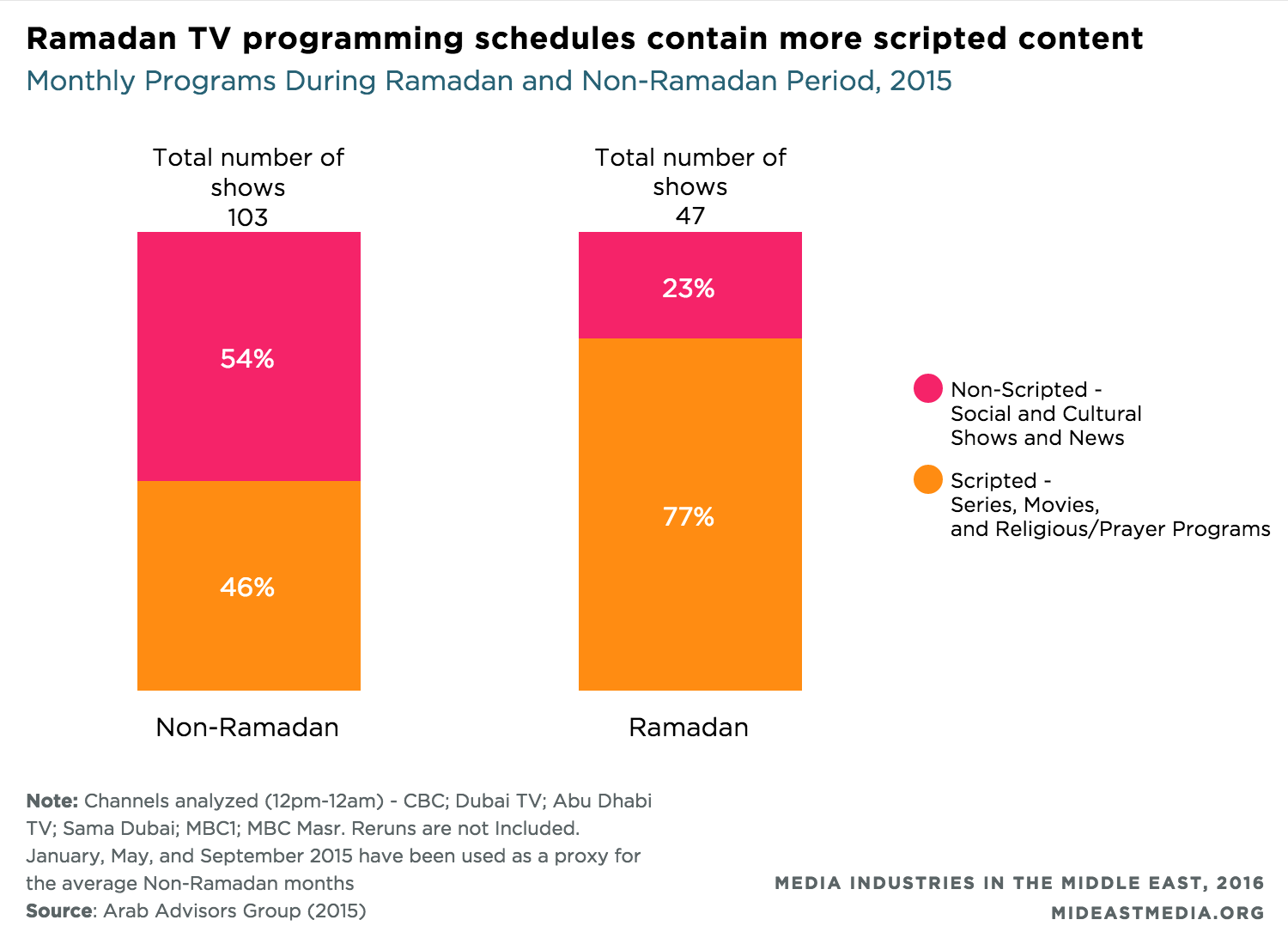 TV stations prepare heavily for this period and will often broadcast a new episode every day for the month as opposed to once a week, which is typical for the rest of the year. However, the share of reruns versus first-run shows is also larger during Ramadan as channels tend to show reruns on the same day so viewers can catch missed episodes of newly released series. Contrary to common belief, the number of different series during Ramadan is smaller than the rest of the year – there are fewer series aired but with a higher frequency during Ramadan. Several shows that proved successful in 2014 were continued in 2015, such as "Ramez Qersh El Bahr," "Bab Al-Hara," and "Horof Wa Olof."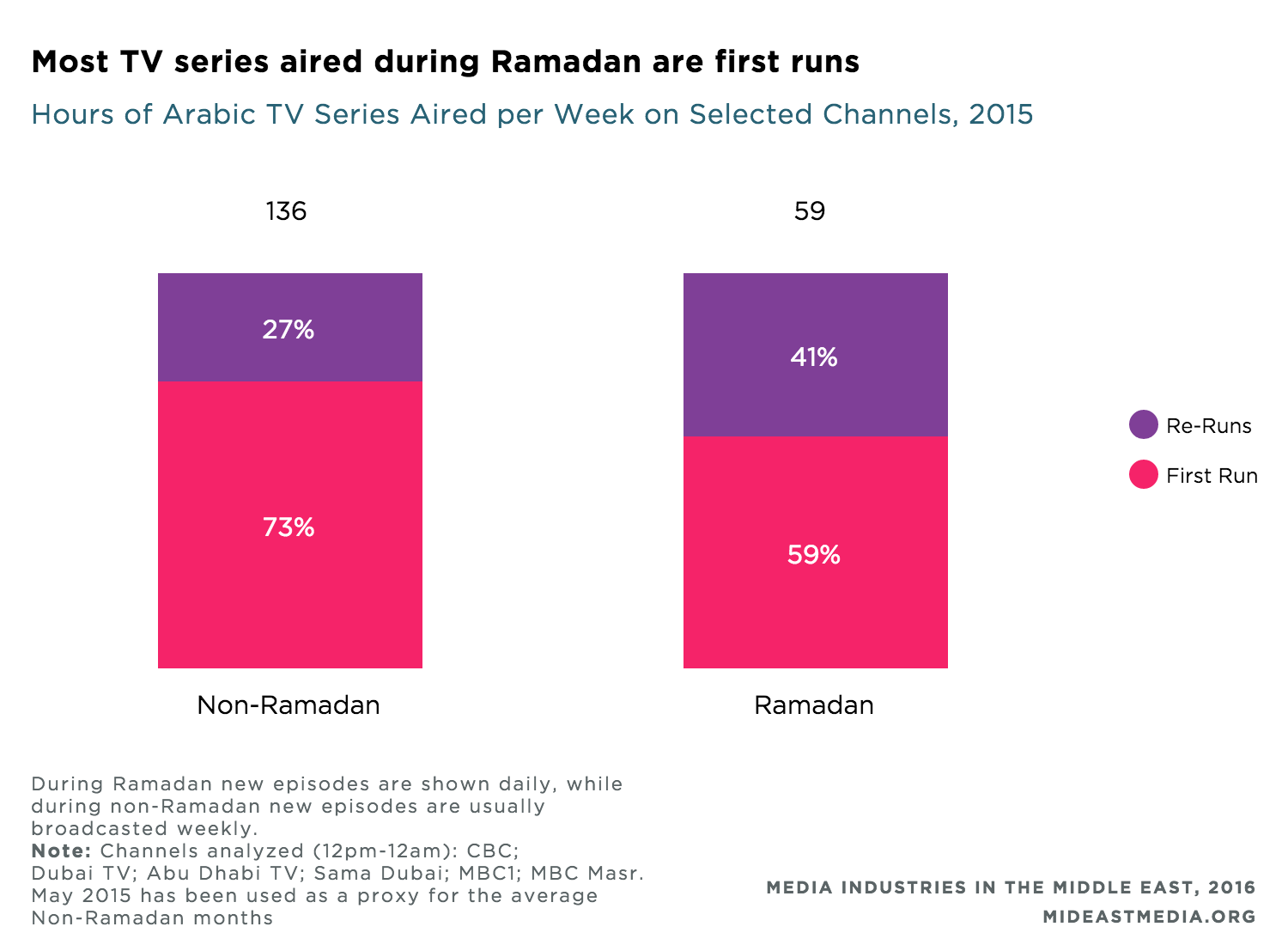 The production of series is more heavily concentrated to specific locations compared to the non-Ramadan period. More Arabic content is produced, while Egypt and the UAE see their share of production surge as they are by far the most important locations for the production of programs shown during Ramadan.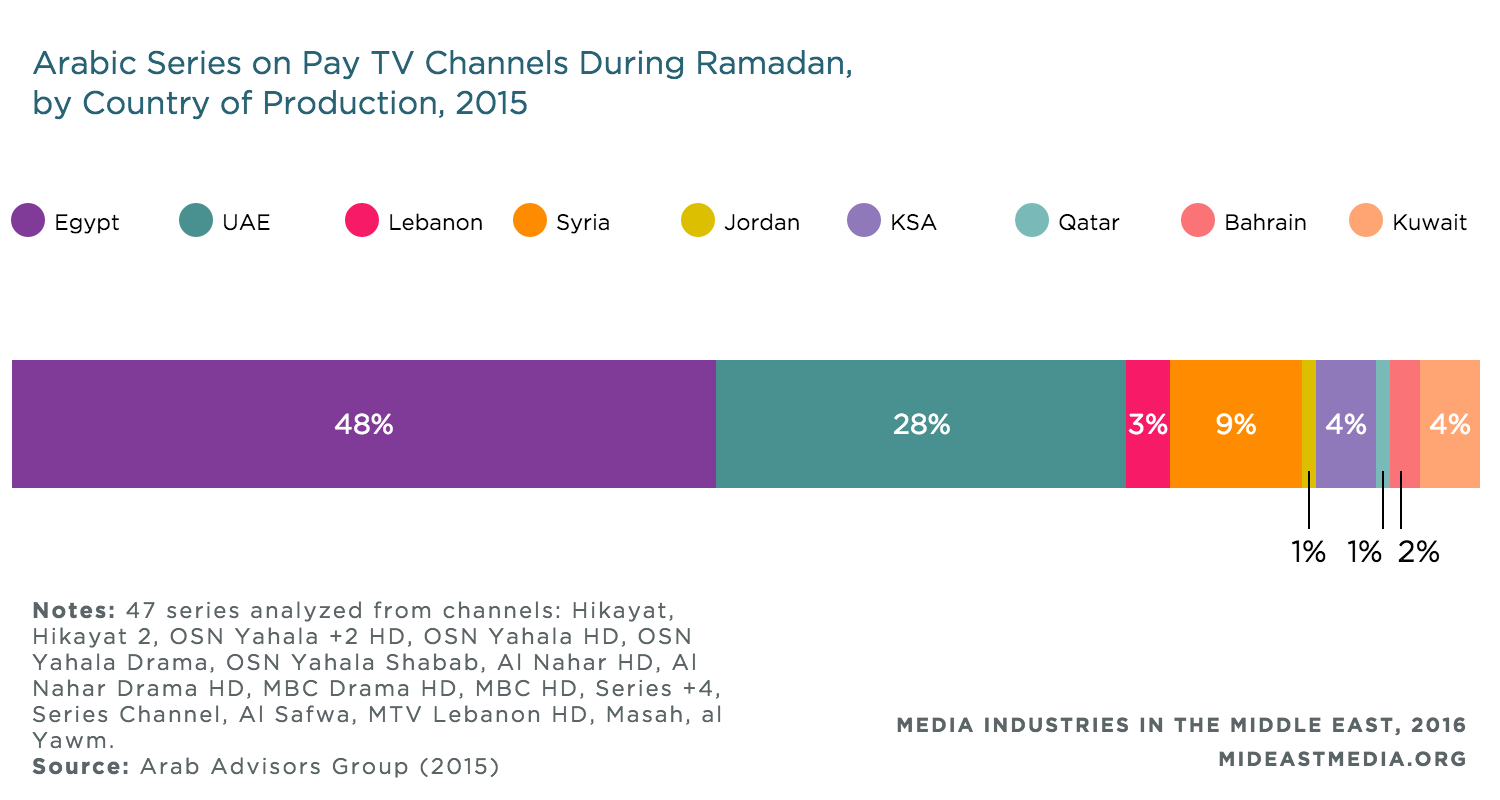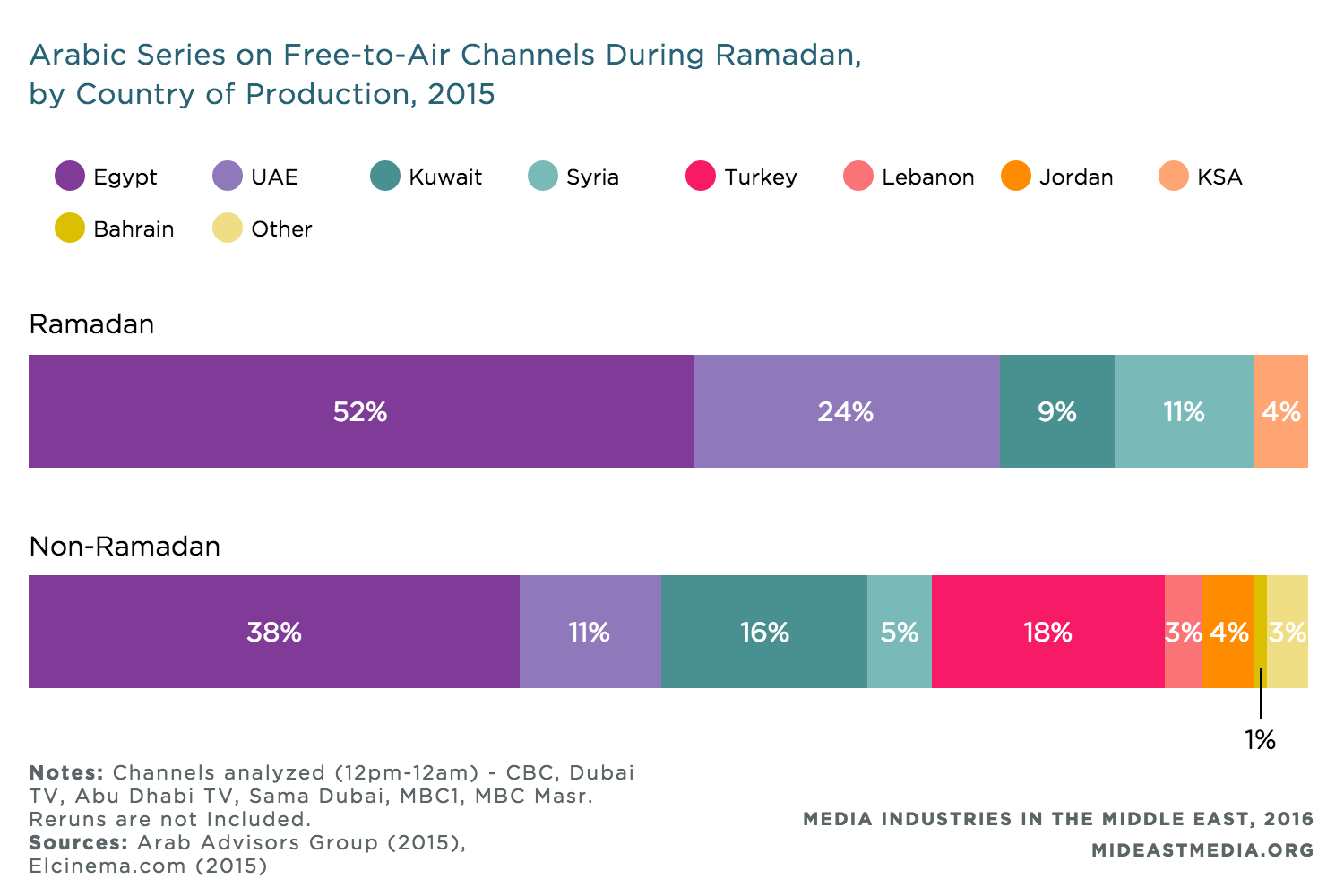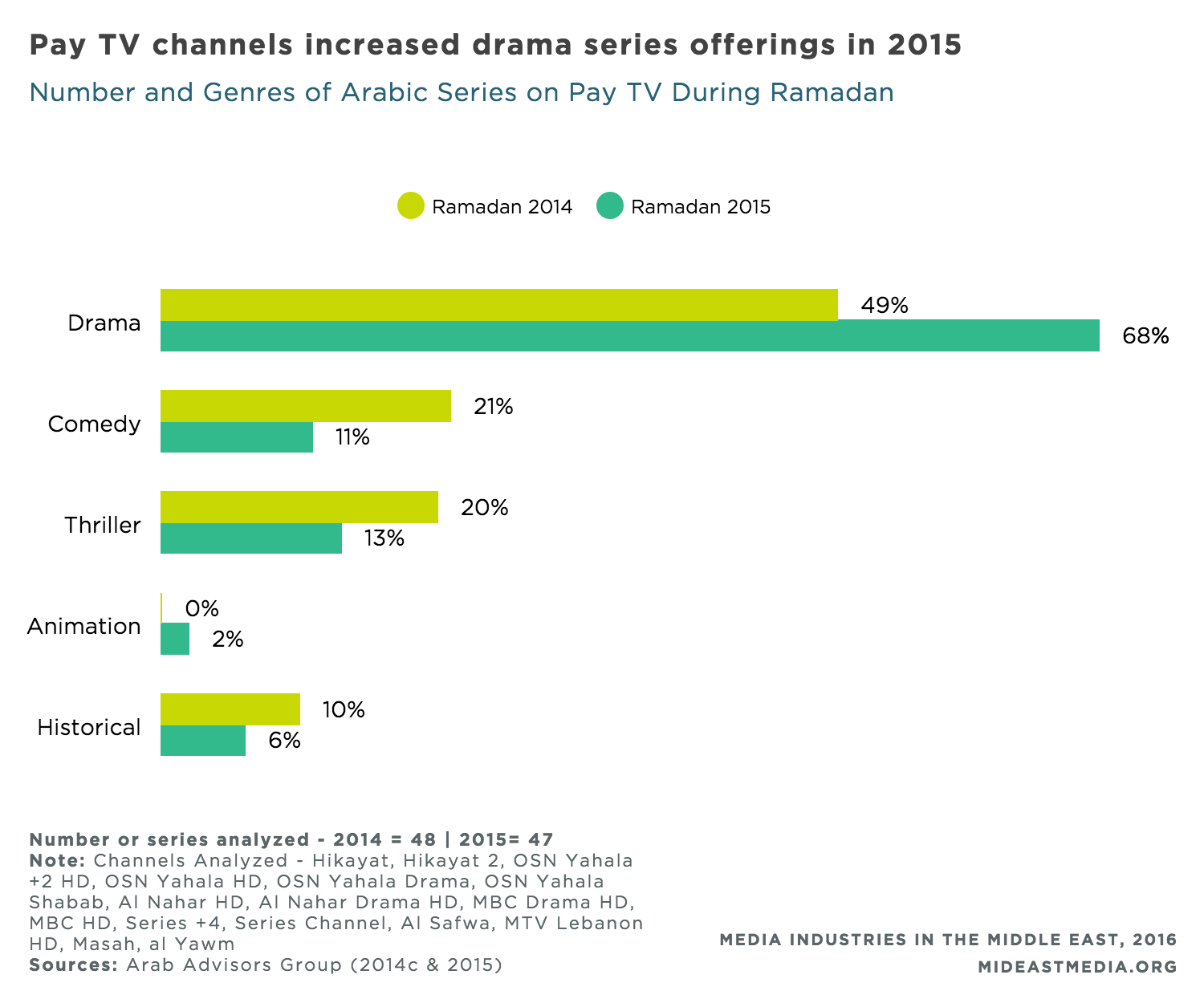 The popularity of Arabic series during Ramadan is reflected in the fact that episodes are broadcast daily and these have a larger share of audience, compared to weekly series. The popularity of Arabic-language TV channels in general also increases during this period. The top 10 channels become reordered, with MBC channels dominating the top 5 list during Ramadan 2015. Several of the usual top 10 channels that are not Arabic, like MBC Bollywood, MBC Action, and MBC Max, disappear from the top 10 during Ramadan. Additionally, channels primarily airing news and movies decline in their share of audience during the month of Ramadan.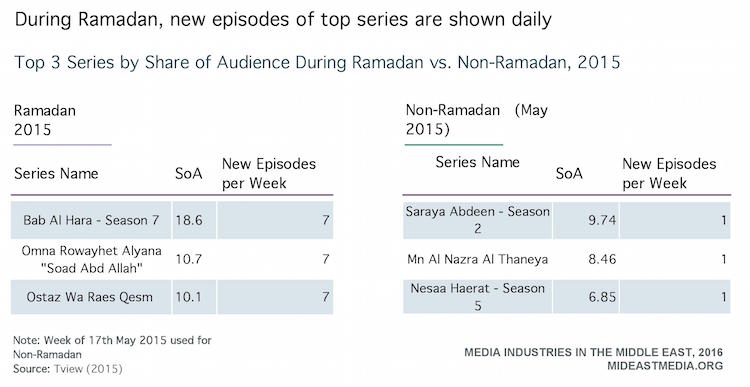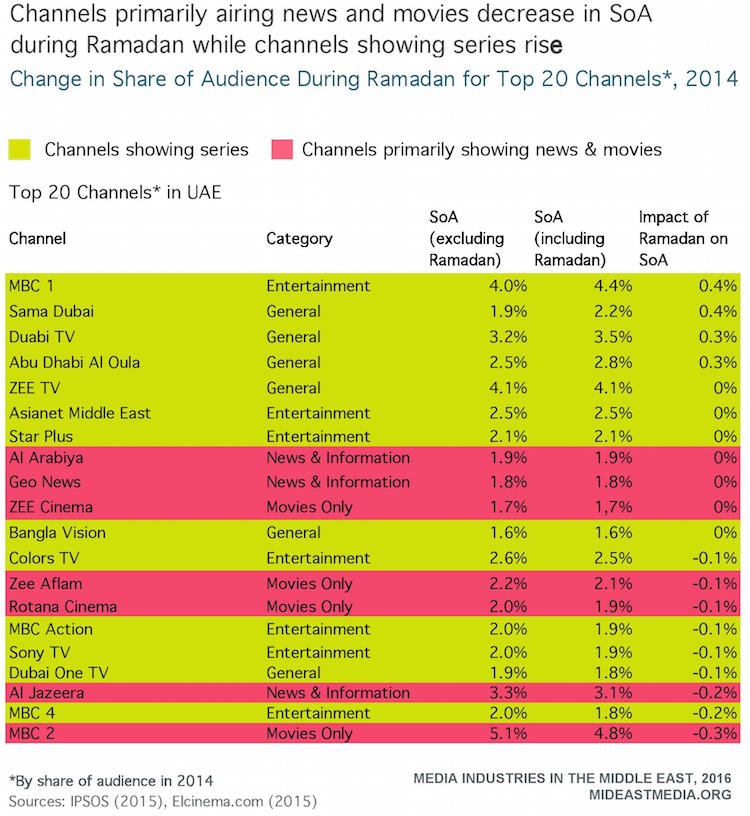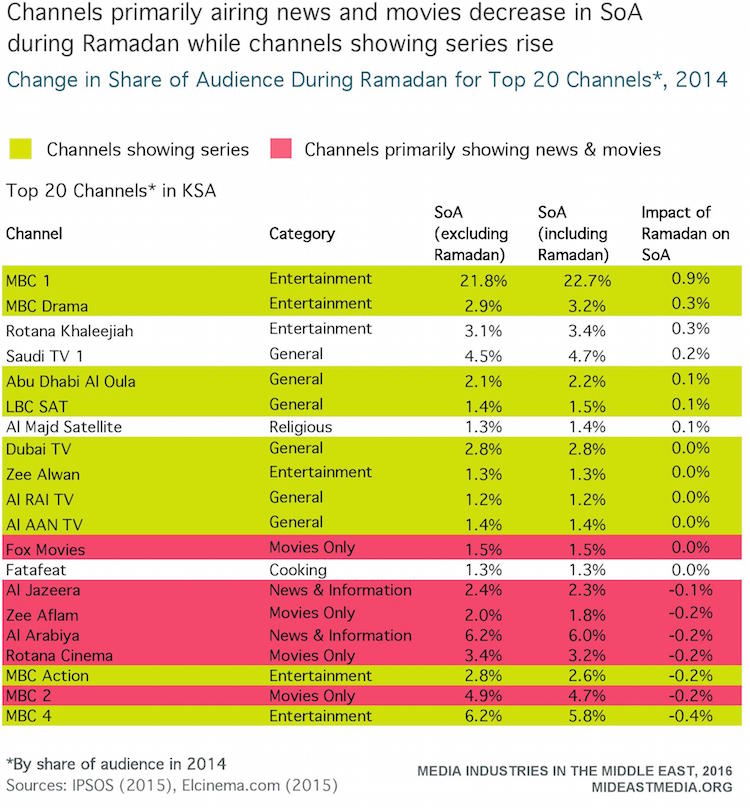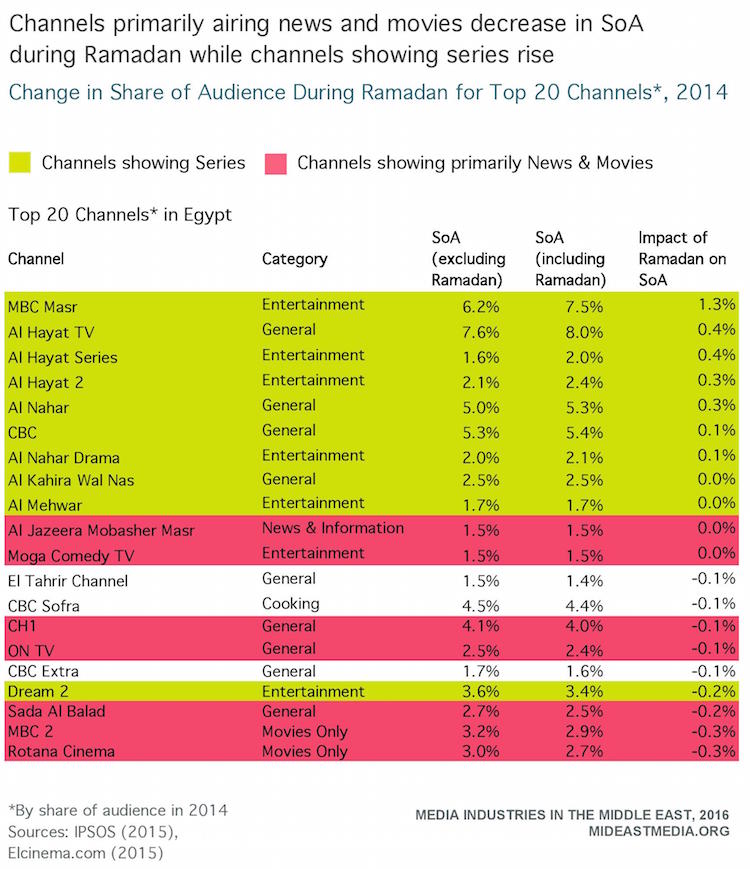 Note for this subsection
Share of audience (SoA) is the share of the total TV audience tuned into a specific channel during a set period of time.
During Ramadan, more advertising is aired on TV than during the non-Ramadan period, with an average of three to four more ads per hour. Logically, the average number of ads is slightly higher during peak viewing times, though there is a dip during the Maghreb prayer time, which does not exist at other times of the year. Additionally, advertising slots tend to be longer during Ramadan, especially after the evening Maghreb prayers.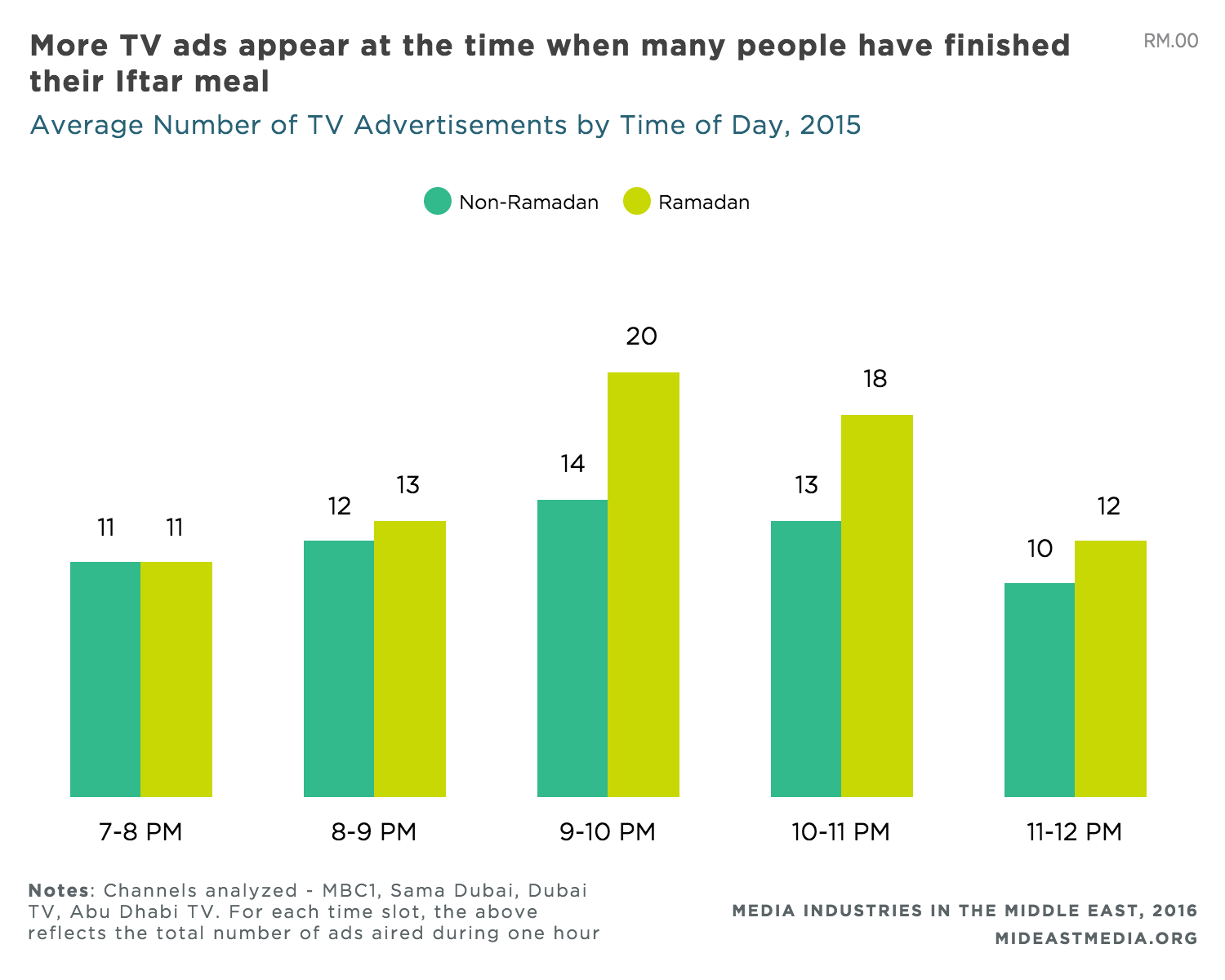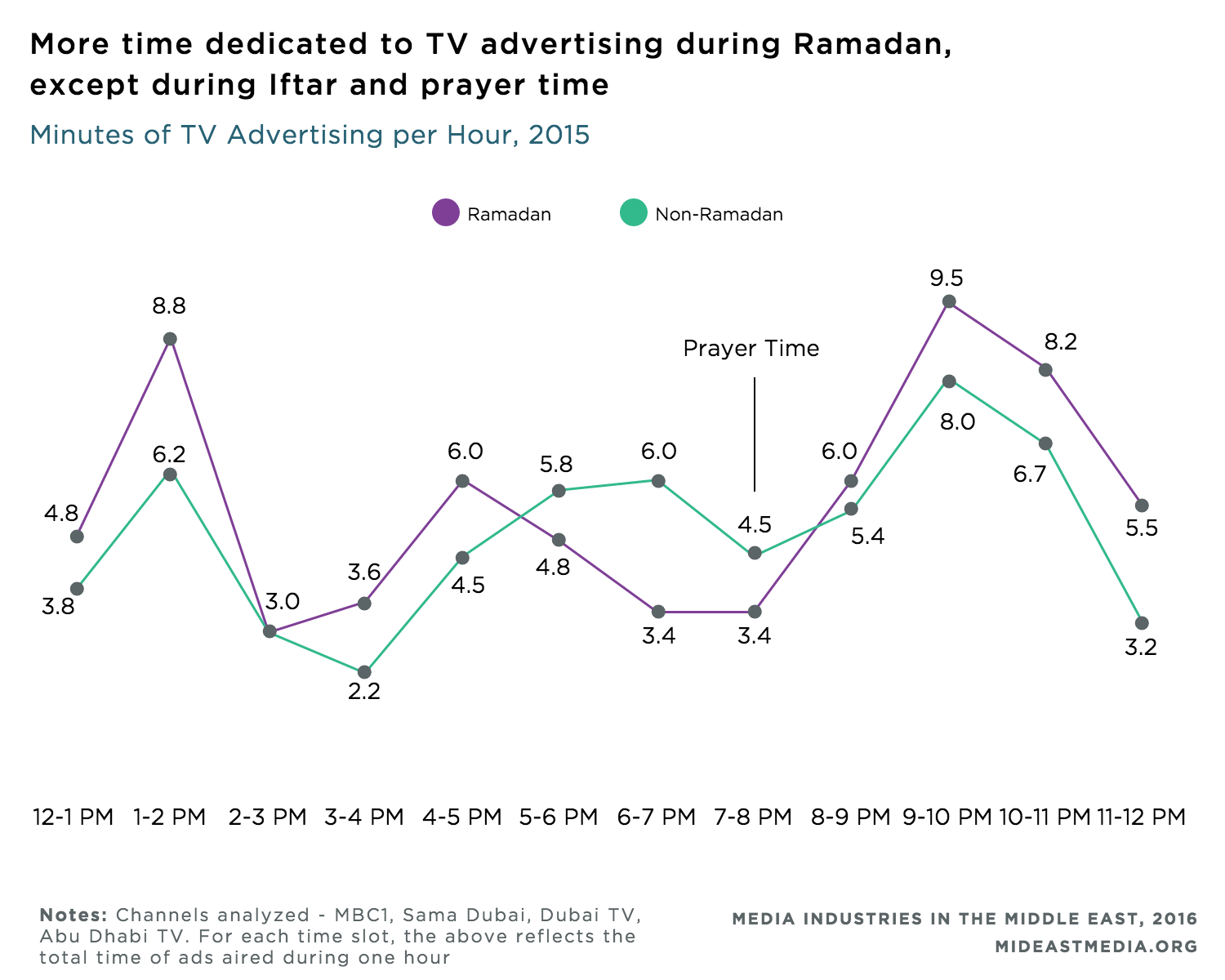 Following the trend of increased viewership and frequency of ads purchased during Ramadan, the price of commercials is much higher than during the non-Ramadan period – a 30-second spot costs between 190–350 percent more. Of course prices during peak times are especially high, as the highest-rated programs are mostly aired after the Maghreb prayer, with the largest number of viewers.
Alternatives to TV in a Traditional TV-High Season
By Joe Khalil
Associate Professor in Residence, Communication Program, Northwestern University in Qatar
Television executives and producers are busy for 11 months of the year, preparing for the do-or-die one-month television season: Ramadan. This ninth month in the Islamic lunar calendar is at once a period of religious devotion and a time for the television industry's best productions. It is a time when viewership soars, advertising rates peak, and television programs become topics of daily conversation. During Ramadan, programmers mostly provide Musalsalat (serials) that emphasize habitual viewing with the use of character development over multiple episodes, cliffhangers, strong emotions, and highly charged plots. Over the last few years, Ramadan programs have become popular with all segments of the society: young and old, rich and poor, females and males.
The lifestyle changes associated with Ramadan are profound and affect viewership patterns. Entertainment television channels traditionally compete over the rights for the latest in Turkish, Egyptian, Syrian, and Gulf dramas – with increased production in UAE and Saudi Arabia. They also compete against government-owned television channels that tend to offer programs with "extra local flair" – usually religious and social programming. Television schedulers stack their programs around the breaking of the fast, Iftar, when television primetime begins and the Musalsalat stretch late into the night. Such traditional approaches are threatened by an increased digital presence of these expensive programs. Since 2008, a number of legal (e.g., Shahid.net, YouTube Ramadan) and illegal (pirated DVDs) platforms have become available for "differed viewing." For television channels, the level of investment necessary to acquire exclusive rights for programming is at its peak. For advertisers, the ability to commit already limited budgets in volatile markets is compounded by a potentially split audience and a viewership that is increasingly able to go online. With more opportunities for anytime/anywhere viewing of Musalsalat, Ramadan television rituals may just be radically changing.