Compared to Western markets, radio, at least in some MENA countries, is a relatively new medium. This could partially explain why radio reach in the region is lower than in mature markets, although radio in the UAE and Lebanon can be considered relatively developed given the number of radio stations and the diversity of content offered.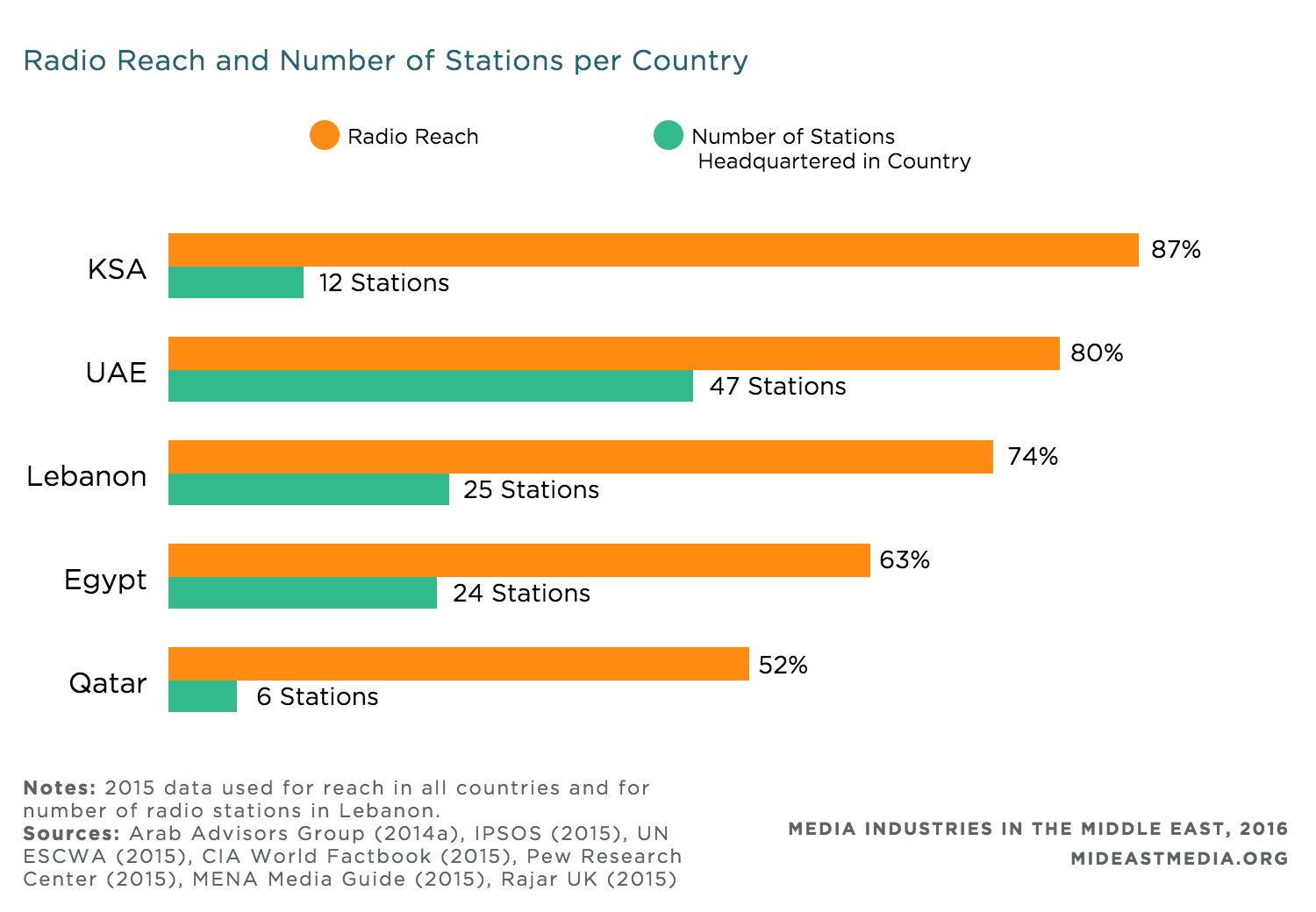 Radio market concentration is the highest in the KSA and Egypt, where total reach of the top three stations is about three-quarters of the population. In terms of ownership, Lebanon offers a contrast to the rest of our focus countries, as most of its radio stations are privately owned.
The UAE, however, is the most sophisticated radio market among our five focus countries. It has, by far, the most radio stations and broadcasts in more languages than any other country, reaching as much as 80 percent of the UAE's population. Radio reach is only slightly greater in Saudi Arabia – surprising, given that the KSA has a much smaller number of channels than the UAE. The ad revenues of the UAE and the KSA combined account for almost half of the MENA radio market as a whole.
As in other markets, MENA radio companies are diversifying their revenue streams and offering a wider range of digital services. Not only does this enable them to broadcast internationally, it also allows them to take advantage of new technology, like programmatic advertising.
In four of our focus countries, the number of radio stations has grown since 2010. However, the expansion of existing radio networks across borders has faced a number of obstacles, particularly of regulatory nature. Many channels are now responding to these restrictions by delivering content across the region via their online platforms.
The region's radio industry is also faced with the problem of small revenues from spot ads. This is partly due to the absence of credible audience measurement systems. However, compared to other world regions, where radio's share of ad revenues has decreased since 2010, revenues have been relatively resilient in MENA countries. Increase in radio ad revenues has been slight in all five focus countries except Egypt, where they have doubled. But that share in MENA is still considerably lower than elsewhere in the world. Radio stations in the region are exploring additional revenue streams, such as integrated advertising campaigns, content syndication, and event management.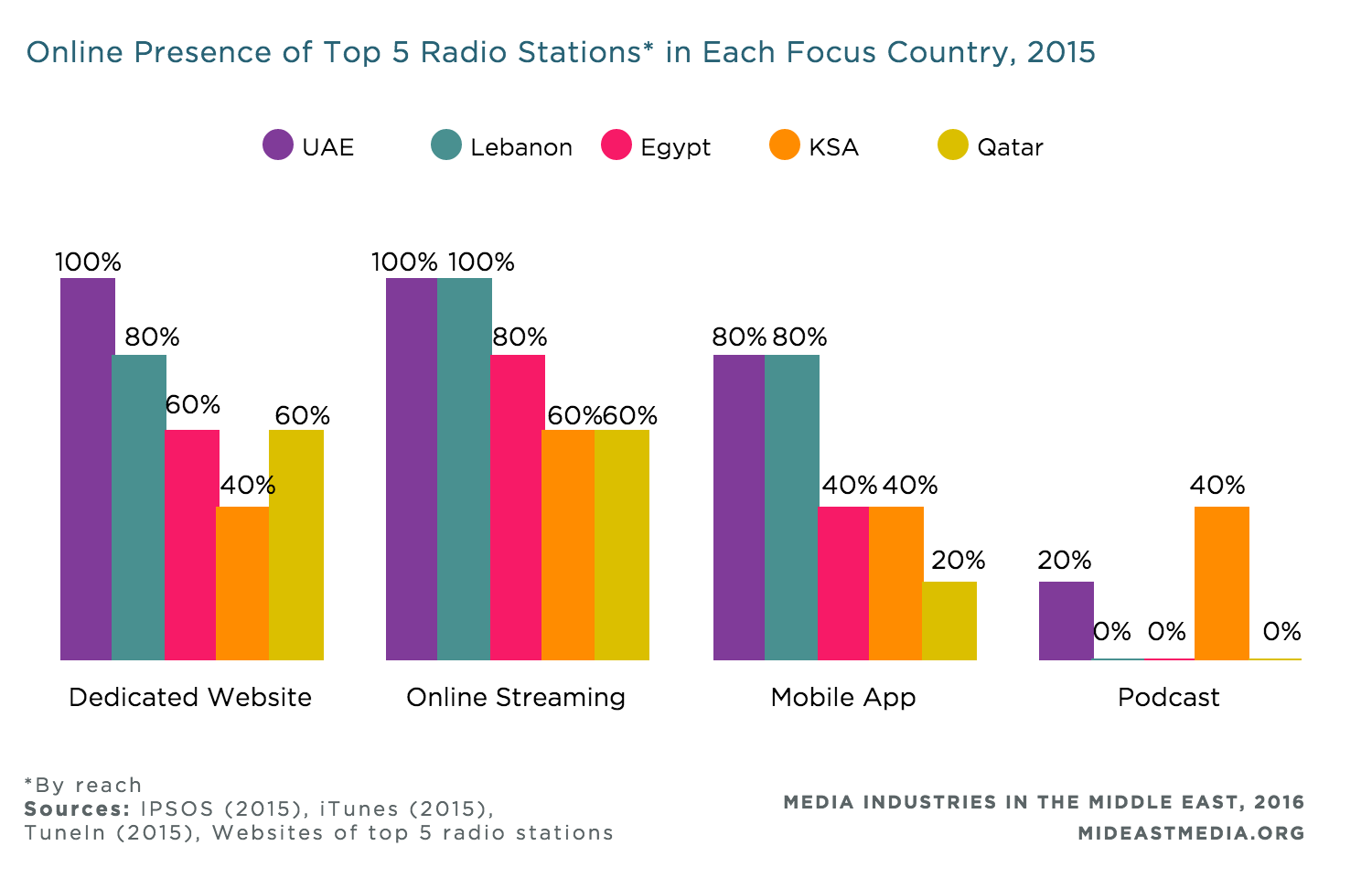 Radio reach in MENA is lower than the Western world, largely due to the relatively nascent nature of radio in the region. With the exception of the KSA, there is a clear link between the number of stations available and radio reach. In the UAE, large radio networks such as ARN and ADM cater to virtually all target groups through a very diverse radio station portfolio.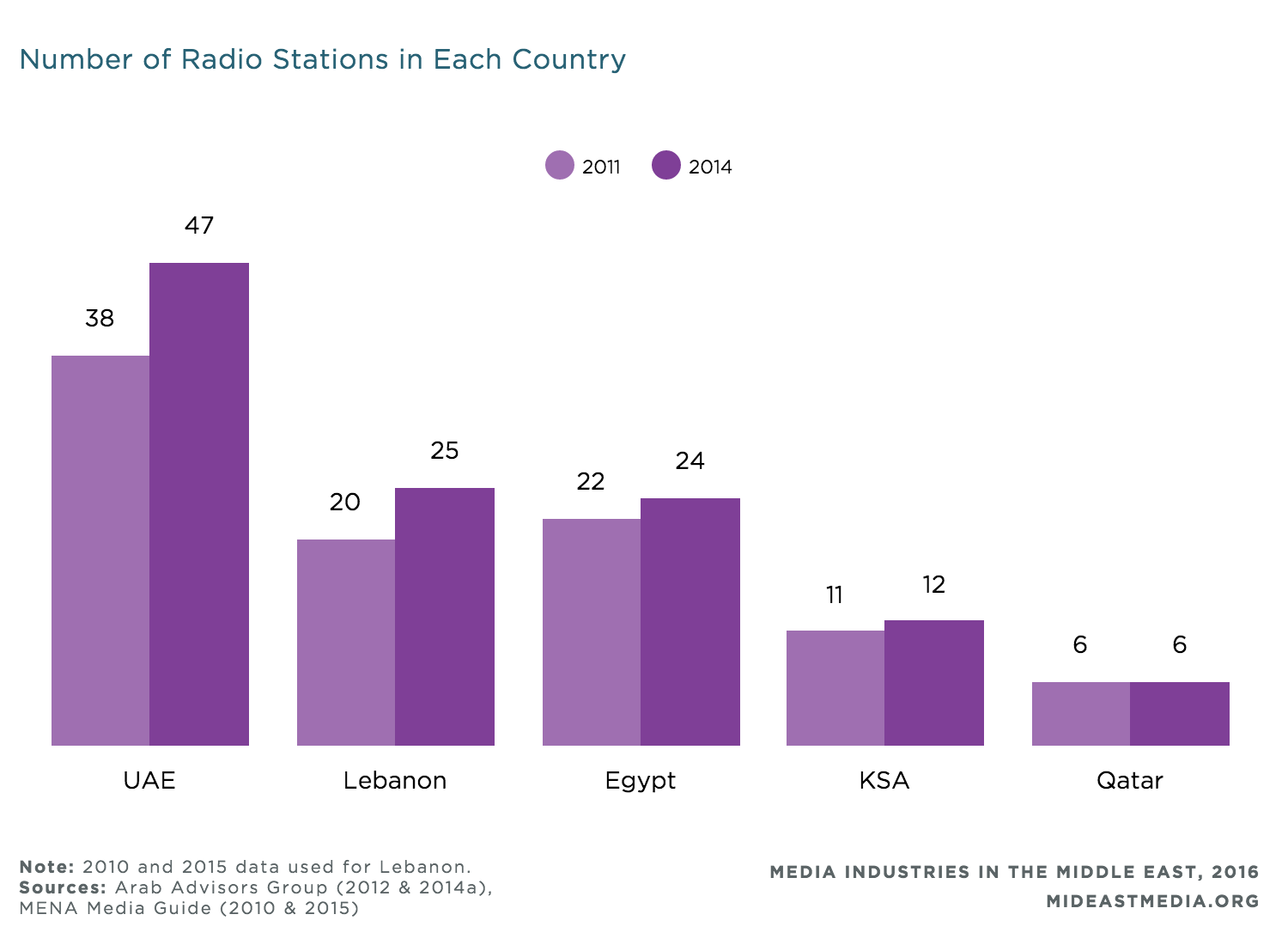 Radio market concentration is strongest in the KSA and Egypt where the reach of the top three stations adds up to about three-quarters of the population. UAE and Lebanon are more fragmented markets with quite a number of specialized stations, with Talk and Music formats particularly popular. In addition, the UAE has witnessed a bigger increase in number of radio stations providing non-Arabic content, including Armenian, Hindi, Malayalam, and Urdu.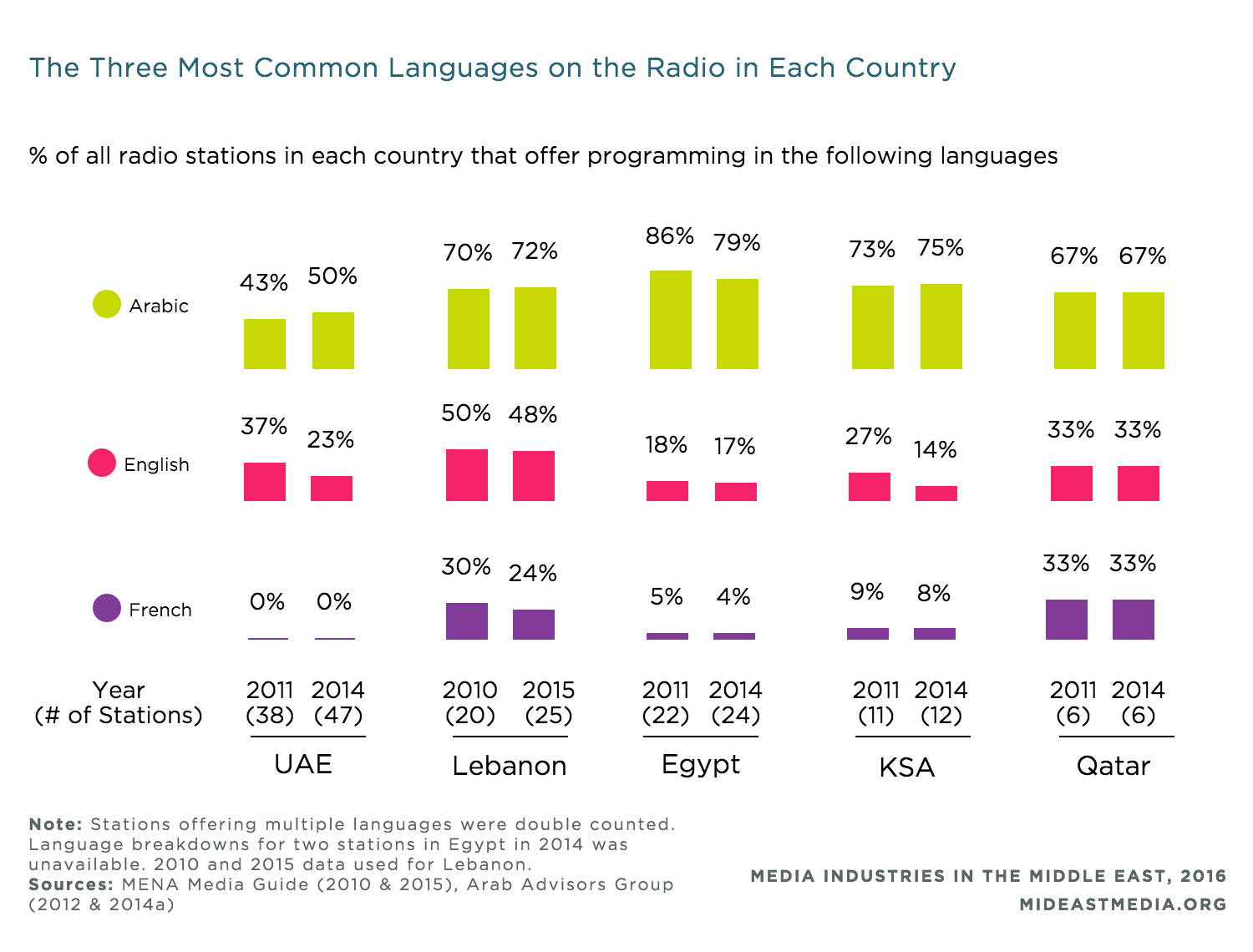 While there is variety in what stations offer, concentration of ownership is high. The largest networks are Arabian Radio Network, Abu Dhabi Media, and Gulf News Broadcasting. Unlike our other four focus countries, most of Lebanon's radio stations are privately owned. Most major radio broadcasters in the region are either private or government-owned companies. In addition, radio stations in the UAE are often part of diversified conglomerates, highlighting the complex nature of the UAE media industry compared to the rest of the region.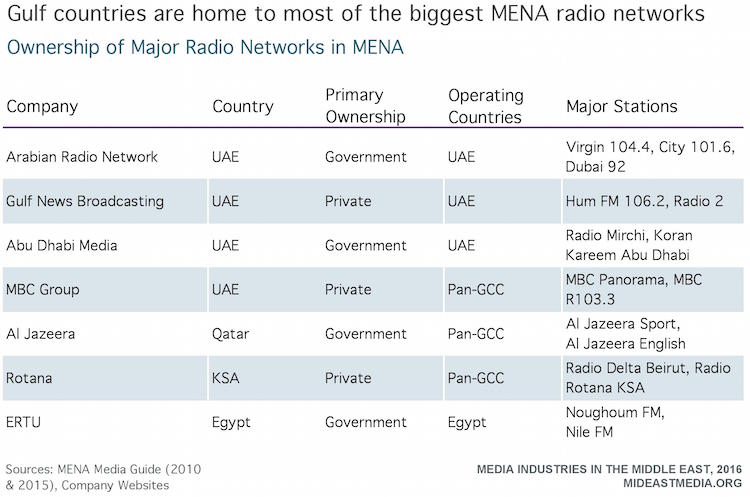 The radio industry in the region faces several challenges. Perhaps the most notable is the absence of an accepted audience measurement system. This has inhibited the growth of radio advertising spend. In addition, regulatory barriers have forced radio to focus on national markets only. Finally, there is uncertainty around music rights licensing and its enforcement in the region. Major radio stations currently do not pay royalties for the use of copyrighted music. This could change, however, as some countries, such as the UAE, consider establishing music collection organizations. This could impact the cost structure of some radio stations significantly and render them unviable.
Note for this section
Radio reach is defined as the percentage of the population over 12 years of age that claim to have listened to the radio in the past week.
Radio's share of ad revenues in MENA have remained relatively stable contrary to other world regions, where radio's share decreased in the past five years. However, the share of radio advertising spend in MENA is still considerably lower than elsewhere in the world. It accounts for only 3 percent of total advertising spend when compared to North America (11 percent), Western Europe (5 percent), and Latin America (6 percent).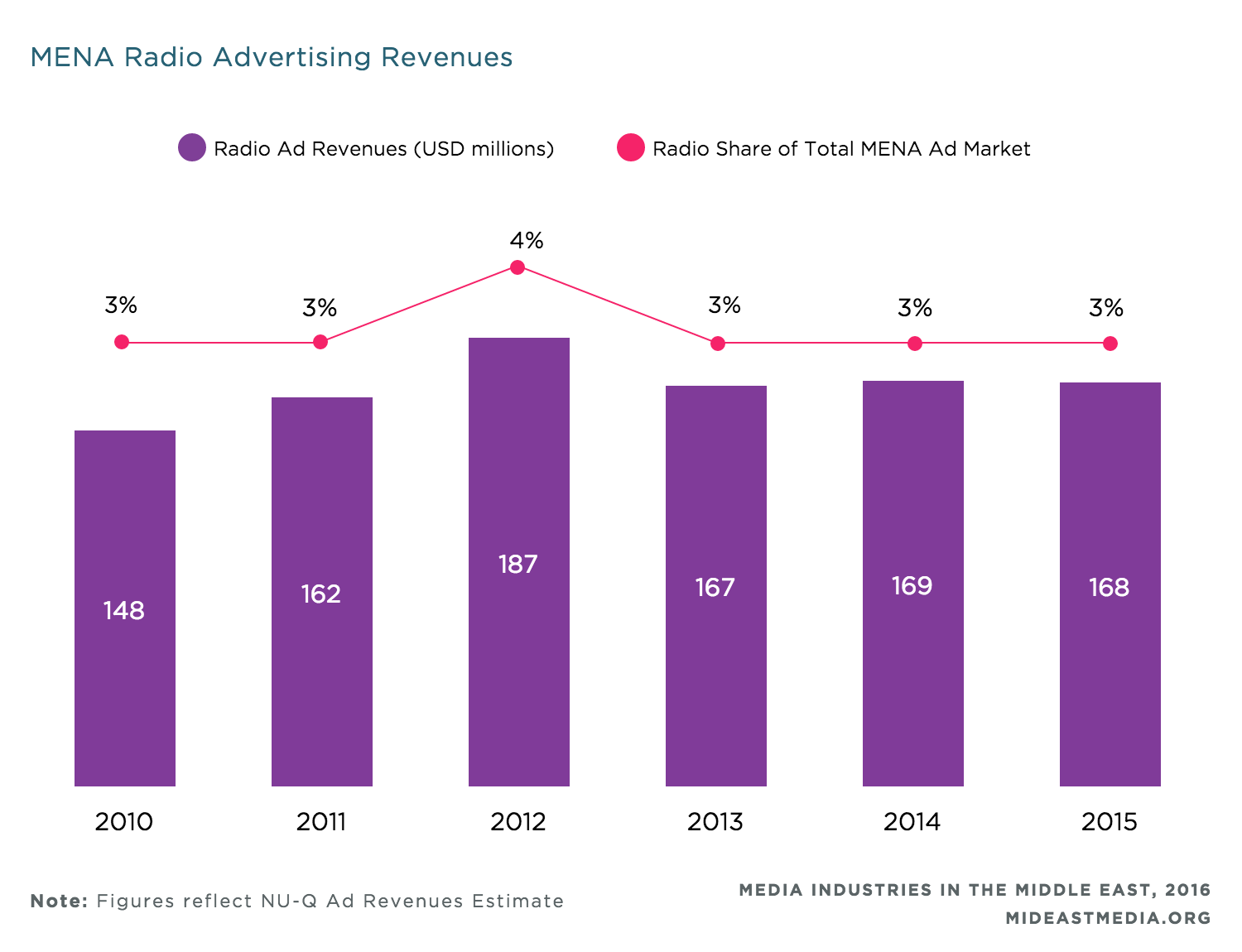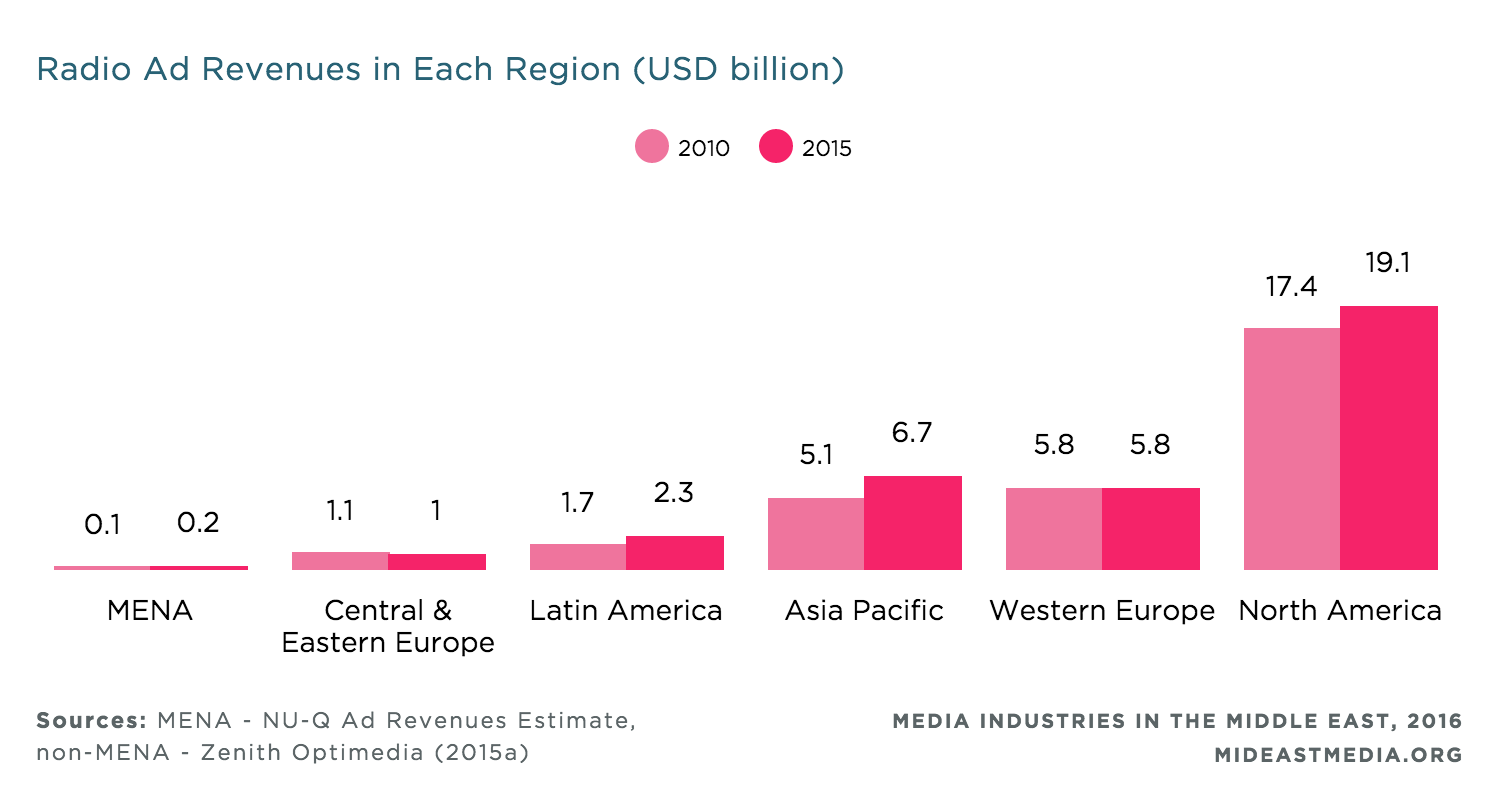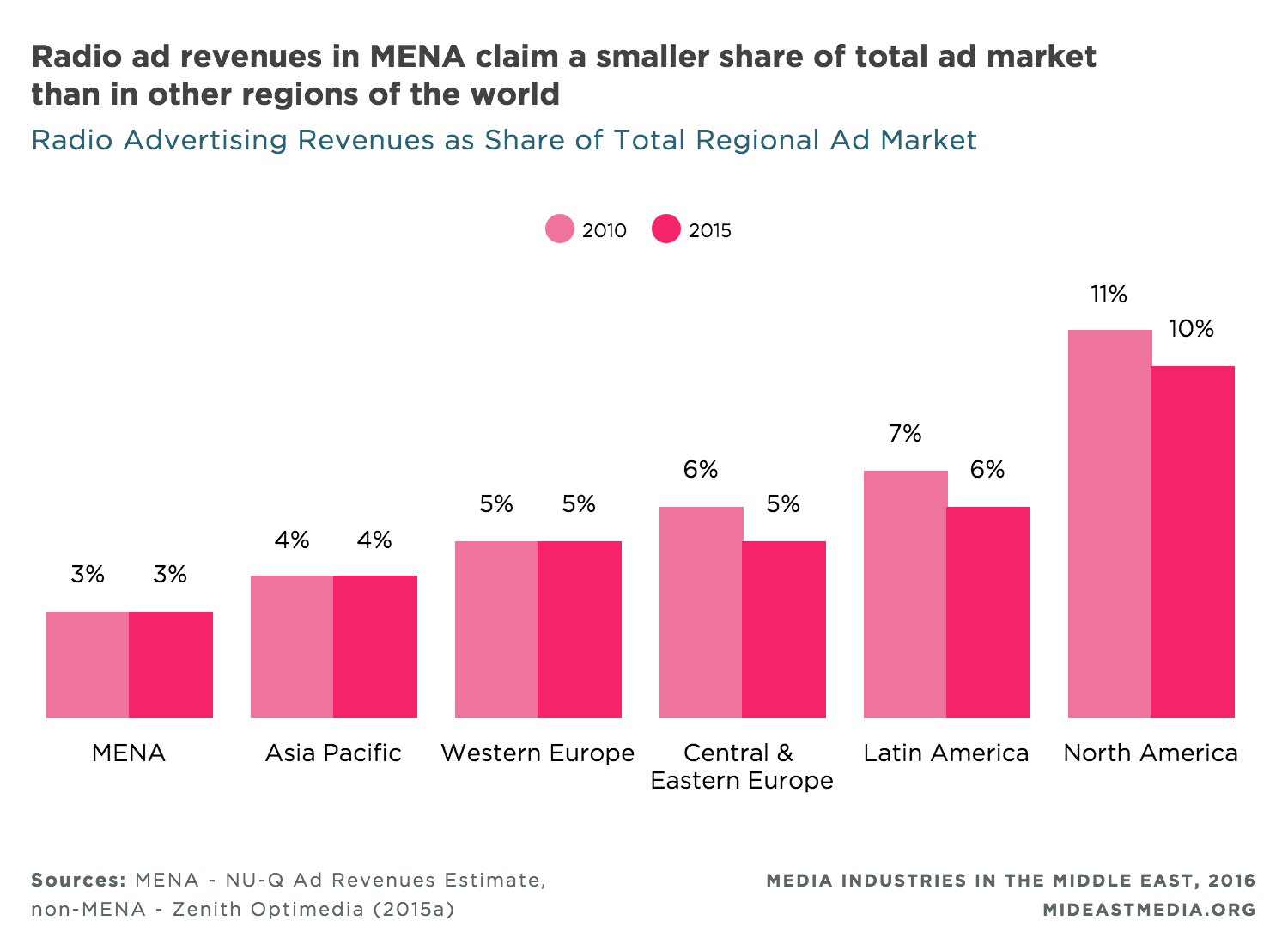 Within the MENA region, concentration of radio ad spend is high in our focus countries – the UAE, the KSA, and Egypt account for 85 percent of all radio advertising revenue in the region. Lebanon's relatively developed radio market, in terms of number of stations, is yet to pull its weight in the share of radio advertising revenues. However, there are significant variations across the MENA region: Radio's share of national ad revenues was as high as 14 percent in Egypt, but only 2 percent in Qatar.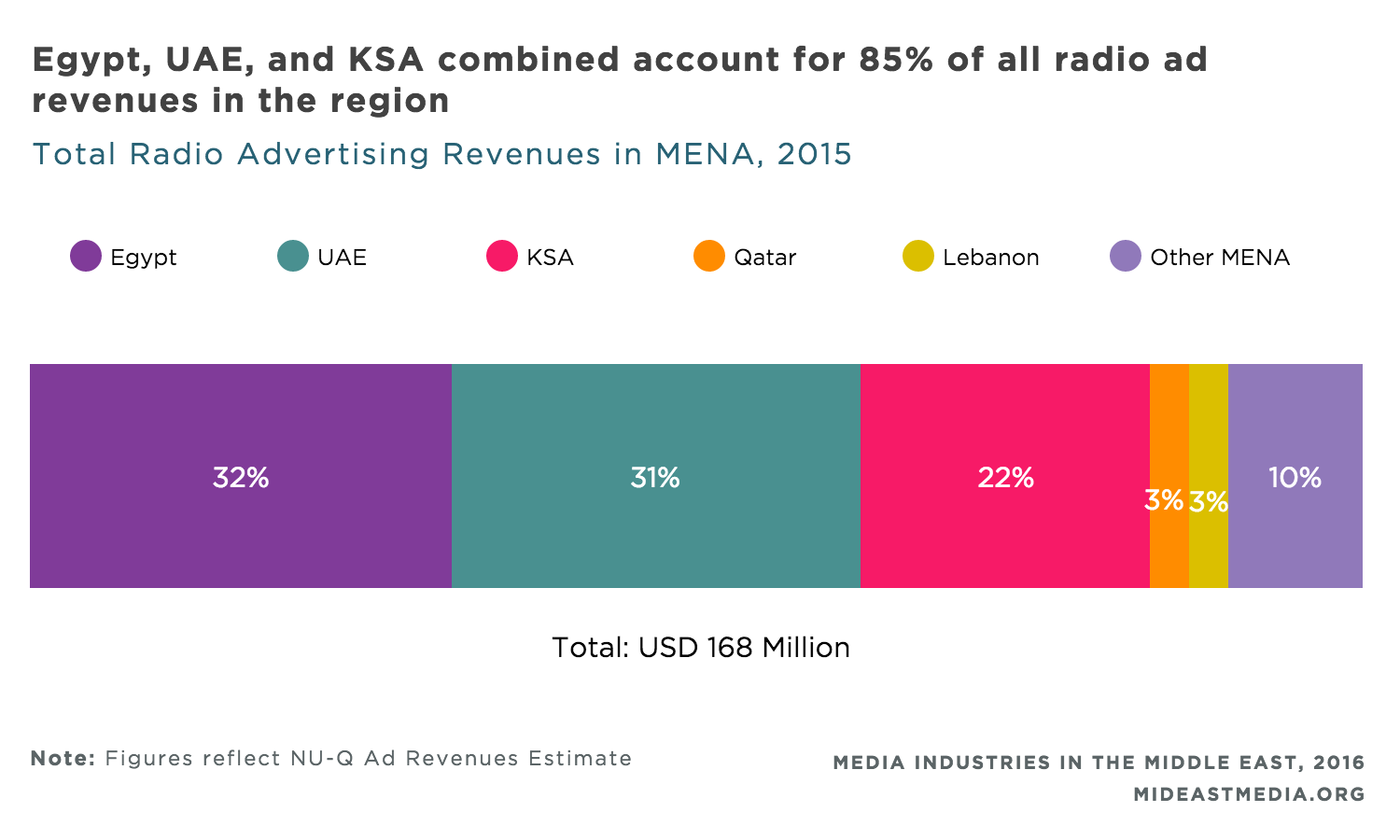 Part of the challenge in generating revenues is due to the relatively low realization on radio ad inventory, which is estimated to be approximately one-tenth of that in the U.K. In addition, regional dominance of TV, coupled with the relatively new nature of commercial radio, means large advertising budgets typically gravitate towards TV advertising. Radio tends to attract advertising from small and medium enterprises where average spend on a campaign is relatively lower.
This is why some of the larger radio groups have resorted to cross-platform campaigns (i.e., on both radio and social media), which provide more verifiable metrics for ad impact. Yield management continues to be a critical challenge for the industry. MENA radio companies are also offering a wider range of digital services, which not only allow them to broadcast across the region, but also help tap into a wider ad client base through programmatic buying. Some leading radio groups have started syndicating their shows across regional stations, helping to generate non-spot based revenue streams. This also helps in overcoming national regulation barriers, which have limited the terrestrial expansion of radio stations' reach. Finally, in line with international trends, regional radio networks have entered new business sectors, such as event management. One example is the 2014 "Virgin Radio RedFestDXB" by AMG – merging Done Events event management expertise with Virgin Radio's music connections to create one of the leading regional music festivals.
Community Radio, a Necessary but Rare Kind of Platform for the Arab Region
By Daoud Kuttab
Director General of Community Media Network and Former Ferris Professor of Journalism, Princeton University
In many ways, community radio could be the perfect answer to many of the problems facing the Arab world. It is easy and inexpensive to set up, and has a widespread accessibility that can give people in small communities a much-needed voice.
However, the reputation of community radio in the region has been damaged by actors in the middle of the twentieth century – when it was the preferred platform for a number of post-colonial revolutions, coup d'etats, and other forms of regime change. Authoritarian powers that made up the majority of the members of the Arab League centralized radio broadcasts from the capital, leaving all other communities on the receiving end of radio rather than engaging with it. Instead of radio being the voice of the voiceless, it became an instrument of government propaganda.
While, for the most part, ownership of radio was a government monopoly, some private-sector business people with governmental connections were allowed to create commercial radio stations that mostly played music, and sometimes provided controlled service talk shows, aimed at defusing tensions rather than solving deep problems.
Community radio, which is neither owned by governments nor business people, began in South America and has been developing in Africa and Asia. The Arab Spring provided rare opportunities for many individuals and groups to take advantage of the loosening grip of central governments to launch locally owned and run radio stations with or without the use of any legal approval. In many cases, local government officials have given approval to these decentralized radio stations, which allow local communities and civil society to speak out with the kind of power and support that has made it next to impossible to reverse.
With the exception of post-Arab Spring Tunis, and to a lesser degree Jordan, community radio is still in its nascent stage in most Arab countries. Online radio has mushroomed in countries like Egypt, which continues to ban any form of FM broadcasts by any party except the government or a handful of pro-government businesspeople. Non-government radio broadcasts have also received a big boost as of late with the availability of podcasts that can be accessed by widely available smartphones.
If structured well, community radio has the potential to be a powerful tool in drawing underrepresented communities into the national zeitgeist across the Arab world – ideally reducing isolationism and giving a voice to the otherwise disenfranchised.
In addition to this, technologies like podcasts breathe new life into the concept, and allow anyone with a baseline level of technology to contribute to the national dialogue.