In this section, we look at general and business daily newspapers in MENA. Here, at least their circulation has been more resilient than in the West. The region's share of the total advertising market remains significant at 32 percent, which is two to three times higher than in North America, Europe, and other regions.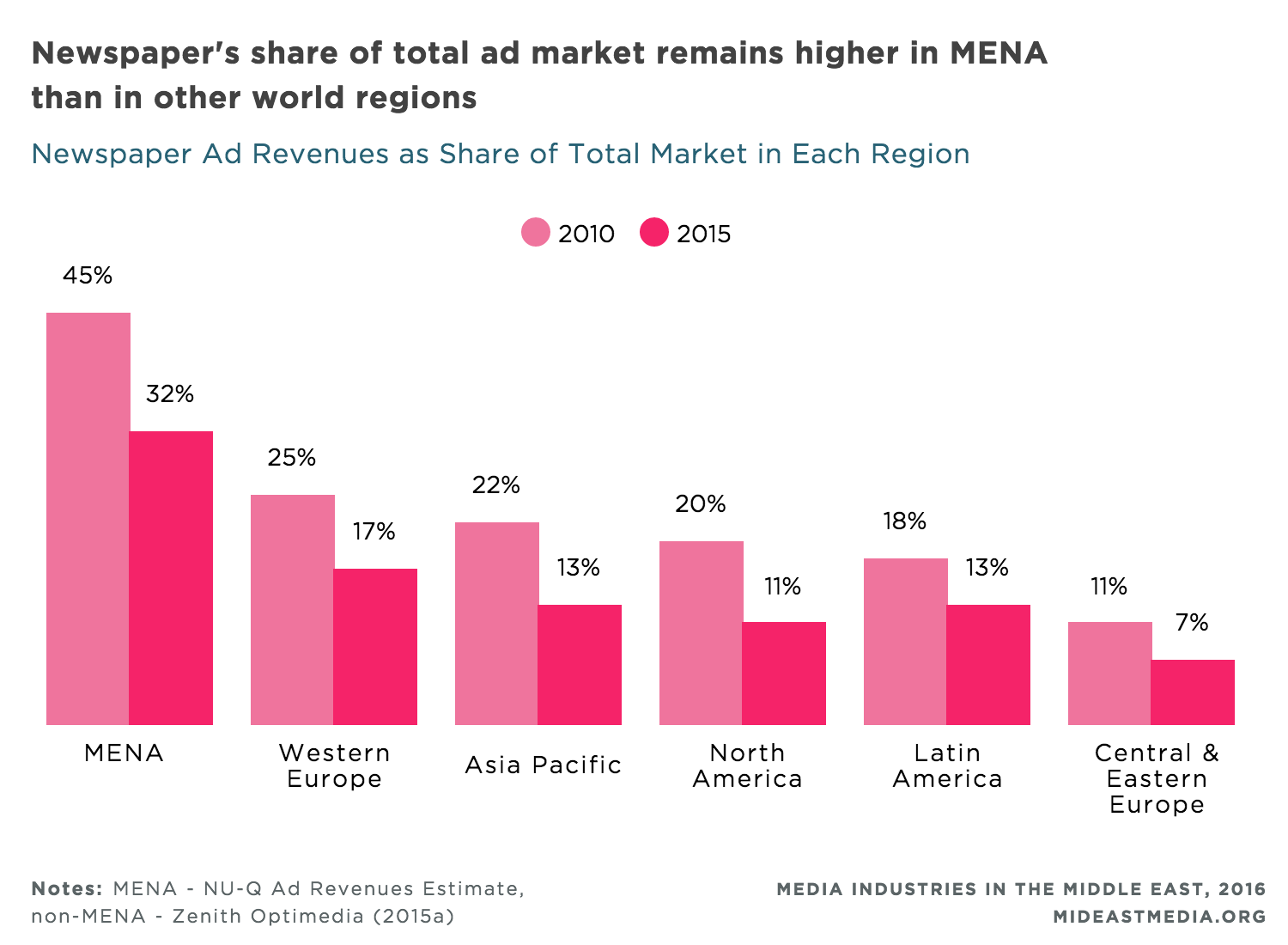 Given the lack of audited figures, the accuracy of newspaper circulation numbers remains a key concern in the region. However, newspapers in the Middle East have seemingly grown in overall circulation by 1.4 percent over the past five years. While other emerging markets experienced more significant growth, the West suffered a severe circulation erosion in the same timeframe. Despite having low reach and circulation per capita, Egypt has seen substantial growth in the number of newspaper titles and circulation overall. Even though in most local markets such as Tunisia and the UAE numerous titles have exited, the region's newspaper industry has maintained a relatively strong position in the advertising market.
There are a number of reasons explaining the relatively positive situation of newspapers in MENA:
In line with other developing or threshold countries, the increasing literacy of the population in the Middle East has made newspapers accessible to ever larger parts of society. This new audience may compensate for the loss in readership of printed newspapers among traditional readers and Internet literates.
Newspapers in the MENA region seem to benefit from their well-defined national (or even local) areas of distribution. Compared to digital platforms and TV, newspapers can be used to narrowly target audiences at the national, local, or community level.
As importantly, newspapers still attract a particular category of ad buyers – namely governments. On average, as much as two-thirds of government ad spend goes to national newspapers.
Nevertheless, newspaper advertising revenues overall and as a share of the region's total ad market have declined by more than a fifth since 2010, with the exception of two of our focus countries: Qatar and Lebanon. While the medium has defended itself well against digital erosion in the region, it is inevitable that the observed trends of digital migration will continue to undermine newspapers' share of ad spend. This will be covered more extensively in the digital section of this report.
Note for this chapter
Newspapers in this report are defined as print media published at least twice a week, and either offer stories about a wide range of topics ("General News"—e.g., a combination of politics, economy, health, sports, etc.) or focus on business news only ("Business News"). This definition excludes supplements as well as weekly, religious, and sports newspapers.
Newspapers distributed in our five focus countries account for almost two-thirds of the newspaper circulation in the entire region. In our five focus countries, the top five newspaper owners account for 54–94 percent of the total circulation in their respective markets/countries. This market concentration is even greater when looking at share of ad revenues. In the UAE, for instance, the top five titles collect more than 80 percent of the total newspaper advertising revenues. While MENA is bucking the trend of declining circulation seen in the West, it is still far behind in terms of circulation per capita. With only 0.07 newspaper copies per capita on average, it is around three times lower than the average in the U.S. and Europe.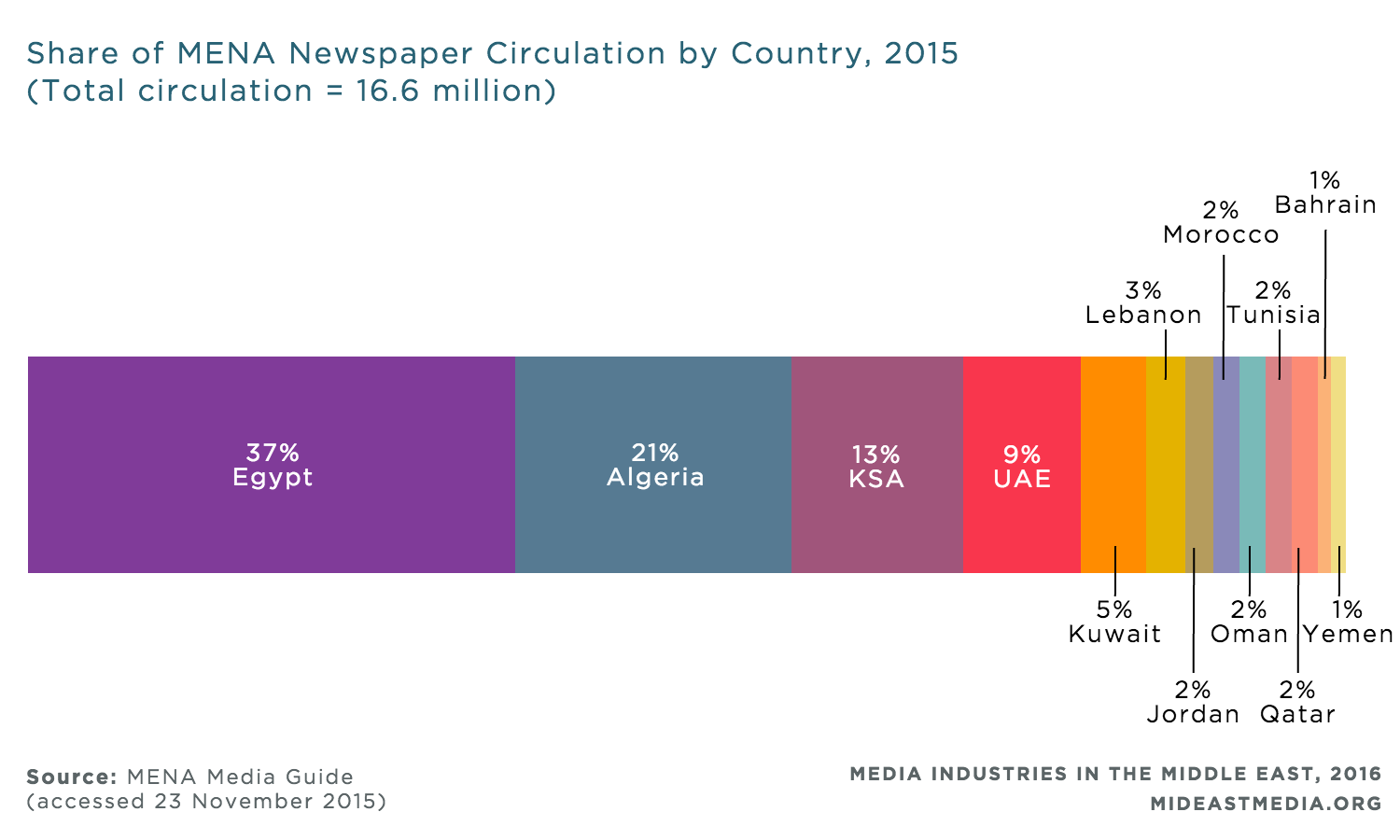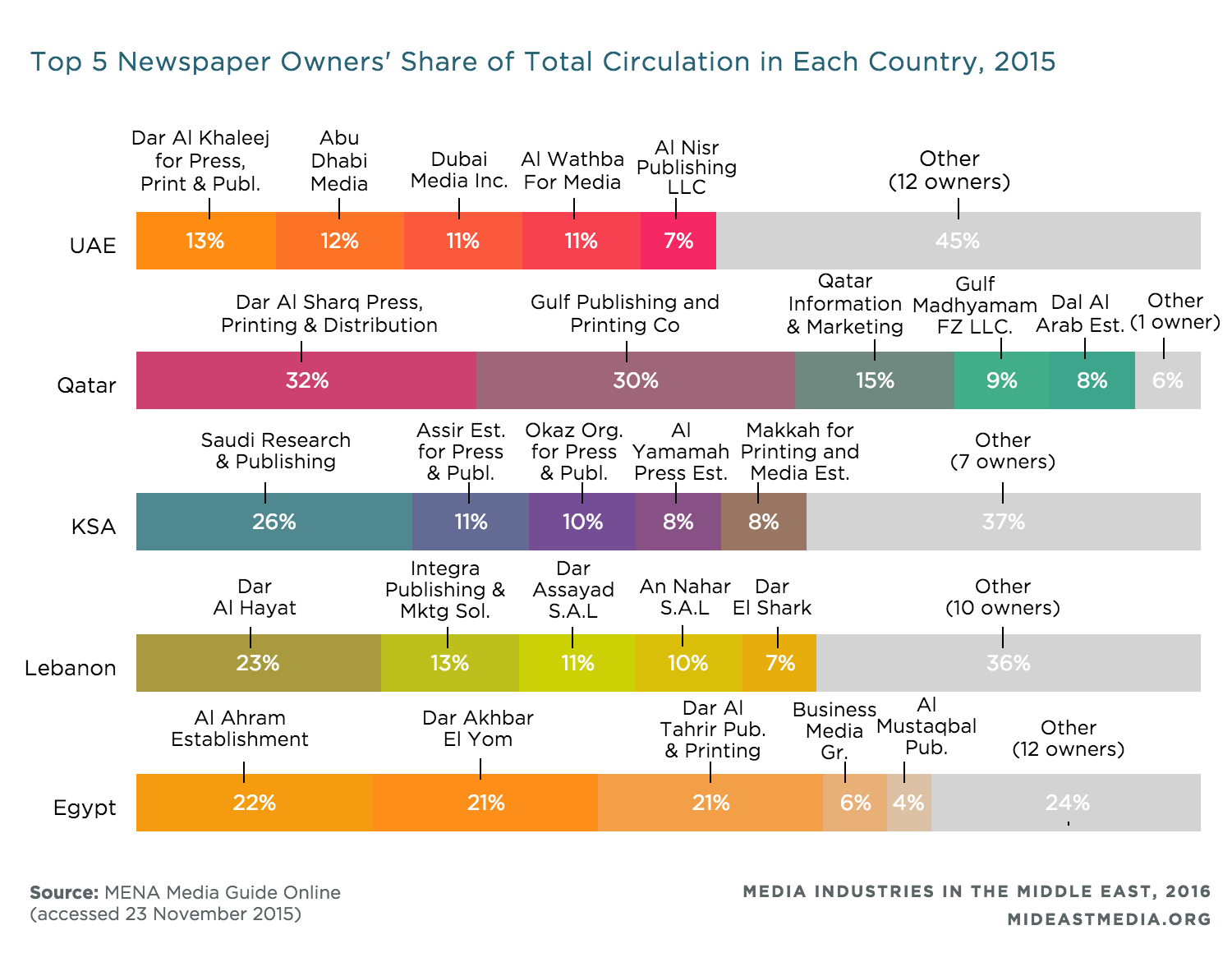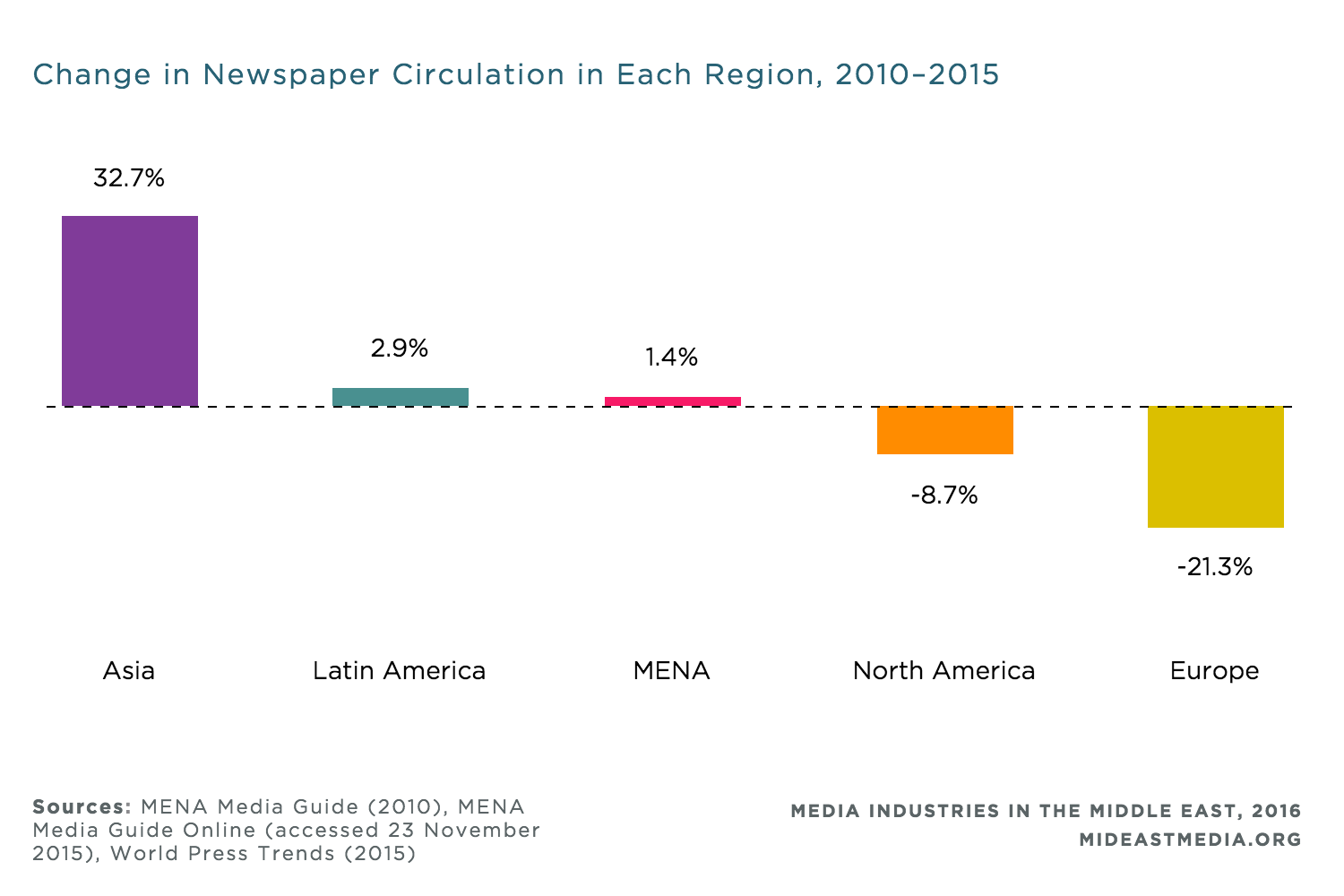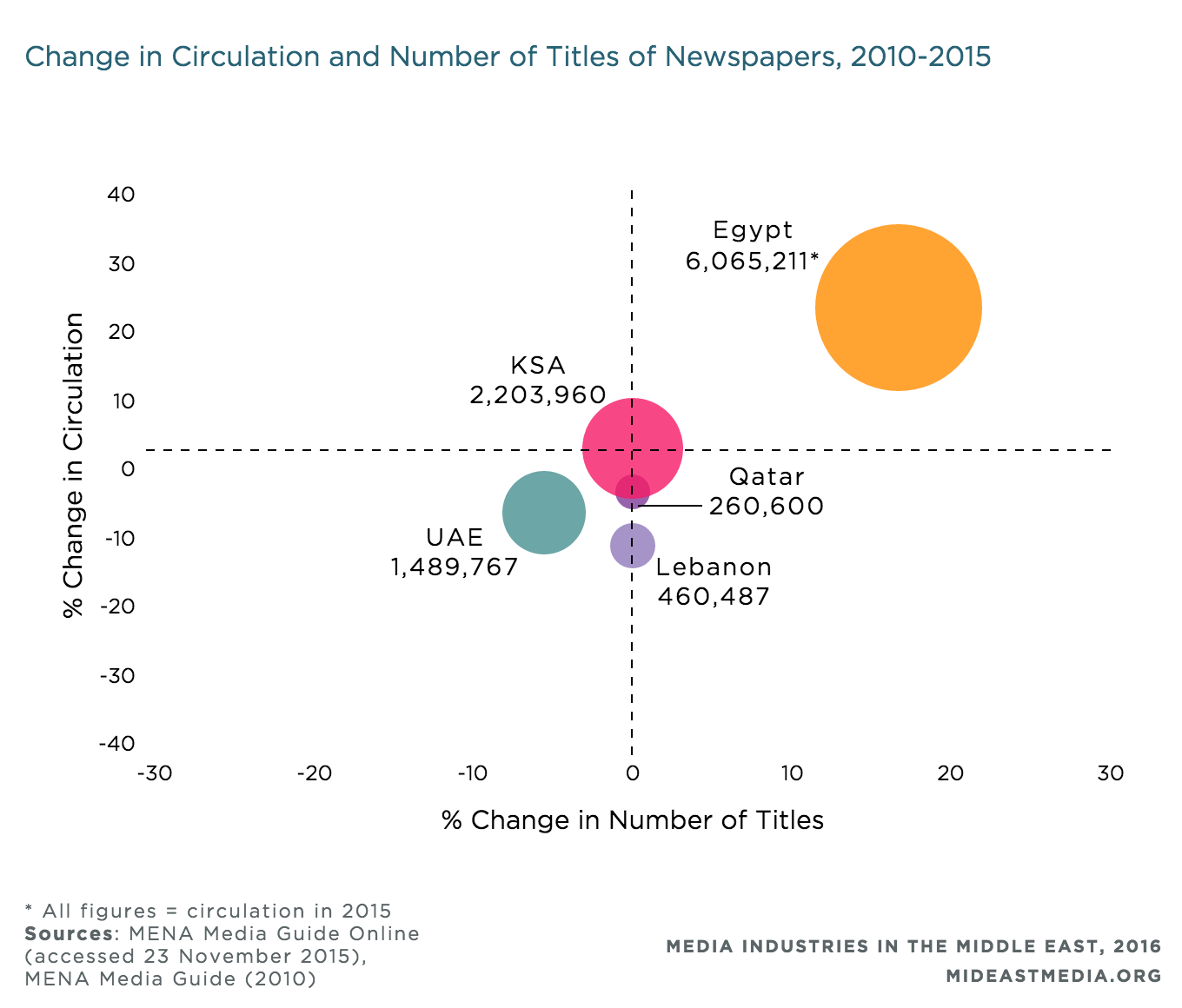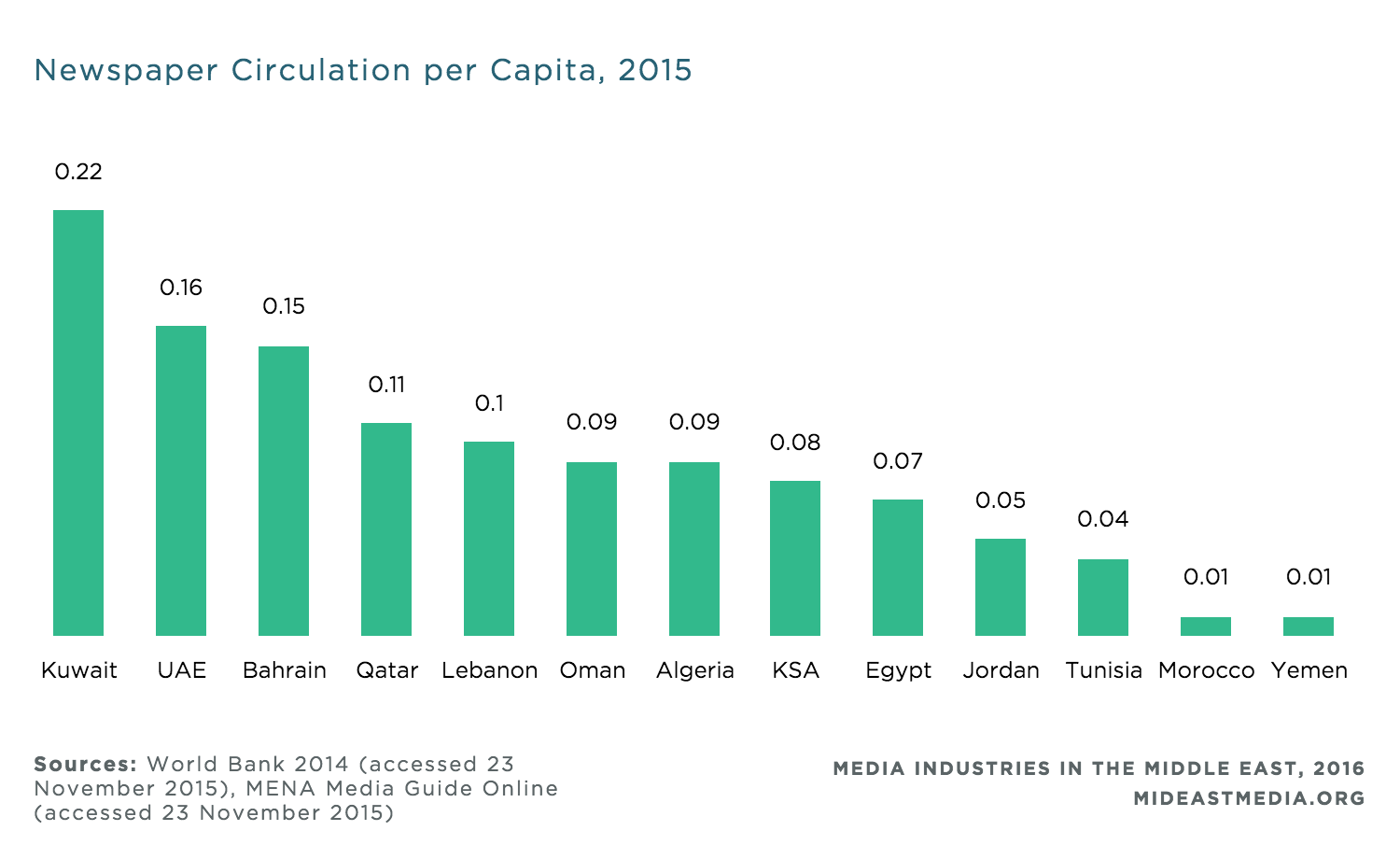 Most Gulf countries have higher circulation rates than other countries in the region. In particular, readership in the UAE and Kuwait is far above the regional average. As these regional circulation figures are self-reported, they should be considered with caution. The regional gap in circulation is, however, echoed by newspaper reach. While reach is relatively high in the UAE, Saudi Arabia and Qatar, it is significantly lower in Egypt and Lebanon. The number of new titles launched per year in the region has dropped since its peak in 2011.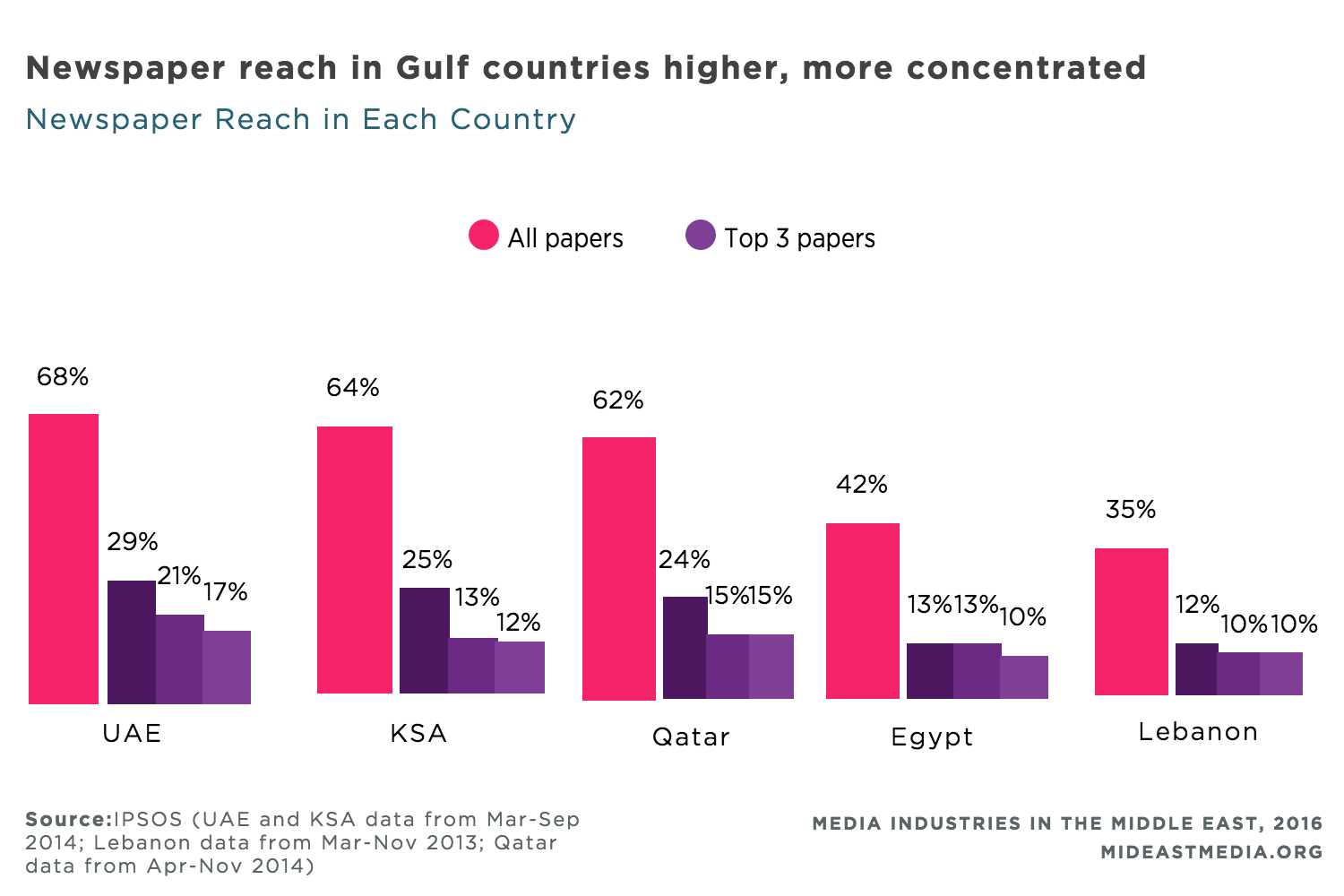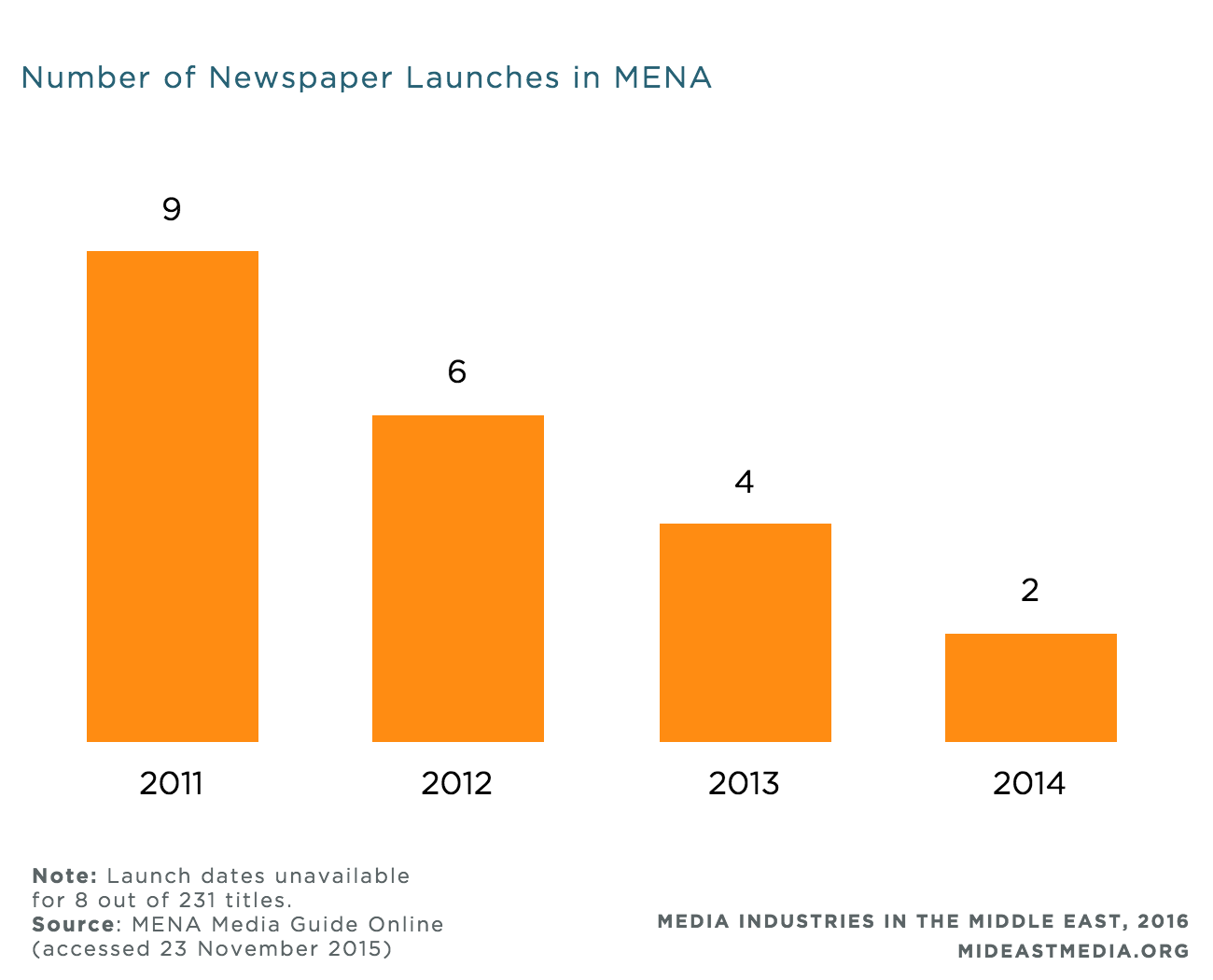 Notes for this section
For charts in this section, change in circulation is based on the ratio of total circulation figures in 2015 and 2010 for General News and Business News dailies. Titles published in 2010 that did not have available circulation data were excluded from our analysis. Only four newspapers in MENA have audited circulation figures by BPA Worldwide. The majority of circulation figures are self-reported and unaudited.
Reach is defined as the percentage of the population that claims to have read a newspaper since the previous day.
We looked at four key dimensions of content generation for newspapers: type of newspaper, origin (national or international), language, sources of news, and digital features.
Within Daily Newspapers, audiences are, as expected, mostly interested in following the local news in their country. This is why national titles have, by far, the largest self-reported circulation numbers and represent more than 75 percent of newspaper circulation across all MENA countries. While international papers – those created or headquartered outside MENA – make up a fair share of total newspaper circulation in the KSA and Lebanon, they sell limited numbers in other countries.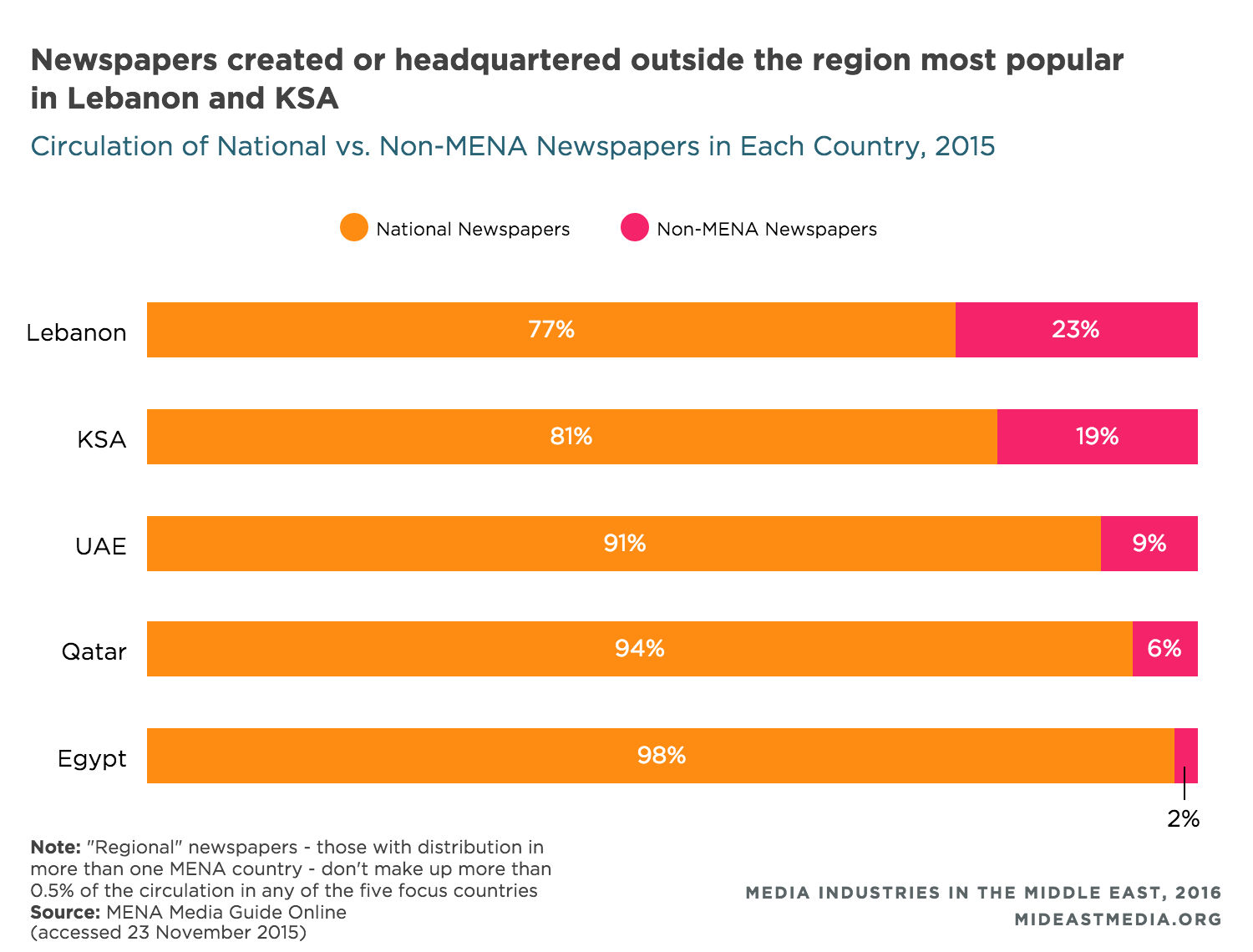 Naturally, as most of the regional audience are native Arabic speakers, the overwhelming majority of newspapers consumed are in Arabic, with a higher circulation per title than those in any other language. For example, in Egypt, 96 percent of newspapers circulated are in Arabic. This figure is somewhat lower in Gulf countries, which have larger expatriate communities. The UAE has a majority expatriate population and, as a result, is the only focus country where most newspaper titles and circulation are in other (non-Arabic) languages.
Although MENA countries rely on different sources for news, the GCC depend more on government news agencies to cover local news than other countries in the region. Egypt and Tunisia have little coverage of international and regional news, and the front page is mostly focused on local news, which may be a reason why most front-page stories are sourced from interviews done by correspondents. Lebanon and the UAE cover more regional and international news and are less dependent on local government news agencies. GCC countries offer more international and local news and tend to rely more on government news agencies for local news (e.g., official government publications).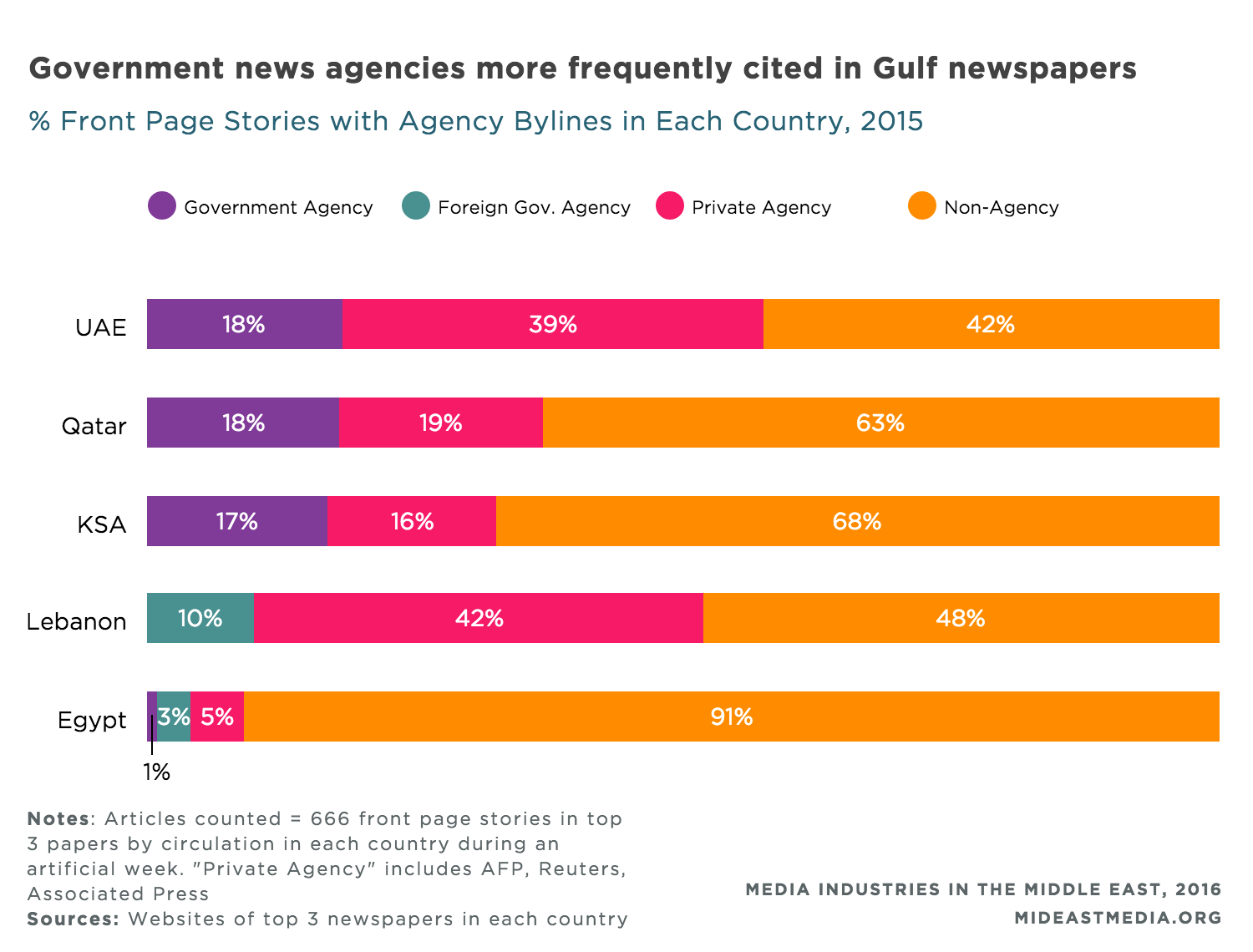 While the industry is experiencing significant changes as a result of digital migration, local newspaper content offerings are adapting to the increasing popularity of digital content. A number of digital features are now becoming the norm. All high-circulation newspapers in our five focus countries have digital editions, and the majority offer readers the opportunity to comment on articles. Mobile newspaper apps are also becoming increasingly common. Almost three-quarters of online newspapers offer membership registration. This is a critical first step in developing paywalls, although only a small number of newspapers have been able to successfully introduce freemium models.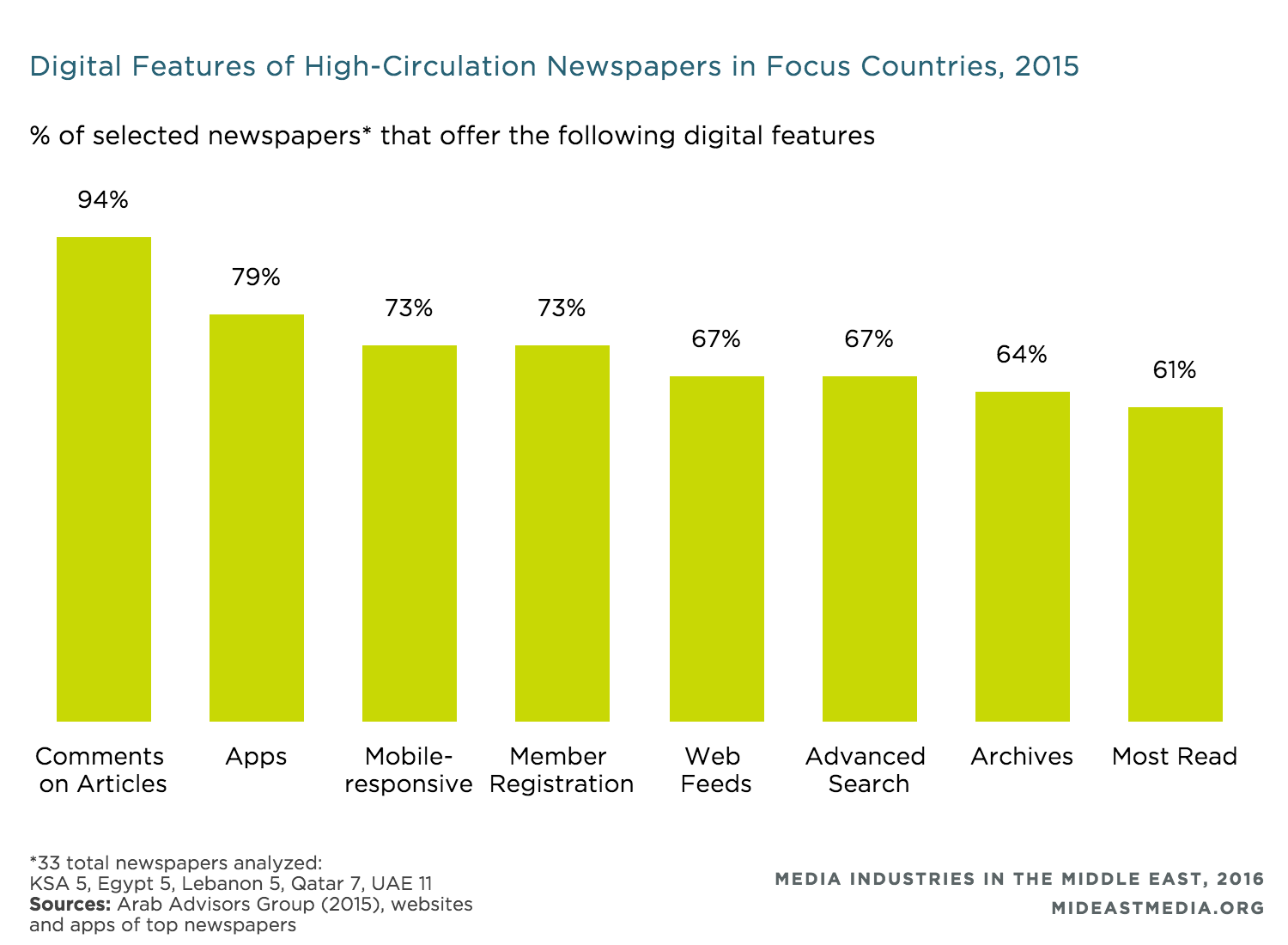 Newspaper advertising revenues overall, and as a share of total regional ad revenues, have declined in the region by more than a fifth since 2010.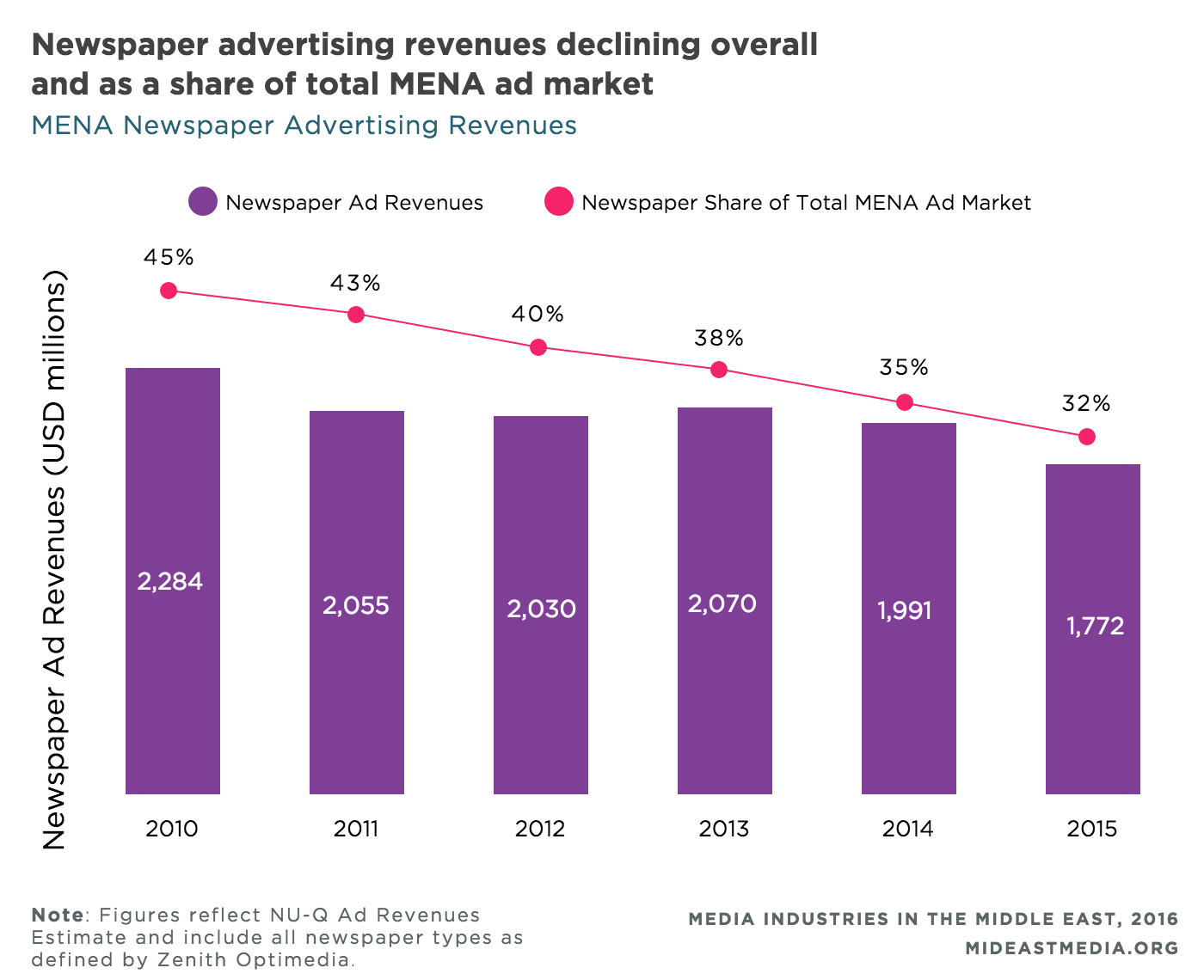 With the exception of two of our focus countries, Qatar and Lebanon, all individual MENA countries have seen a decline in ad revenues. The sharpest drops were seen in the UAE and Egypt, where overall advertising spend decreased by almost a quarter to a third over the same period.
The region may be catching up to the global trend of rising digital ad revenues and declining print revenues – a trend that started more than 10 years ago in most mature markets. However, the region's digital ad revenues, similar to other markets, is yet to offset the decline in print revenues. Interestingly, the region is yet to see the emergence of innovative advertising products from its leading newspapers, such as print and digital bundles, which have helped generate some revenue growth in other regions of the world.
While accurate information about subscription revenues and single-copy sales is limited, it would appear that the region remains heavily dependent on advertising compared to mature markets. More than 80 percent of revenues for key titles appear to be generated from advertising (vs. 50–60 percent in the U.S.).
Similar to trends in developed markets around 2008, revenues from classified advertisements are shifting from print to digital properties such as the UAE's Dubizzle platform.
Despite the significant drop in share of advertising, newspapers in MENA still account for a larger portion of total advertising spend than in other markets. In addition, national newspapers still account for a substantial share of overall ad spend in their respective countries.
Newspapers are still used as a primary medium to reach local audiences, in particular by government advertising. Due to the logistics and content barriers to this medium, Pan-Arab advertising in newspapers is virtually non-existent.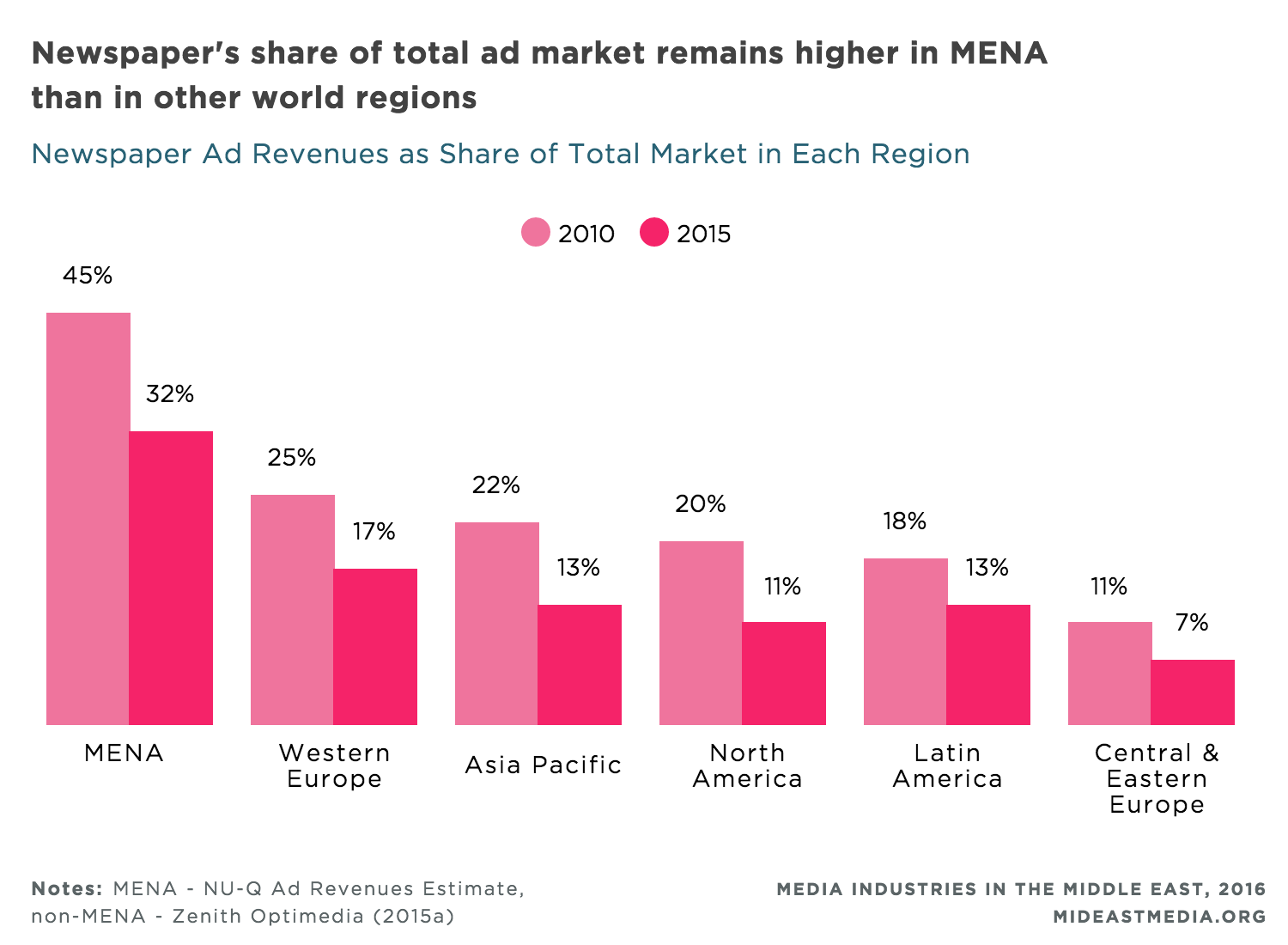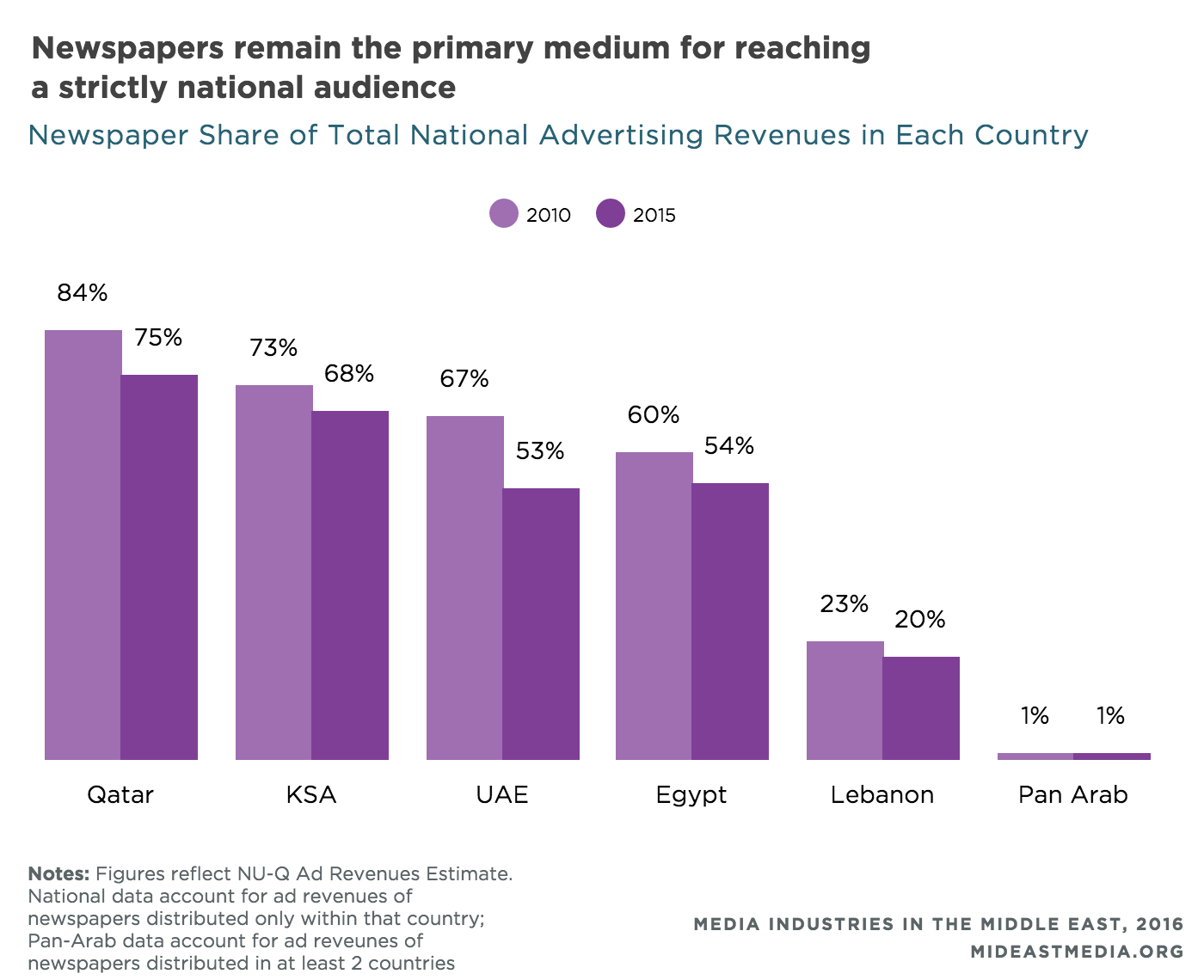 The distribution of advertising spend is fairly concentrated, with the top five newspapers accounting for more than half of the total newspaper print ad spend in each of our five focus countries.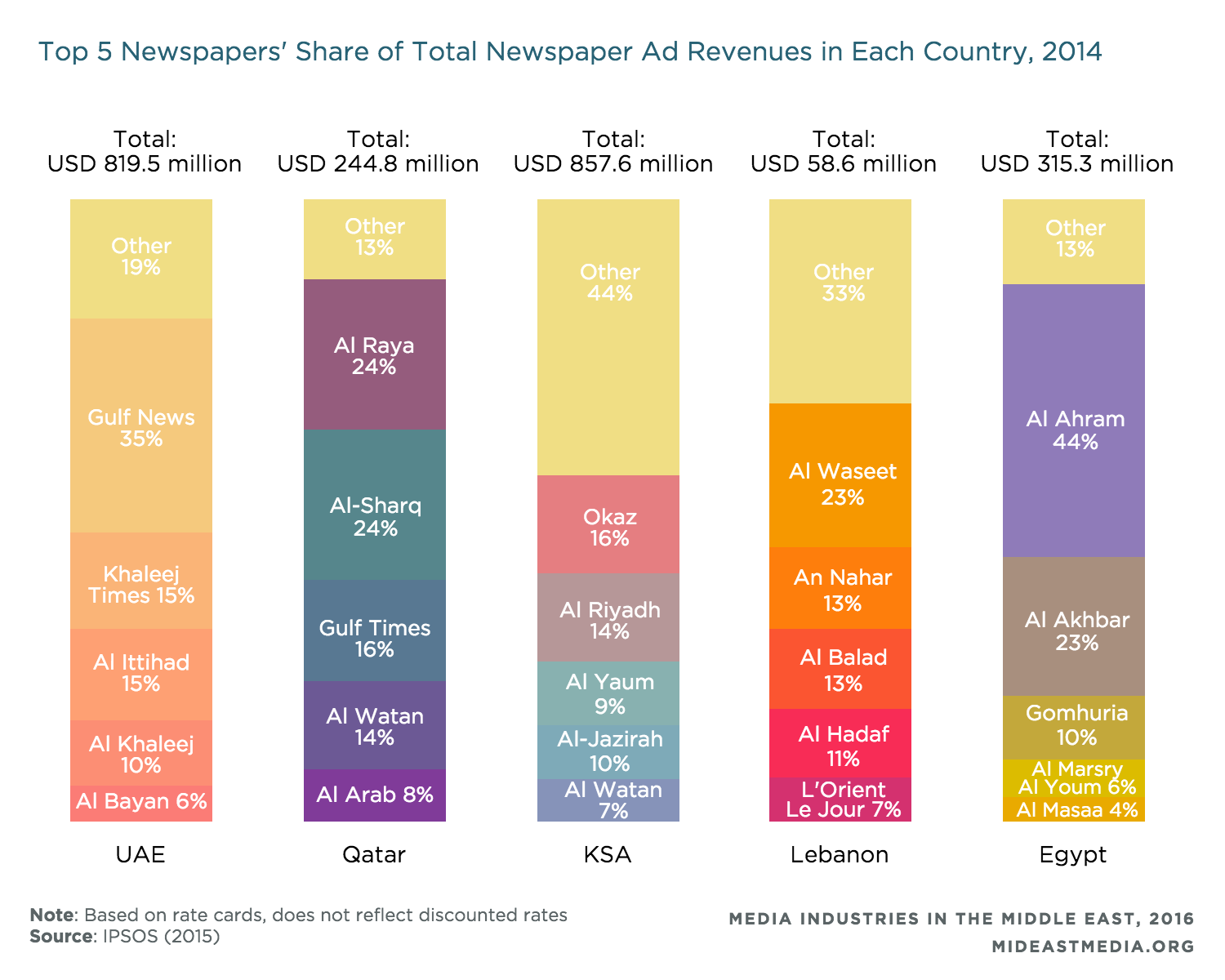 While ad revenues have declined over the past few years, the allocation of revenues by page position has remained constant. Approximately 70–80 percent of advertising revenues is on the "inside" sections of newspapers.
Note: For details on NU-Q Ad Revenues Estimate, see Advertising chapter.
A Reflection of the Social Order Persists
By Rami G. Khouri
Syndicated Columnist and Senior Public Policy Fellow, Issam Fares Institute for Public Policy and International Affairs, American University of Beirut
Whenever I visit an Arab country, I buy several daily Arabic-language newspapers every morning and spend half an hour skimming through them; but I only look at headlines, photographs, and advertisements, because these provide the most accurate, easily accessible window into that society's prevailing political, social, and economic culture. This captures the special place that newspapers occupy in Arab countries, and that has remained consistent for over half a century now, since the 1960s. New and dynamic universes of Pan-Arab television, offshore publications, community radio, and digital and social media explode all around them, like supernovas, shooting stars, and hot new planets, but they all revolve around the constant and unchanging Arab sun that are the daily newspapers.
The striking attributes of the newspaper industry in the Arab world that are captured in this study are the same ones that I have personally experienced during my 45-year-old (and ongoing) association with this sector. I have done this as a reporter, page editor, feature writer, editor-in-chief, columnist, trainer, gatekeeper, and lifelong cheerleader for this thrilling business that captures a society's waking hours and disseminates its tales of those doings the next morning in a printed product that reaches all corners of the land. In this beloved world of mine, indigenous Arab newspapers still function as the guardians and mirrors of the prevailing political-economic order.
The number, circulation, nature, and advertising revenues of newspapers all fluctuate slightly from decade to decade and country to country, but the fundamental role of newspapers remains as the flag carriers of incumbent political power elites operating within the spaces designated by those elites. As some of the data in this study indicate, a small number of owners dominates the newspaper business in each country, and enjoy the bulk of advertising revenues. A few new ventures are launched every year, despite the drop in newspapers' absolute advertising revenues, due to competition from flourishing digital media.
This is because newspapers today, as since the 1960s, rely on three principal sources of patronage and financial revenues – governments, government-licensed political parties, or (mostly in the wealthier Gulf states) bountiful consumer advertising. These three sources seek to preserve the status quo; limited reforms and new players in the ruling elite are allowed within controlled parameters of behavior in the public sphere that newspapers faithfully disseminate to the public. So drama and innovation do happen throughout the Arab communications realm, mostly in offshore and virtual sectors that allow hundreds of millions of Arabs to explore new ideas and values, or challenge prevailing norms. But the newspaper business continues unchanged, anchored by two compelling and enduring forces: powerful public and private sectors in society that guard the status quo, and the never-ending thrill that millions of men and women experience when they open their morning paper, smell the ink, and start turning the pages to discover what happened yesterday in their world, and what is going on in their city today.