In this section, we look at the dynamics of the music industry in MENA. It broadly consists of two key segments: recorded music (physical, digital, and rights collections) and live music (mainly sponsorships and ticket sales).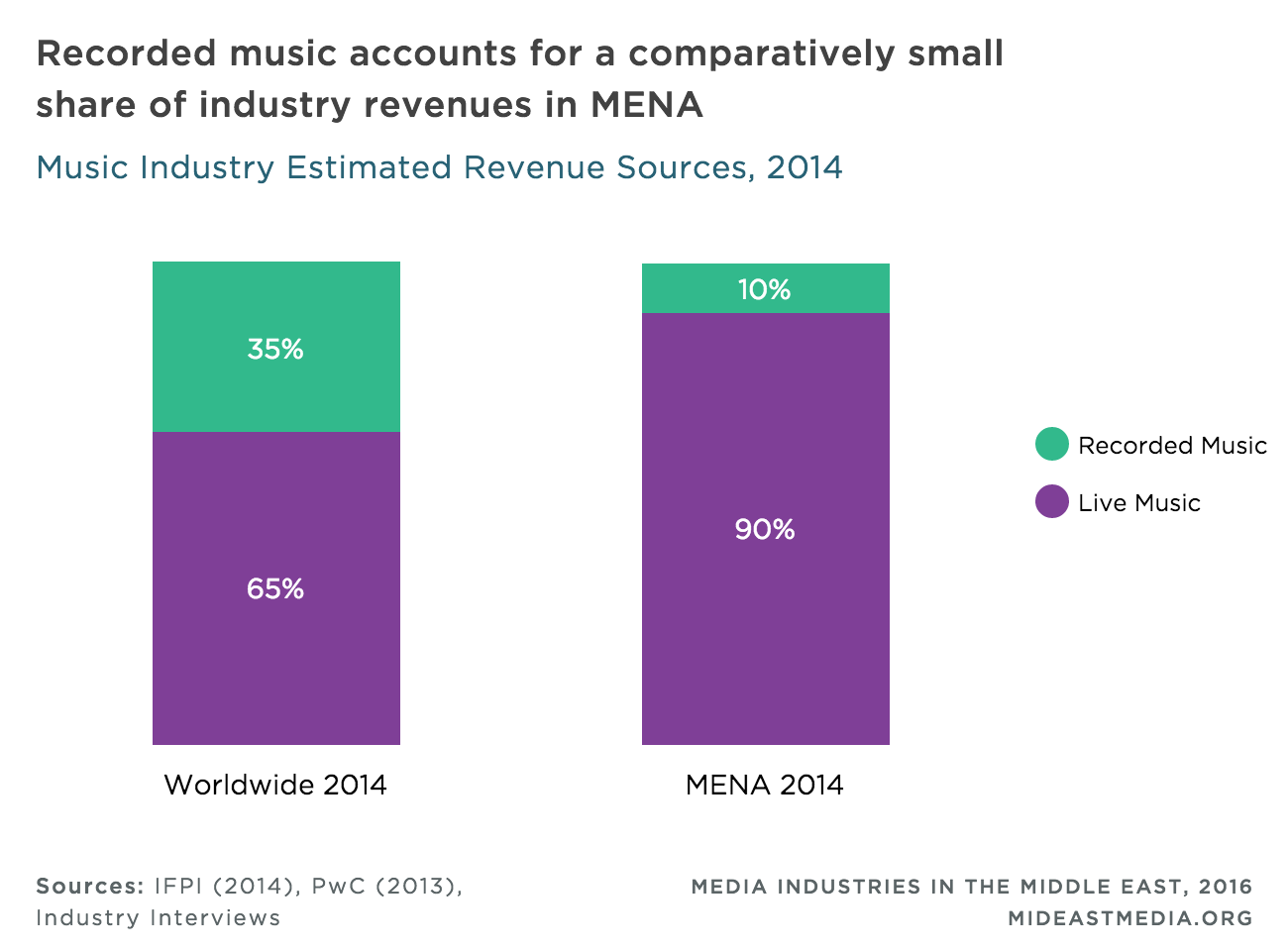 Global music industry growth has been driven largely by digital recorded music and live music, which have marginally offset the ongoing decline in physical music sales. Although the regional music industry is facing a number of challenges, indicators from MENA's largest markets suggest potential growth driven by the rapid rise in total revenues as well as live music's high share of revenues.
The challenges facing the music industry worldwide are in many ways felt more acutely in the Middle East. Live music contributes the major share of industry revenues due in part to the pervasiveness of illegal downloads making recorded music a difficult sell. The limited propensity to pay for music is reflected in average music spend per capita in the region. For example, estimates suggest that music spend per capita in the UAE is at least 50 percent lower than in markets such as Singapore, and less than 20 percent of the spend in Western markets like the U.K. or the U.S.
The low spend per capita is also aggravated by the pervasiveness of piracy. To date, Arabic websites used for "free" or illegal music downloads receive more traffic than the two biggest Arabic paid sites. In other parts of the world, affordable, legal online alternatives offering a better customer experience receive 40–50 percent of industry revenues from recorded music. Here again, the radio market in MENA faces headwinds. Low credit card adoption is also one of the many factors hampering e-commerce generally in the region.
The absence of rights collection agencies contributes to a vicious cycle as major international digital streaming platforms shy away from the region. This in turn leaves a limited choice of legal music platforms available across the region. Performance rights revenue, which constitutes a significant share of revenues for record companies (i.e., between 6–8 percent), is virtually non-existent in the region. Traditionally, record labels tend to spend significantly upfront on artists and expect to recoup a fair share of their investment partly through record sales and partly through royalties. With this critical revenue stream virtually missing, large international record labels face challenges in justifying the investment in new talent.
Given high piracy rates, limited streaming options, and lack of rights collection agencies, live performances in the Middle East constitute an even larger share of total music revenues than many other regions of the world. But even in the live performance space, the region seems to be at a significant disadvantage. Whereas worldwide, nearly a quarter of live music revenues come from event sponsorships, this figure is estimated to be below 10 percent in the Middle East. This, in addition to more restrictive food and beverage policies at events, make concert producers heavily reliant on ticket sales.
Both globally and regionally, the music industry has had negative growth in the last five years, and total revenues have declined largely due to fading physical sales. Globally, recorded music revenues have been declining steadily since 2009. This is in spite of the introduction and strong growth of digital recorded music sales and rights revenues, which represented 13 percent of global recorded music in 2014, and grew at a rate of 15 percent annually from 2009 to 2014.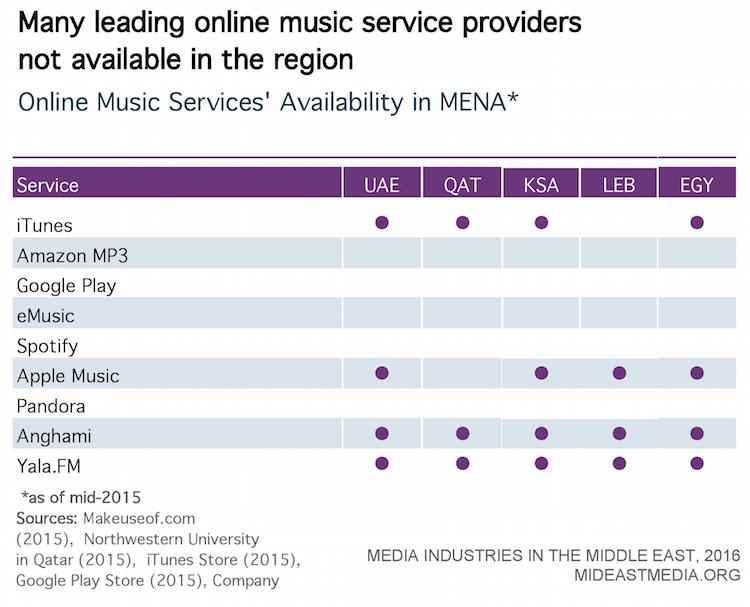 Many of the trends that have threatened traditional physical music sales globally have materialized to an even greater extent in the region. The slow introduction of localized digital music platforms (e.g., iTunes for the Middle East), Arabic music websites offering "free" or pirated music, and the popularity of free streaming services, such as YouTube, are all examples of such trends.
A number of challenges specific to the music industry in the region have also compounded the problem. In other world regions, rights revenues, as well as affordable and legal online alternatives, make up a significant share of recorded music revenues. In the Middle East, legal digital offerings represent only 13 percent of recorded music revenues, whereas globally, digital music has a 41 percent share of global recorded music revenues – almost on par with physical music sales. High rates of music piracy, low overall consumer spend on music per capita, and low credit card adoption rates limit the viability of online music services in the region. Arabic websites used for "free" or illegal music downloads receive more traffic than the two biggest Arabic paid sites to date.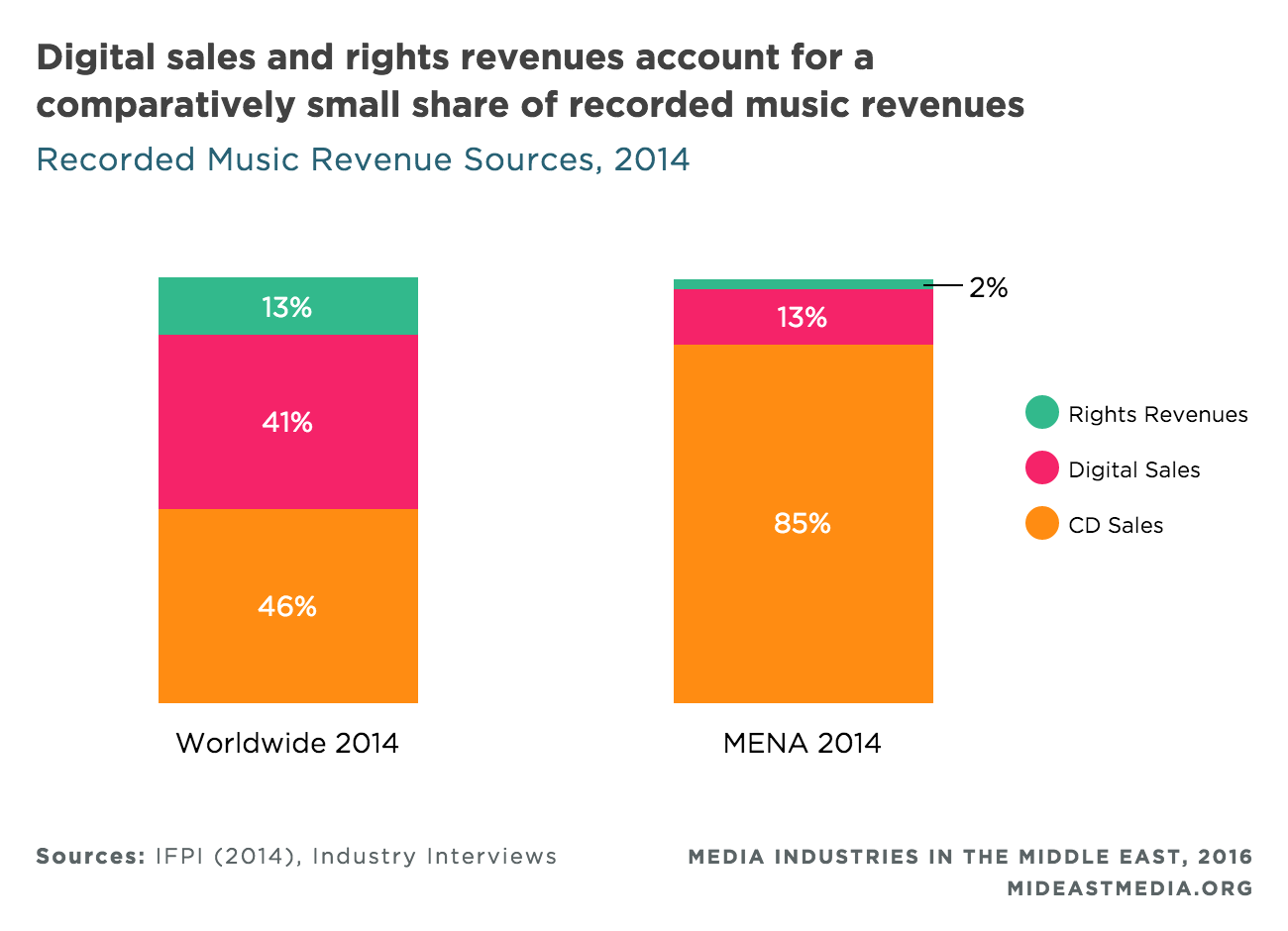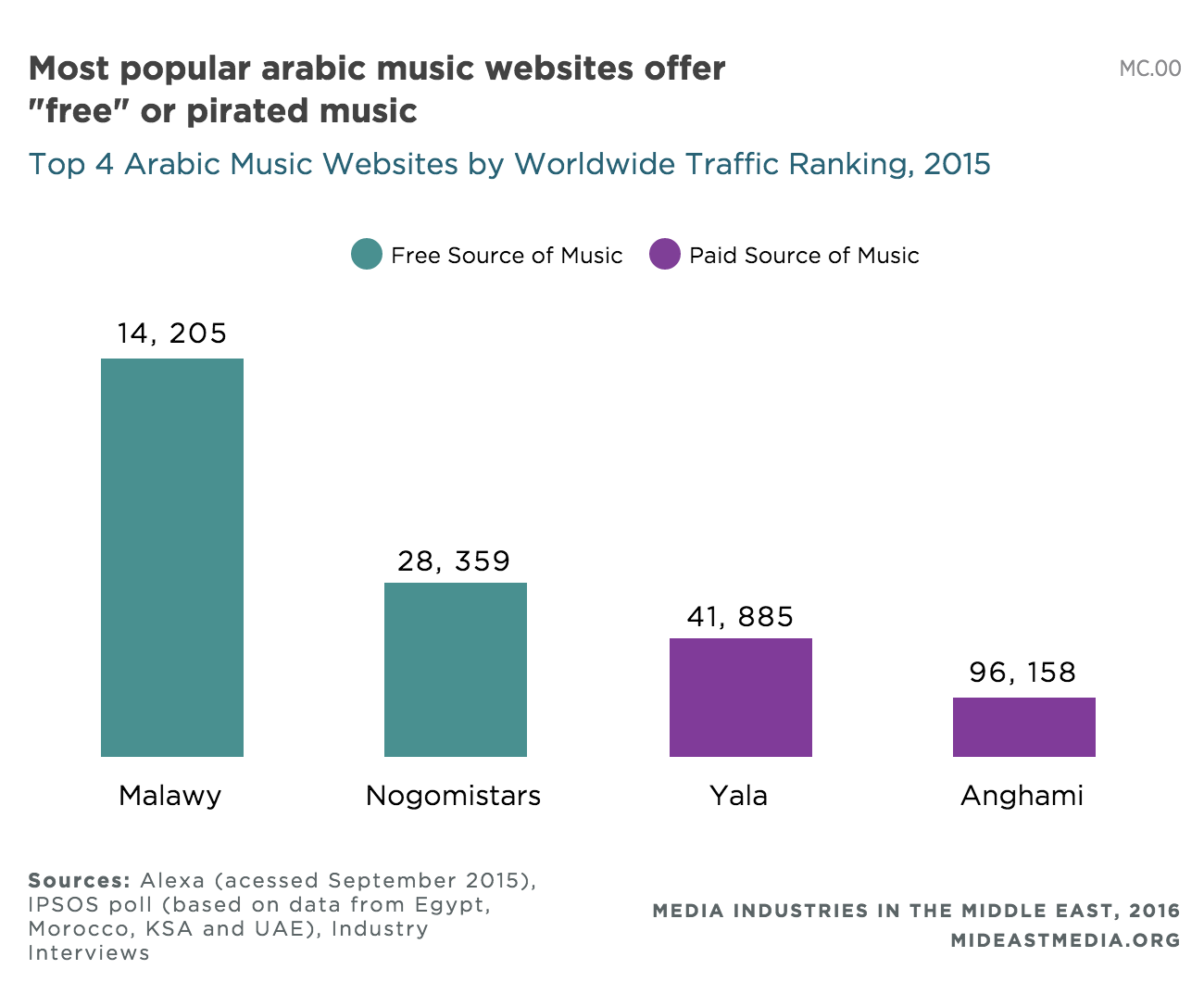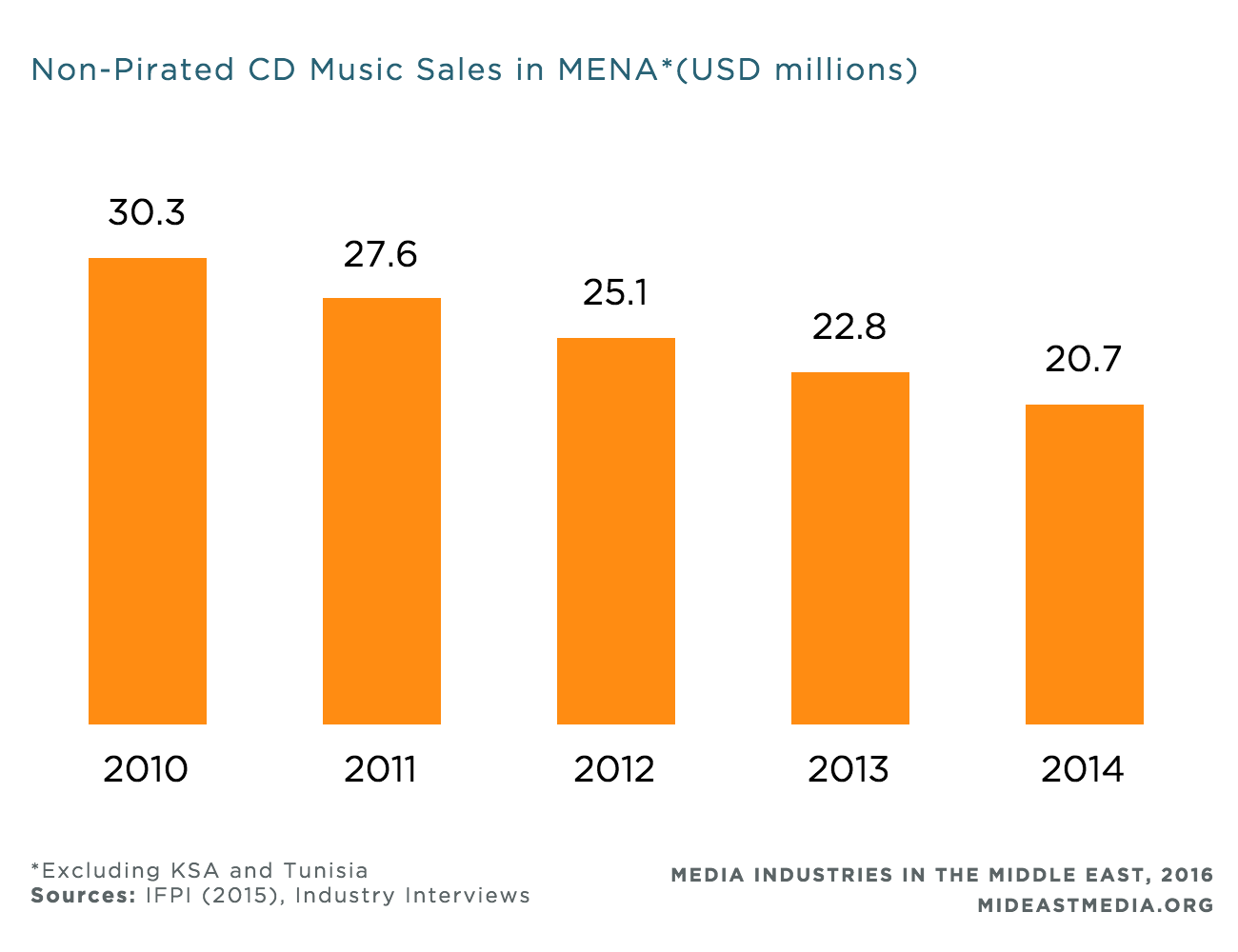 These circumstances are also reflected in the region's digital music spend per capita. In the UAE, one of the region's leading music markets, digital music spend annually averages only one USD per capita – negligible compared to other markets across the world such as the U.S. (USD 12) and Singapore (USD 3).
The MENA region lacks many elements of a rights-collection infrastructure, leaving artists and songwriters unable to claim important rights revenues. Performance Rights Organizations (PROs), which are essential in underpinning a healthy music sector, are severely lacking in the region. Only three countries in MENA – Egypt, Lebanon, and Morocco – have PROs. This means artists outside of these three countries cannot claim revenues from commercial broadcasting of their music. The lack of PROs is also a major deterrent to international music broadcasting services (e.g., Spotify) looking to enter the region as well as artists and songwriters looking to grow their musical careers in the region.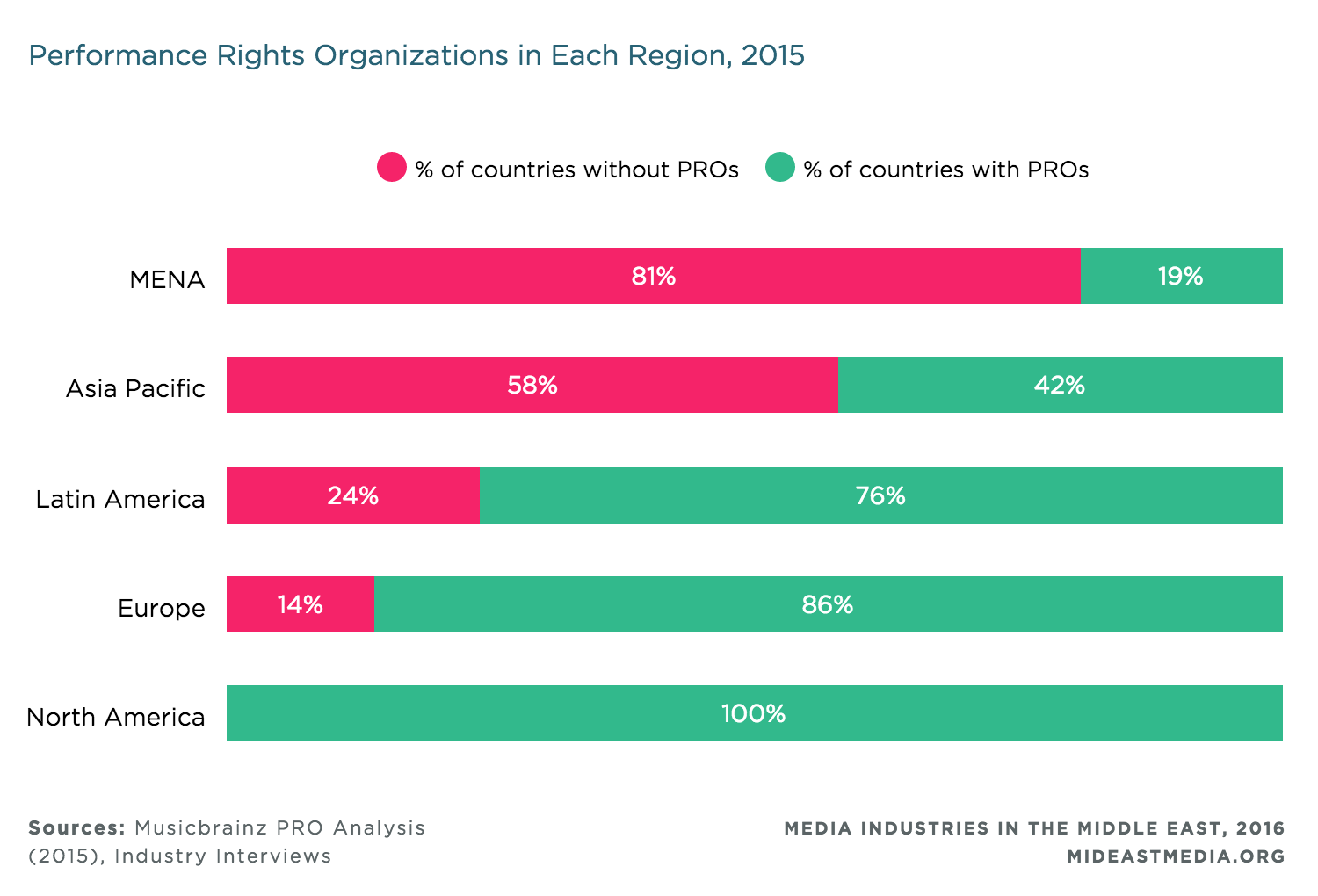 Rights revenues in the region are negligible, while globally they account for up to 8 percent of industry revenues. This combination of high levels of piracy and lack of efficient rights collection agencies has so far kept major paid digital music streaming services (e.g., Pandora, Spotify) out of the region.
These issues have greatly challenged regional music industry players. A case in point is the price-reduction strategy adopted by the region's top music label, Rotana Records. In an attempt to stem the epidemic of illegal downloading and boost sales, Rotana reduced the retail prices of its CDs by more than half in 2010. The strategy largely failed, even contributing to a further decline of physical sales revenues.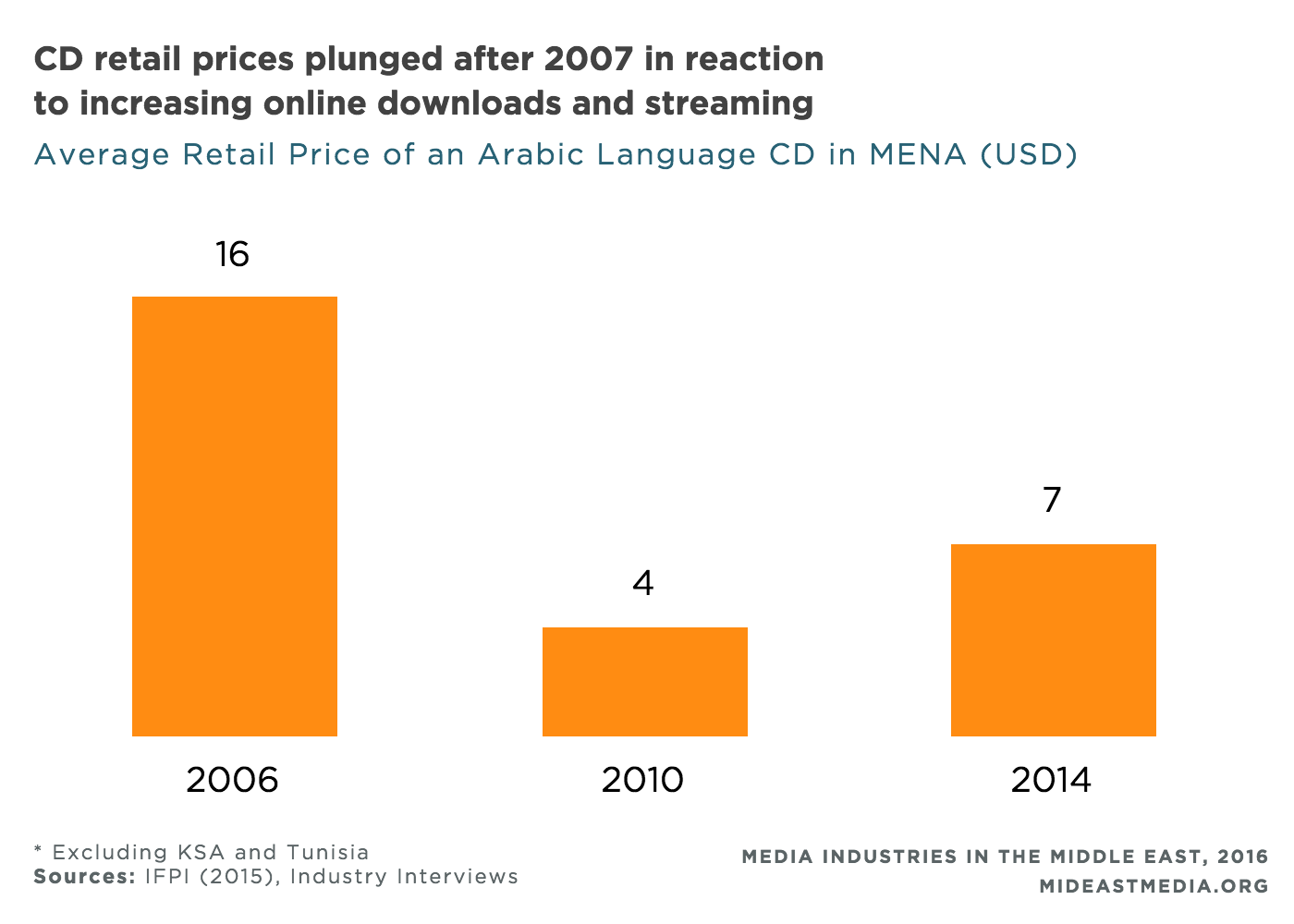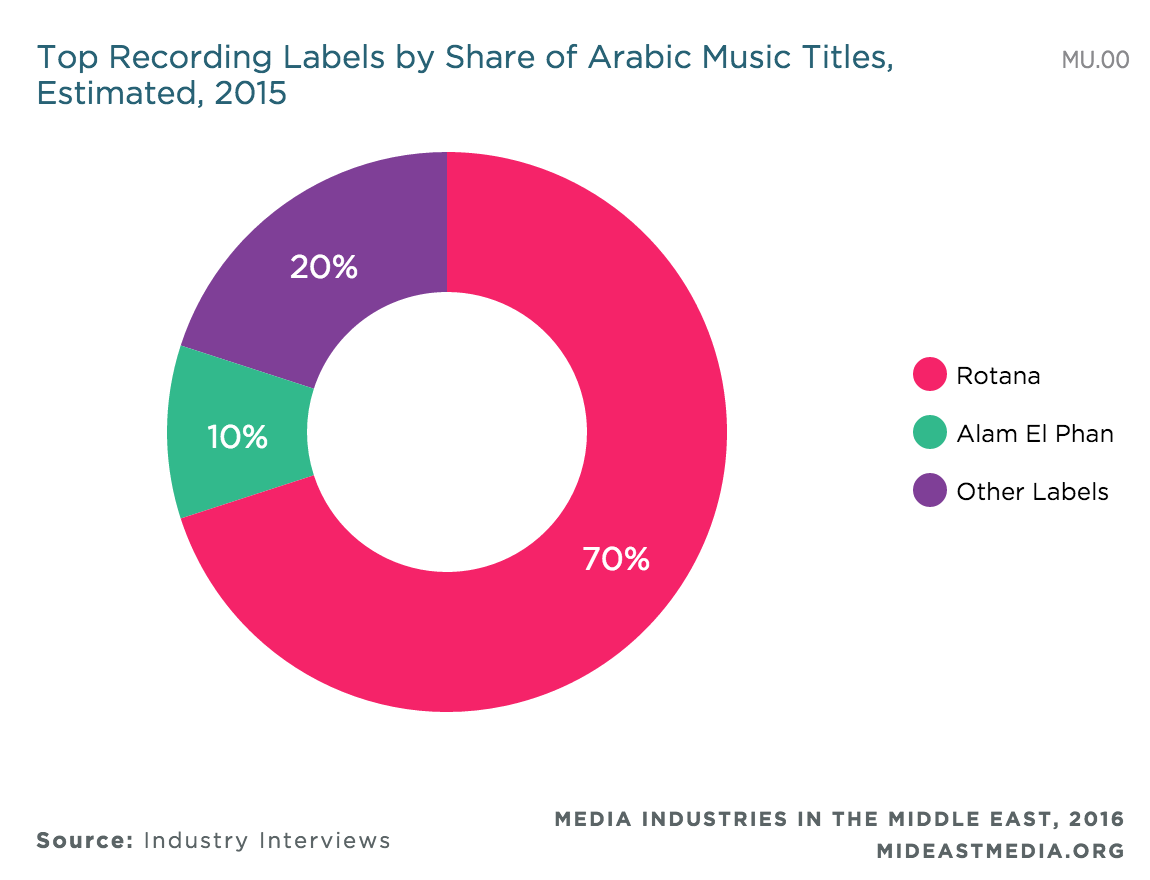 With all the challenges of recorded music, live music provides a relatively large share of revenues in the music industry, both globally and regionally. Overall, the global live music industry is valued at over USD 27 billion and represents almost two-thirds (65 percent) of the global music industry. Over the past few years, it has been growing at a steady pace, with a compound annual growth rate (CAGR) of 2.6 percent since 2010. In the region, the live music industry, although representing 90 percent of the region's music revenues, is much smaller – estimated to be around USD 220 million. However, in terms of growth, MENA appears to be outpacing the rest of the world. In the UAE, for example, live music revenues have been growing at an annual rate of 20 percent from 2010 to 2013 – almost eight times the rate of the global market.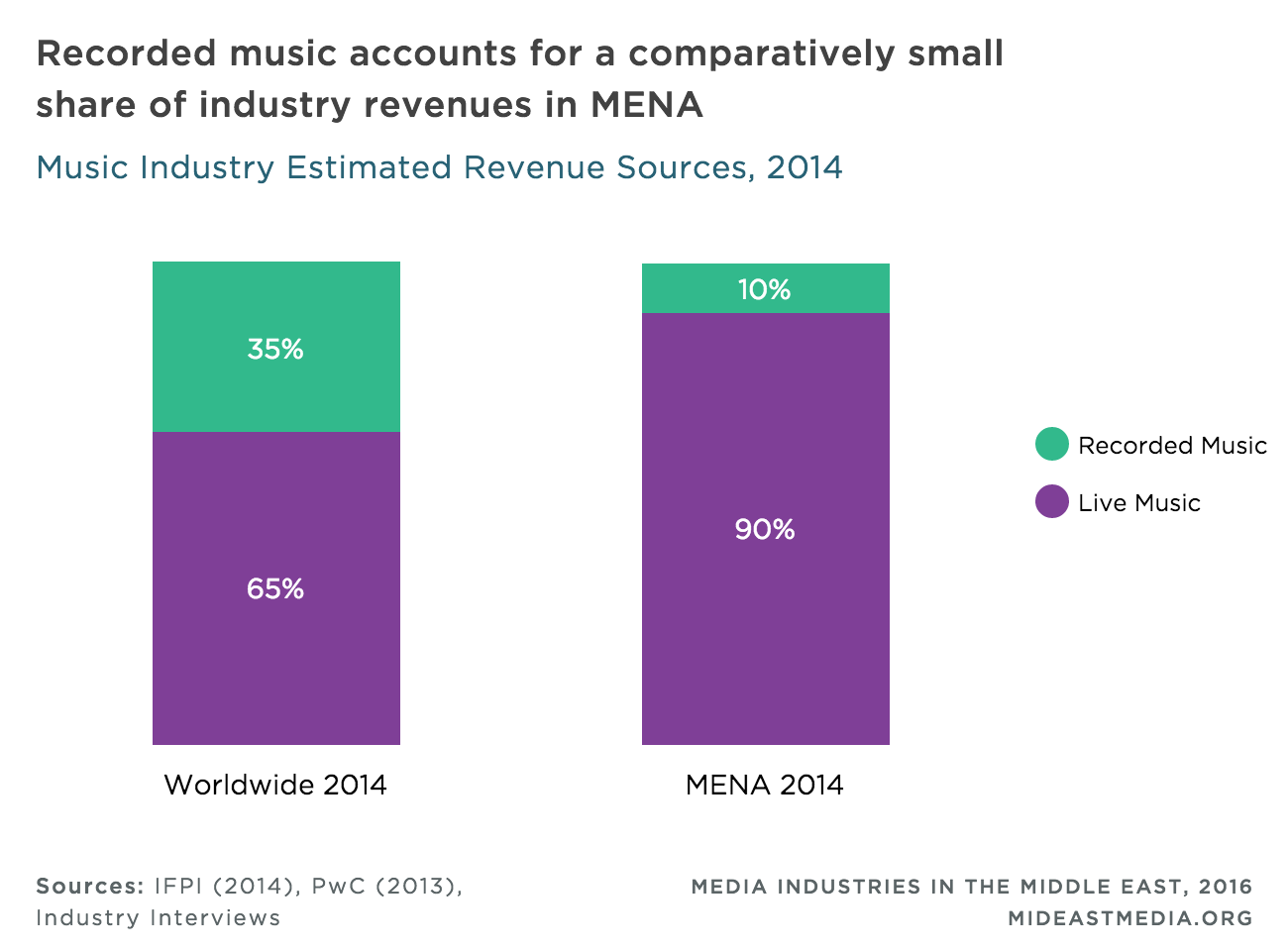 Structurally, the live music industry consists of two key components: event sponsorships and concert ticket sales. Globally, live music revenues have consistently exhibited a 75 to 25 percent split in favor of ticket sales. Over the past five to six years, increasing concert attendance and ticket prices have gradually shifted this balance towards an 80 to 20 percent split. But live music in the MENA region is much more dependent on ticket sales, with a minimal contribution from sponsorship. The regional ticket sales to sponsorship revenue split is an astounding 92 to 8 percent split.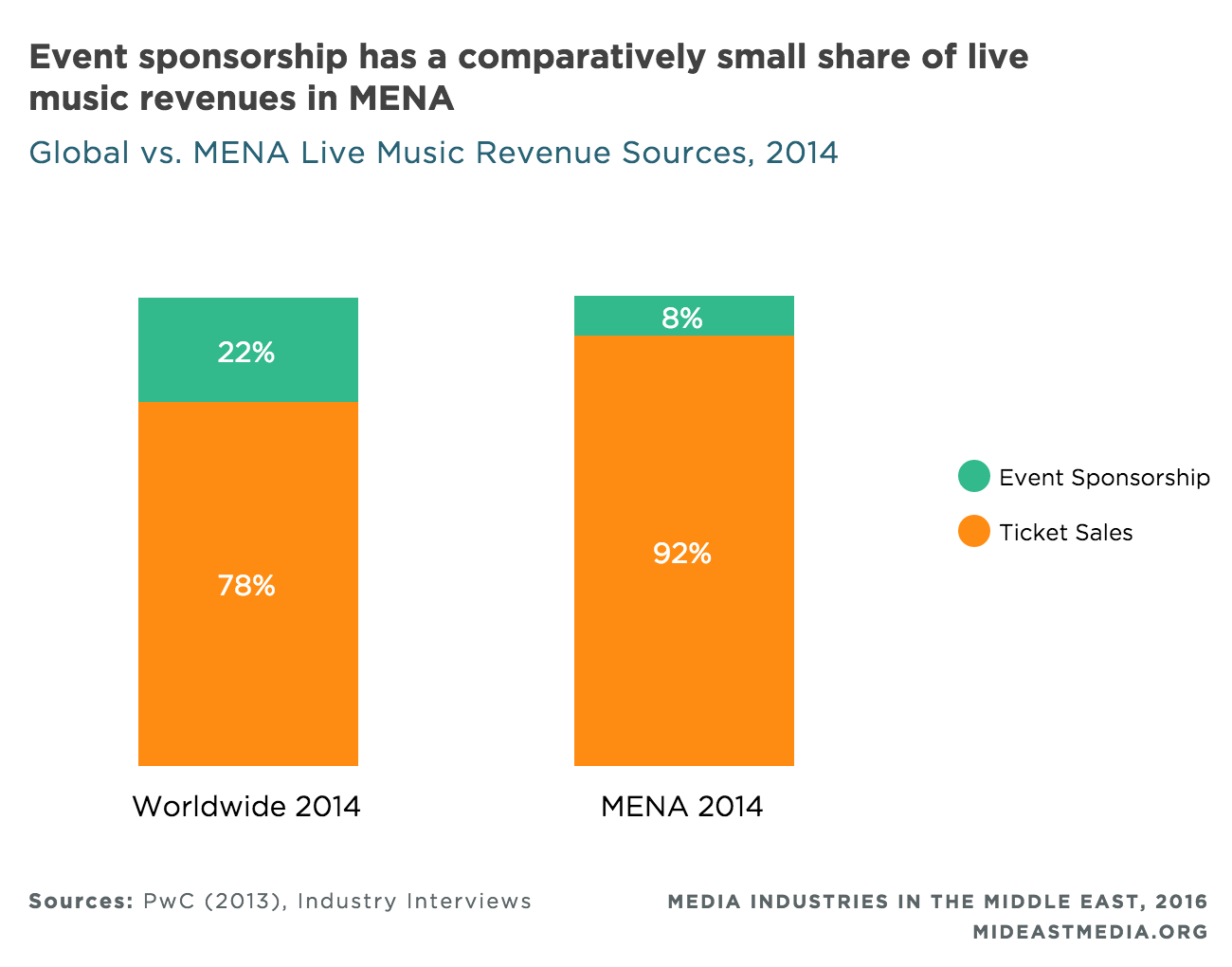 At the country level, the region's live music industry is concentrated, with its biggest markets in Egypt, the UAE, and Lebanon. Egypt generates the greatest share of MENA's live music revenues (50 percent) due to its large population. Outside of Egypt, the UAE (with a 25 percent share) is the region's biggest music hub. The UAE's large, wealthy expatriate population, coupled with its stable environment and logistical advantages in terms of its location, make it a major MENA music hotspot and destination for both local and international artists.
In sum, given the local market structure, industry dynamics, and challenges, it may be no surprise that live music is responsible for the major share of artists' revenues in MENA.