Magazines in the region have fared better than in mature markets – at least as far as the total number of titles and their circulation are concerned. Magazine advertising revenues, however, have steadily declined, both in absolute value and share of the total MENA advertising market. Nevertheless, new magazines launches continue at a rate of approximately 70 per year.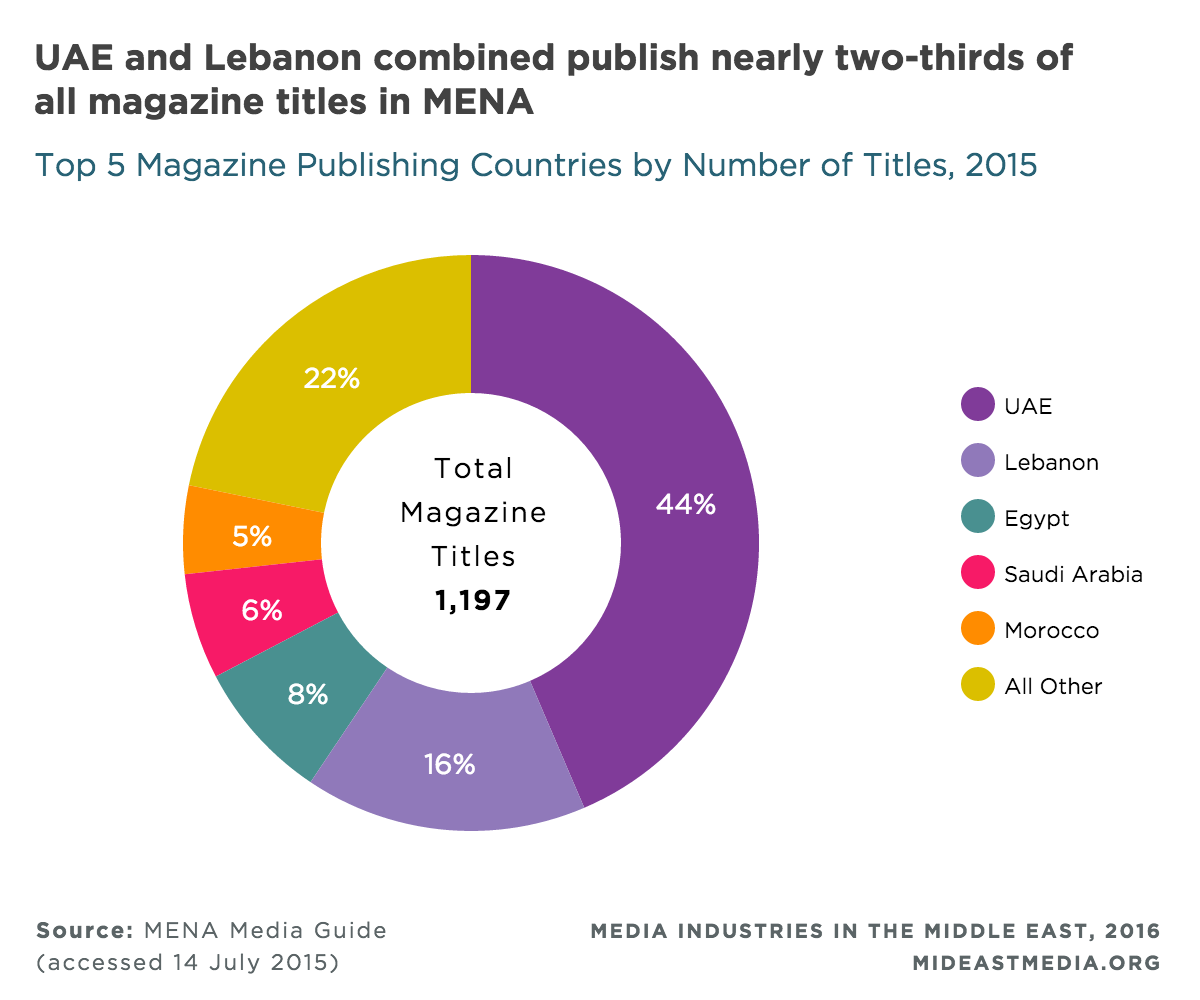 Overall, the industry is dominated by Consumer magazines especially Arabic-language Women's Interest magazines. However, Business & Trade magazines have seen much stronger growth than Consumer magazines over the past several years. While magazine readership is high in most national markets in the region, the production of magazines is still highly concentrated with nearly two-thirds of magazines being printed either in the UAE or Lebanon. The UAE in particular has a large share of the production market, with major publishers like ITP Publishing Group and Motivate Publishing located in Dubai's Media City.
Notes for this chapter
For this chapter, we look at magazines printed at least twice a year.
Consumer magazines are magazines aimed at the general public, focusing on topics of general interest and not on particular trades or types of business – e.g., Women's Interest, Lifestyle, News & Politics, Consumer Goods (e.g., watches, jewelry, cars), Computers & Technology, Travel, Arts, etc.
Business & Trade magazines cover topics that are relevant to people working in a particular industry, trade, or career path – e.g., Business & Finance, Health & Medicine, Energy & Utilities, Architecture & Design, Construction & Engineering, Hospitality, etc.
National figures account for ad spend on magazines distributed within a single country. Pan-Arab accounts for ad spend on magazines distributed in two or more MENA countries.
Reach is defined as the percentage of the population claiming to have read a magazine within the past week (for weekly magazines) or the past month (for monthly magazines).
In terms of its readership and diversity of offerings, the magazine market in MENA is relatively healthy. We estimate the total circulation of magazines in MENA in 2015 to be more than 30 million. Although circulation audits are more common in the magazine sector than in the newspaper sector, it is important to note that self-reported circulation numbers lead to some overestimation of the market.
According to available data, the readership of weekly magazines in four of our five focus countries is around 50 percent (and as high as 61.5 percent in the UAE). The popularity of magazines is also evident when considering circulation per capita, which is higher than U.S. figures in both the UAE and Lebanon.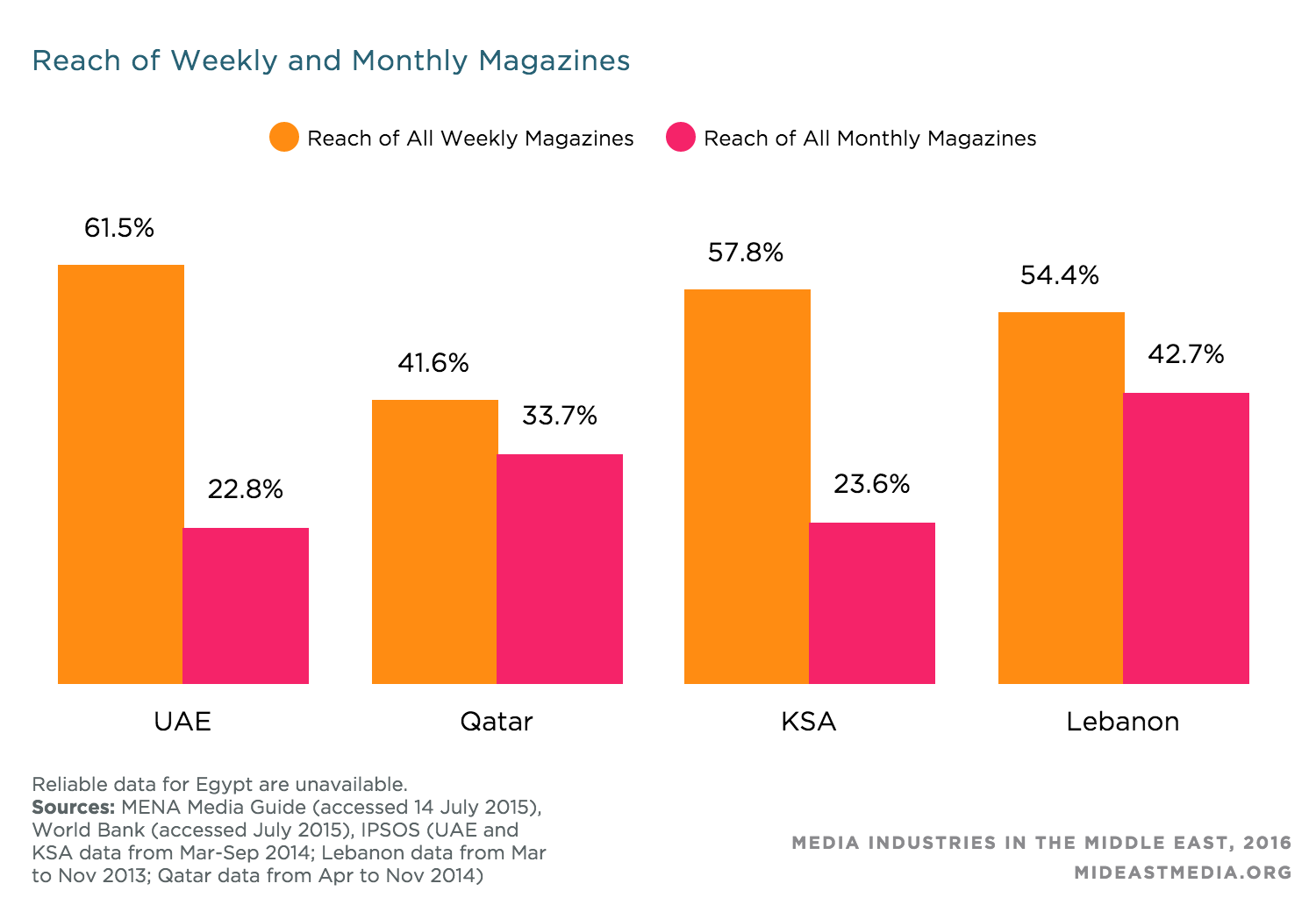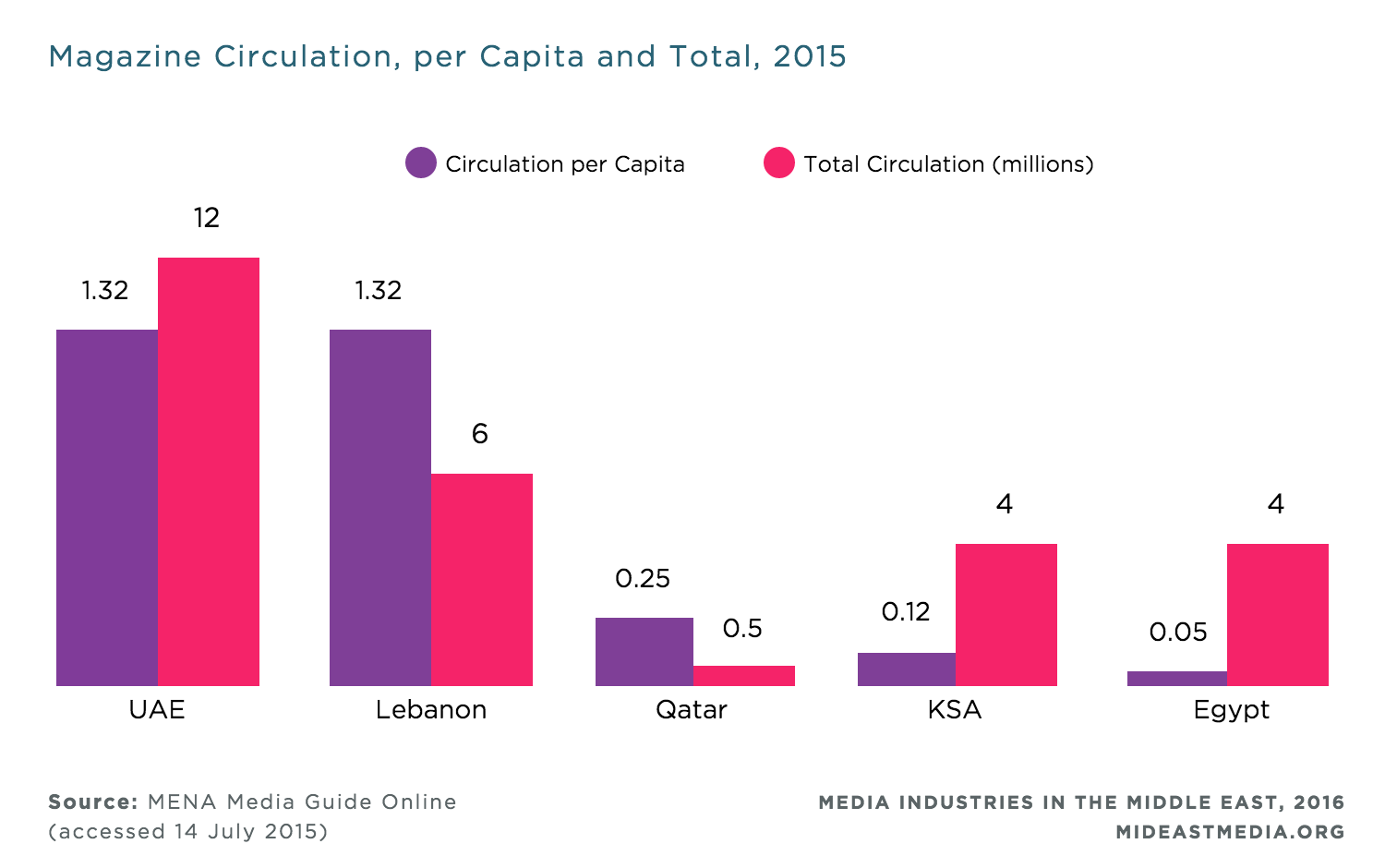 With more than 1,200 titles currently available, MENA is comparable to mid-size Western markets like Australia and Canada. In contrast to most other markets however, the region still boasts a steady and slowly increasing average of 70 new titles per year.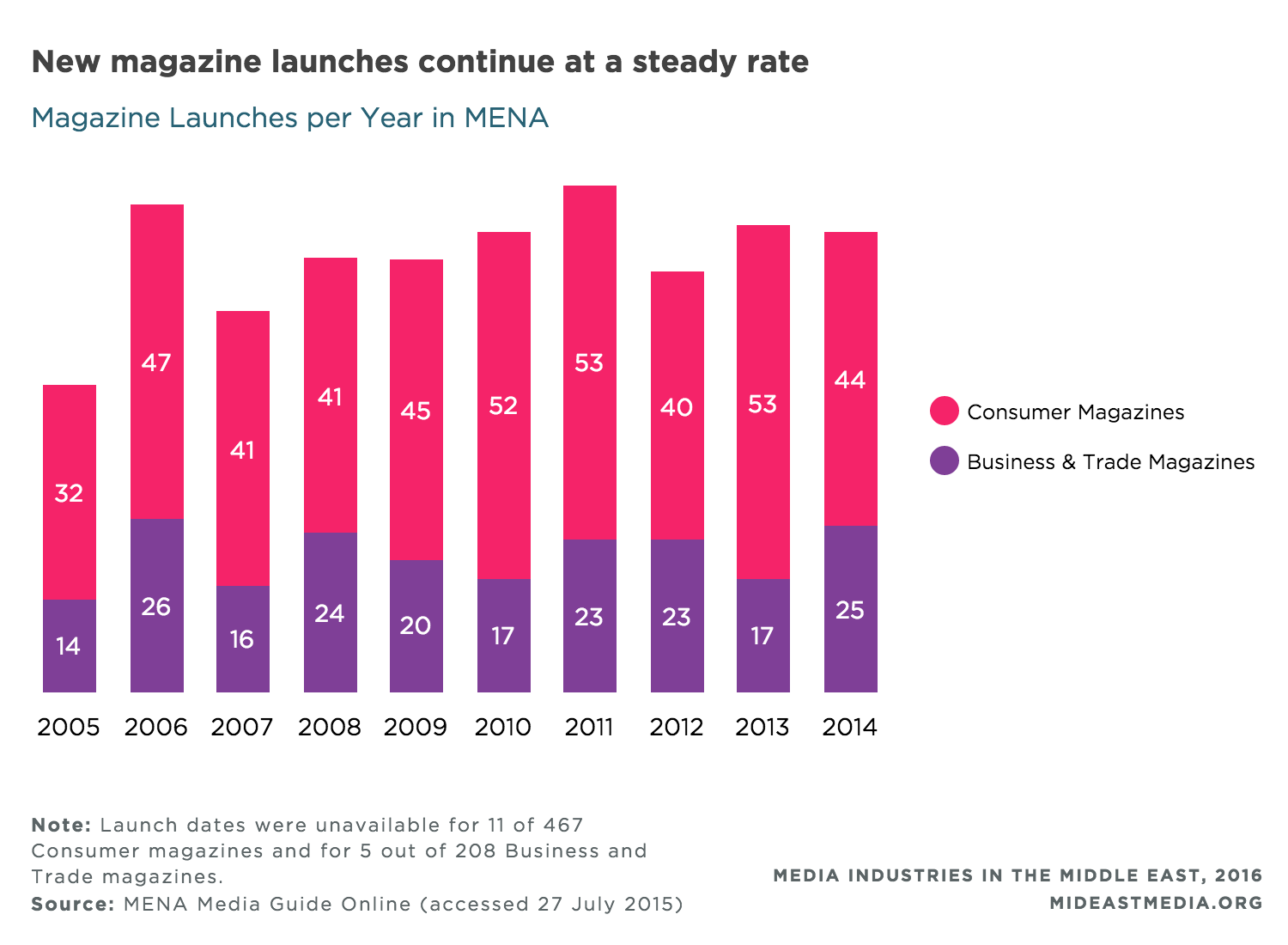 Compared to more mature markets, MENA is experiencing a relatively slow move toward digital. Even in the UAE – arguably the most advanced country in terms of transition to digital – 20 percent of the top 10 magazines do not have a website. Part of this gap can be explained by a conscious decision on the part of publishing houses – e.g., Abu Dhabi Media's anaZahra is the digital presence of the brand in the women's interest category, whereas their flagship magazine Zahrat Al Khaleej is not available online.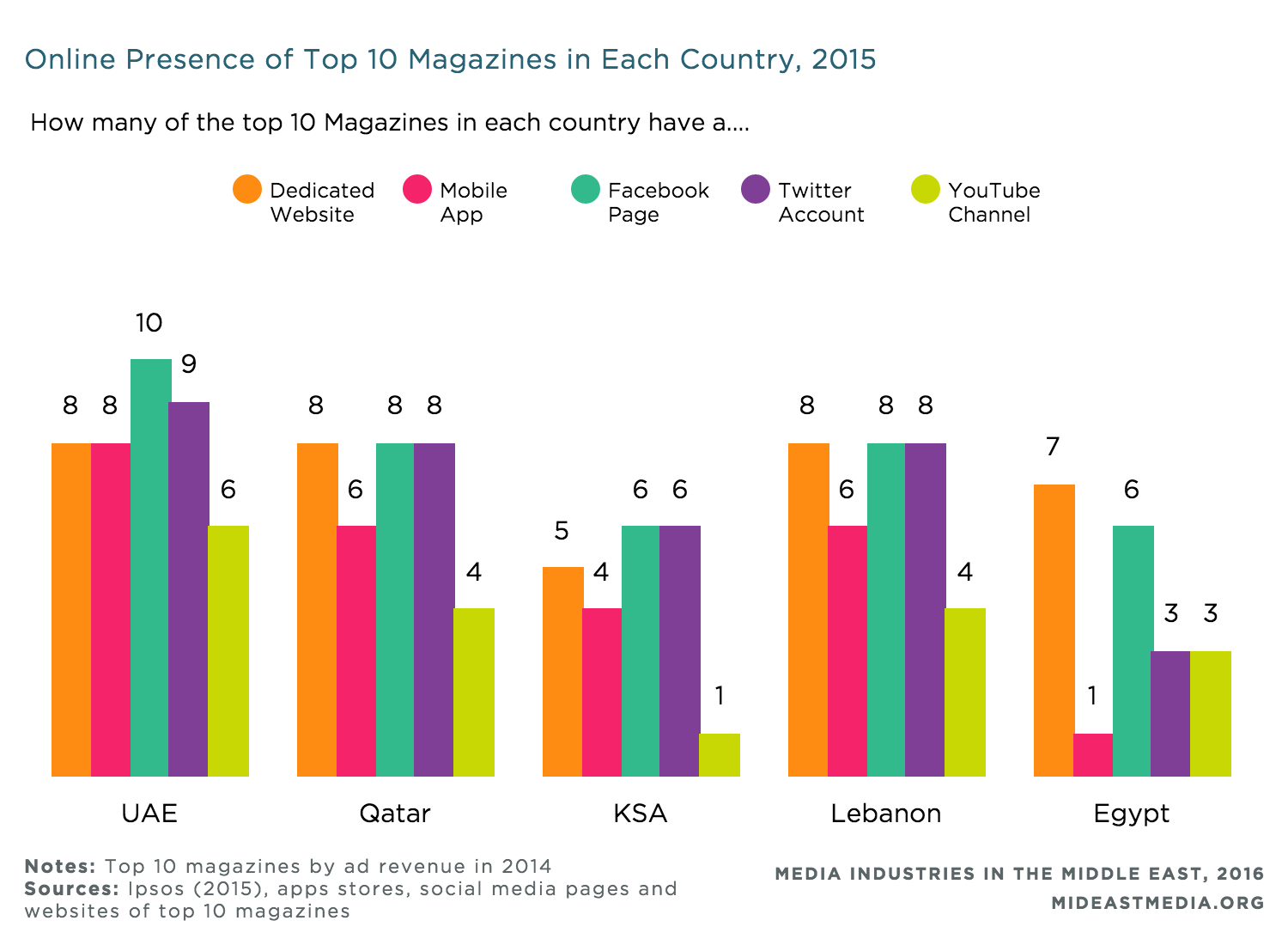 The MENA market is clearly dominated by Consumer magazines, which make up almost 80 percent of the total circulation. (Circulation numbers for all but 59 of 1,283 titles are self reported.) In addition, Arabic-language magazines account for 57 percent of all circulation, meaning that almost half of all magazine copies are Arabic-language, Consumer magazines.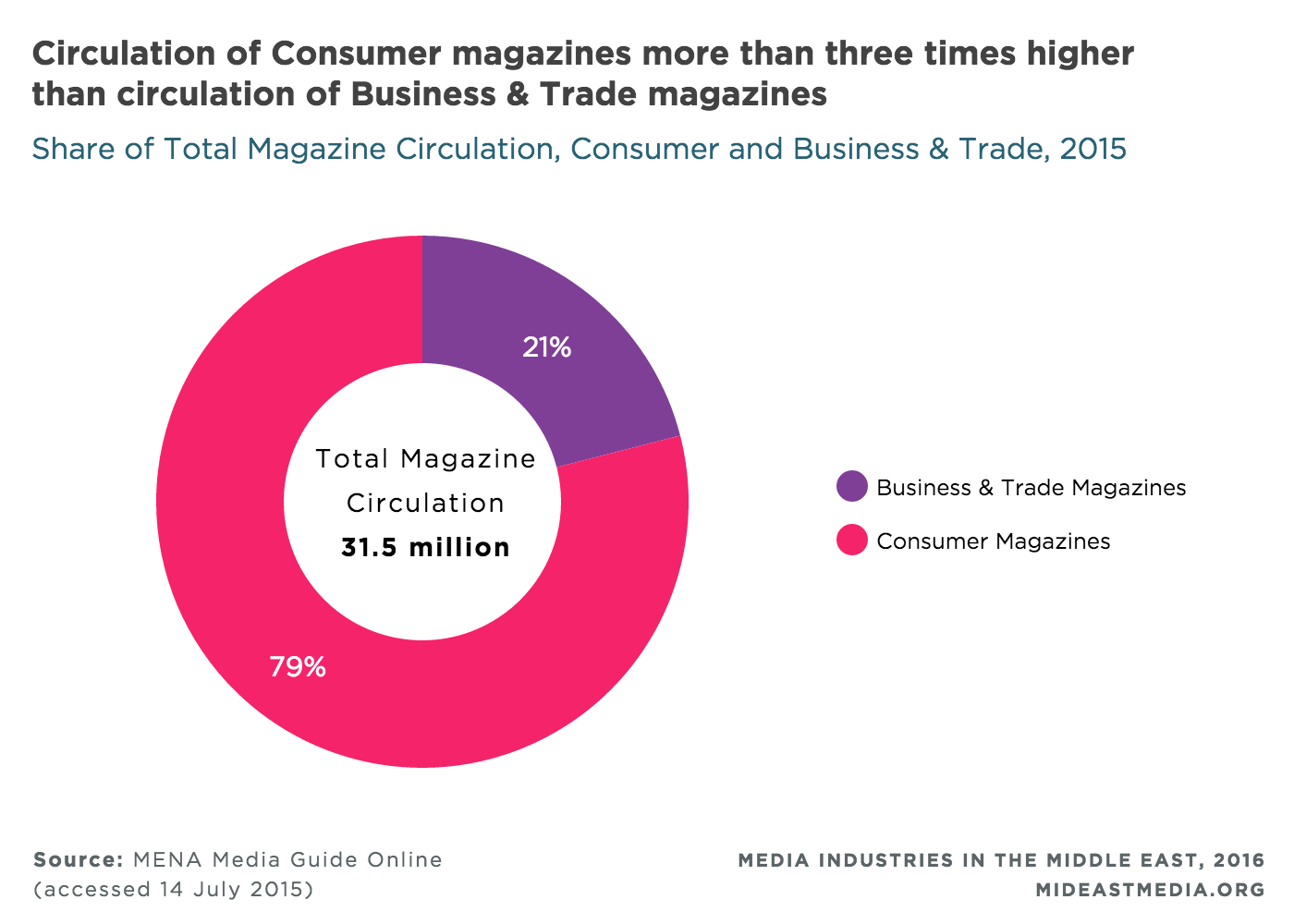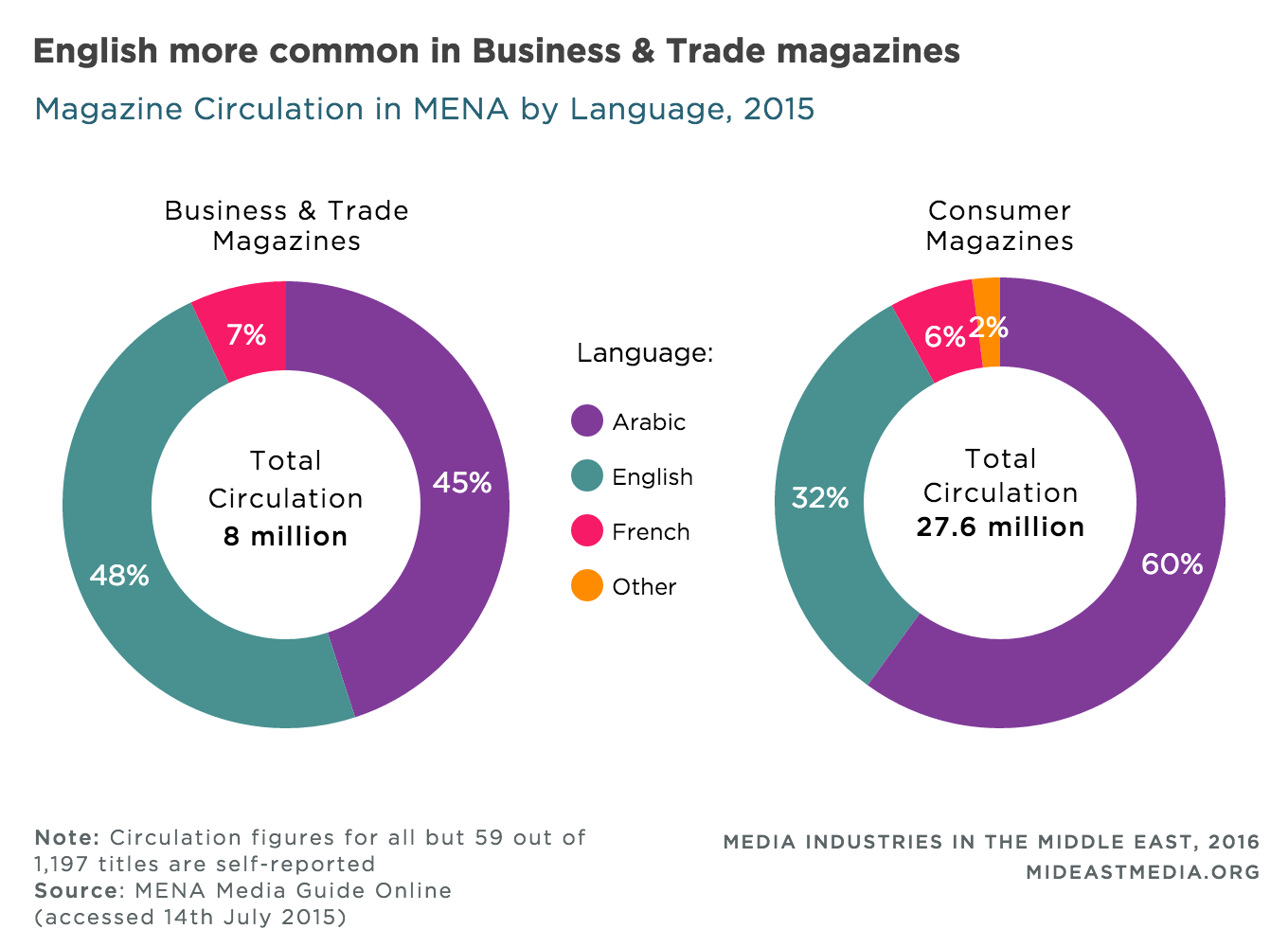 While 60 percent of Consumer magazine titles are in Arabic and 32 percent are in English, each magazine in the top 20 (by circulation) are available in Arabic. Nevertheless, 48 percent of all Business & Trade magazines are published predominantly in English, and only 45 percent in Arabic. It seems however that Arabic Business & Trade magazines outperform their English counterparts, with 70 percent of the top 20 Business & Trade magazines available in Arabic, as opposed to only 35 percent available in English.
As in other international markets, Women's Interest magazines dominate the Consumer magazine category and hold a quarter of the total number of magazine titles and circulation. Lifestyle is also a key category that has experienced a 23 percent increase in circulation over the past five years. Similarly, double-digit growth in the past five years can be found for the Cars, Bikes & Boats, Travel, and Property categories; Food & Drink has more than doubled its circulation, albeit from a very small base.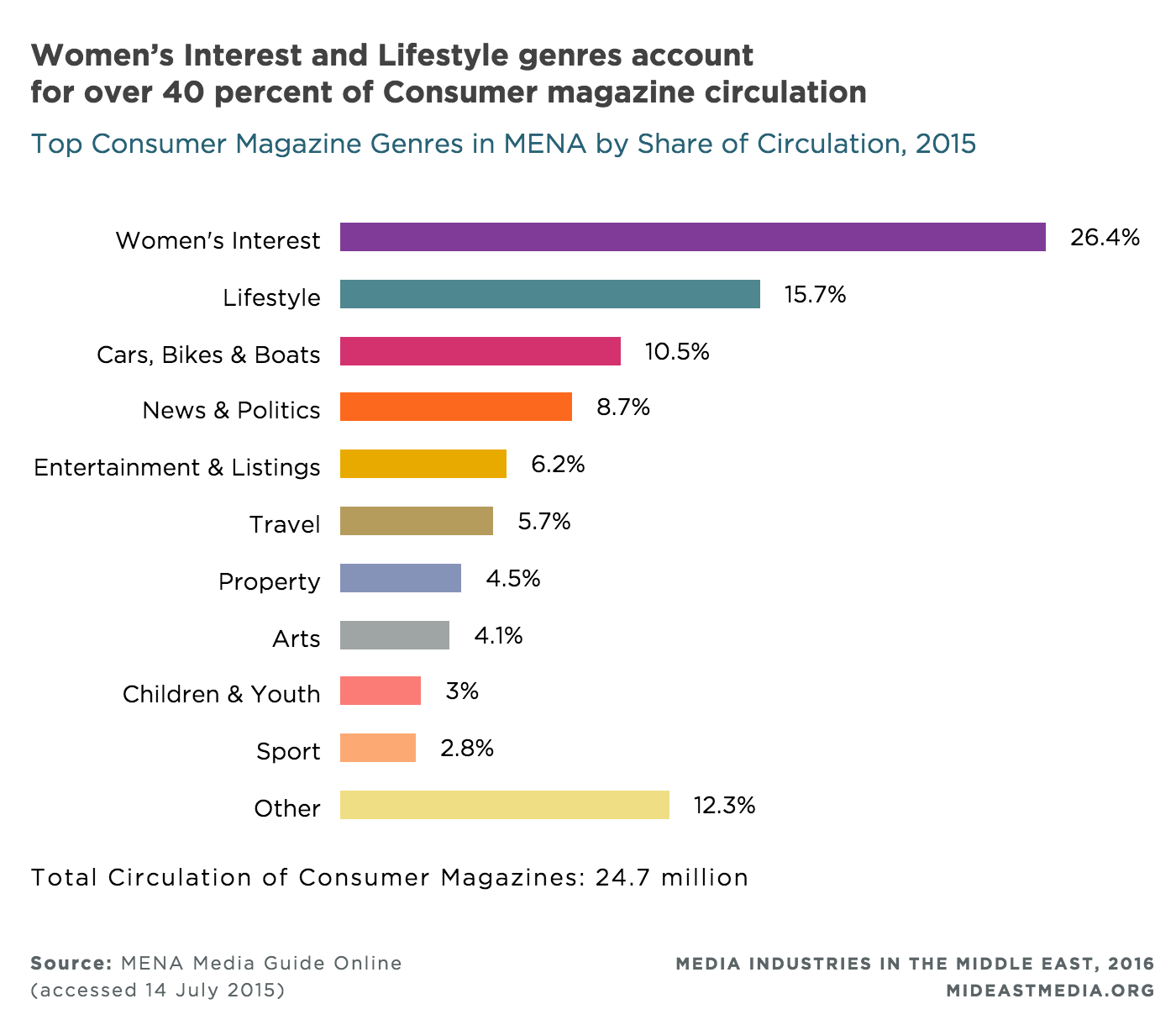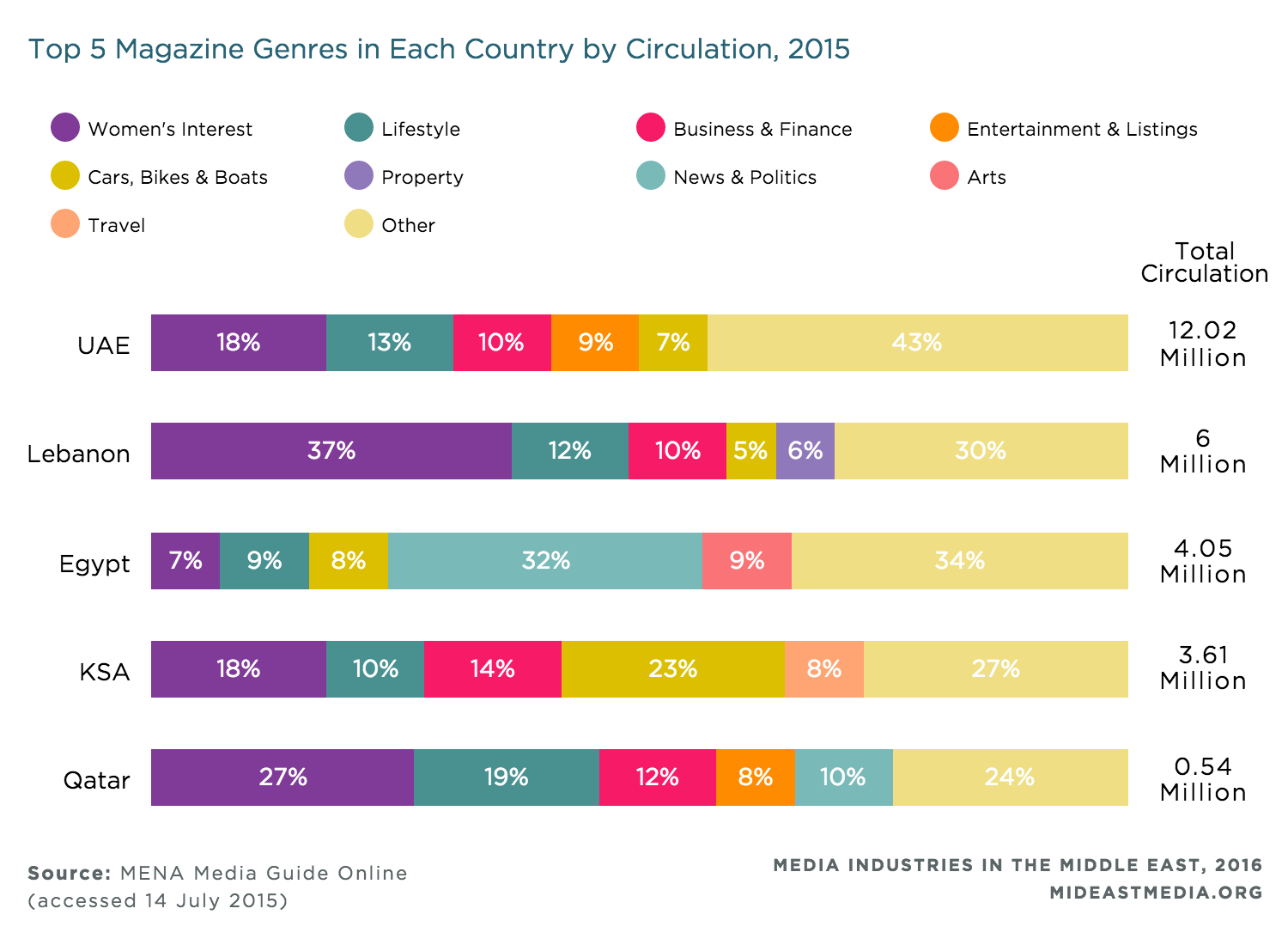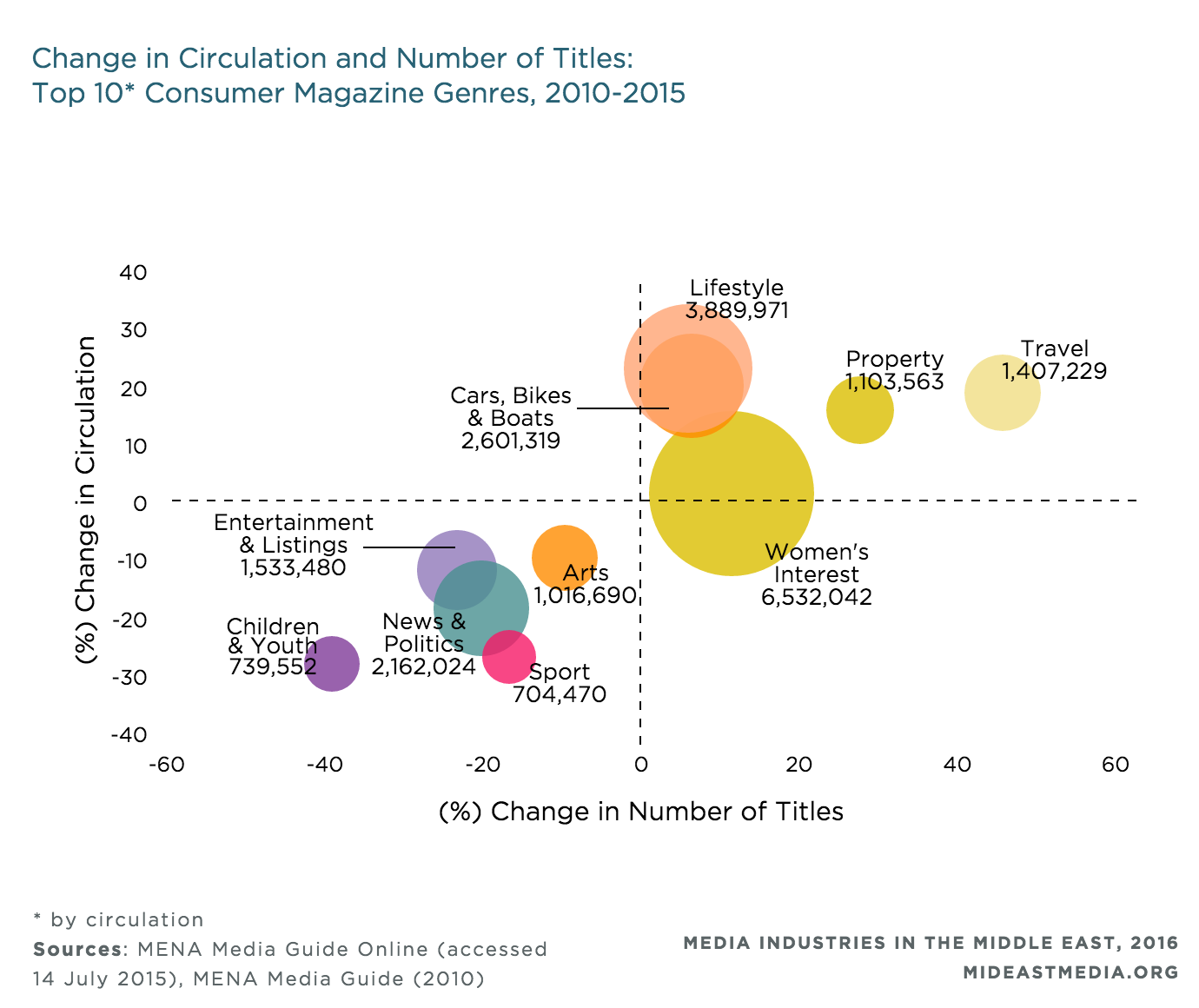 Business & Trade magazine circulation has grown comparatively stronger than Consumer magazines and is much more highly concentrated. Within the Business & Trade category, Business & Finance magazines make up nearly half of total circulation and have experienced a 25 percent increase in circulation and a 15 percent increase in the number of titles over the past five years. Even more impressive growth can be found in the Health & Medicine, Hospitality, Leisure, and Entertainment, Energy & Utilities, Industry & Manufacturing, and Construction & Engineering. As to be expected, there is a correlation between the sectors of the Middle East economy that have been most successful recently and the most thriving Business & Trade magazine segments.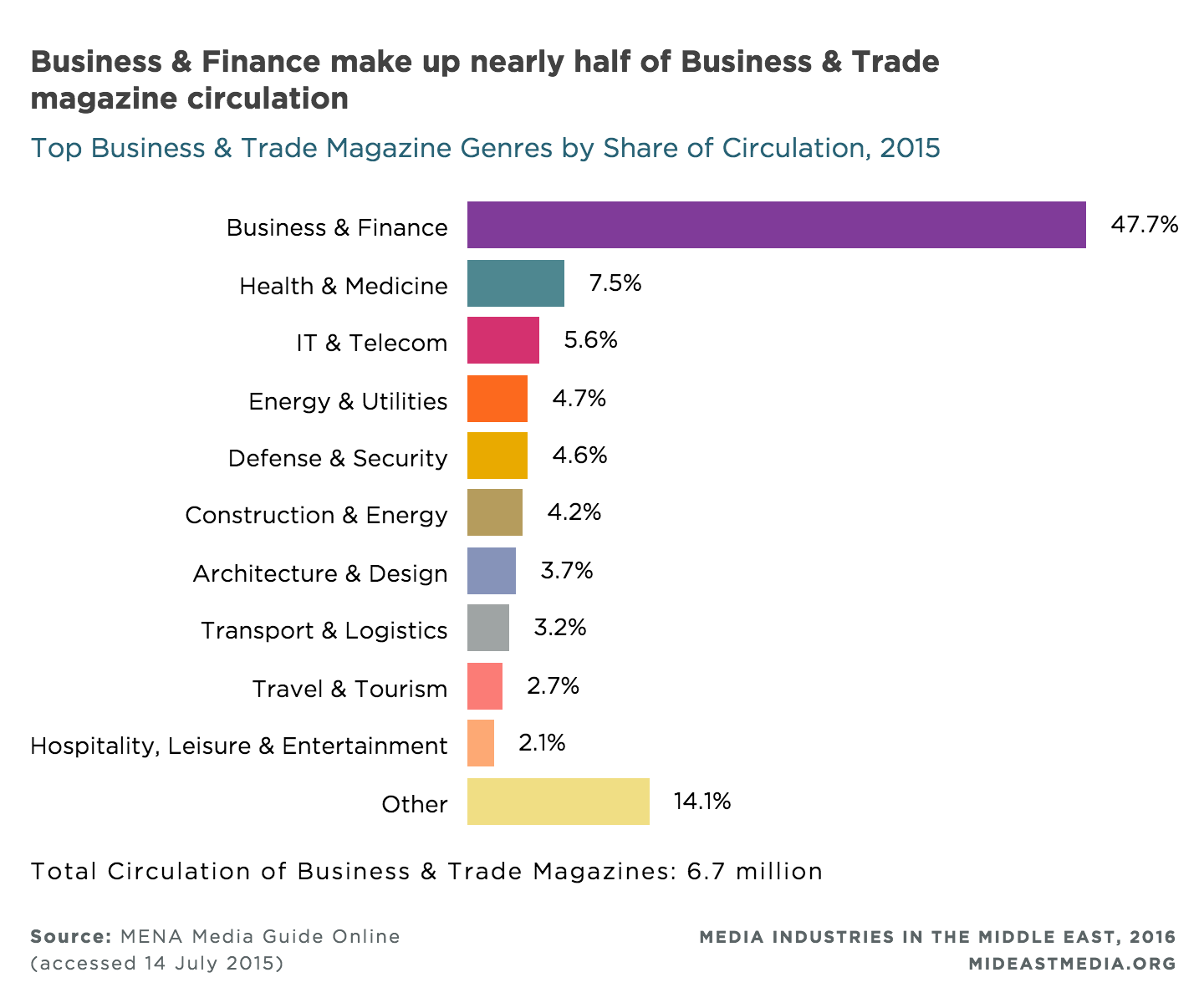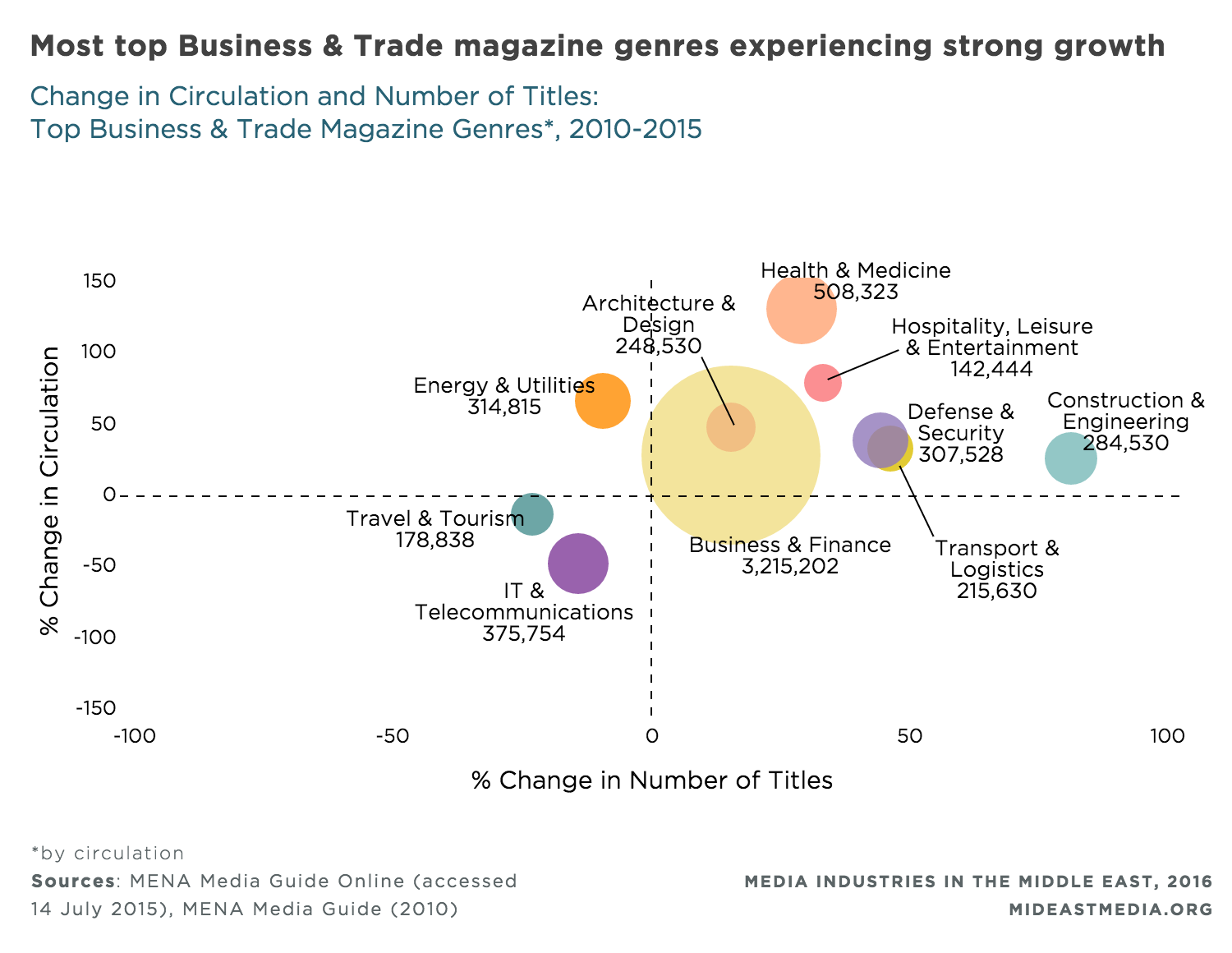 Over the past several years, advertising revenues in the magazine market have declined in the Middle East – as in other regions of the world – both in terms of absolute value and share of the total advertising market. That said, performance varies across national markets. Magazines' share of the total ad market is still reasonably high in the UAE and Lebanon. At the same time, the absolute value of the magazine advertising market has steadily declined in both these markets with a compound annual growth rate (CAGR) of -7 percent.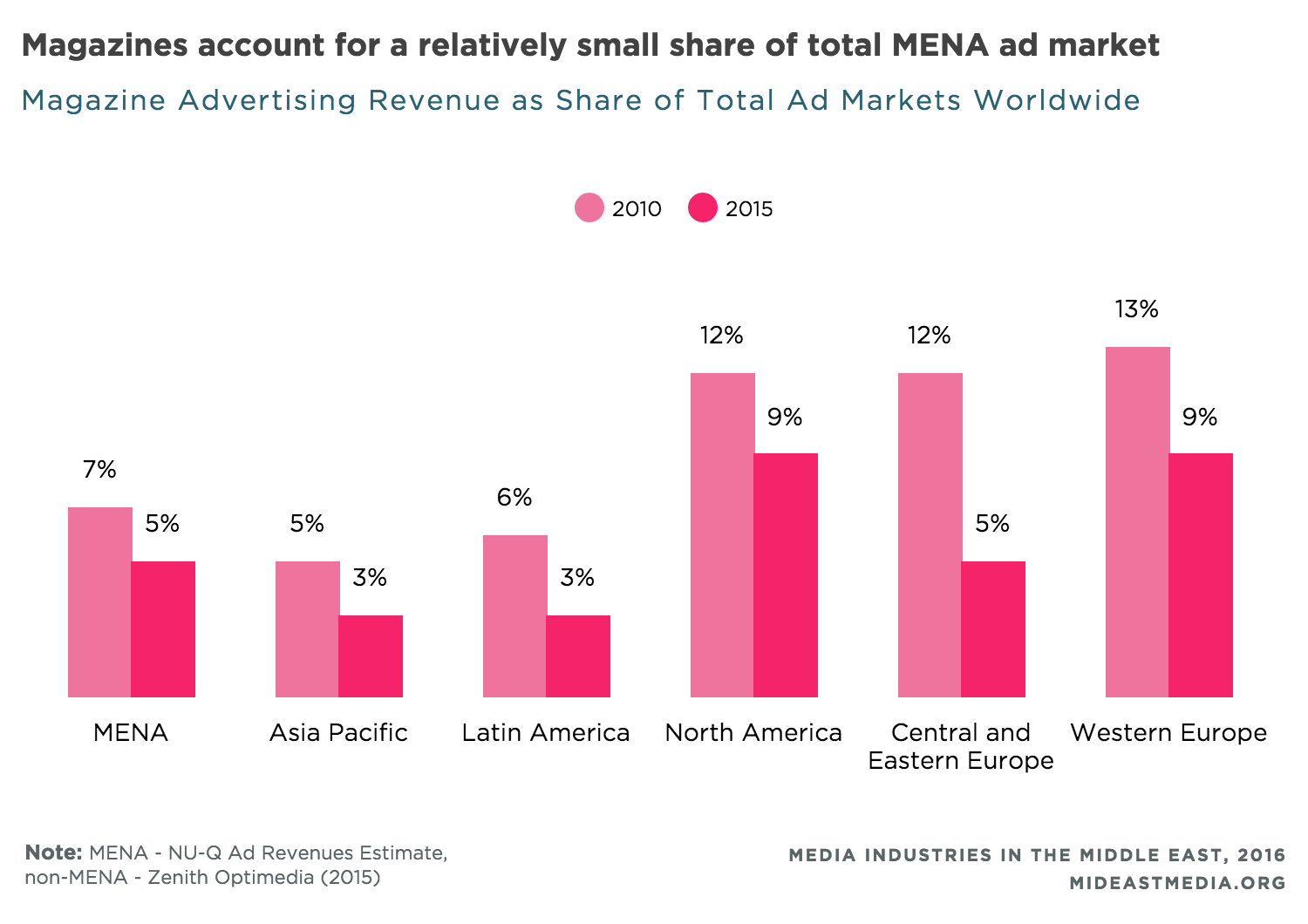 Around 90 percent of magazine revenues in the region come from ads, a very high figure compared to developed markets like the U.S. where magazines collect around a third of their revenue from ad sales. Magazines also generate a very limited profit from their online versions – another indicator of the fairly slow transition from print to digital in MENA.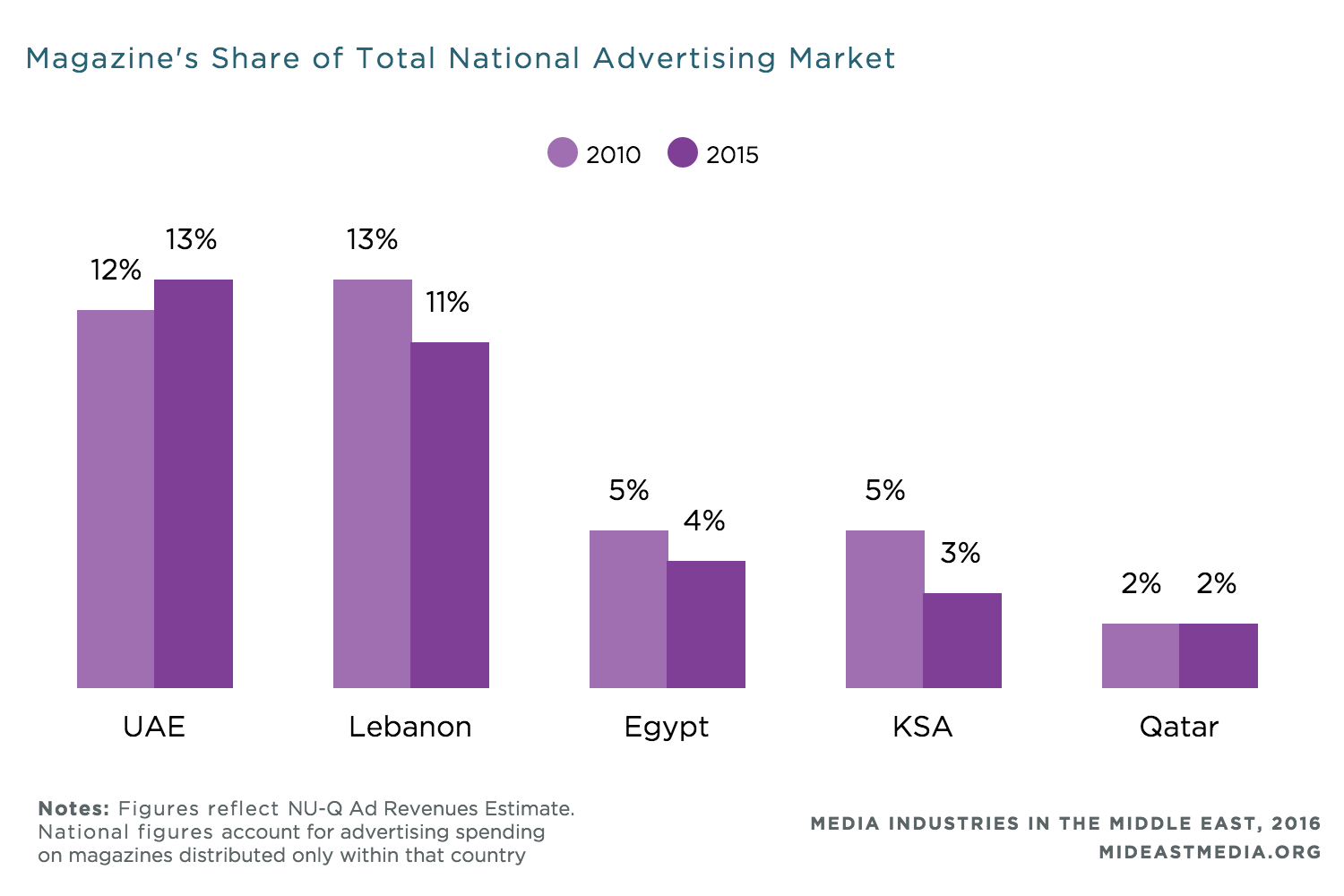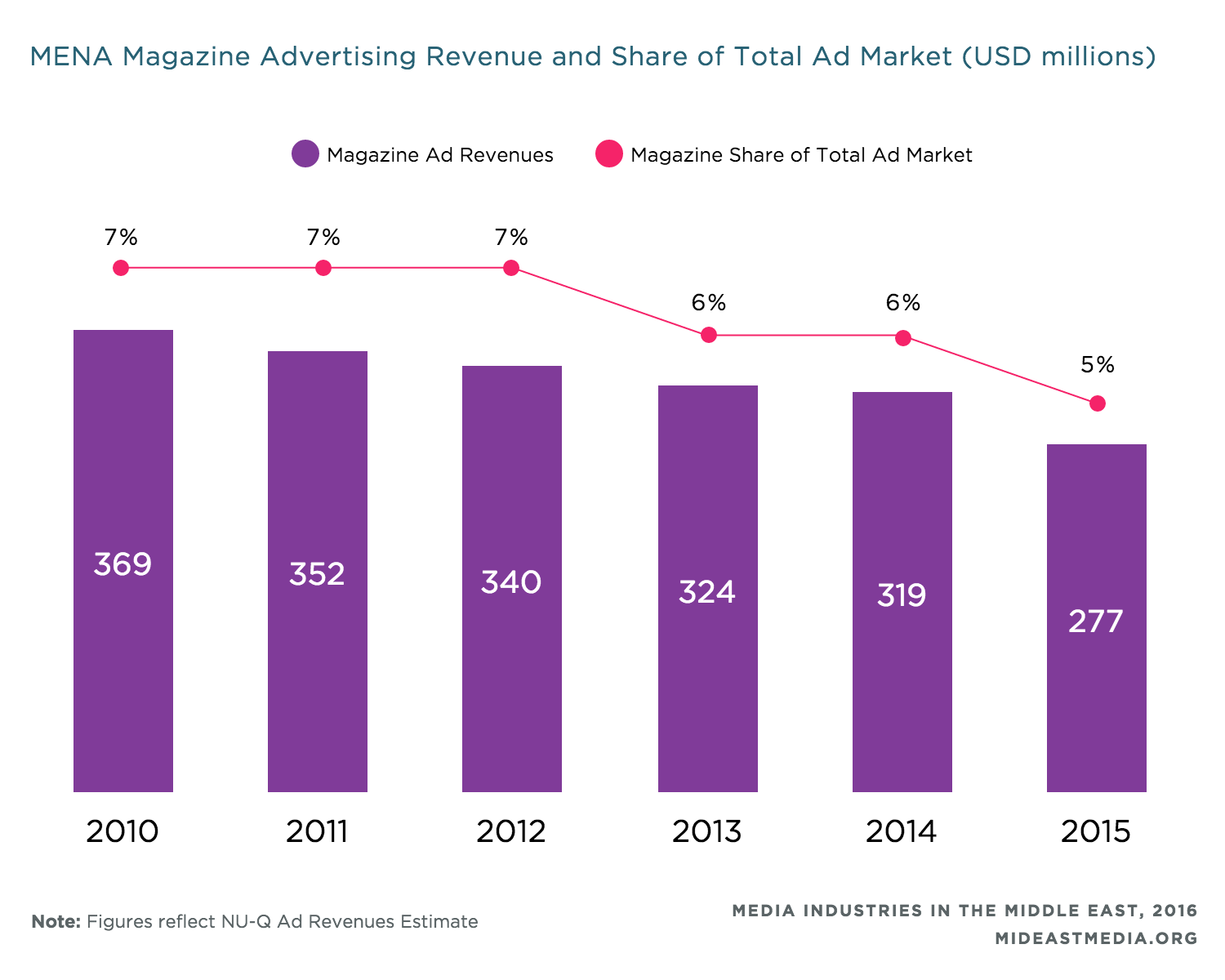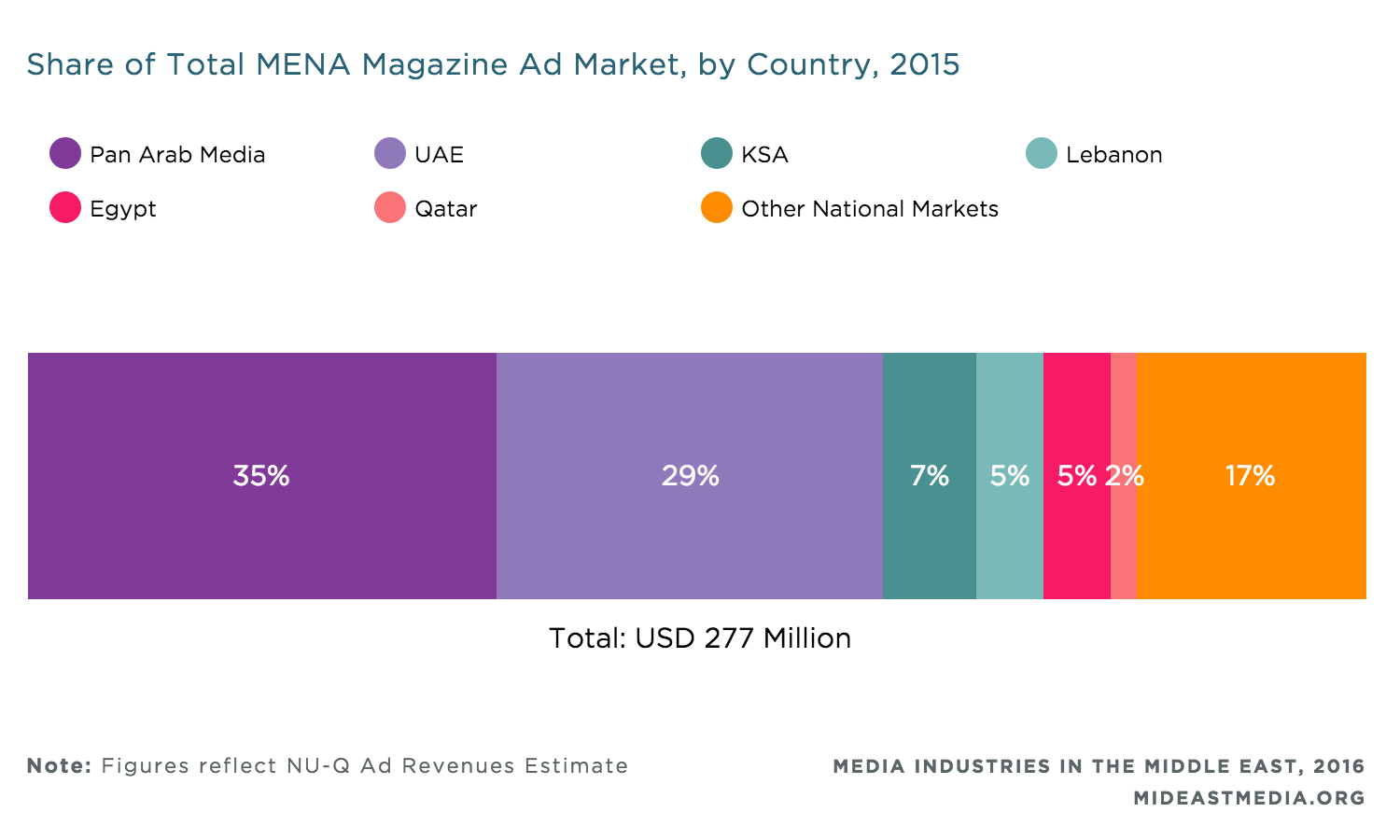 Arab Magazines: A Medium in Search of an Anchor
By Nabil Dajani
Professor of Communication and Media Studies, American University of Beirut
Syndicated Columnist and Senior Public Policy Fellow, Issam Fares Institute for Public Policy and International Affairs, American University of Beirut
Perhaps Egypt can be named the country were Arab magazines grew and matured. Early Egyptian magazine publishers were mainly journalists from Bilad El Sham (mostly Lebanese and Syrians) who moved to Egypt to escape Ottoman suppression. Among those were people like Faris Nimer, Yacoub Sarrouf, and Jurji Zaydan. Important early magazines included such publications as al Muktataf, Al Mukattam, al Musawar, and Rose el-Yousef. Egyptian magazines developed a Pan-Arab circulation in the 1940s and early 50s.
The geo-political changes in the Arab East contributed to making Lebanon an important center for Arab magazine publications. Between the 1950s and 1970s, Lebanese magazines were among the most influential Pan-Arab publications. The civil war, however, forced many Lebanese magazine publishers to migrate to Europe and the Arab Gulf and move their publications with them. Among the influential Pan-Arab magazines that moved to London and Paris were al Hawadith, as-Sayyad, al Usbu' al Arabi, and al-Mustakbal. The Lebanese civil war also compelled many of the talented Arab journalists who were working in the media industry in Lebanon to move to the Arab Gulf states, mainly Saudi Arabia and the UAE, where they contributed to the renaissance of newspaper and magazine publishing.
Early Arab magazines dealt mainly with general interest topics, but with the growing political tension in the region, news magazines became influential. With growing competition from broadcast and digital media, whose audiences are not limited by literacy as is the case with print media, magazine publications had to shift their focus from a mass general audience to specialized audiences. Arab magazines today are divided between Consumer audiences (79 percent) and the Business & Trade audiences (21 percent).
Among the most serious problems limiting the growth of Arab magazines is that of low literacy rates, low readership, and relatively low magazine advertising budgets. Another critical problem is the fact that no reliable auditing of magazine circulation is available. Circulation figures are often provided by the publishers and, therefore, usually highly exaggerated.