In the MENA region, Hollywood and "popular" Egyptian films dominate box office sales. This could be mistakenly interpreted as a sign of a limited and homogeneous filmmaking environment in the Arab world. But, on the contrary, a diverse field of filmmakers produce films reflecting the wide range of nationalities, socially relevant subject matters, and perspectives present across the region. This chapter draws on previously unreleased data compiled by Doha Film Institute over the past five years, providing a unique view into independent filmmaking in the Arab world.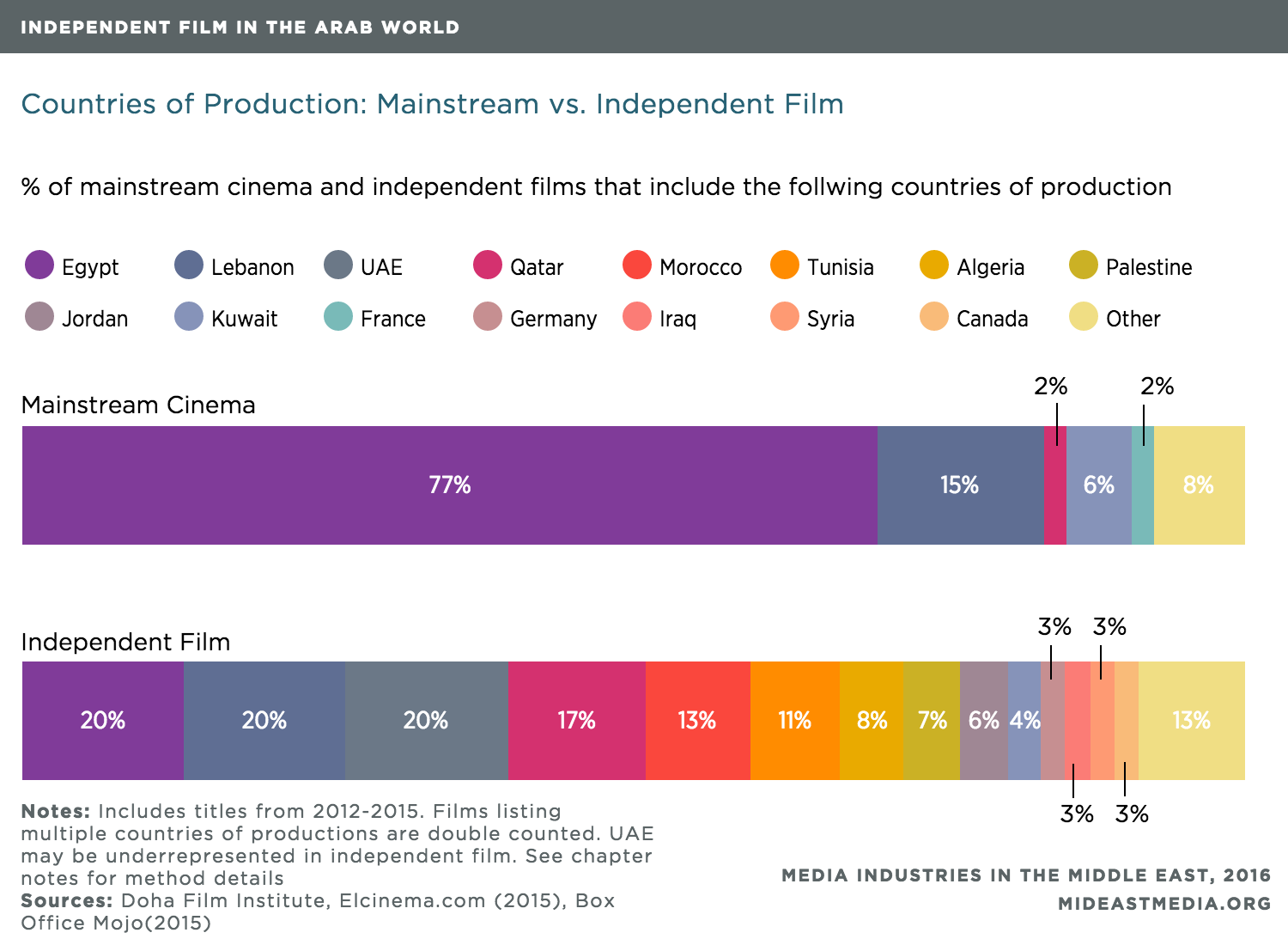 While independent films are typically underrepresented or excluded from the offerings in mainstream cinemas, taken as a whole, they more closely represent the demographics and cultures of the region. Survey research undertaken in another collaborative effort between NU-Q and DFI (see www.mideastmedia.org/2014) suggests audiences are open to content from other parts of the world and hungry for more content that represents their own culture. Independent Arab films and filmmakers are poised to benefit from the rapidly increasing number of channels, content services, and Internet bandwidth that are breaking down the disconnect between what audiences want and what audiences can access.
For the purposes of this chapter, independent films can be considered films that are funded and produced outside a studio system, so far dominated by Egypt. More creative and overall control of the film tends to remain with the authors of the work.
While there is some overlap between mainstream cinema and independent film in the region, the two categories are distinct. Independent filmmakers and their films tend to be more varied and cosmopolitan. Production countries are more evenly spread across the region and are far more likely to be multi-national efforts. Nearly 30 percent of independent films name more than one country of production. Independent films are twice as likely to be directed by a woman. In fact, 26 percent of independent film directors are female, much more than of studio films in the Middle East or the West.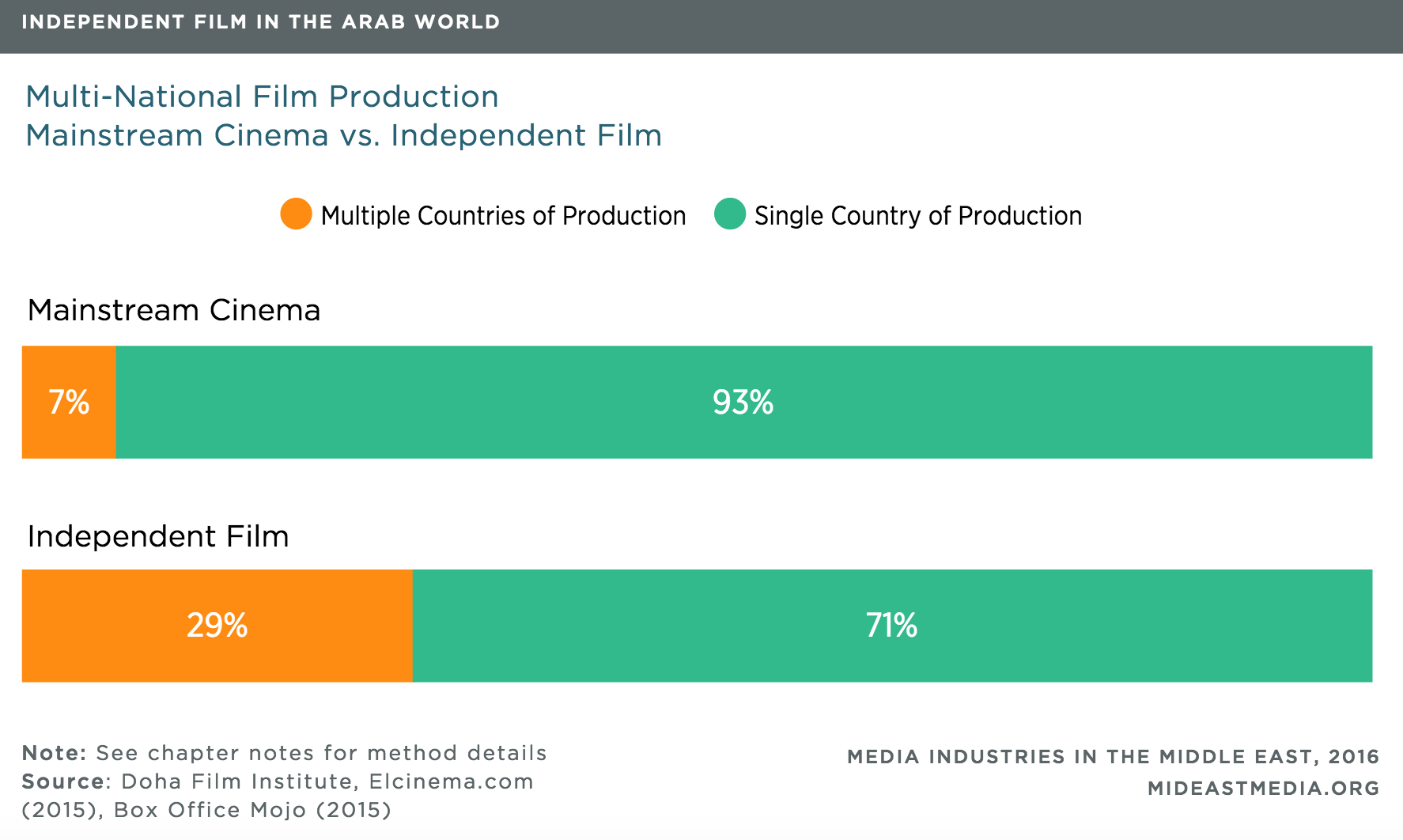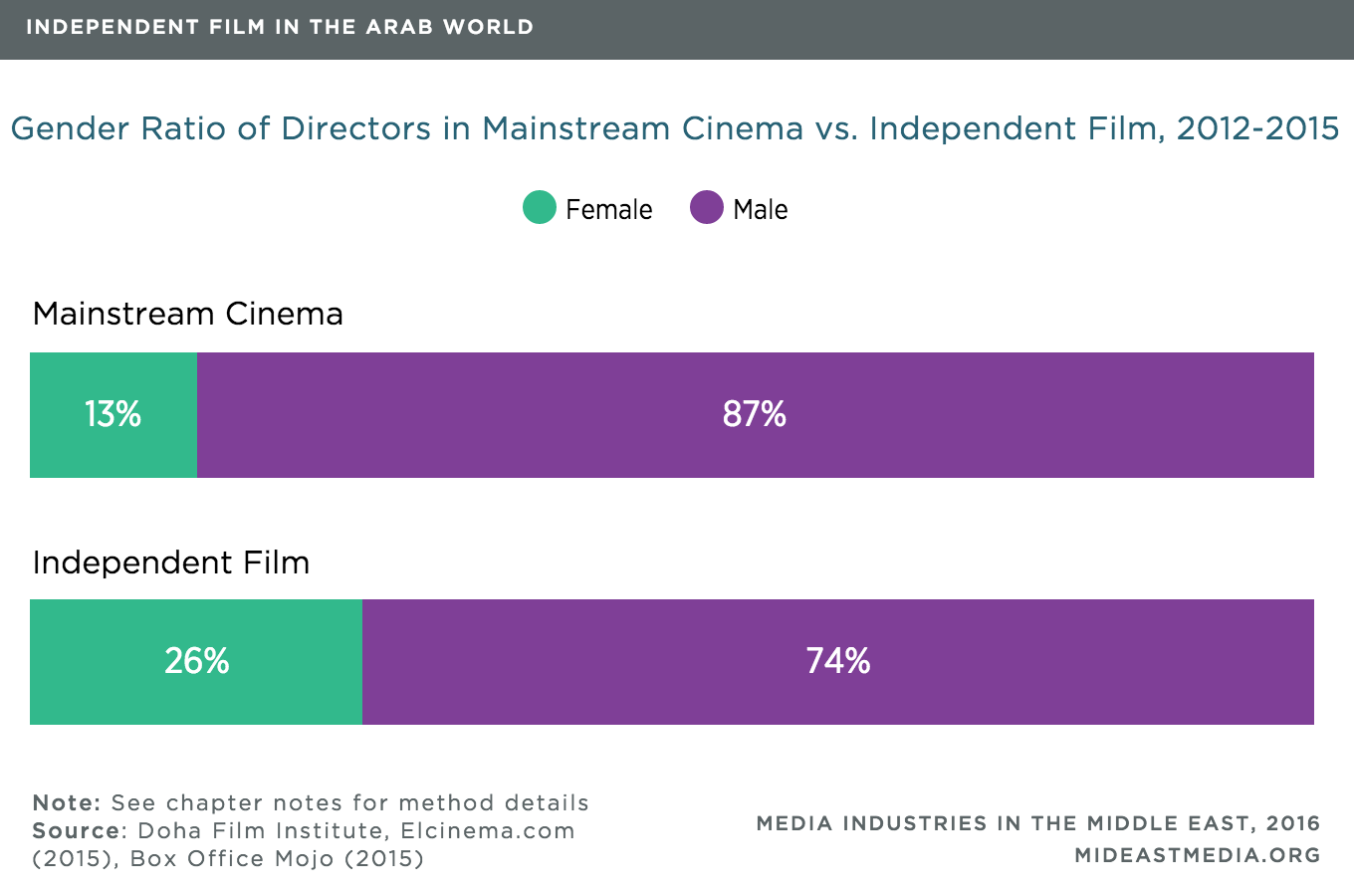 Notes for this chapter
Doha Film Institute began accepting applications for film grants in 2011, and by 2012 had become one of the region's major granting organizations in terms of total grants awarded. As one of the only granting organizations in the region that accepts applications and awards films from outside its own national borders, DFI quickly became known to filmmakers, around the region and the world, seeking to fund their projects independently. With so few organizations in the region to turn to, many filmmakers apply to all of them. Thus, DFI has received thousands of applications, including the majority of independent films that have been made in the region in recent years. All of the applications were recorded in an extensive master database. The films considered in this report are drawn from applications submitted from 2011 through the end of 2015.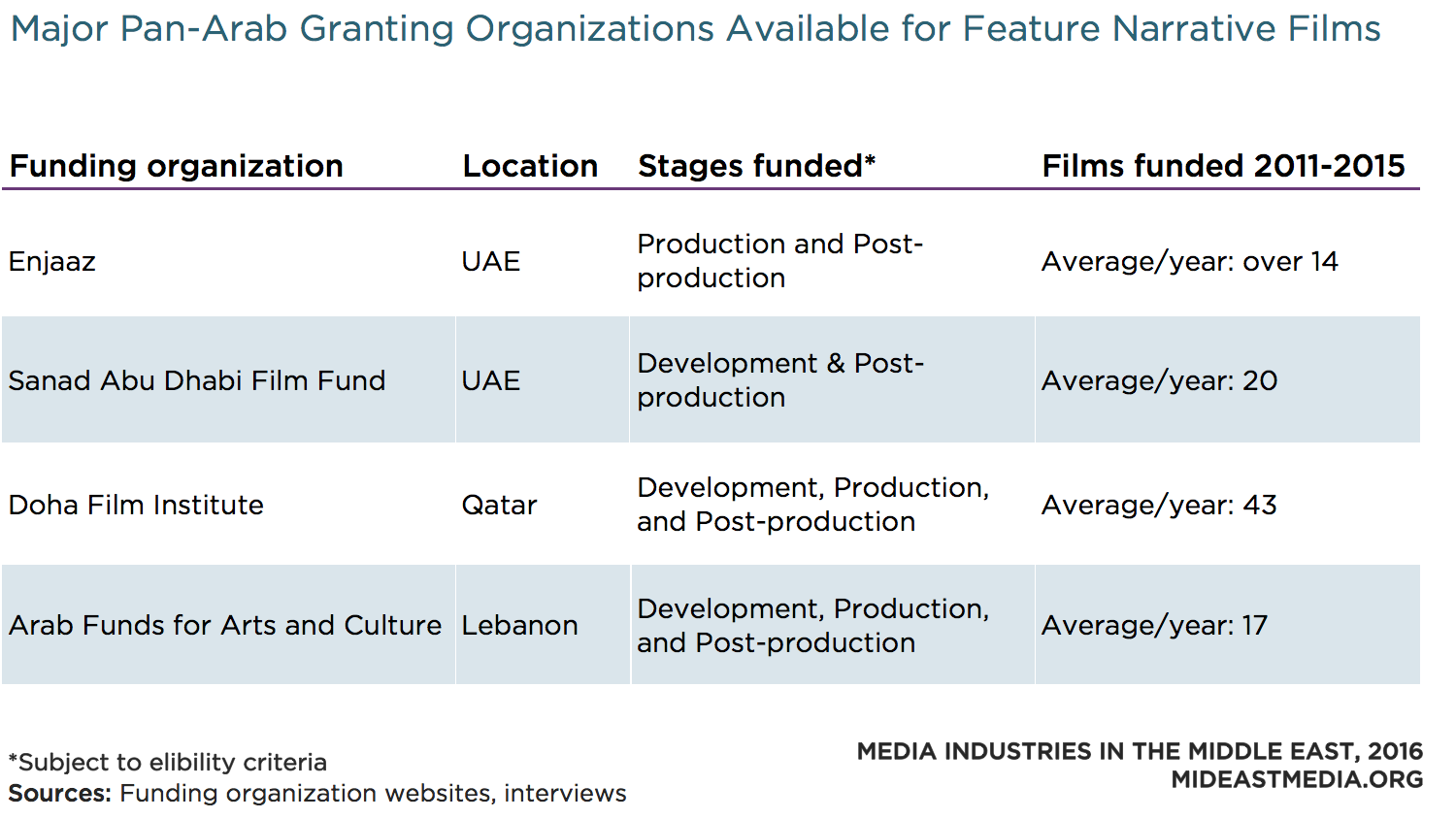 The dataset contains extremely detailed information. Taken together, it describes the contours of independent filmmaking in the region – including types of films, countries, budgeting patterns, gender and nationality of writers, directors, and producers, genres and topics, and where the most multi-national filmmaking is taking place.
From the thousands of projects contained in the database, we attempted to distill a well-defined sample representative of independent filmmaking in the region. For that purpose, only the films and the associated writers, directors, and producers who met the following criteria were considered:
Feature-length narrative films (not documentaries, shorts, or other film types)
Arabic is one of the film's primary languages.
Seeking funding for the production or post-production stages. Films applying for development funds (the stage before pre-production) are, by definition, not as clearly or fully planned, and have a far lower chance of being completed.
Finally, we eliminated any budget outliers from our sample – i.e., any film with a stated total budget less than USD 1,000 or more than USD 5,000,000.
These criteria excluded many films worthy of consideration in other studies. However, for our purposes, it produced a meaningful sample of serious film proposals with a high likelihood of completion, whether or not they were awarded funds by Doha Film Institute. The final sample consisted of 262 films, with 512 unique filmmakers including writers, directors, and producers.
Because the data used for this chapter were collected and recorded by a single entity, it is critical that when viewing the results one bears in mind the method and context from which they came, including:
Representativeness of sample. Those generally familiar with the data, applications, and Arab films estimate that the sample includes approximately 70 percent of all independent Arab films that meet the above criteria and have entered production or been completed since 2012. In the remaining 30 percent of applications, no significant deviations from our sample have been detected aside from these two minor ones: 1) an over-representation of films associated with or claiming association with Qatar, due to the fact that the data are based on applications to a funding body based in Qatar, (Although this may exaggerate Qatar's role as a leading country of production in the region, it is also true that Doha Film Institute grants an average of 43 films per year – more than any other regional granting body that accepts applications from across the Arab world.); and 2) a possible under-representation of films that would name the UAE as a country of production, given the sometimes competitive climate between the neighboring countries.
Self-reported data. Unlike most information used to describe a film market, the data for this chapter are self-reported by the filmmakers themselves. All applications are submitted by either a producer or director of the project. Therefore, the figures contained in this section do not reflect measures and characteristics typically used after a film's release; they describe the film as viewed by (one of) its creators either before or during production.
Terms used in this chapter:
Budget quartile

We occasionally examine differences between higher and lower-budget films. For example, a look at films in the top quartile will include films with total budgets in the top 25 percent of our sample.

Countries of production

Filmmakers applying for funding identify the countries of production associated with their films. This can include shooting locations or, in some cases, production companies based in that country.

Genres/topics

Applicants for funding are asked to identify genres or topics that describe their film from a list of more than 50 possibilities. They may, and usually do, choose more than one.

Nationality

Applicants are asked to identify the nationality of the writer(s), director(s), and producer(s) attached to their films. Many individuals have dual or multiple nationalities. They all are counted in our analysis. For example, a person who is French-Lebanese would be categorized as a French and Lebanese national, respectively.
This section looks at budgets of narrative feature Arab films. Figures were reported by the director or producer of the film while applying for funding to Doha Film Institute. More than half of all independent films report total budgets of well under USD 900,000. High-budget independent films – the 25 percent reporting total budgets more than USD 1.2 million – tend to spend relatively less of their total budget on development than less expensive films.
Among high-budget films, France is the most commonly cited country of production as well as the most common nationality of producers. However, these high-budget films are rarely written or directed by French nationals – Lebanon is the most common nationality of both writers and directors of high-budget films. Among films with total budgets in the lowest 25 percent, Egyptians are the most common nationality of writers, directors, and producers.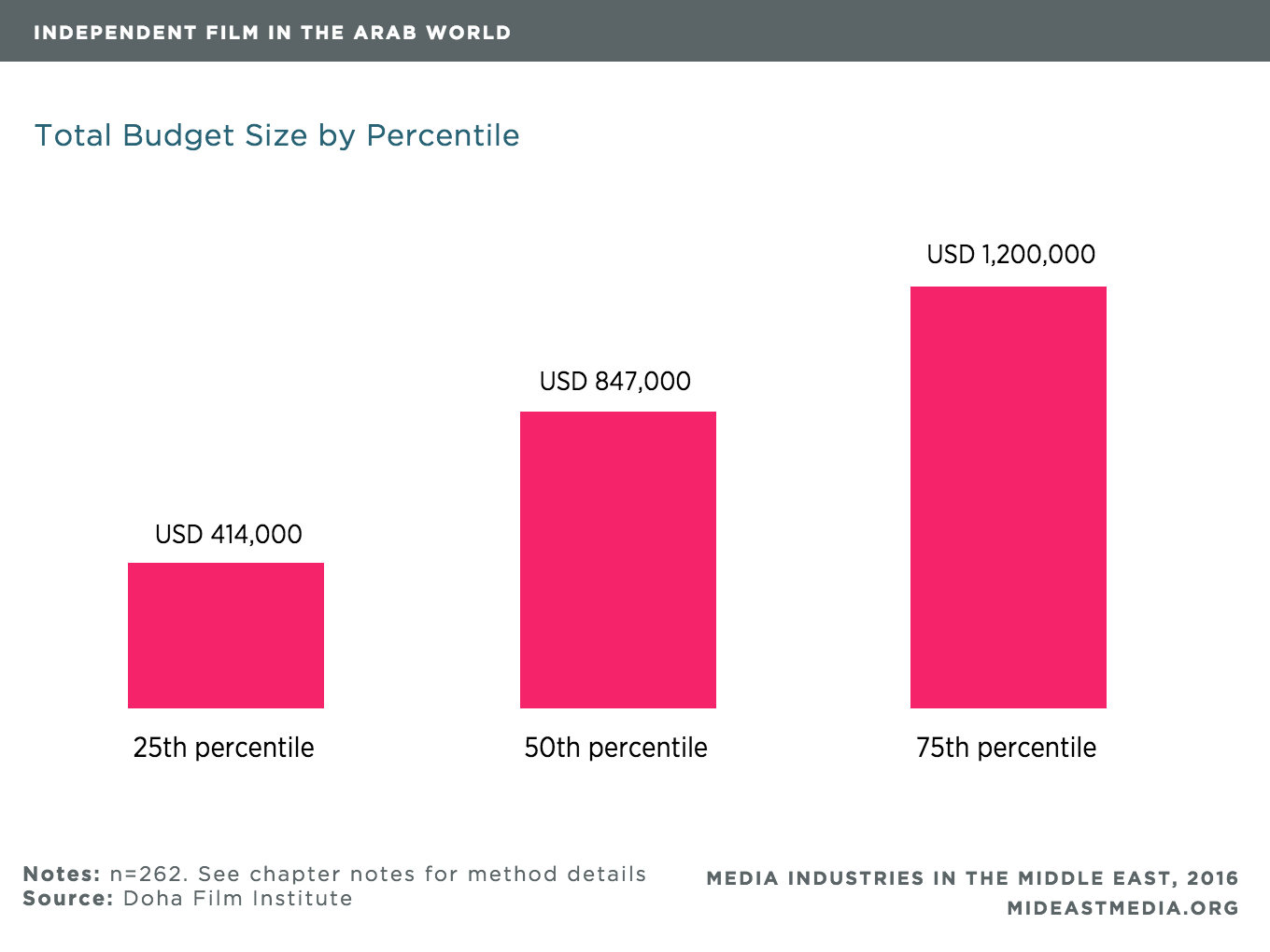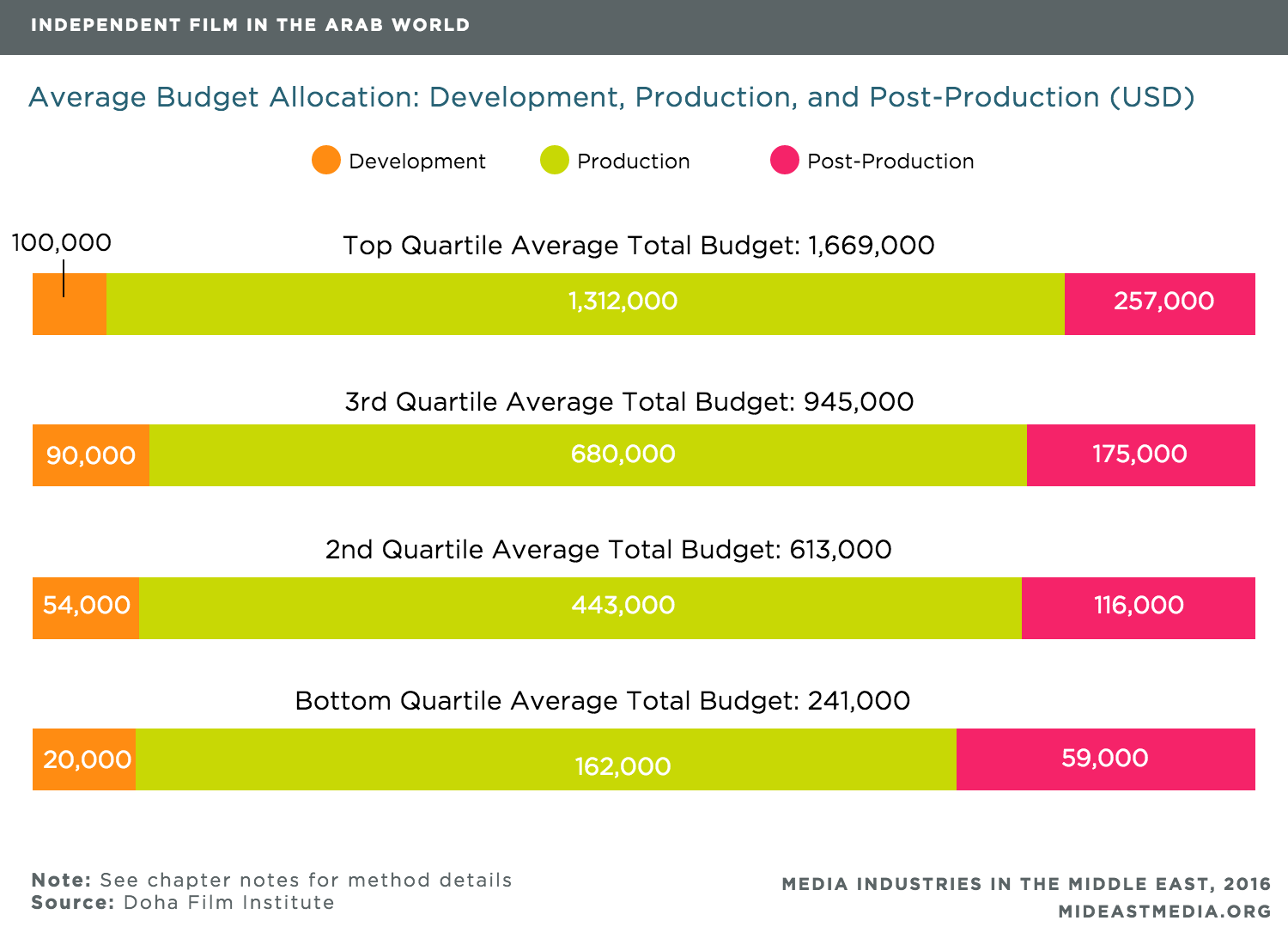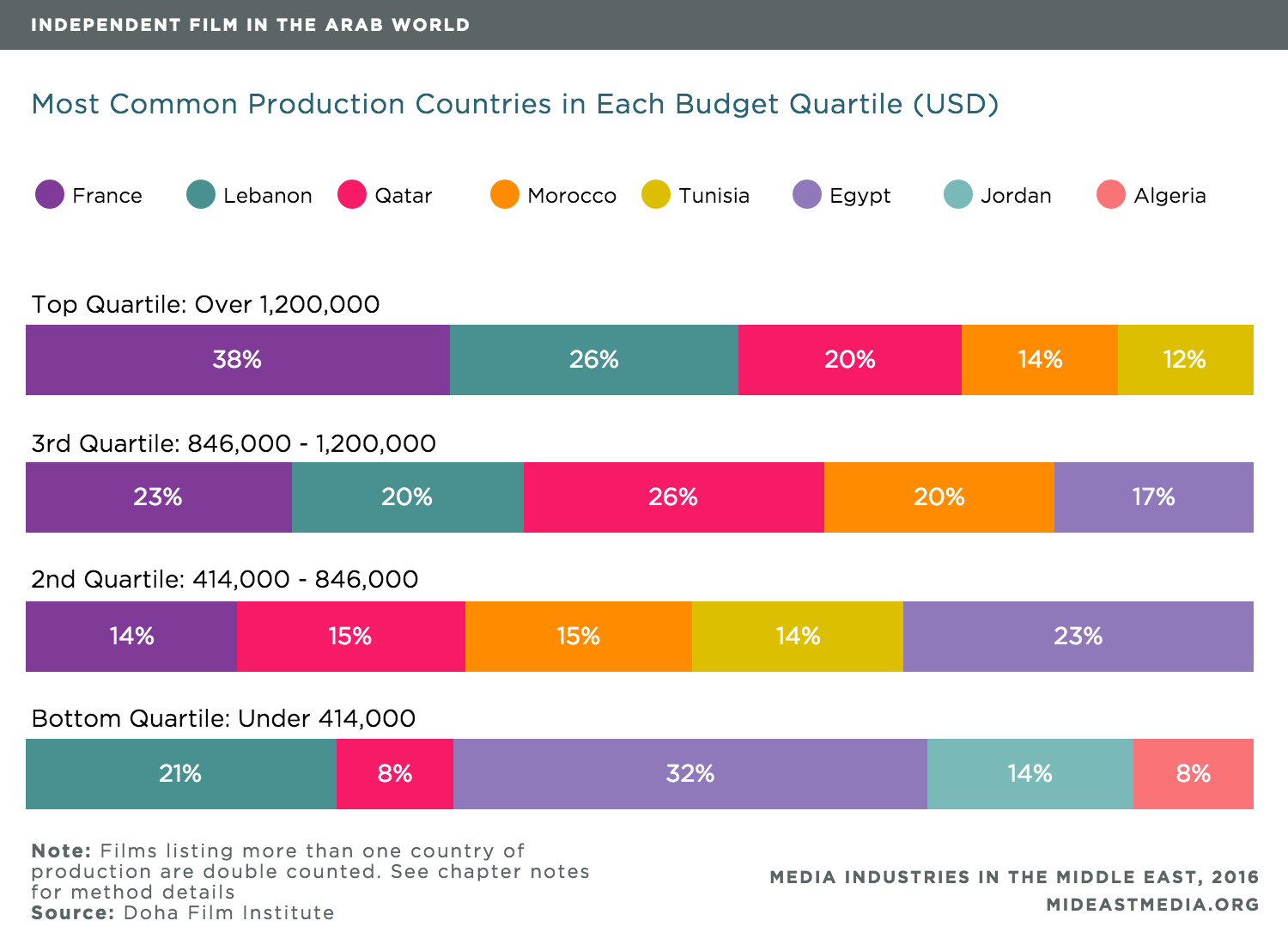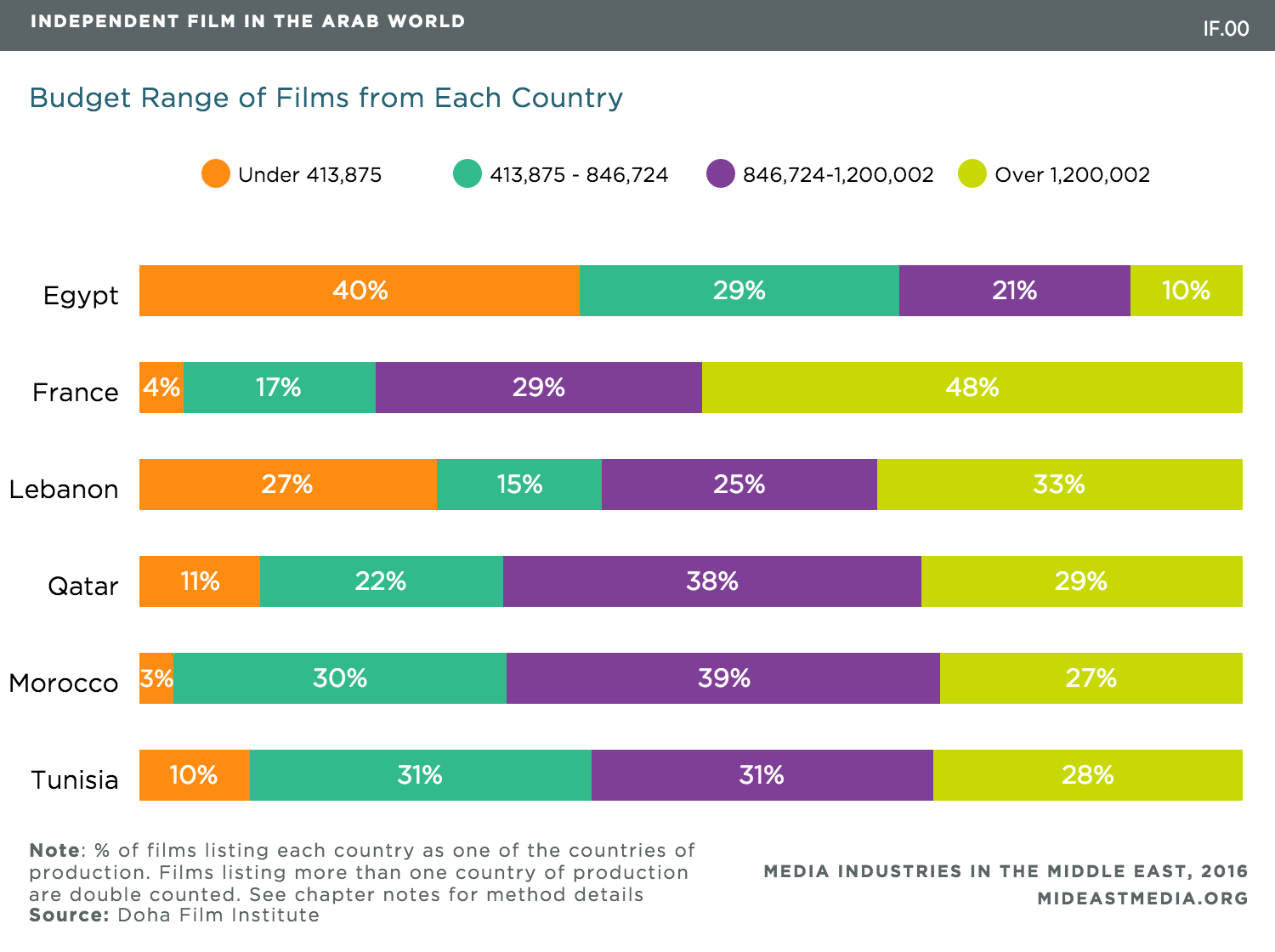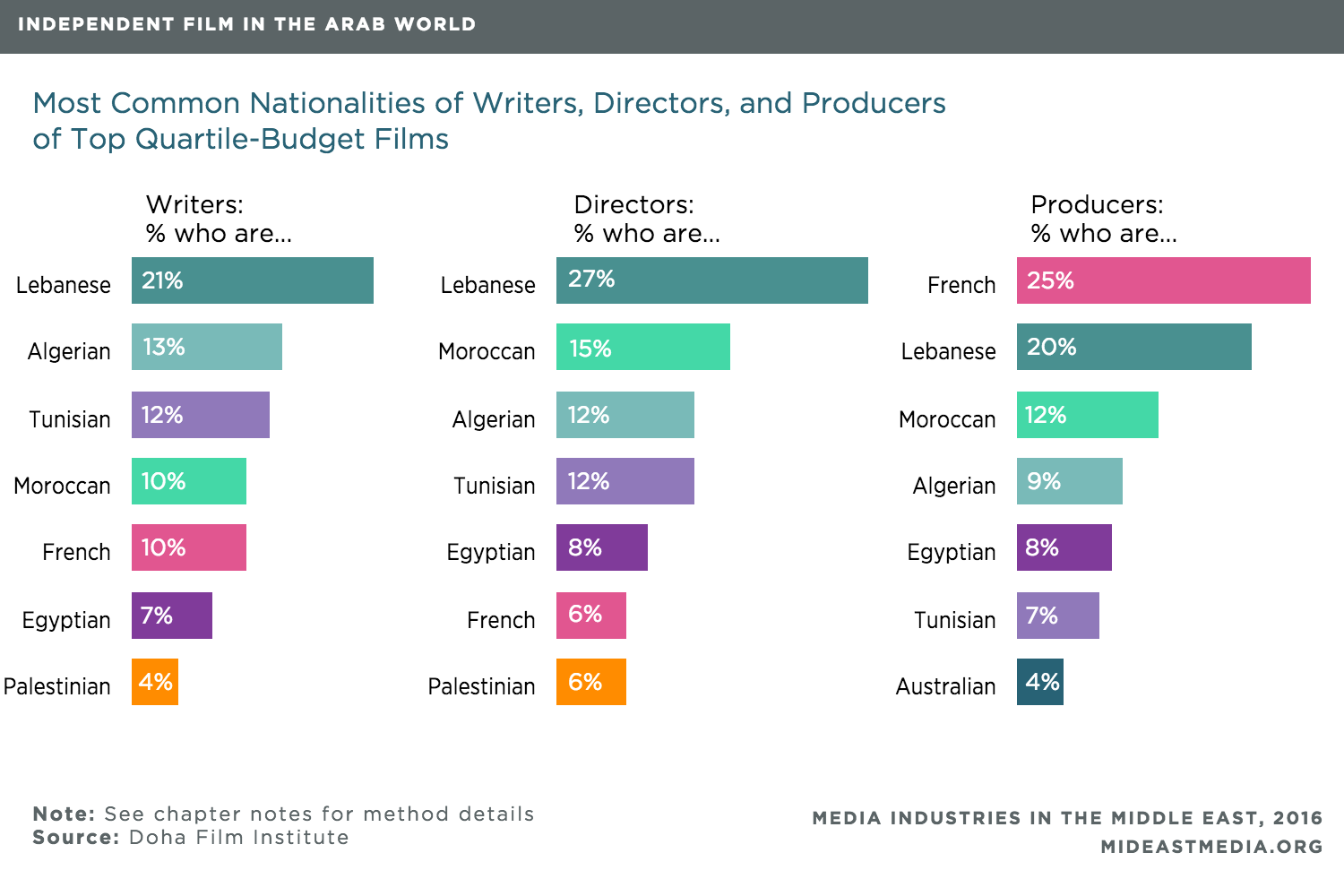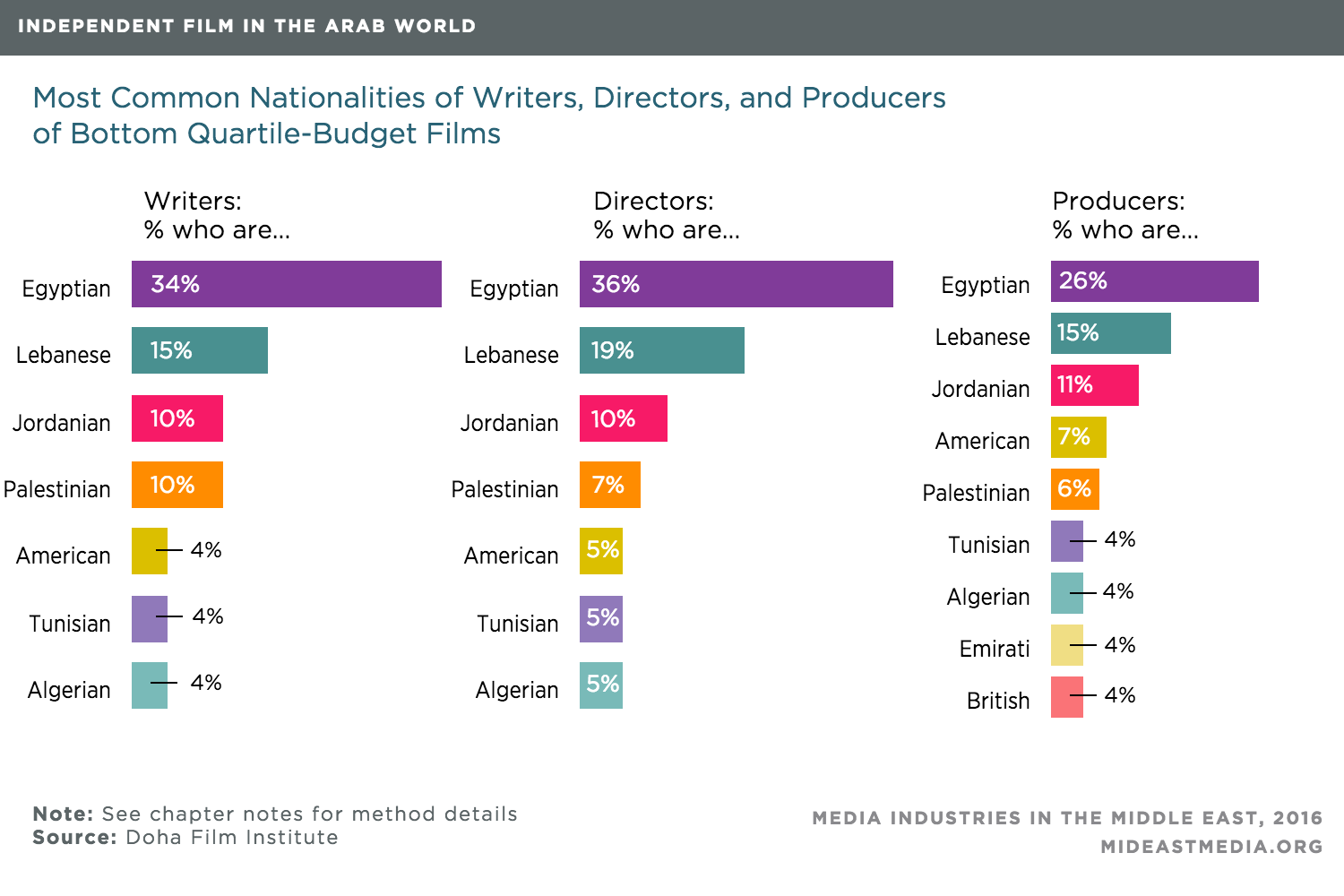 This section looks at the countries of production as identified by filmmakers who applied for funding. This can include shooting locations or, in some cases, association with production companies based in that country. Since a funding body is often considered to be one of a film's producers, countries with highly active funding bodies may tend to rank higher in the list of most common countries of production. Two cases of this are France, which is a Non-Arab country most engaged in Arab film, and Qatar, home to Doha Film Institute, which is now one of the more prolific film-granting institutions in the region. Because figures are based on funding applications to Doha Film Institute, it is possible that UAE is under-represented as a country of independent film production. See the notes in this chapter's Overview section for more detail.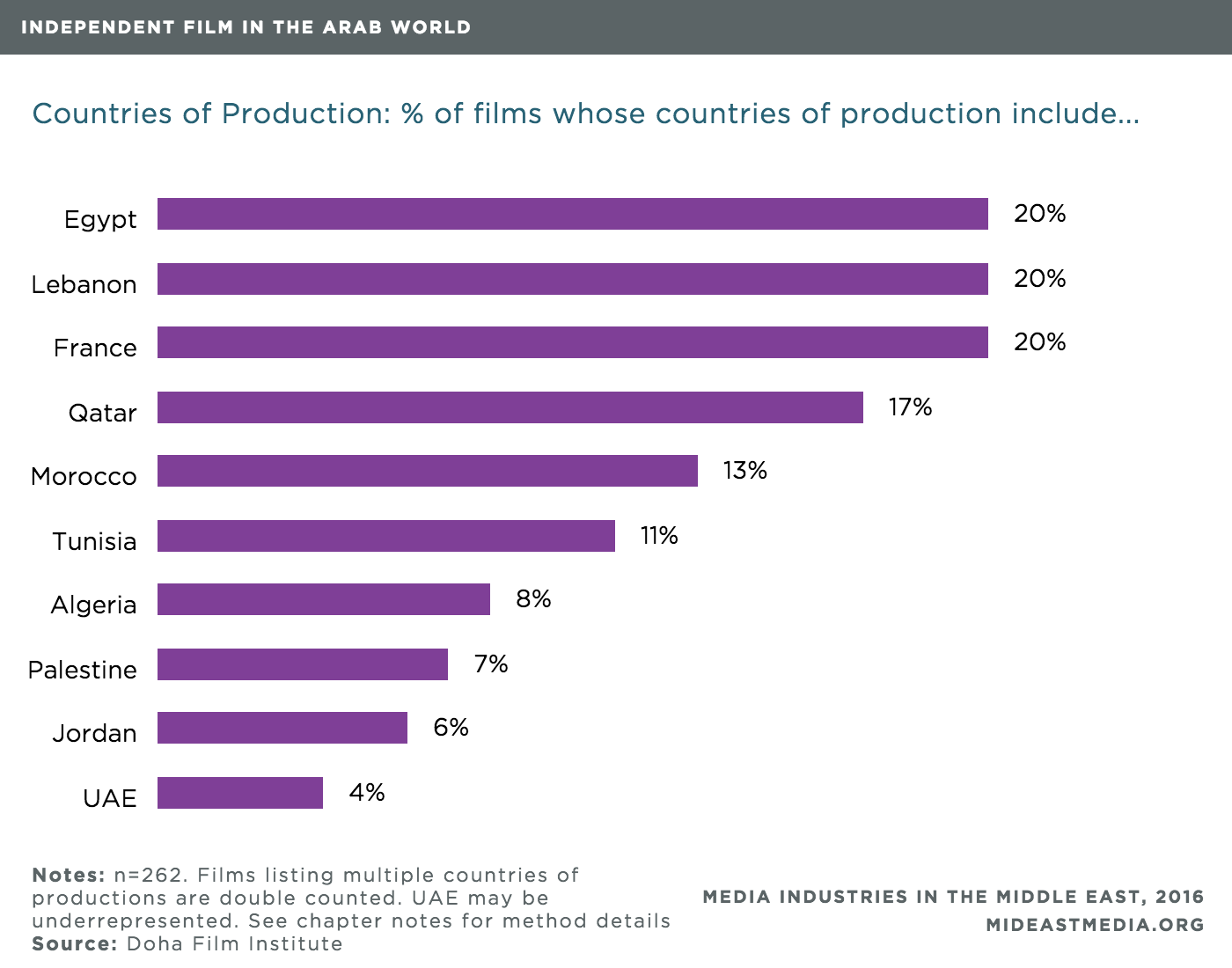 Compared to mainstream cinema films, independent films are approximately four times more likely to have more than one country of production. This tendency toward multinational production and a cosmopolitan background of independent filmmakers could contribute to the need of fundraising, as more than a quarter of directors are expats – those living in a country other than that of their nationality. Organizations in Qatar and France fund films that are often shot in countries other than their own – one reason why they top the list of countries engaged in multi-national productions.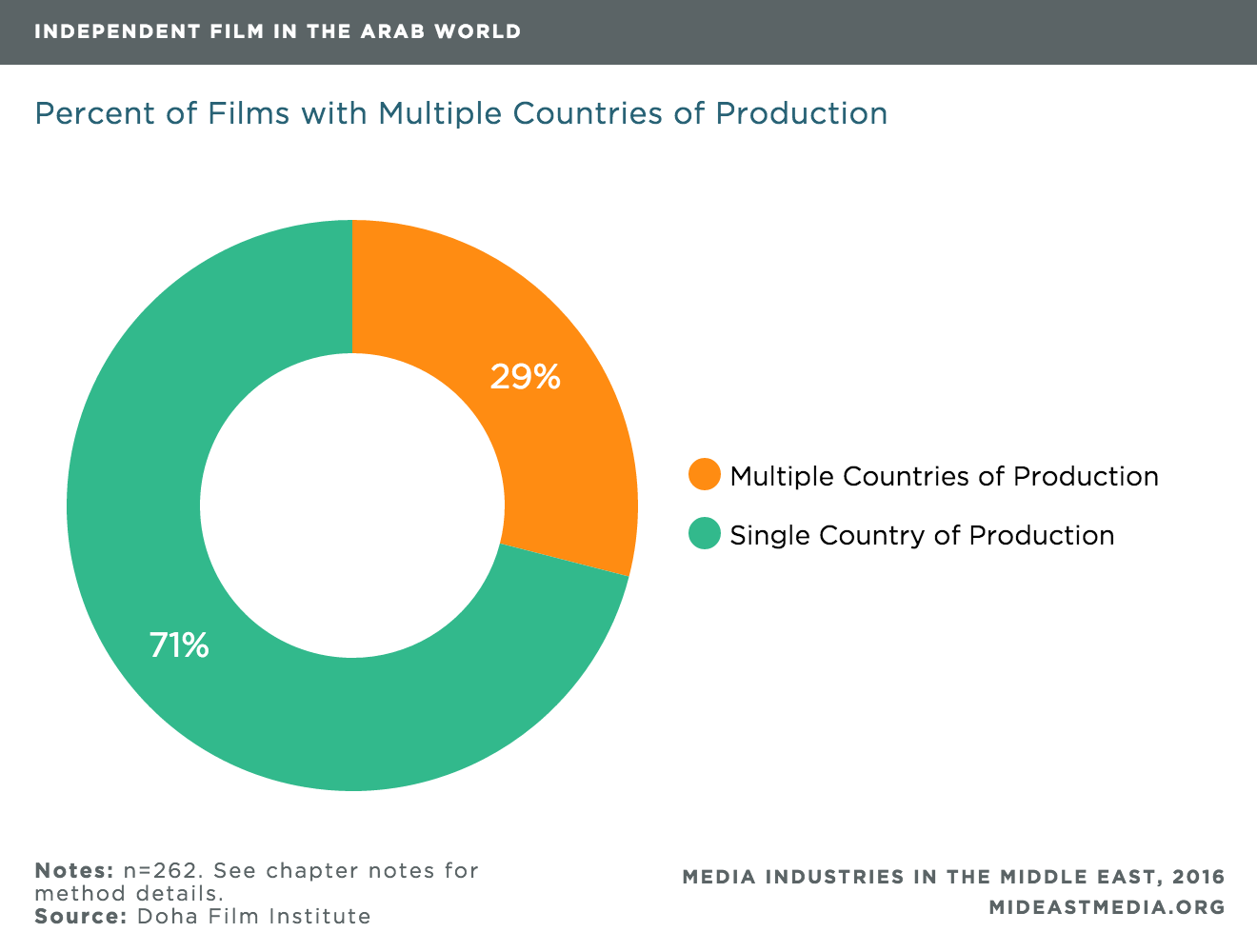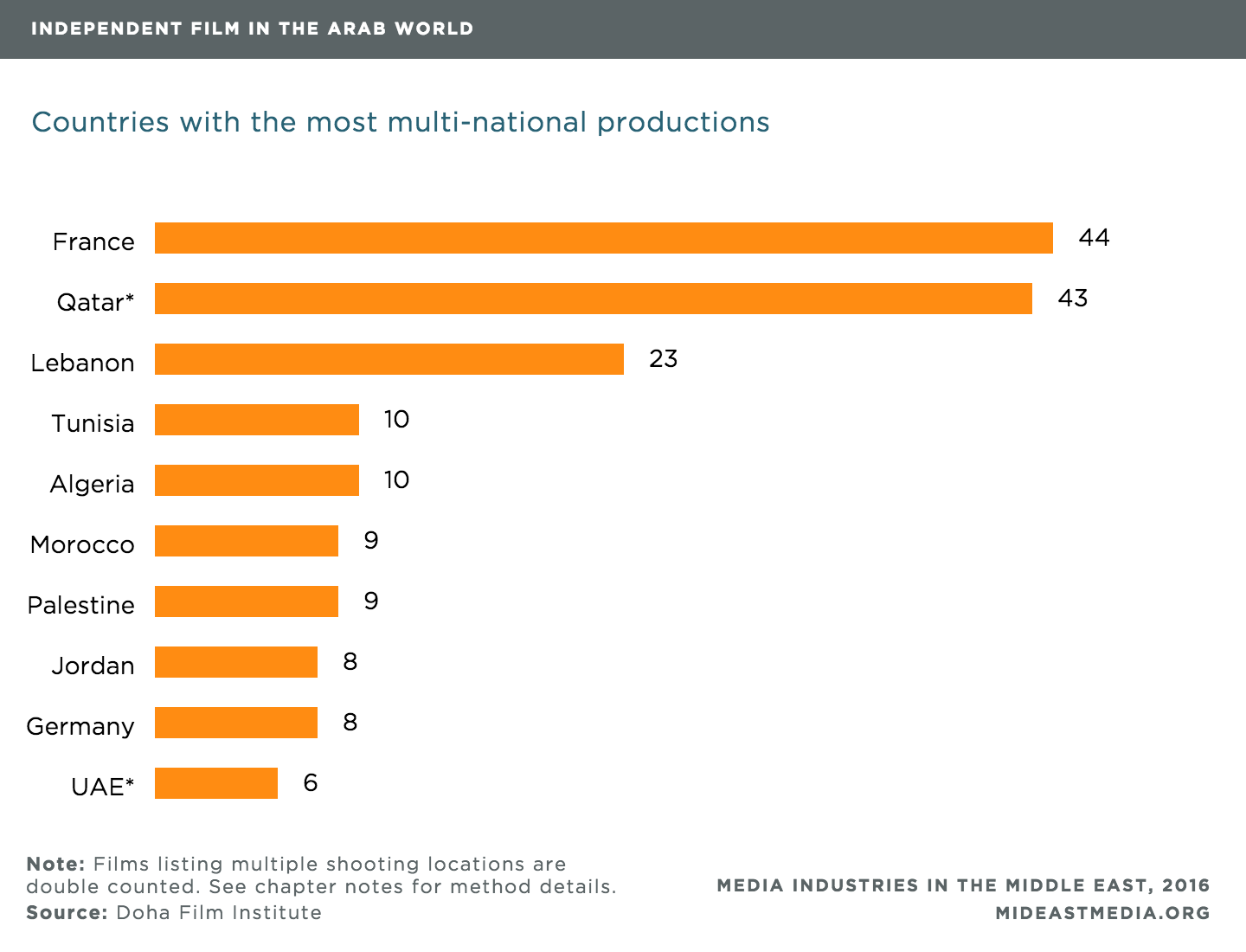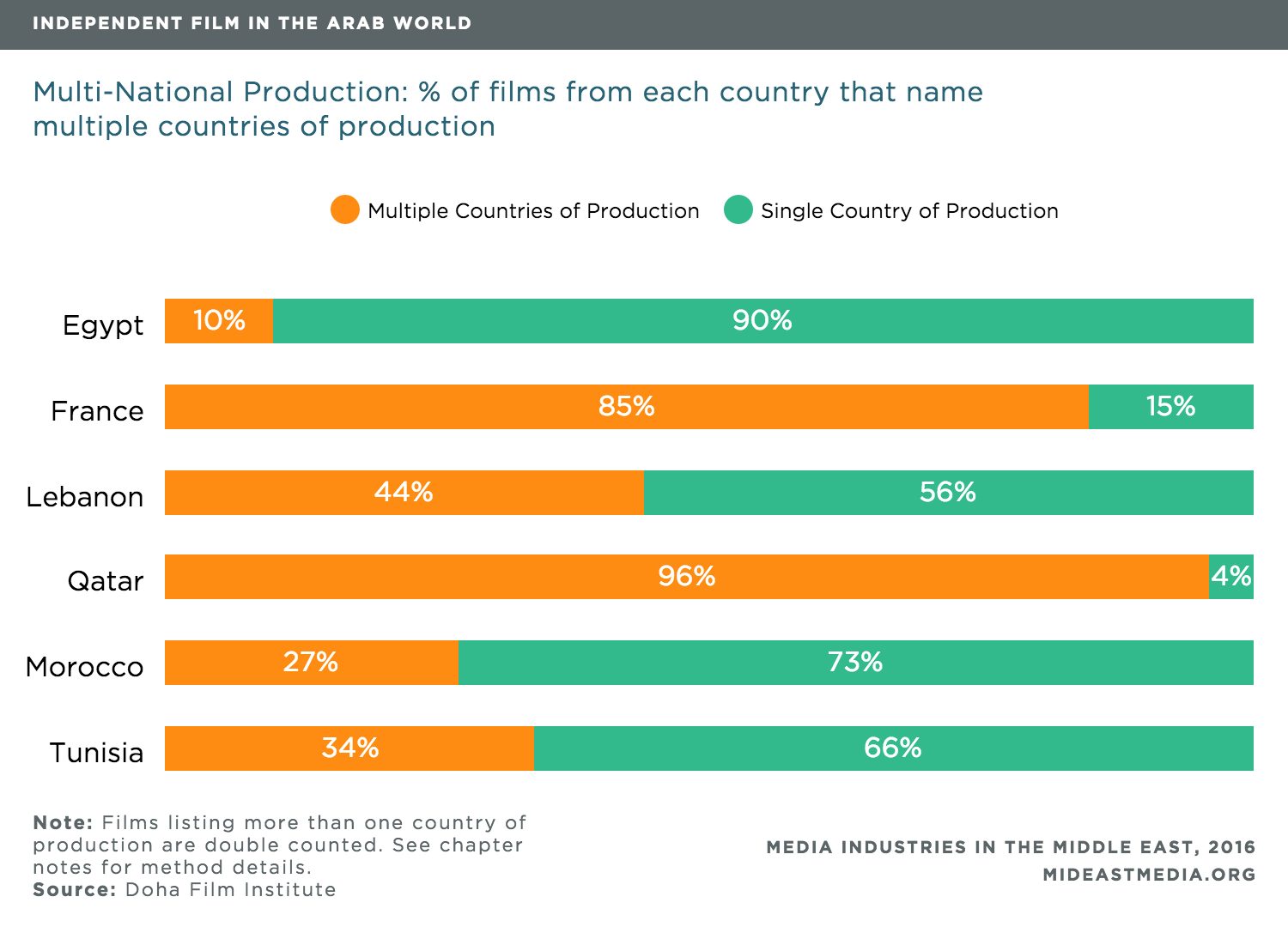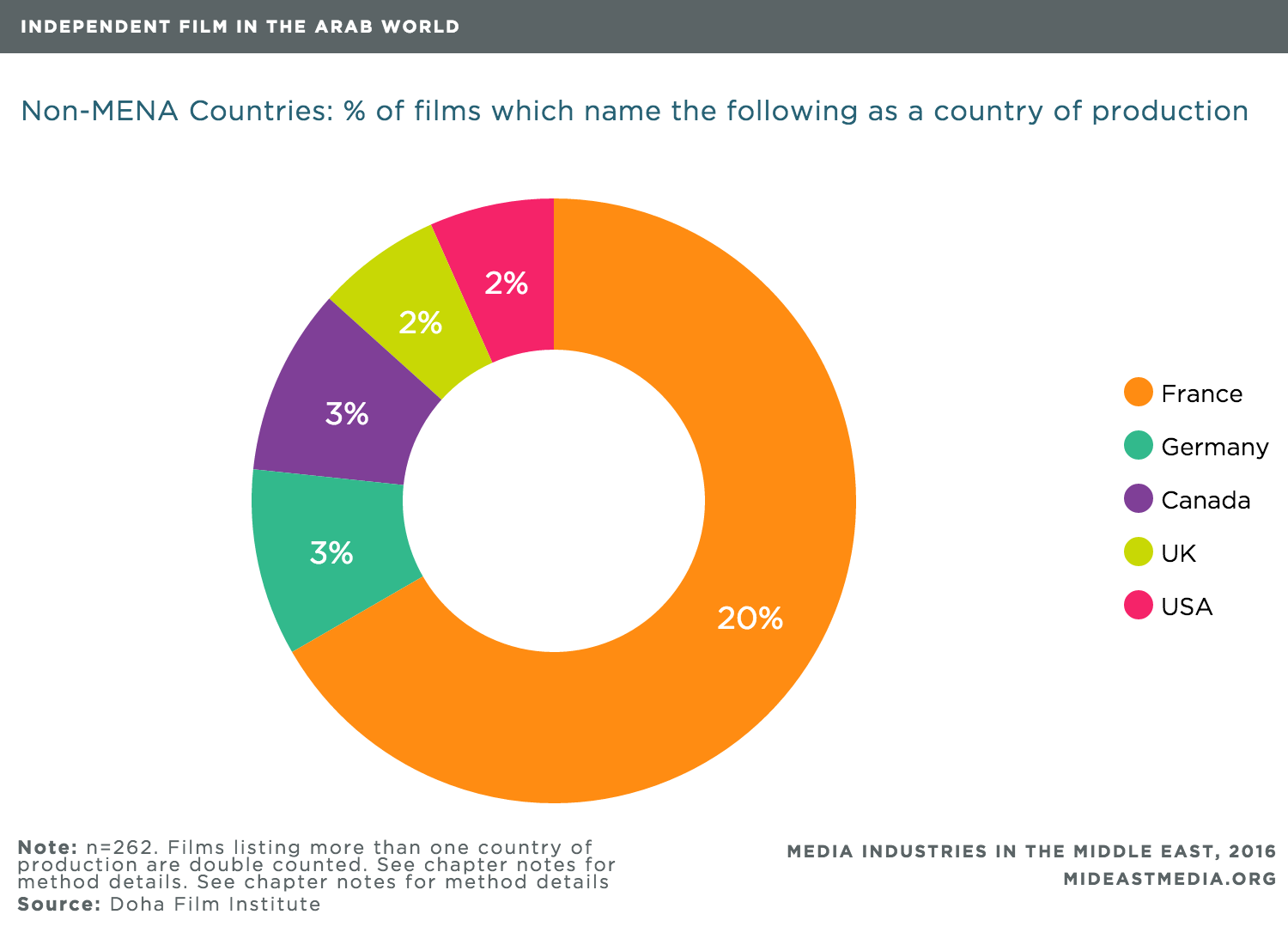 The most common genres or topics of independent film are produced in a relatively even spread of countries. In independent film, Egypt is named as a country of production in only 16 percent of comedies despite the ubiquity of Egyptian comedies in mainstream cinema. Films about identity, one of the most common topics in independent film, are more likely to name France than any other country of production.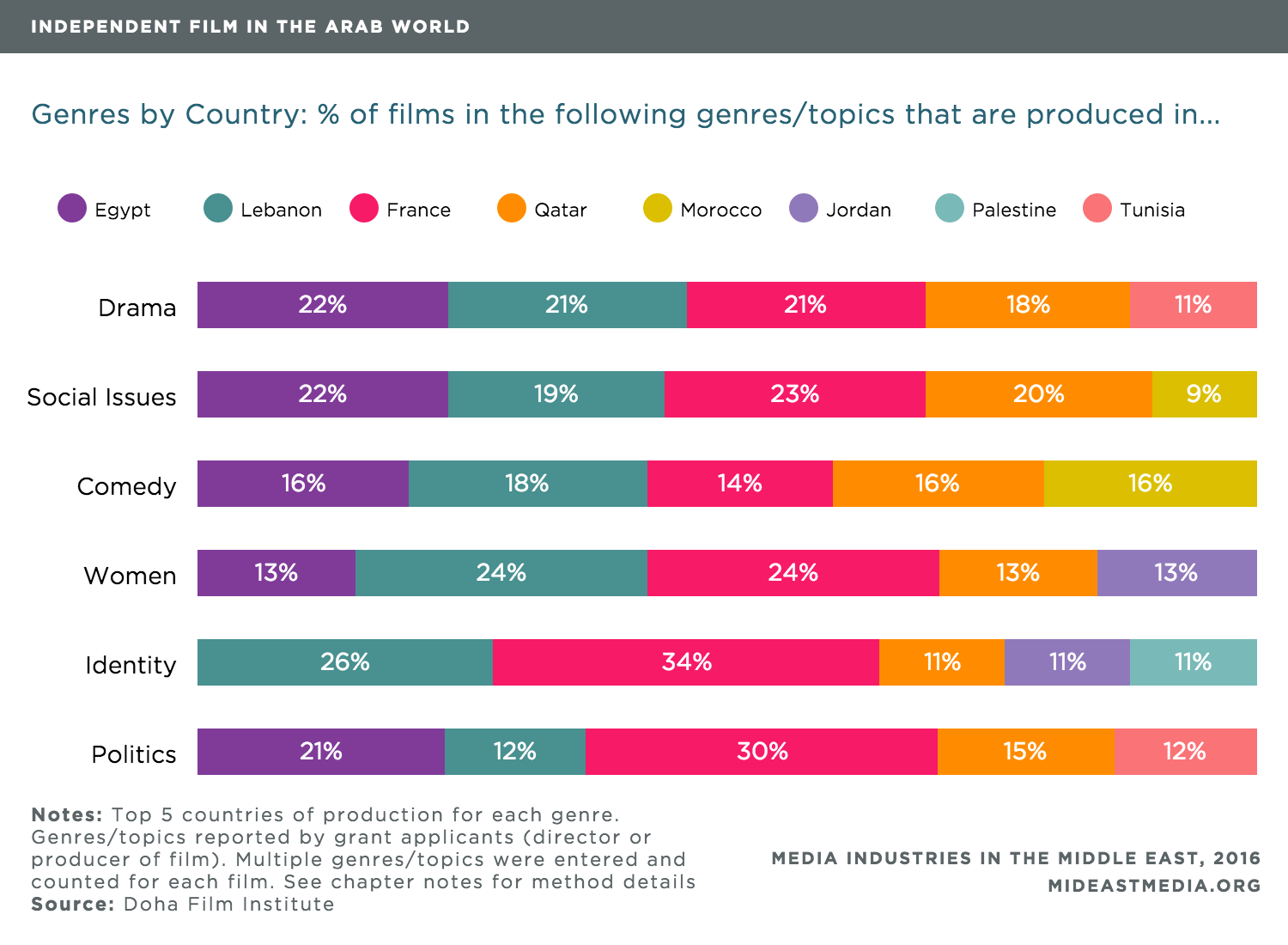 This section looks at the representation of nationalities and genders among independent filmmakers, as well as the range of topics covered by their films. Three-quarters of these films are written and directed by the same person – one of the distinguishing characteristics of independent film.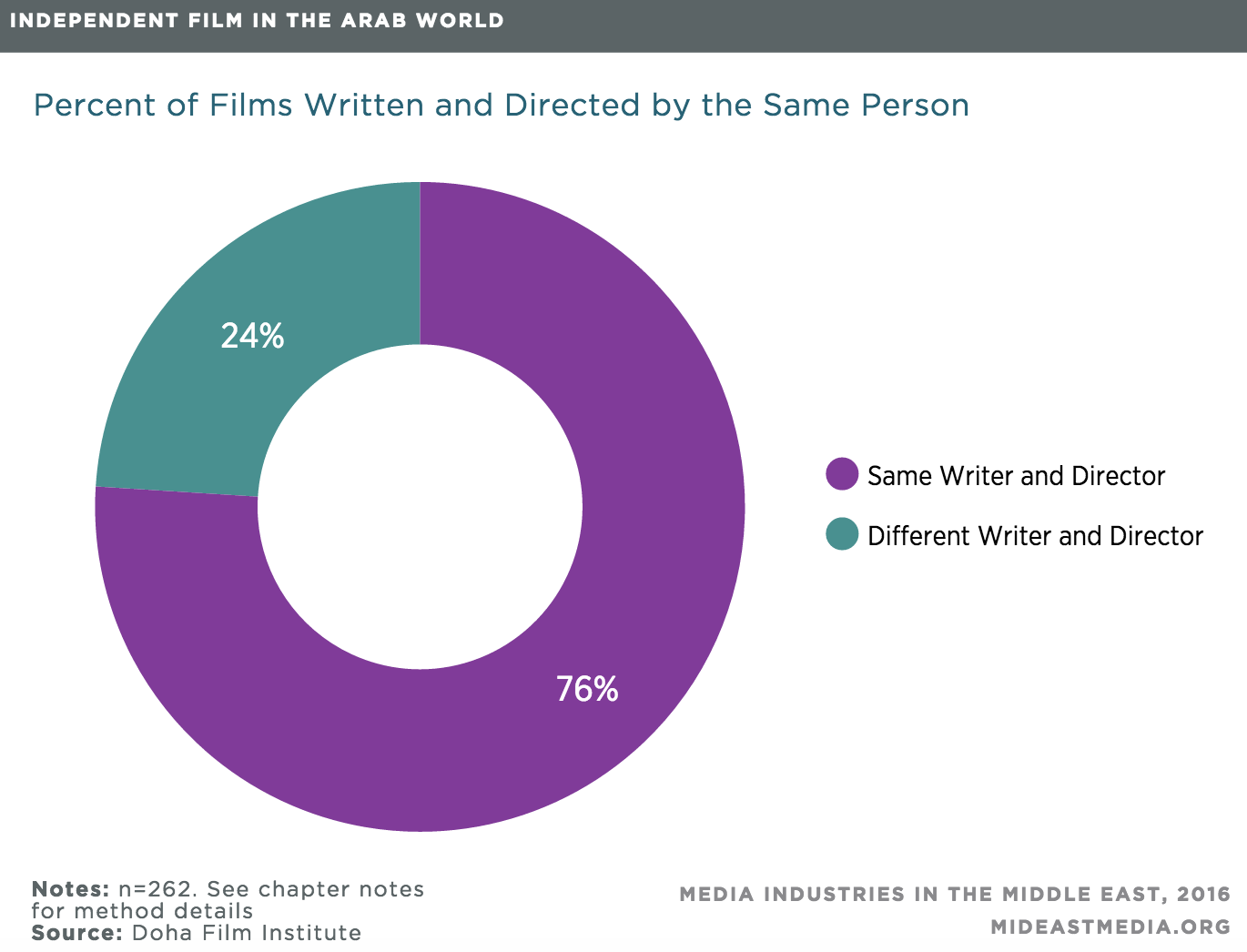 The diverse backgrounds of independent filmmakers correlate with a wide range of subject matter. While nearly three-quarters of independent films are considered to be dramas, less than one in five is considered a comedy. Social issues, women, identity, and politics all rank among the most common topics. See the Countries of Production section for a detailed chart showing which countries of production are most frequently associated with the top genres or subject matter.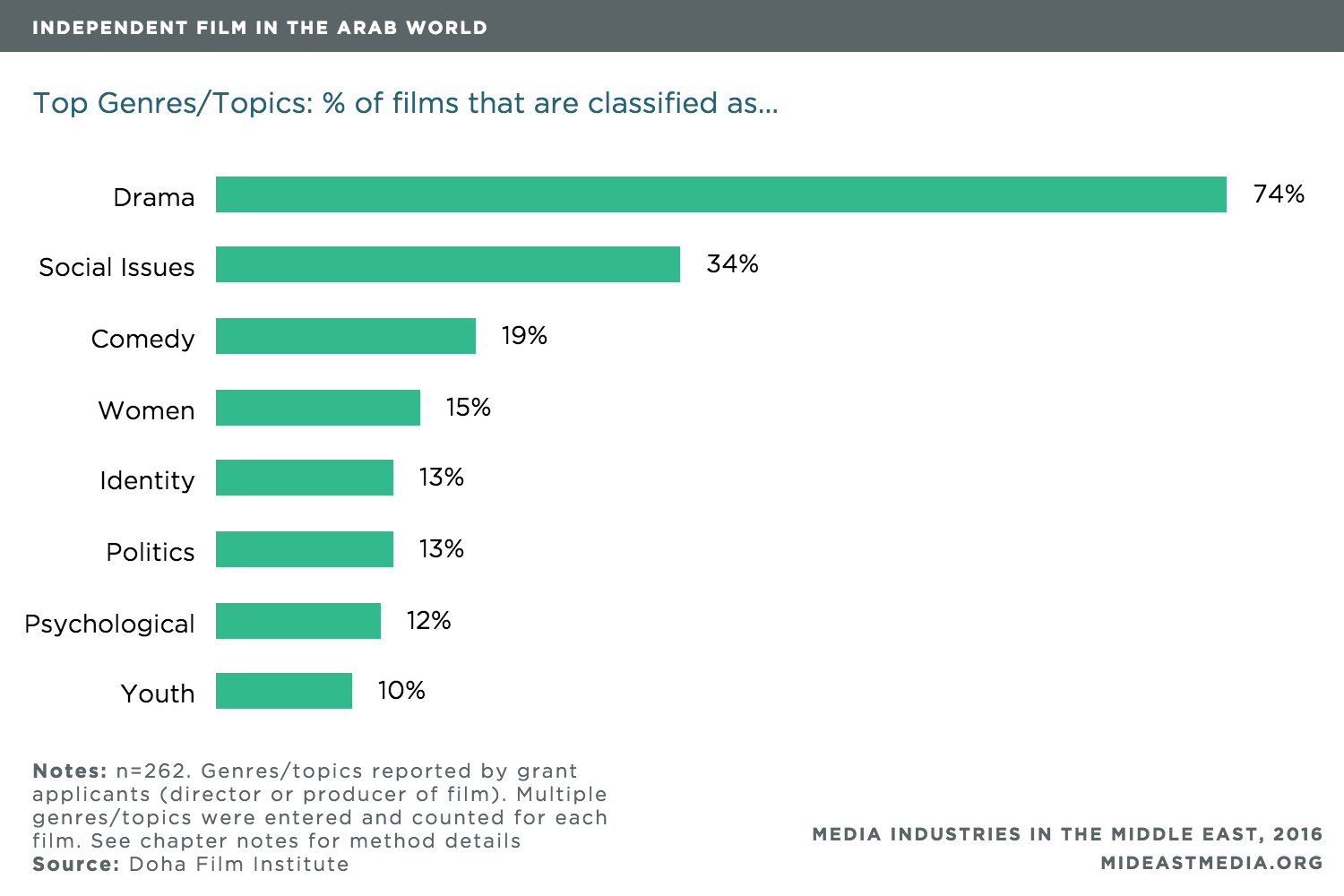 Compared to mainstream cinema offerings, independent films are created by people from countries far more evenly spread across the region. Egyptians are the most common nationality among writers, directors, and producers, but only slightly more common than Lebanese.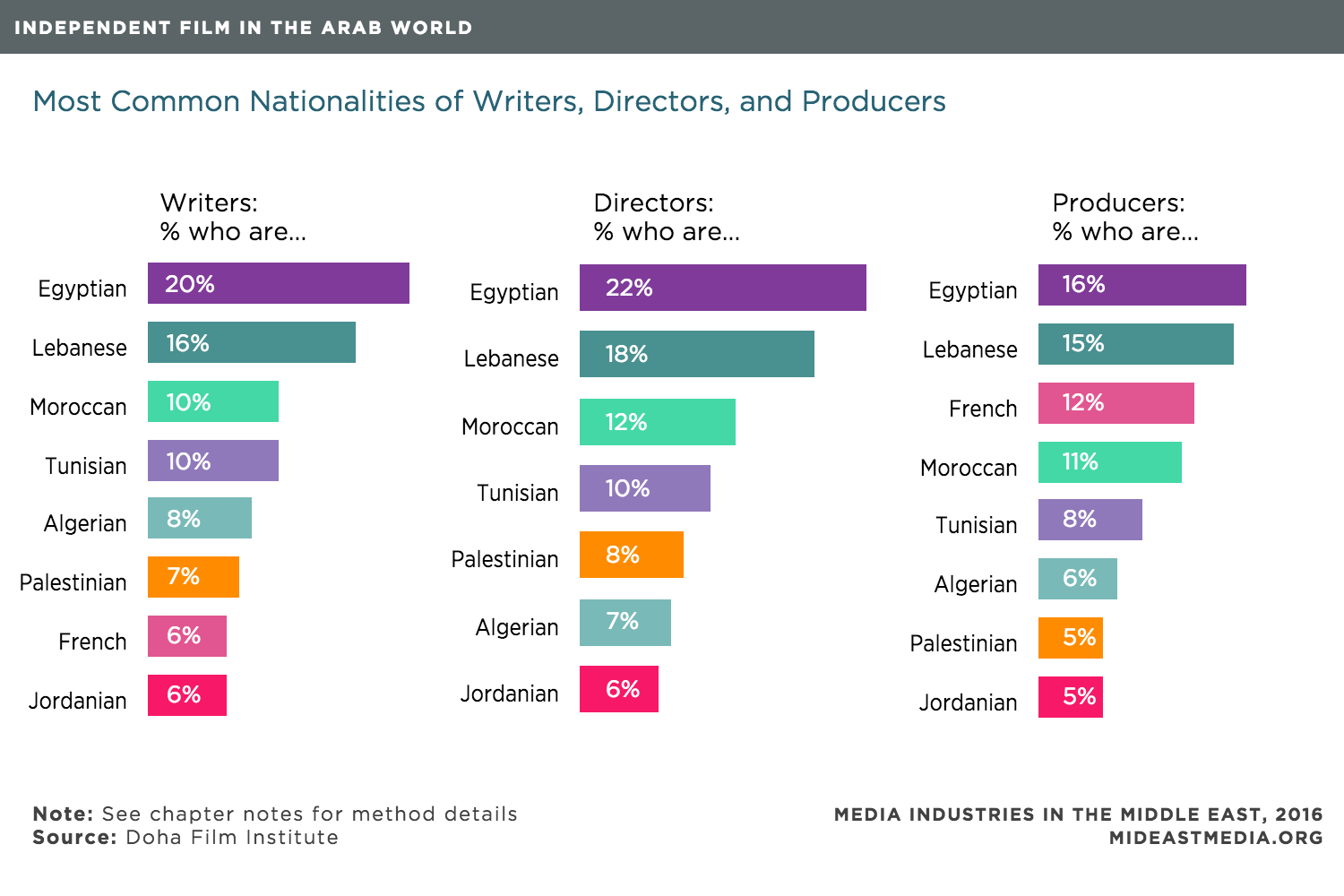 Independent films are twice as likely to be directed by women than mainstream cinemas in the region. Approximately 30 percent of the writers and directors of independent films are female, which is high compared to their more commercial counterparts. Lebanon is home to more female filmmakers than any country in the region. (The absolute numbers of females from each nationality are drawn from our sample of 262 films and shown for proportionality, but do not represent a full count of all writers, producers, and directors in the region.)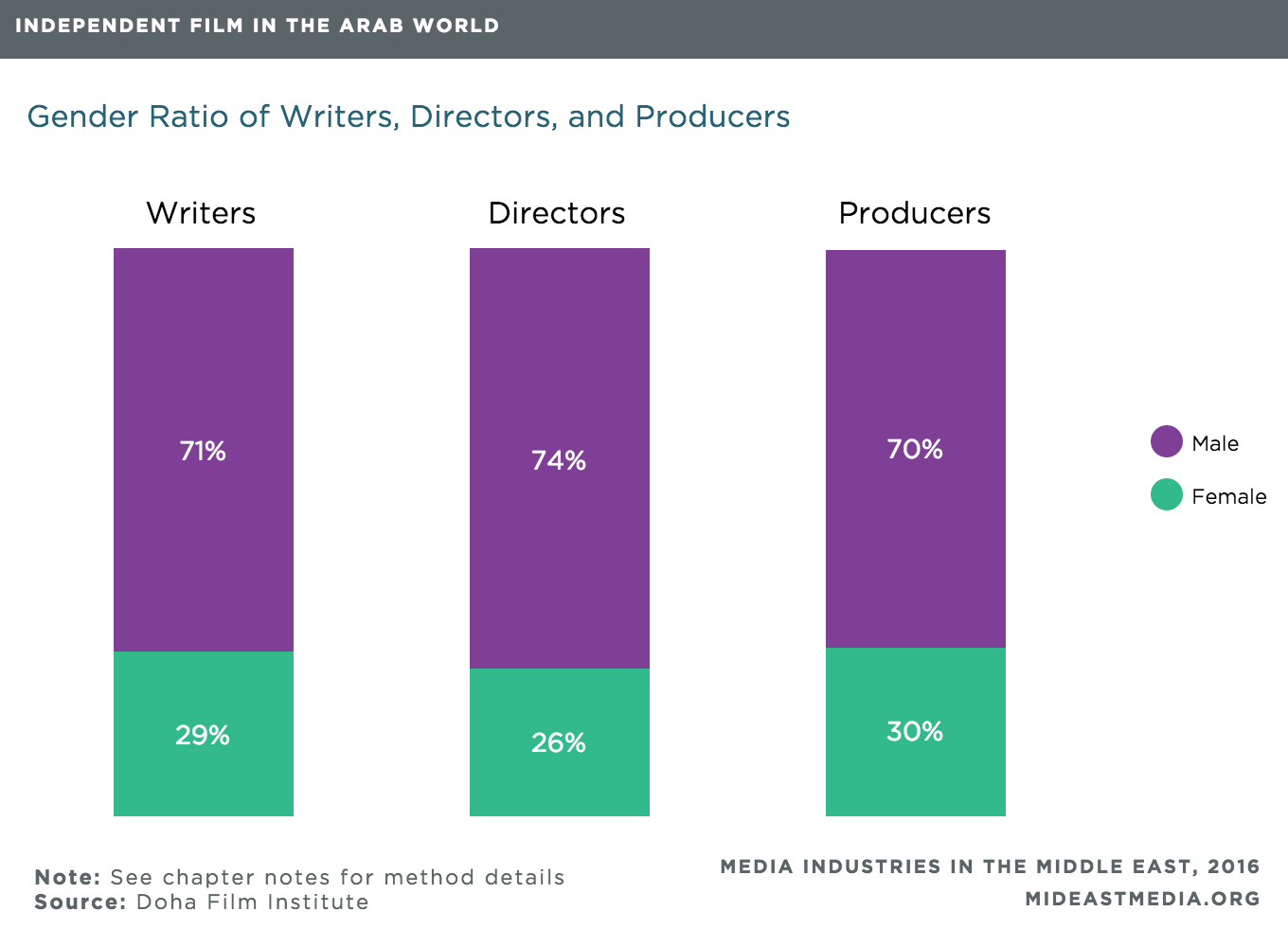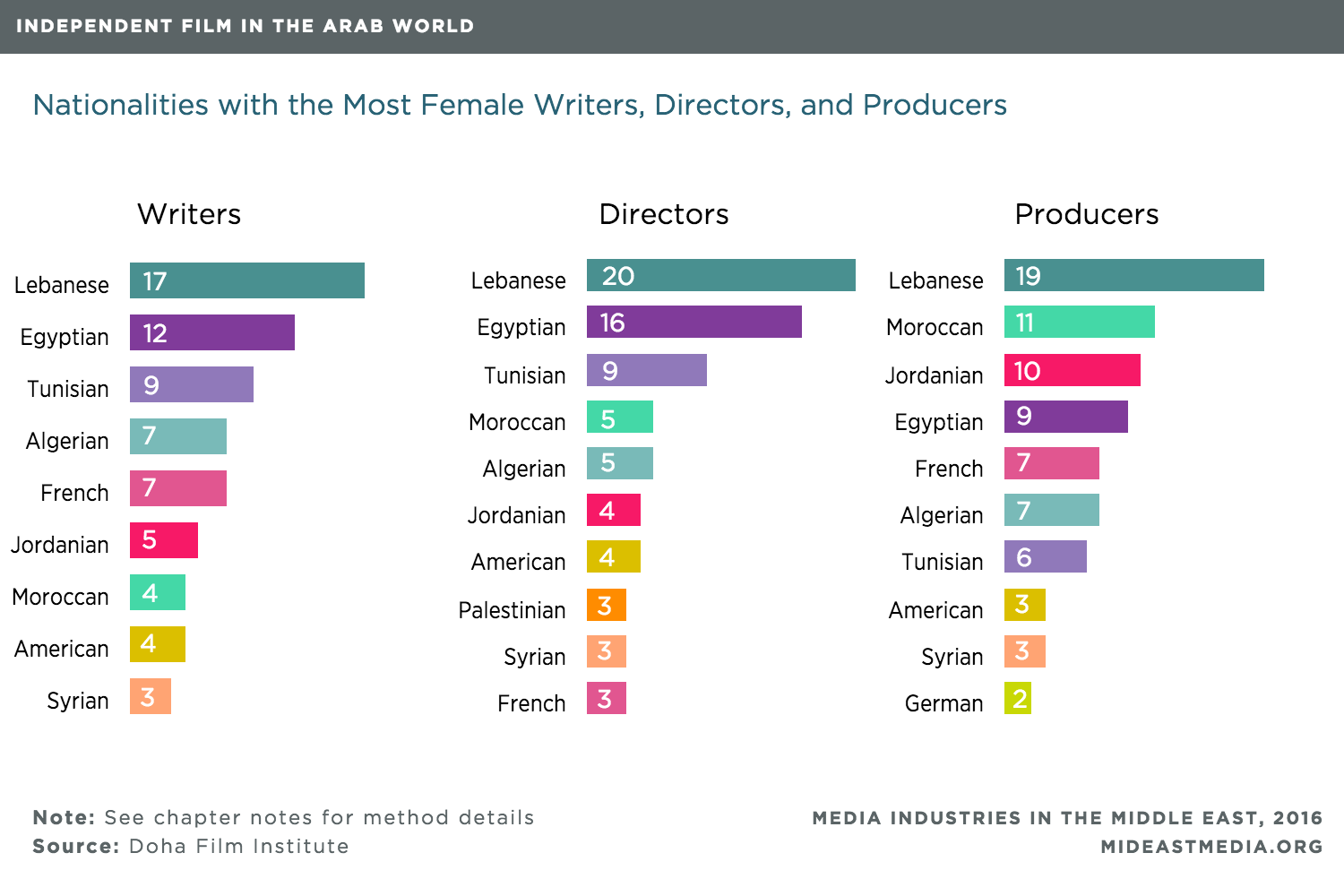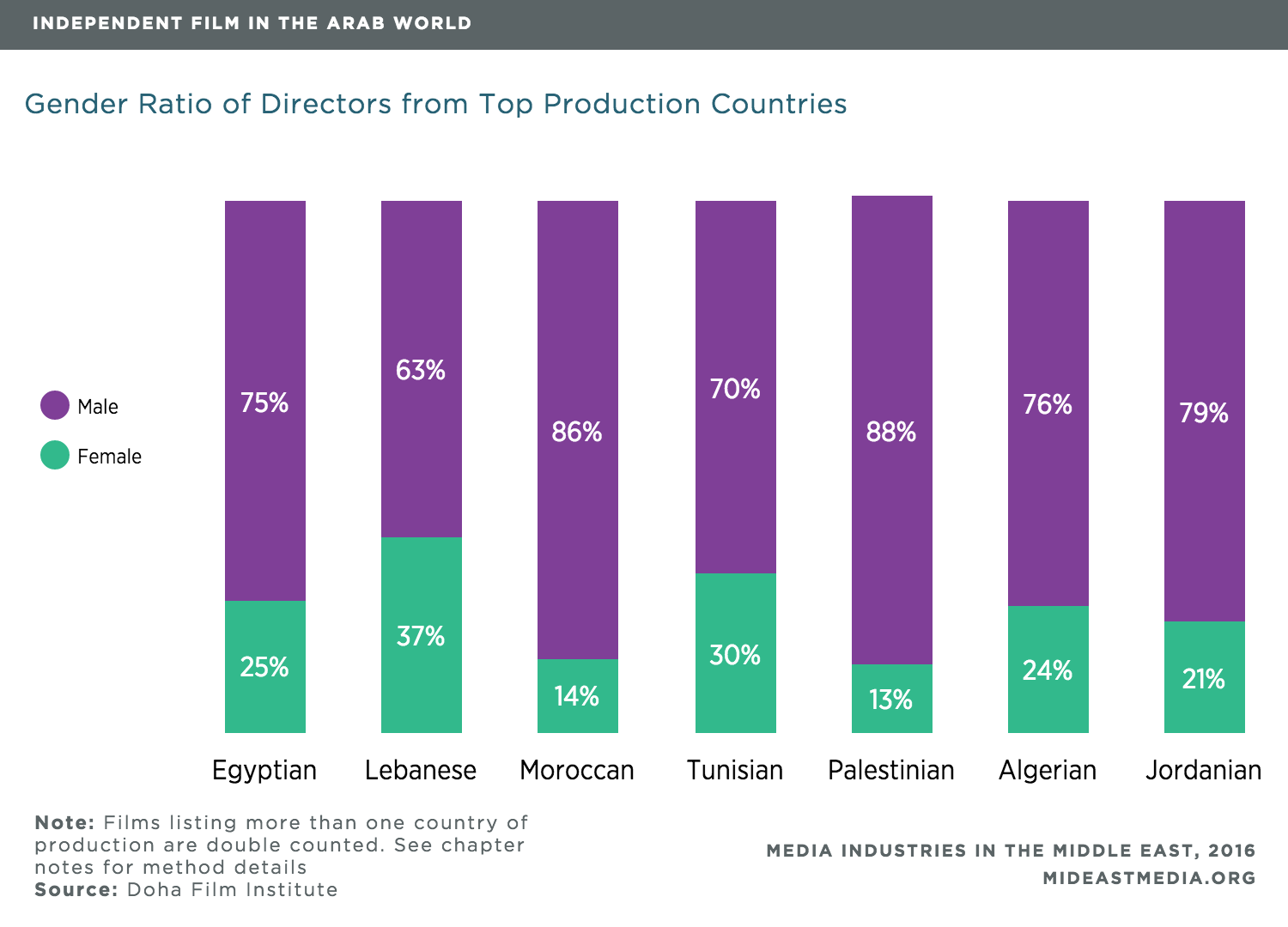 Shifting Infrastructures of Support for Independent Film
By Kaveh Askari
Associate Professor in Residence, Communication Program
Northwestern University in Qatar
It is a rare archive that provides such an intimate glimpse into the contemporary scene of Arab independent film. Information about an industry is often more readily available when pursued from the top down. The less hierarchical, more dispersed domains of film production can present challenges for researchers. Here we are given access not to the operations of a single organization, but to the infrastructure of a network of independent filmmakers, and this access comes in the form of the filmmakers' own detailed proposals for support. A dataset like this would have been a dream-come-true to Georges Sadoul back when he was writing the pioneering works that brought Arab cinema to the attention of scholars around the world.
Right from the start, these findings illustrate that independent cinema in the region is anything but naively independent. The definition of independent cinema, particularly now, is hotly debated as it relies on a kind of paradox. One of the most enduring definitions of independence emphasizes the vision of a single author, perhaps a writer-director (as in 76 percent of the cases here), who either operates on the periphery of the studio system or who presents a countercurrent to its mainstream. Thus, independence has often been cast against interdependence or codependence (a term used to describe major studio acquisition of independent film labels). This distinction has been unsettled as cinema increasingly becomes a medium directed, not to a single mass, but to different niche audiences. Commercial cinemas have long catered to multiple subgroups in a multi-screen format, and now even smaller venues are following suit. Arthouse cinemas, the typical pre-streaming target venue for many of the films in this pool, have been adding screens and subtracting seats-per-screen. This increases the number of films that move through each cinema, and it provides targeted content and programming flexibility. These changes, necessary to make small-scale film exhibition work in today's media environment, have also redefined how filmmakers and audiences conceive of independent cinema.
This study offers a clean, budget-driven definition of independent cinema, and in doing so it reveals the many interdependencies that researchers must consider, even as we track the careers and artistic choices of singular filmmakers. At first glance, it demonstrates the continuing influence of French co-production in the region. Historically, French companies have held a major stake in film production throughout North Africa and the Middle East. This has been particularly true with art films made for audiences who welcome subtitles and who notice when films receive attention at international festivals. But adding to this story, the study also suggests a shift brought about by the friendly competition, among institutions in the GCC, to build and support independent cinema in the region. Filmmakers historically excluded from commercial filmmaking are engaging with these shifting infrastructures of support – with some positive results. While there is still work to do, independent films are, for example, twice as likely to be directed by women than mainstream films in the region. Researchers have noted similar phenomena in nearby countries like Iran. The number of women behind the camera in Iran grew tremendously during the art cinema boom there in the 1990s. The hope is that by understanding the interdependencies within these growing networks of filmmakers, we will be better able to advocate for stable, inclusive infrastructures of support and better able to identify the processes by which truly remarkable work can emerge.