Like many traditional media platforms in the region, mainstream cinemas tend to target a wide range of audiences. But unlike other traditional media covered in this study, content from outside the region claims the majority of cinema revenues. Of the relatively small proportion of Arabic titles screened in regional cinemas, Egyptian films predominate, as they have for decades.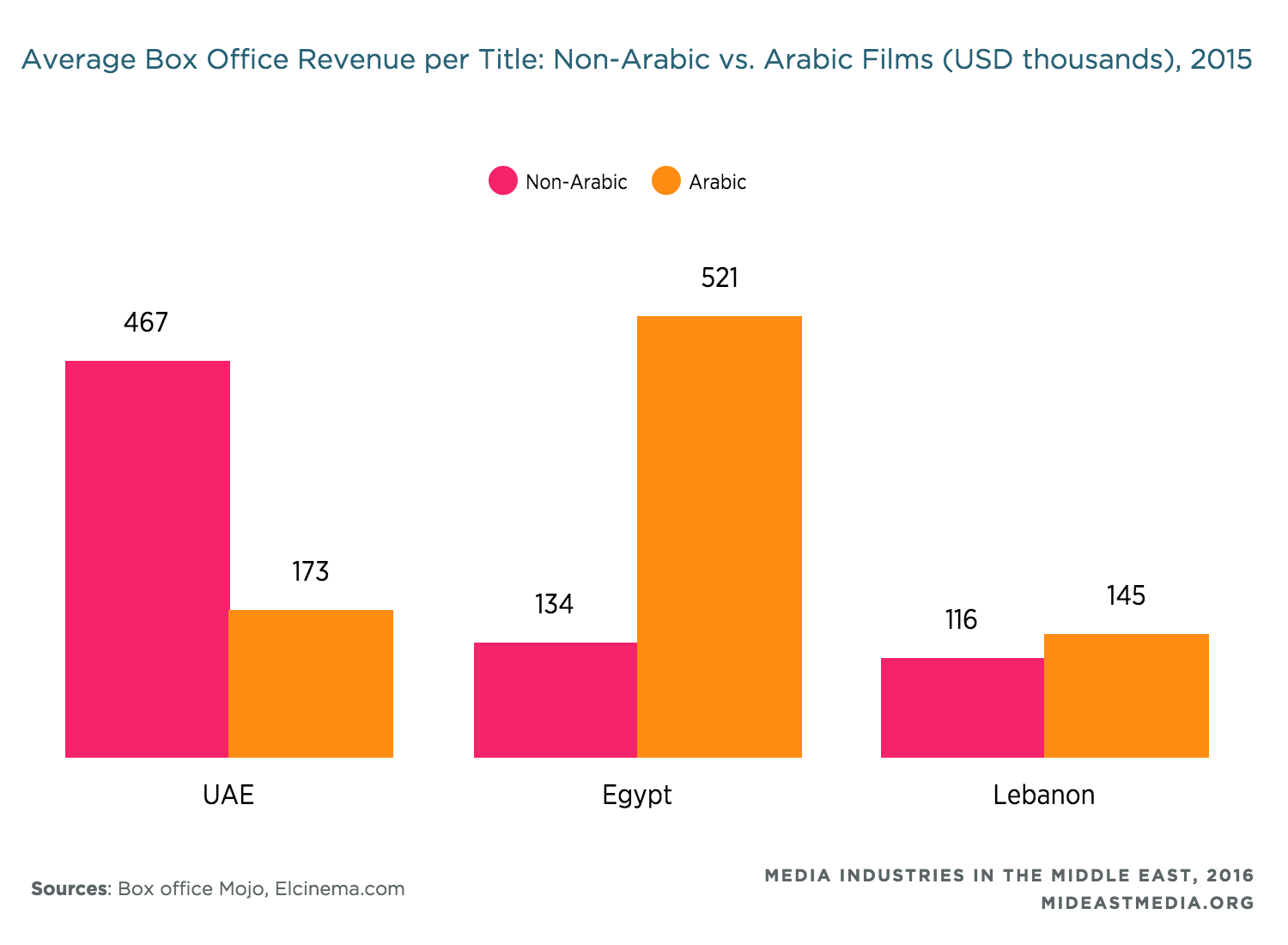 While Egyptian films hold region-wide appeal, the national markets within the region have distinct preferences and behaviors. A look at the three largest cinema markets by number of screens – UAE, Egypt, and Lebanon, which together constitute more than half of the cinemas in the region – indicates distinctive preferences and consumer patterns. For instance, in the UAE, non-Arabic language films seem to be more profitable, making almost three times more at the box office than films in Arabic. This may be credited, in part, to the large proportion of non-Arabic speaking expats that reside in the country. In Egypt, it is the other way around, with Arabic films making four times as much box office revenue than non-Arabic titles – probably due to restrictive policies on foreign films, such as high taxes and quotas on the number of foreign films allowed into the country.
UAE, Egypt, and Lebanon have the highest number of cinema screens in the region. Together, they account for more than half of all screens in MENA. Due in part to Egypt's relatively dispersed and large population of 83 million people, its screen-to-inhabitants ratio is one of the lowest in the region. Lebanon has one of the highest screen-per-capita ratios in the region due in part to its population density and consumer spending power.
Ownership of cinema screens in MENA is highly concentrated, with the top three cinema operators in the UAE, Qatar, and Lebanon controlling 70–90 percent of the screens in their respective countries. In Egypt, however, the top three cinema operators hold only a 17-percent share of total screens.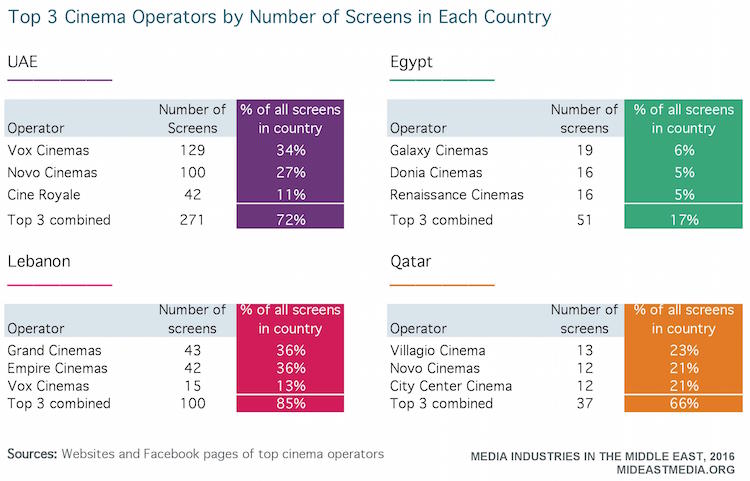 The number of titles screened and box office revenues in the UAE have grown steadily since 2012, while it has remained relatively even in Lebanon. Revenues in Egypt experienced a sharp drop during the politically volatile period around 2013, but have bounced back since.
Box office sales seem to have resisted the trend toward more people watching films on television or digital screen than in the cinema. A 2014 media-use survey conducted by Northwestern University in Qatar (NU-Q) in partnership with Doha Film Institute (DFI) shows that, on average, 45 percent of respondents watch films in the cinema, but 75 percent on TV or online. One example of cinema's resilience in the face of alternative viewing methods: 82 percent of respondents in the digitally advanced UAE said they watch movies in the theater, much more than in Egypt (28 percent) and Lebanon (46 percent).
The popularity of cinema in the UAE is also reflected in the UAE's total box office revenues, which are four to six times higher than in Egypt and Lebanon. In addition to screening far more films than Egypt and Lebanon overall, cinemas in the UAE earn more per title. On average, films screened there in 2015 made USD 444,000 per film, whereas films screened in Egypt and Lebanon only made USD 170,000 and USD 150,000 per film, respectively.
Pre-screening advertising revenues, like box office sales, are rising in the UAE and stagnant in Lebanon. Pre-roll advertisements generate about two times as much revenue in the UAE as they do in Lebanon, but on a per-screen basis. Lebanese cinemas earn twice as much as those in the UAE.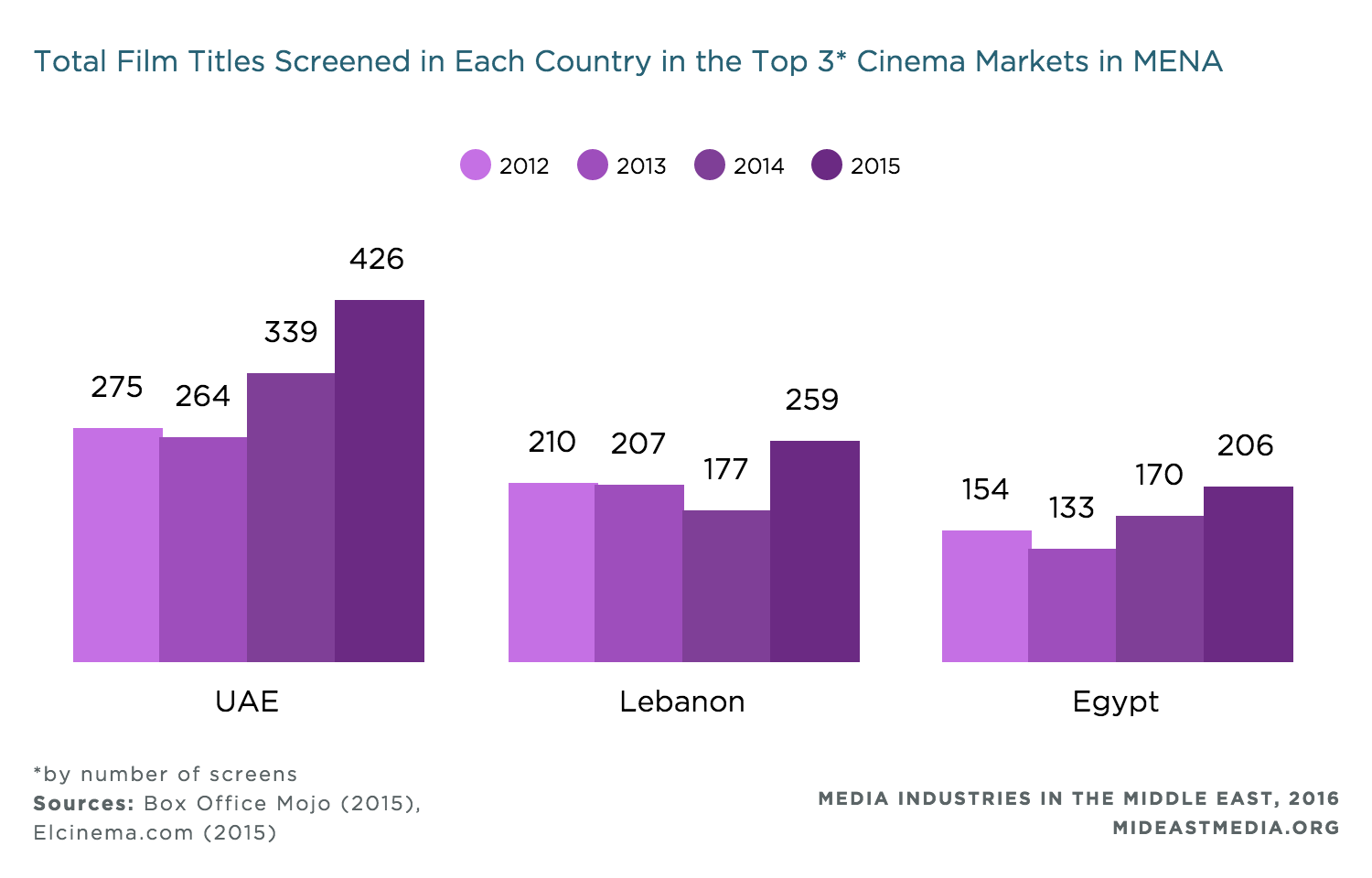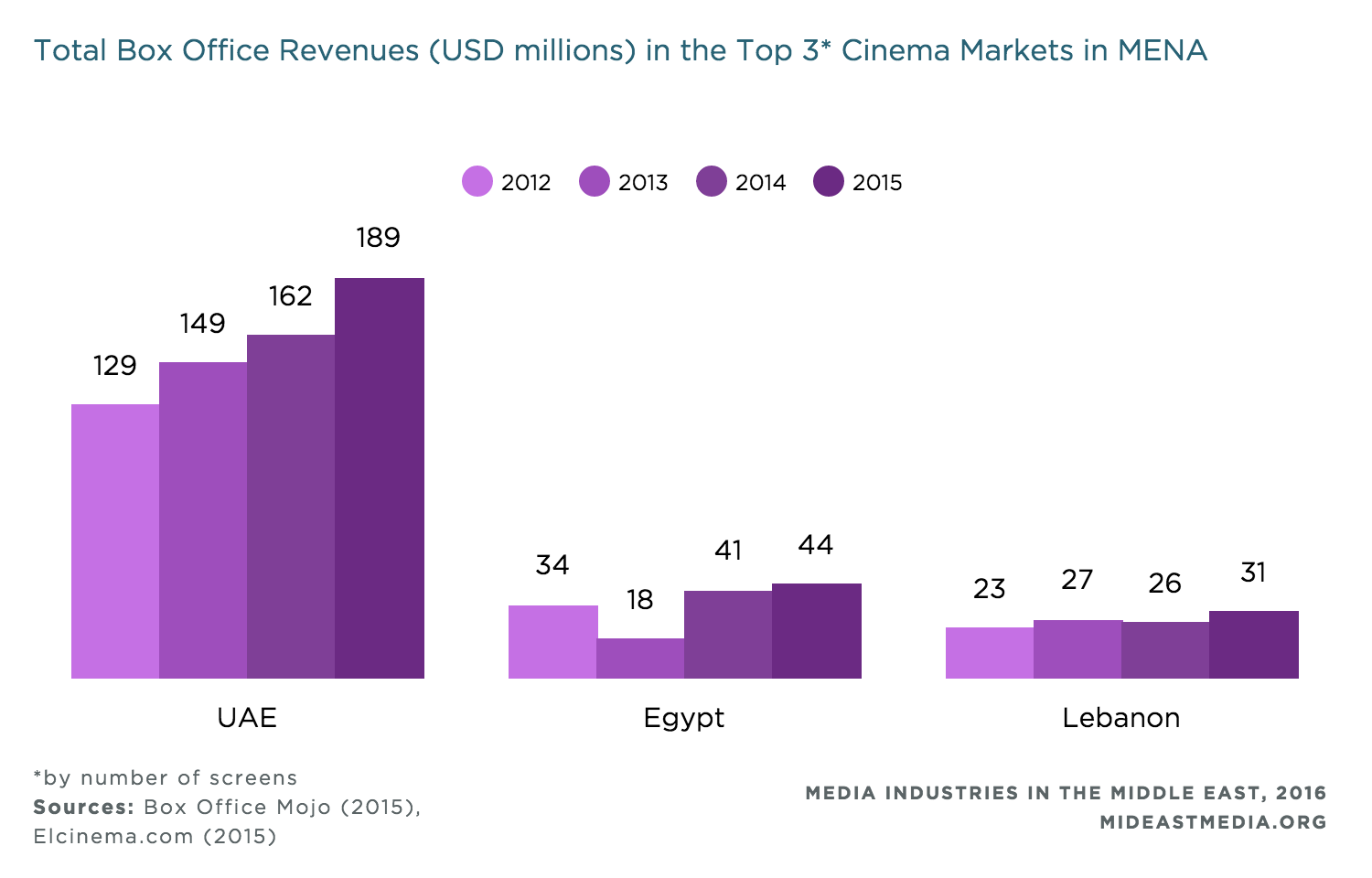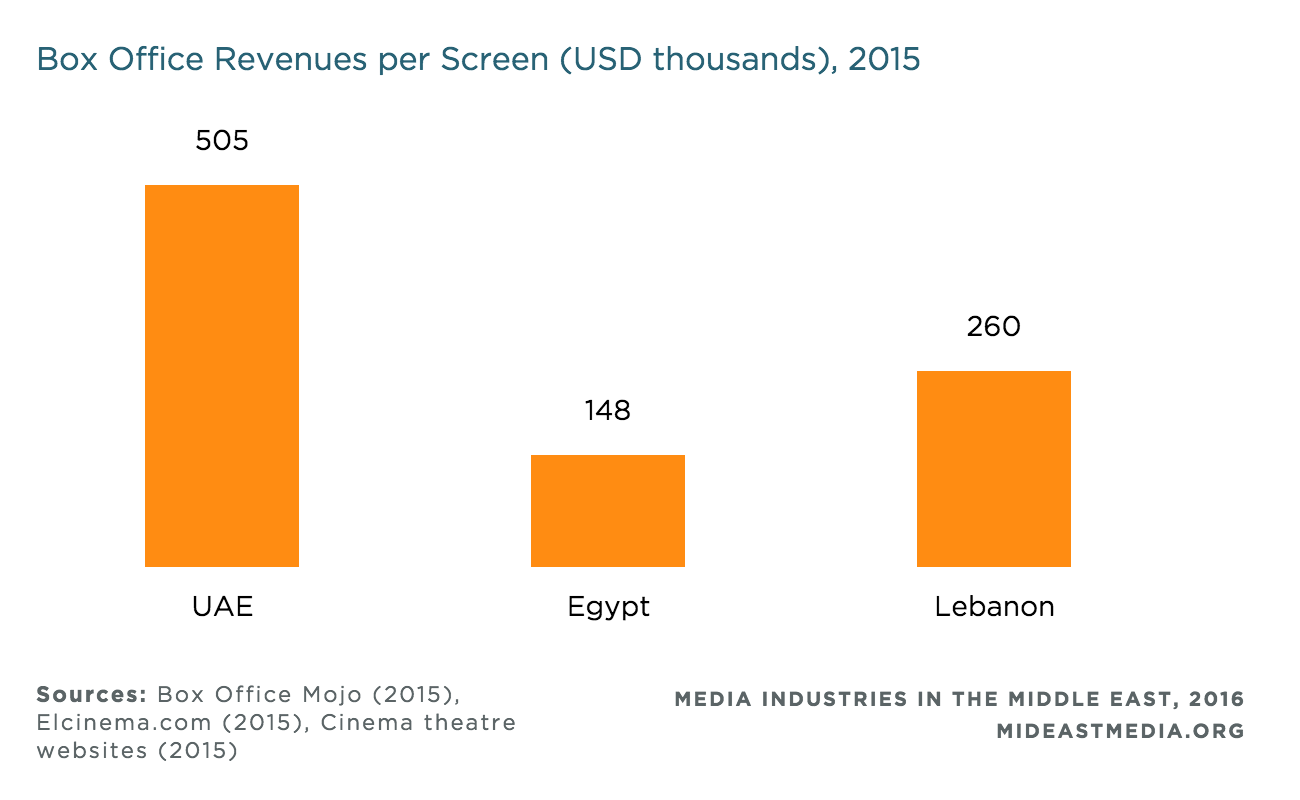 Pre-screening advertising revenues, like box office sales, are rising in UAE and stagnant in Lebanon. Pre-roll advertisements generate about twice as much revenue in UAE as they do in Lebanon, but on a per-screen basis, Lebanese cinemas earn twice as much as those in UAE.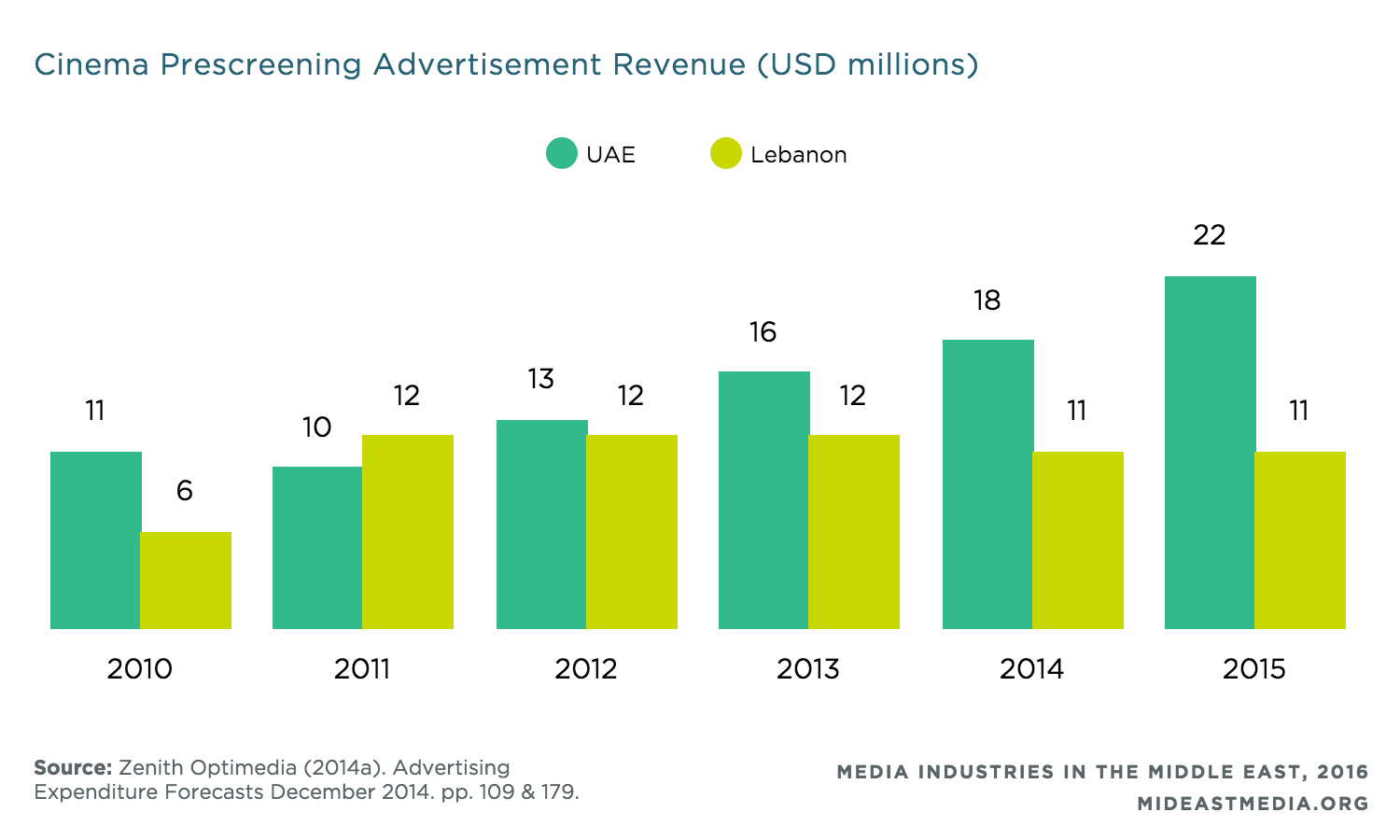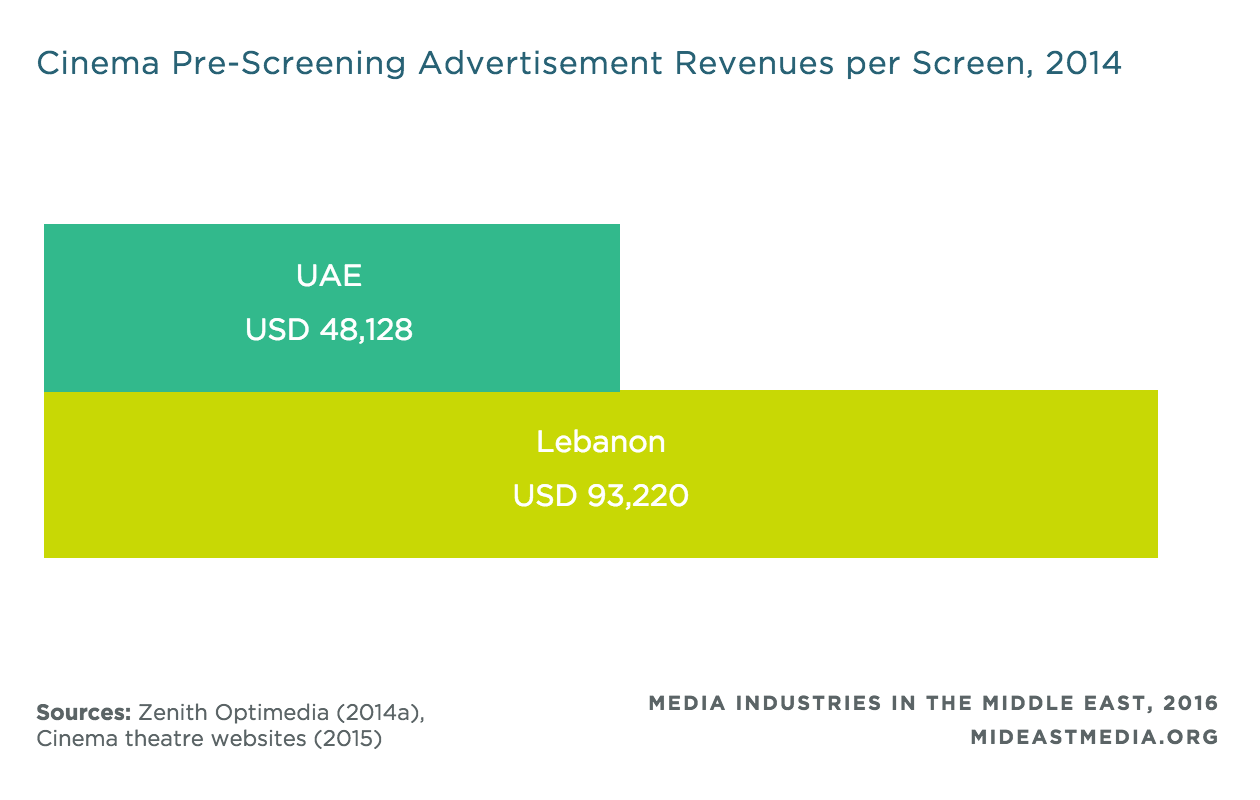 Among the three largest cinema markets in the region – UAE, Egypt, and Lebanon – only in Arabic films in Egypt earn as much as non-Arabic films. Elsewhere, Arabic films bring in only a fraction of box office sales. But in all three countries, Arabic films represent only a small portion of film titles screened.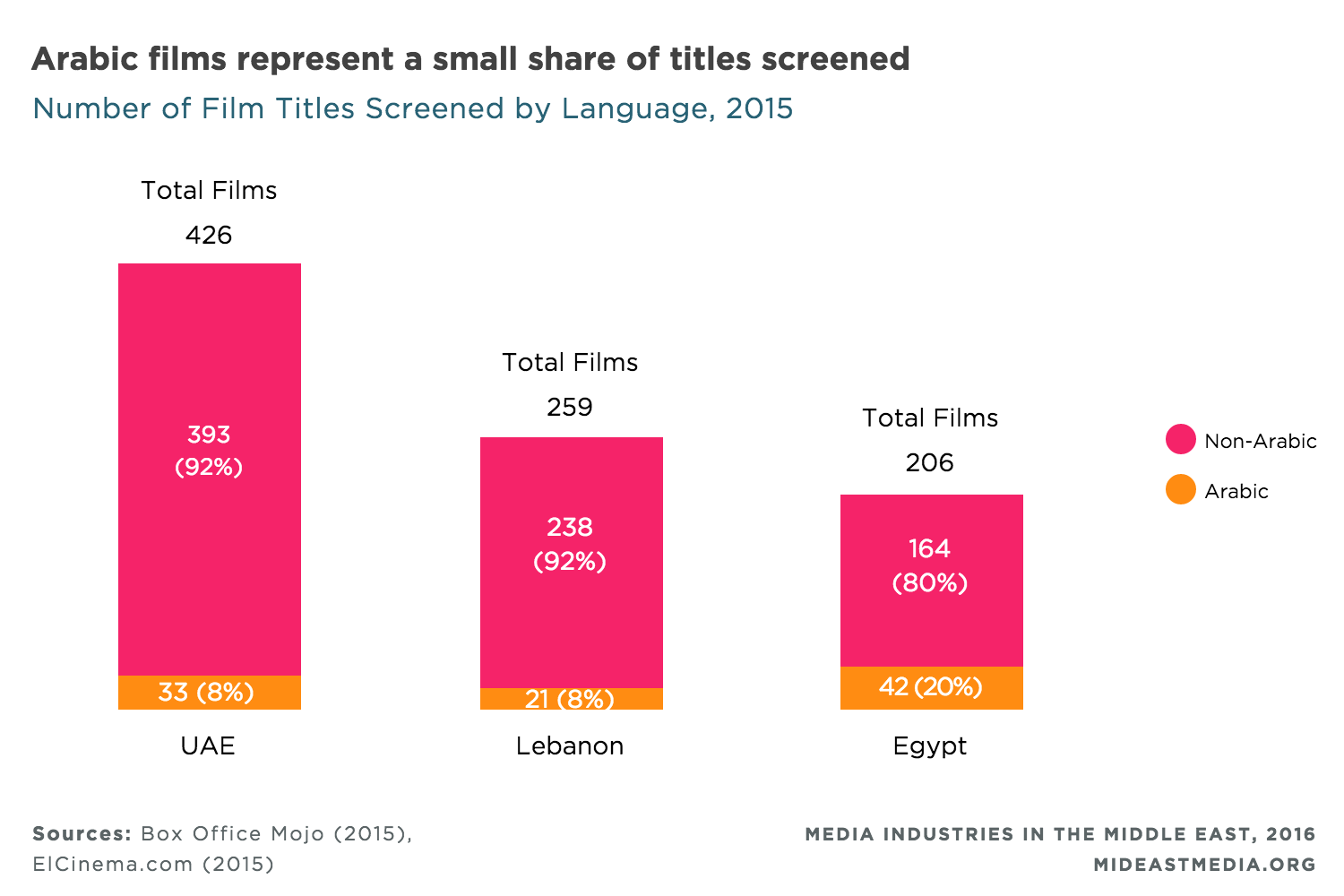 However, if we take into account the number of films screened, revenues of Arabic films versus Non-Arabic films vary dramatically between countries. So, for instance, in Egypt, the 21 Arabic films screened in theaters in 2015 generated the same amount as the 238 non-Arabic films shown that same year. The opposite seems to be true in the UAE, where non-Arabic films were more profitable than Arabic films. In Lebanon, both Arabic and non-Arabic films accounted for a similar amount of box office revenues per title.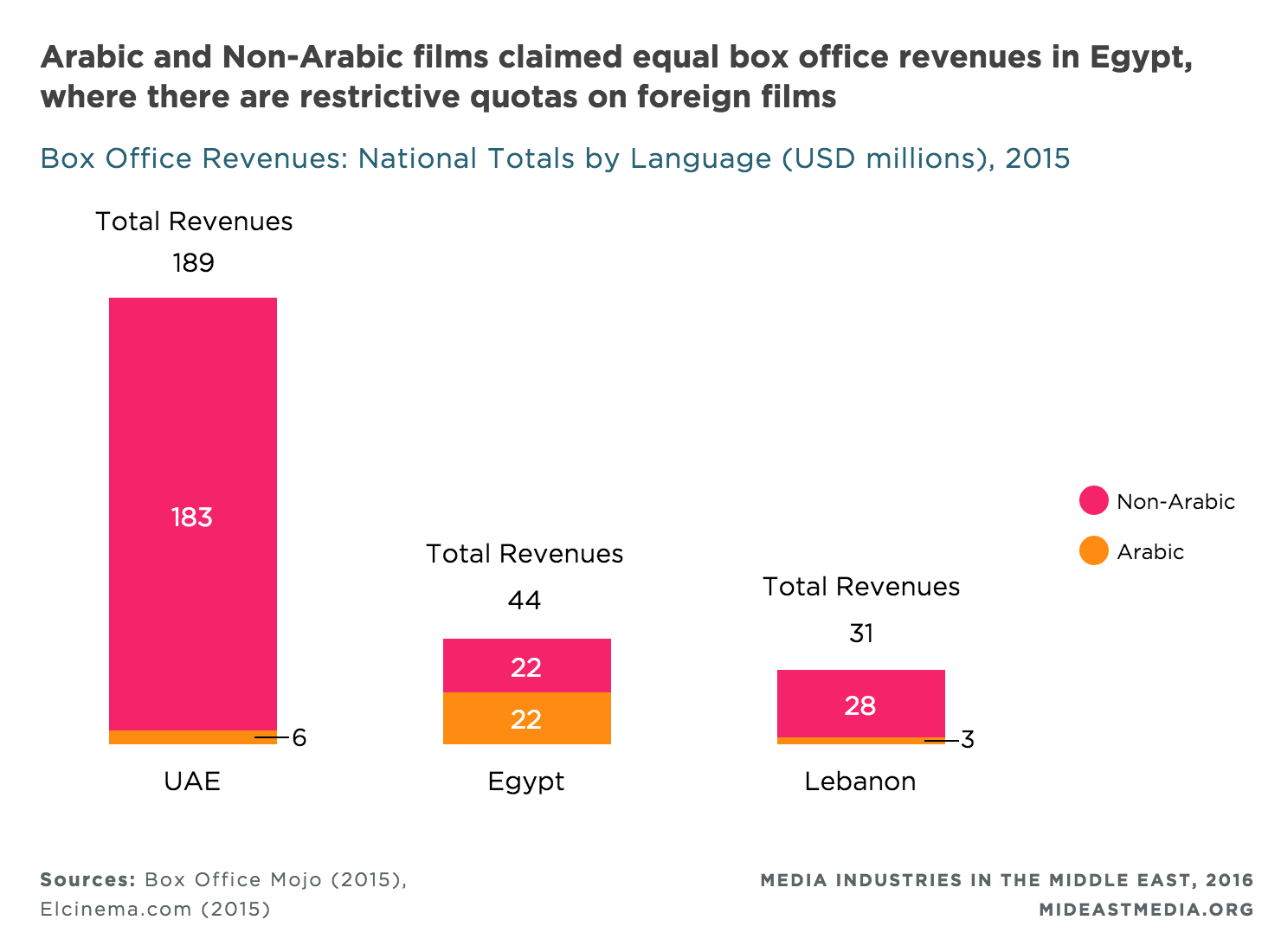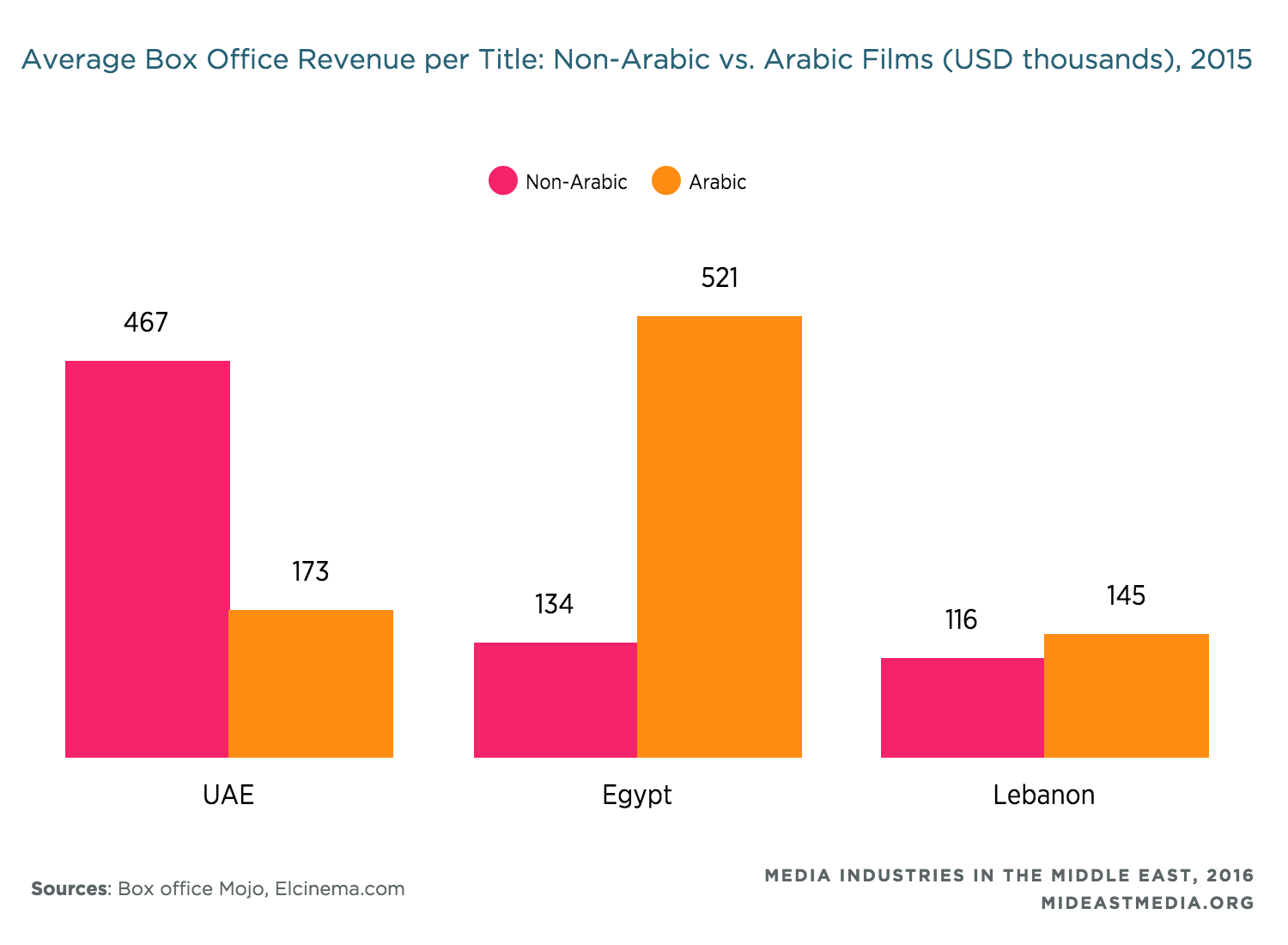 These differences may sometimes be attributed to external factors (e.g., quotas placed on foreign films in Egypt), but are also tied to viewer preferences and constraints. For example, NU-Q's 2014 media-use survey shows that only four percent of respondents in Egypt watched films in English, as opposed to 80 percent of respondents in the UAE.
In terms of genres, comedy, drama, and horror seem to dominate in all three markets and among both Arabic and non-Arabic titles. These top three genres make up an even larger piece of the pie in Arabic titles.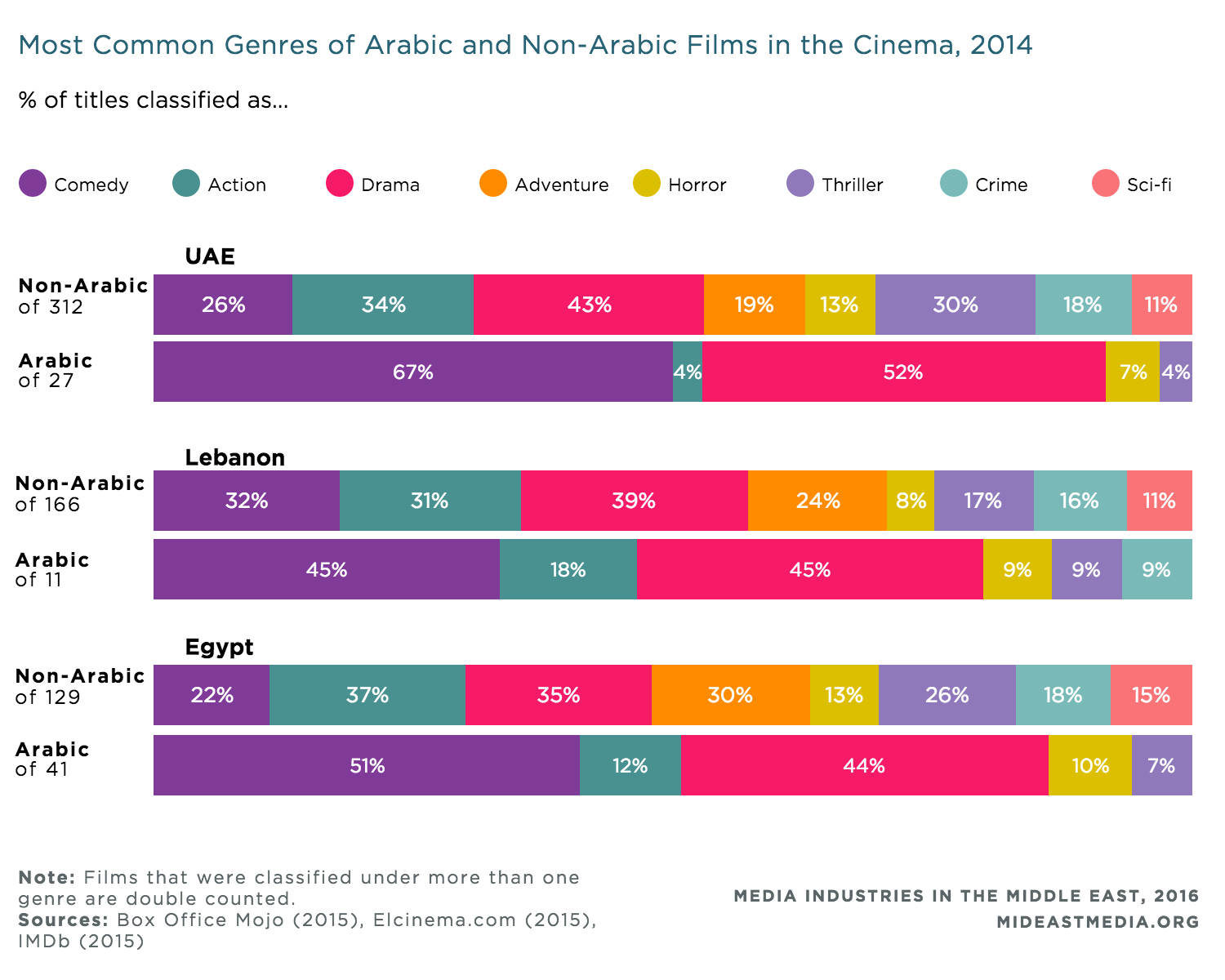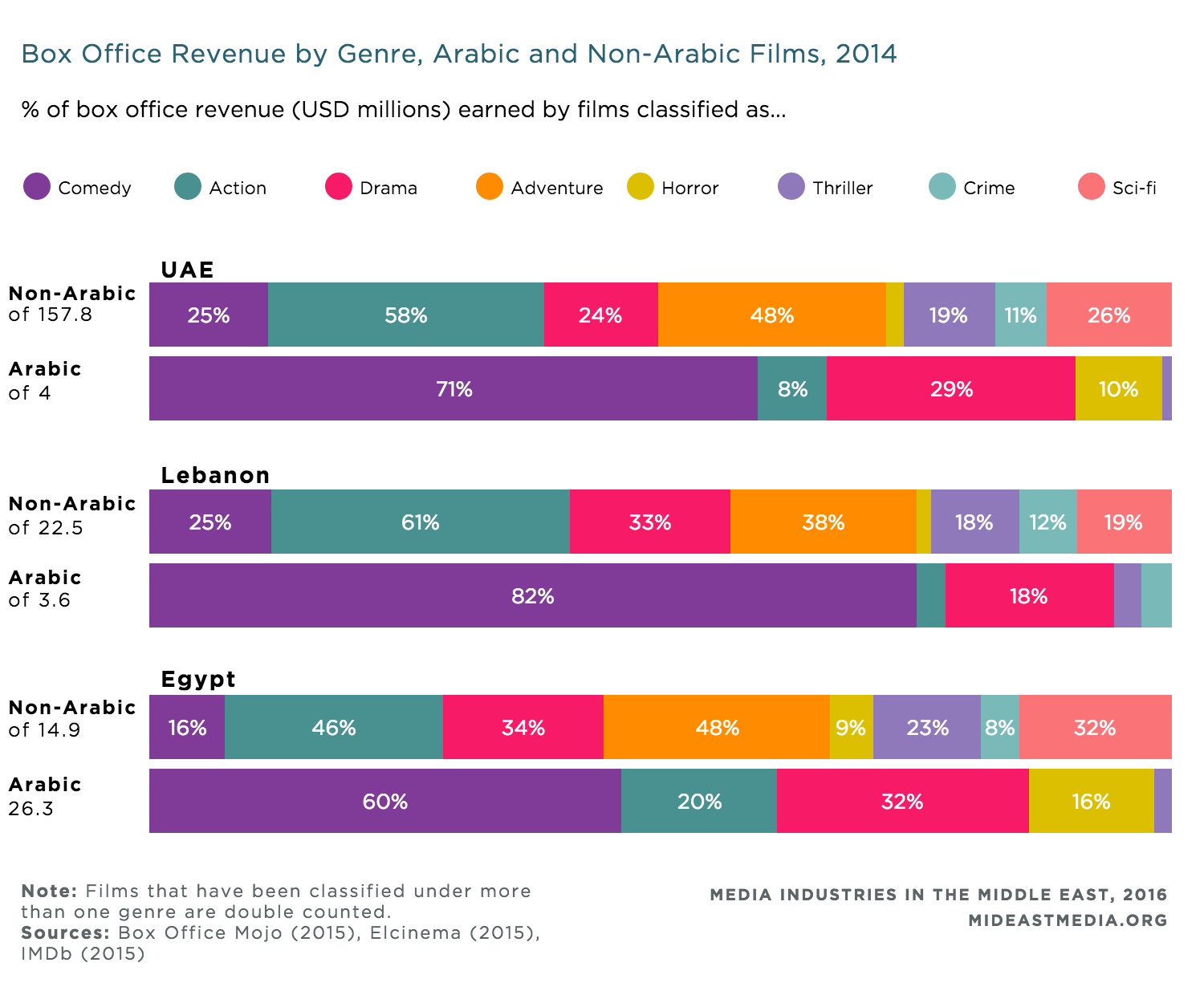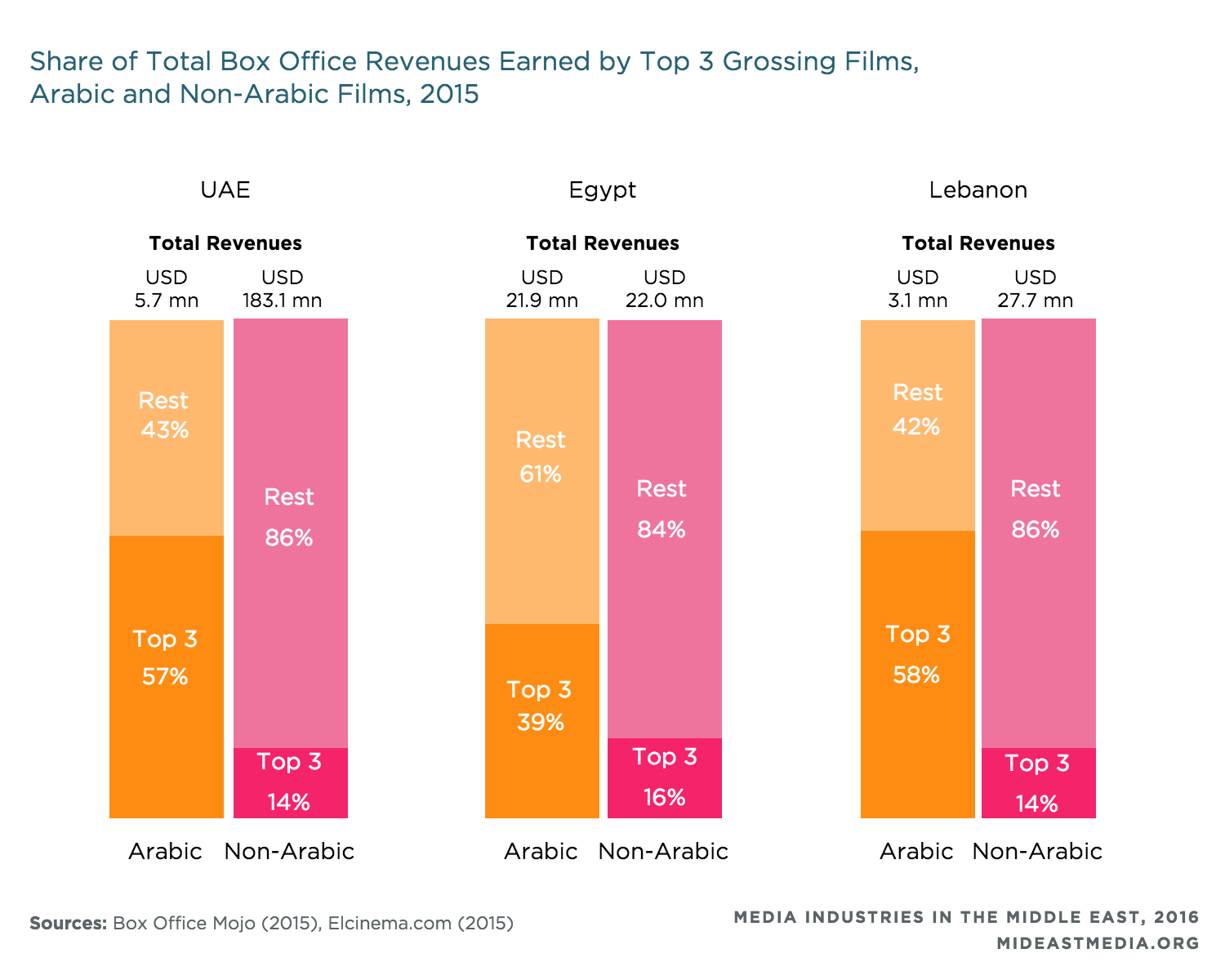 As with other media platforms across the region, the production of mainstream film is concentrated on a small number of countries. Although the UAE has outpaced Egypt in terms of mainstream film distribution in cinemas, Egypt still remains the top country for the production of mainstream film. Almost 80 percent of all films screened in the UAE, Lebanon, and Egypt – three of the biggest markets – are produced in Egypt. These films made close to 90 percent of total box office revenues in the three countries.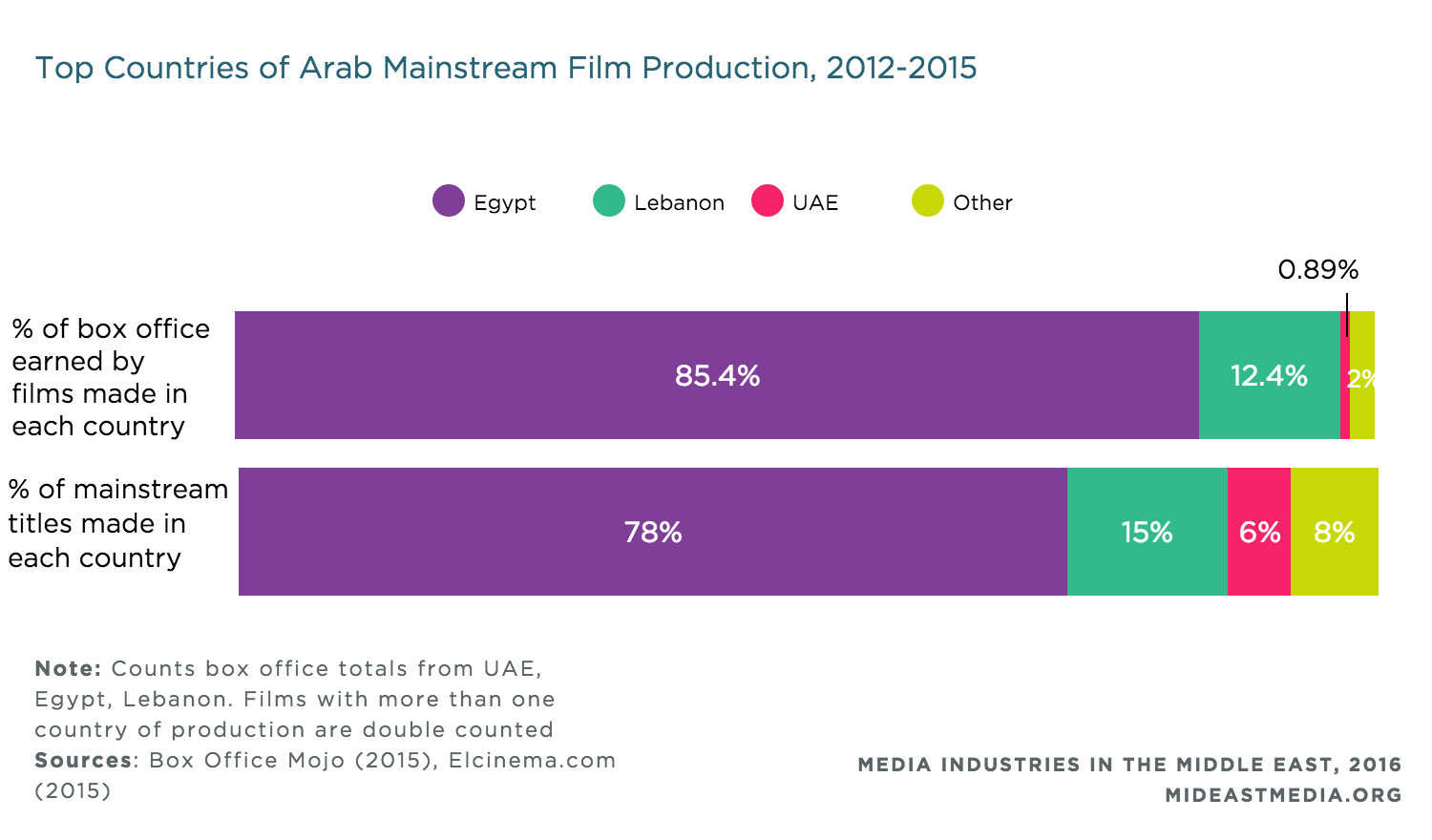 Film offerings in Egyptian theaters are far less diverse compared to the UAE and Lebanon, in terms of languages available and the countries from which those films originate. Almost all (99 percent) of films screened in Egypt were also produced in Egypt and are very rarely co-produced with another country. A wider range of films is shown in Lebanese theaters, although Lebanese and Egyptian films combined still account for 90 percent of all films screened in Lebanon. In both Egypt and Lebanon, domestically produced films generate the majority of box office revenues. This is not the case in the UAE, however, where Emirati films make up only three percent of total box office revenues in the country.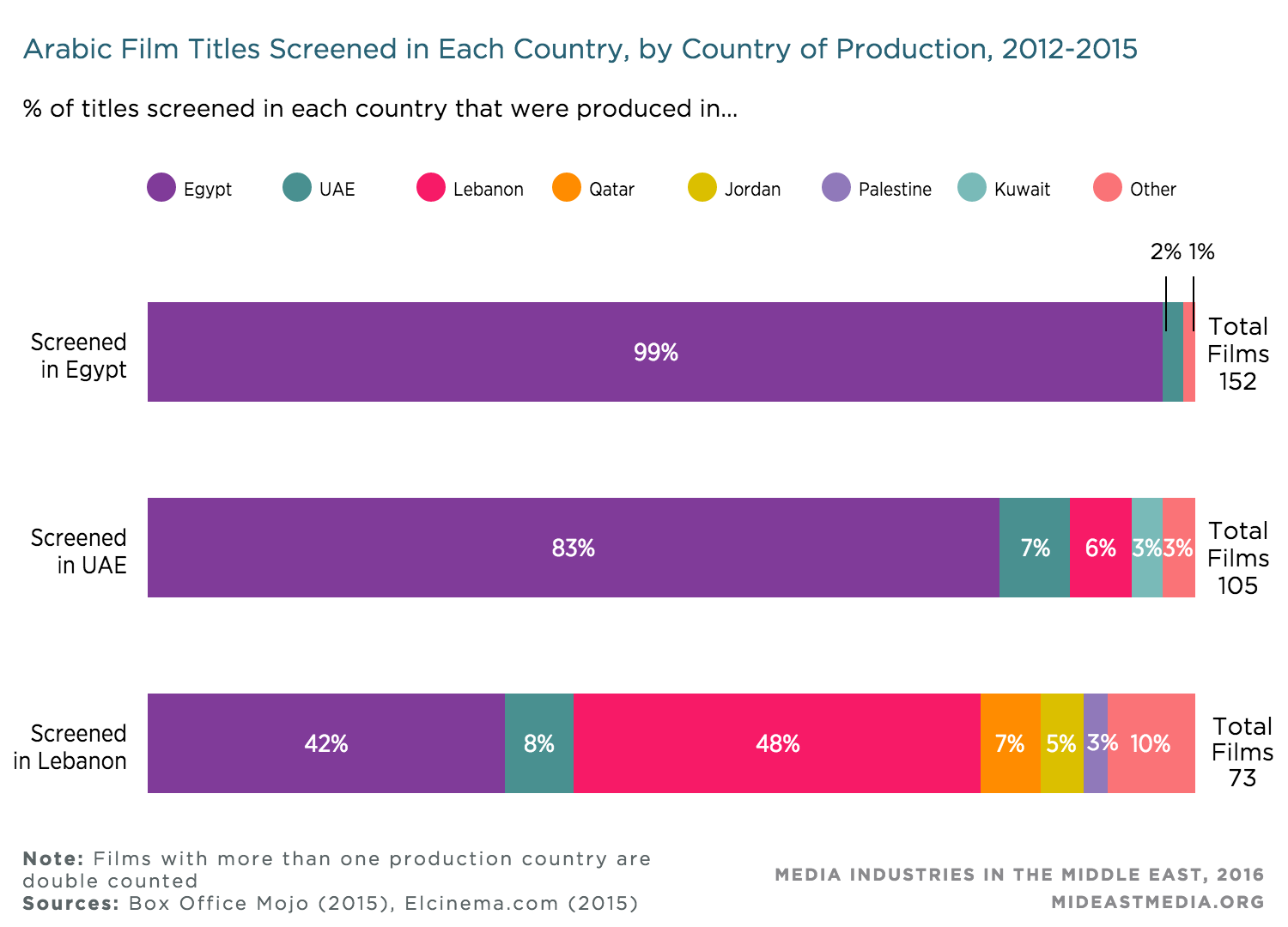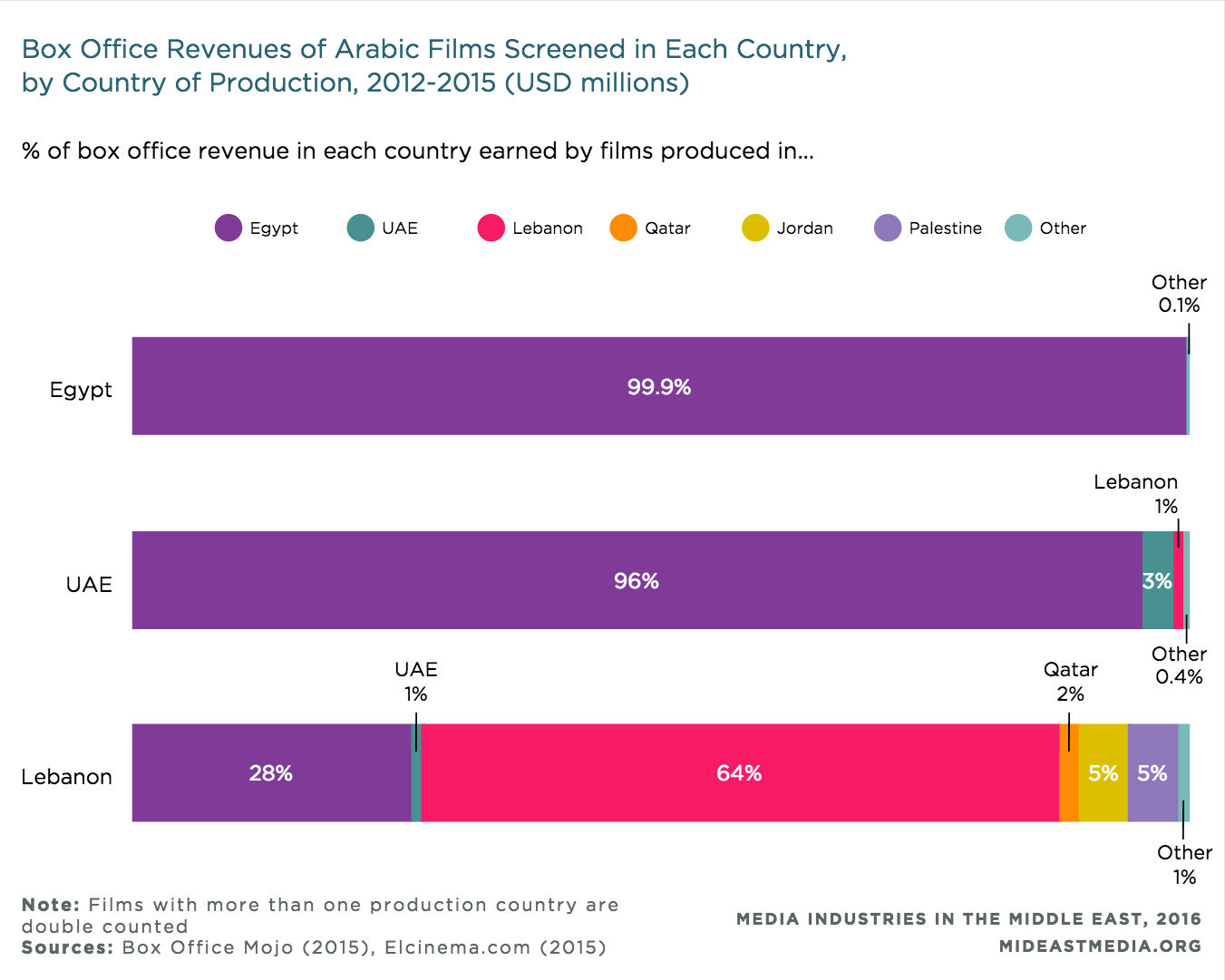 Hollywood of the Orient Facing the Challenge of Globalization
By Noha Mellor
Professor of Media and Deputy Director of the Research Institute for Media, Arts and Performance at the University of Bedfordshire
The Egyptian cinema, historically dubbed "Hollywood of the Orient," has faced difficult financial hurdles since the withdrawal of state subsidies in the 1970s. The industry had its peak during the 1930s and 1940s at the hands of Egyptian entrepreneurs who invested in building several studios and helped to make hundreds of films. The current decline in the local market and the political turmoil in the region since 2011 are some of the reasons for the falling production of around 25 films a year; film producers generally feel reluctant to embark on new output due to rising film piracy and the inability of the state machinery to protect intellectual property. The industry is dominated by a few companies, of which the largest are Albatros, owned by the businessman, Kamel Abou Ali, and Al Arabiya, owned by the veteran actress, Isaad Younes. The majority of box office revenue is from Arabic films – or more than USD 26 million in 2014 – and around 40 percent of the films are low-budget comedies which attract a large slice of the viewing audience.
The number of film theaters has increased, despite the sharp decline in local film production, particularly with the rise of hyper-malls with air-conditioned cinemas; but distributors, who are often screen owners, tend to resort to American film imports to boost their earnings. For them, the increase in imported films may save many jobs in the existing 295 film theaters struggling to find enough Arabic films to screen. Egypt has a higher number of film theaters compared to other Arab states, although the quantity per capita is only four per one million inhabitants, compared to 40 in the UAE. Furthermore, the Egyptian state requires film financiers to fund one Arabic film for every two foreign films they import, in addition to imposing a high sales tax on them. The state protects its import monopoly by limiting the quota to 300 foreign films a year and 10 copies of each foreign film. The importation of additional copies means a reduction of unit price and, therefore, an increase in the profit margin for film distributors; they are now demanding an increase to 30 copies per foreign film.
The competition of satellite film channels, together with the DVD industry, has contributed to squeezing profit margins in the film industry. The television industry also benefits from the flow of American output, with many stations importing American films and series to fill the empty programing slots, especially with the popularity of syndicated programs such as Who Wants to Be a Millionaire. Commentators fear what they call an "American cultural incursion," however, as more and more Egyptian youth adopt a seemingly "Western" lifestyle. The concern regarding local culture erosion has been exacerbated by the spread of consumerism and multinational corporations such as Coca-Cola and McDonald's. Globalization for these commentators has become another name for Americanization.