In the Middle East, important drivers for growth in the digital market appear to be in place. With its number of Internet users almost doubling in the last five years, MENA is one of the fastest growing online markets in the world. Similarly, the number of Arabic-speaking Internet users has more than doubled since 2010, a much higher growth rate compared to other languages. As such, MENA's share of global Internet users has grown by a factor of four in the past 15 years, and is now on par with its share of the world population (about 4 percent). But there is a perceptible digital divide across the region with Internet penetration in the GCC states at or near the levels of developed countries, and parts of North Africa lagging behind. Also, smartphone penetration in the GCC countries is one of the highest in the world, but tapers off in Levant and North African markets.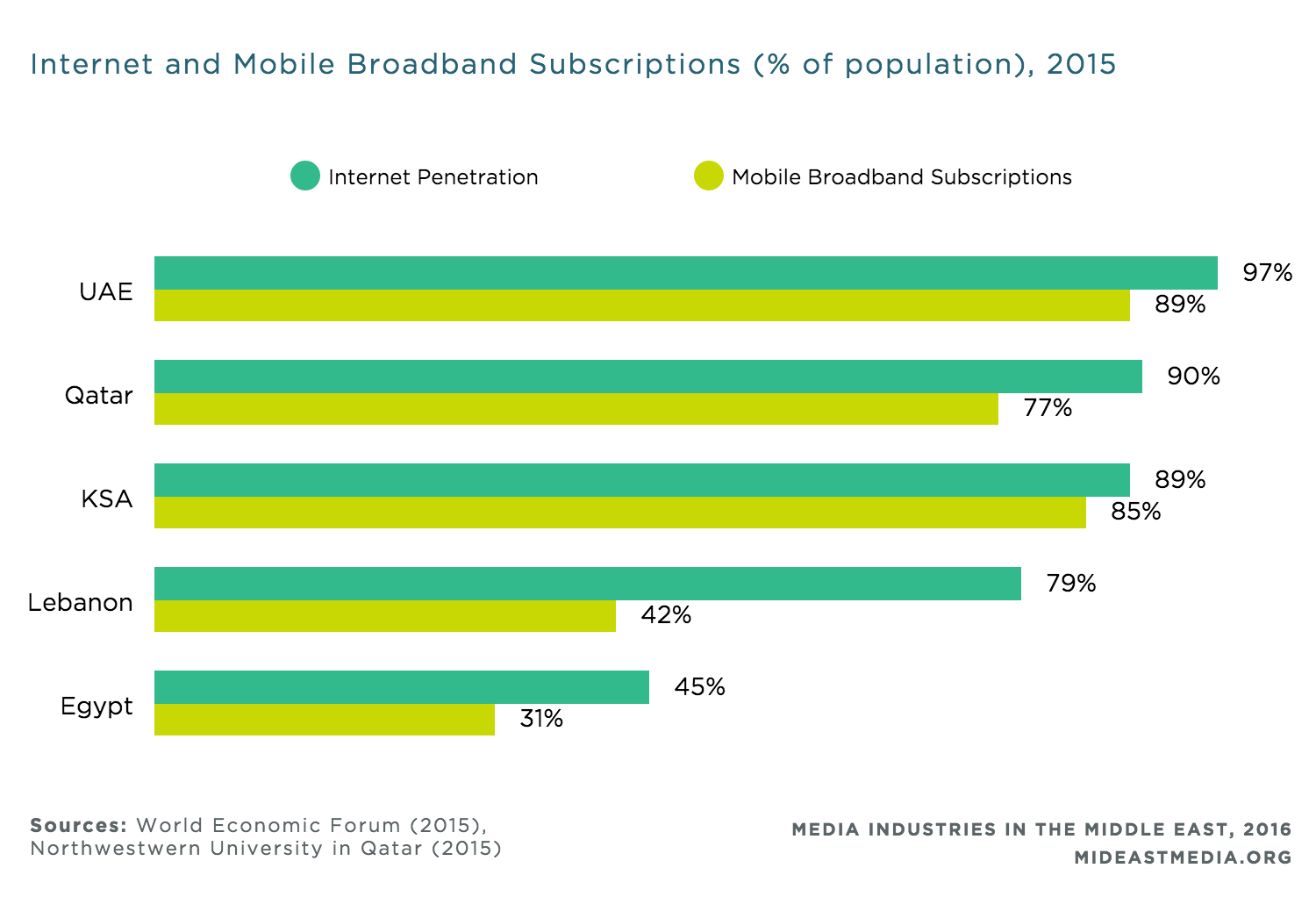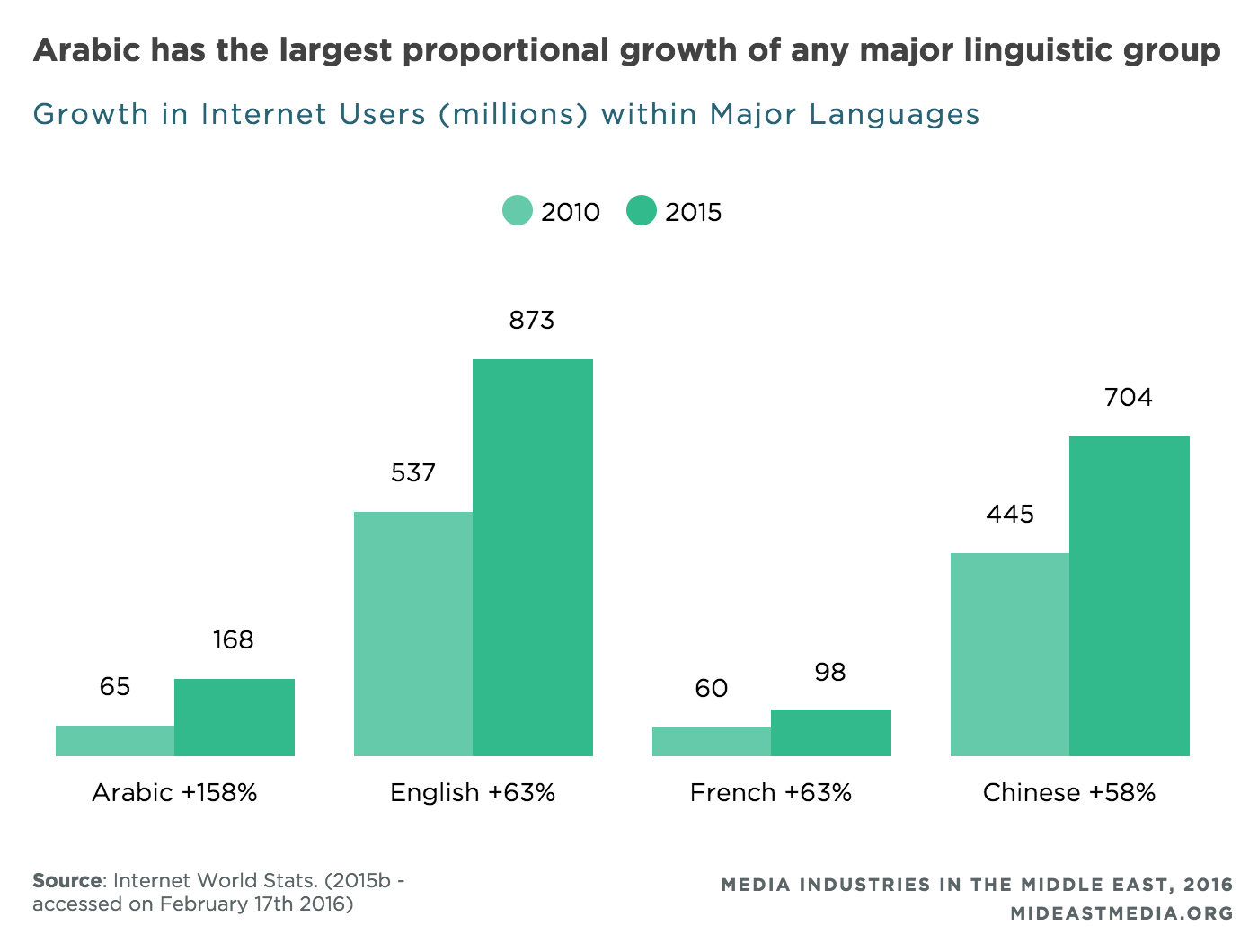 Despite a rapid increase in the number of Arabic-speaking Internet users, Arabic content remains one of the most under-represented languages online in terms of its share of the world's websites. Even in predominantly Arabic-speaking countries like Egypt, a third of the top 50 visited websites are either not available in Arabic or do not include Arabic as the "default" or primary language.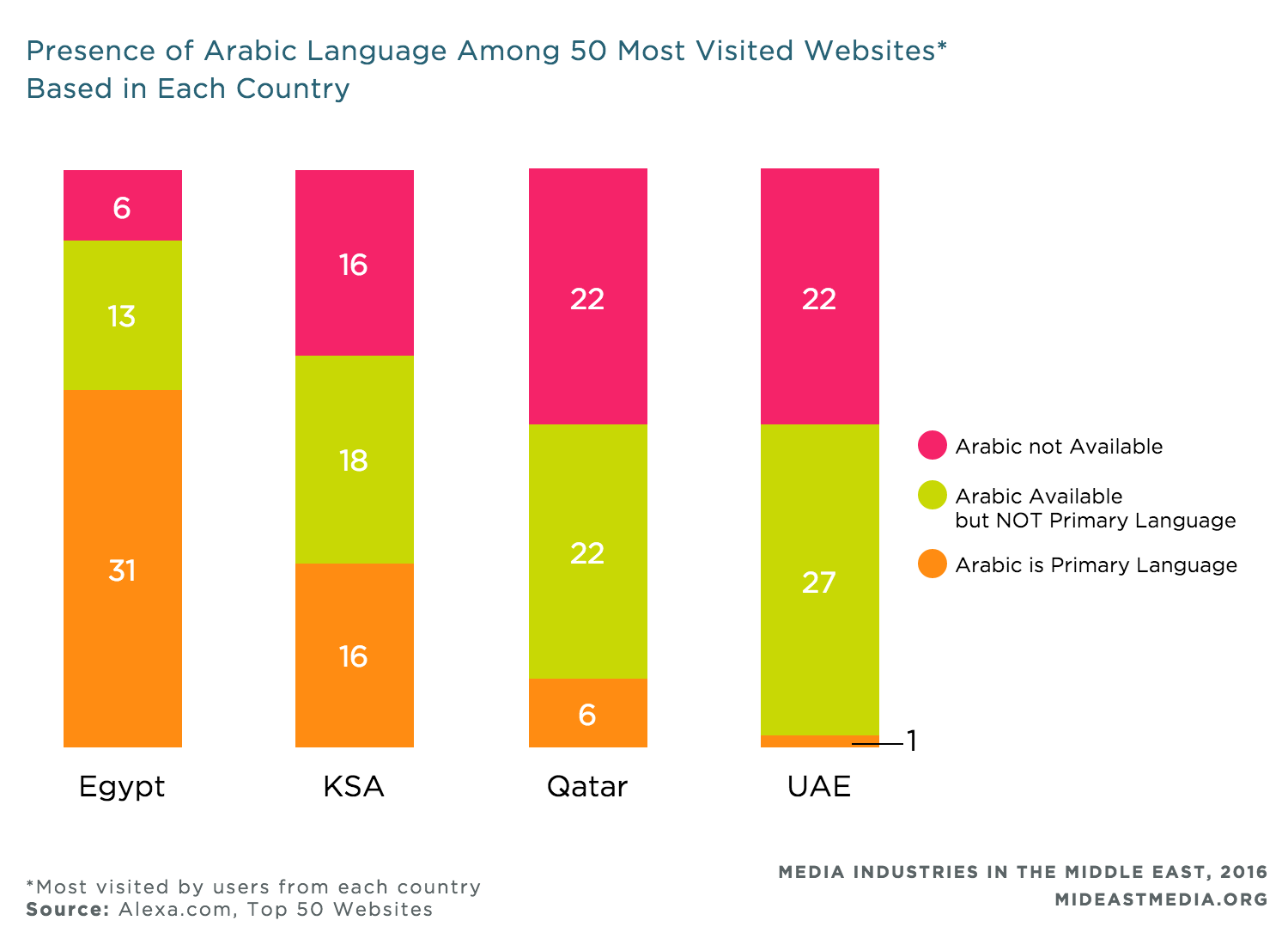 Unlike other world regions where content consumption has migrated from desktop to mobile, the MENA region has seen a 60 percent increase in traffic in certain verticals like online video generated by mobile. Mobile has therefore been an integral part of the content delivery strategy of most providers across the region.
The MENA region is also seeing an increasing trend toward verticalization of content with an increasing number of dedicated online platforms targeting news, fashion and lifestyle, sports, and music. In addition, certain verticals such as online video are seeing the advent of home-grown, multi-channel networks with predominantly Arabic content, and which center around verticals such as comedy, music, religious, and general entertainment. These networks have witnessed an initial phase of aggressive growth, but now face challenges in scaling their business models and expanding their content into new genres.
From a distribution perspective, over-the-top (OTT) services are witnessing significant activity in high-bandwidth Gulf states with the emergence of pure-play OTT providers. Major television networks are increasing their premium online offerings while international digitally-native services such as Netflix are expanding into the region. The advent of these different platforms is an important trend that will impact the type of content that gets produced and distributed in the region over the coming years.
However, growth of revenue streams from online content do not appear to keep pace with the growth in Internet penetration rates and improved digital infrastructure. Digital's share of total advertising, albeit on an upward trajectory, still lags behind mature markets and accounts for roughly 10 percent of total advertising spend in 2015.
Low rates of credit card use – a prerequisite for digital purchases – coupled with the ubiquity of free or pirated content, have continued to hinder the monetization of content for both traditional and digitally native media companies. While GCC countries like the KSA and the UAE command premium rate cards to the rest of the region, a large proportion of emerging traffic comes from countries in the region where the political and economic situation is relatively turbulent. This has impacted the ability to monetize traffic generated from these markets, but could represent a potential growth area for digital advertising spend.
Note for this chapter:
Digital media: Media content provided via electronic means (e.g., media that can be created, viewed, modified, and stored on a computer). Digital media includes both digital content production (film production, TV and video series production, music & audio production, news & information production) and digital content distribution (short- & long-form video platforms, digital music streaming, podcasts, digital audiobooks, digital news platforms, digital magazine platforms, social media).
Over the past decade, the MENA region has undergone a marked technology transformation to improve its digital readiness. The region's progress in Internet penetration is led by the GCC, which comes close to Western markets and other international benchmarks like Singapore. Despite modest growth, most other MENA countries have significantly lower Internet penetration rates.
Although the number of unique mobile subscribers across the region is keeping with global trends, major disparities exist in the region when considering mobile and smartphone uptake. While GCC countries have world-leading smartphone penetration levels, countries like Egypt, Lebanon, and Algeria where less than half the population has a mobile connection.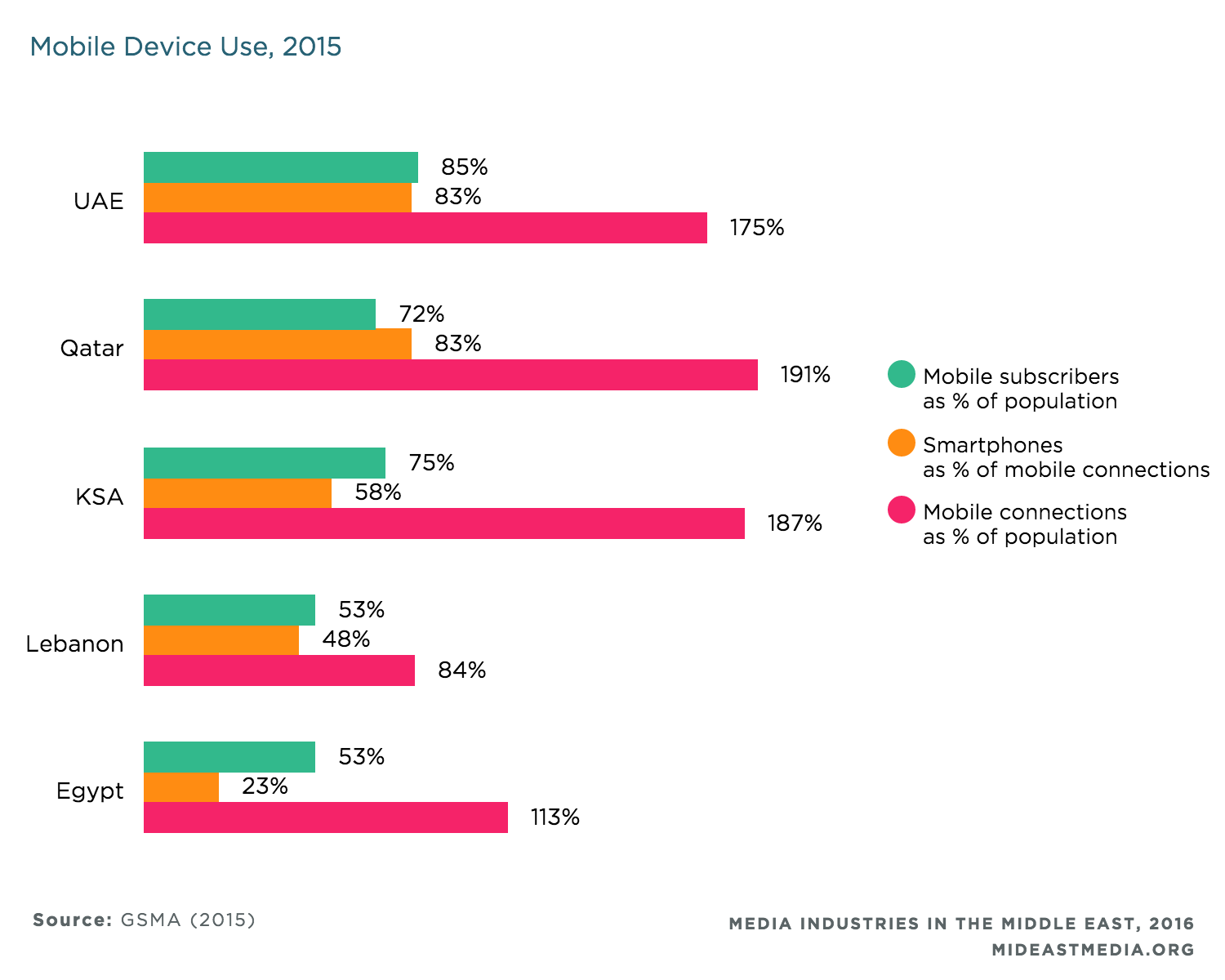 Internet bandwidth – a key factor in the uptake of digital media – has improved significantly over the past several years for most countries in MENA. However, as a whole, the region is still far behind developed markets.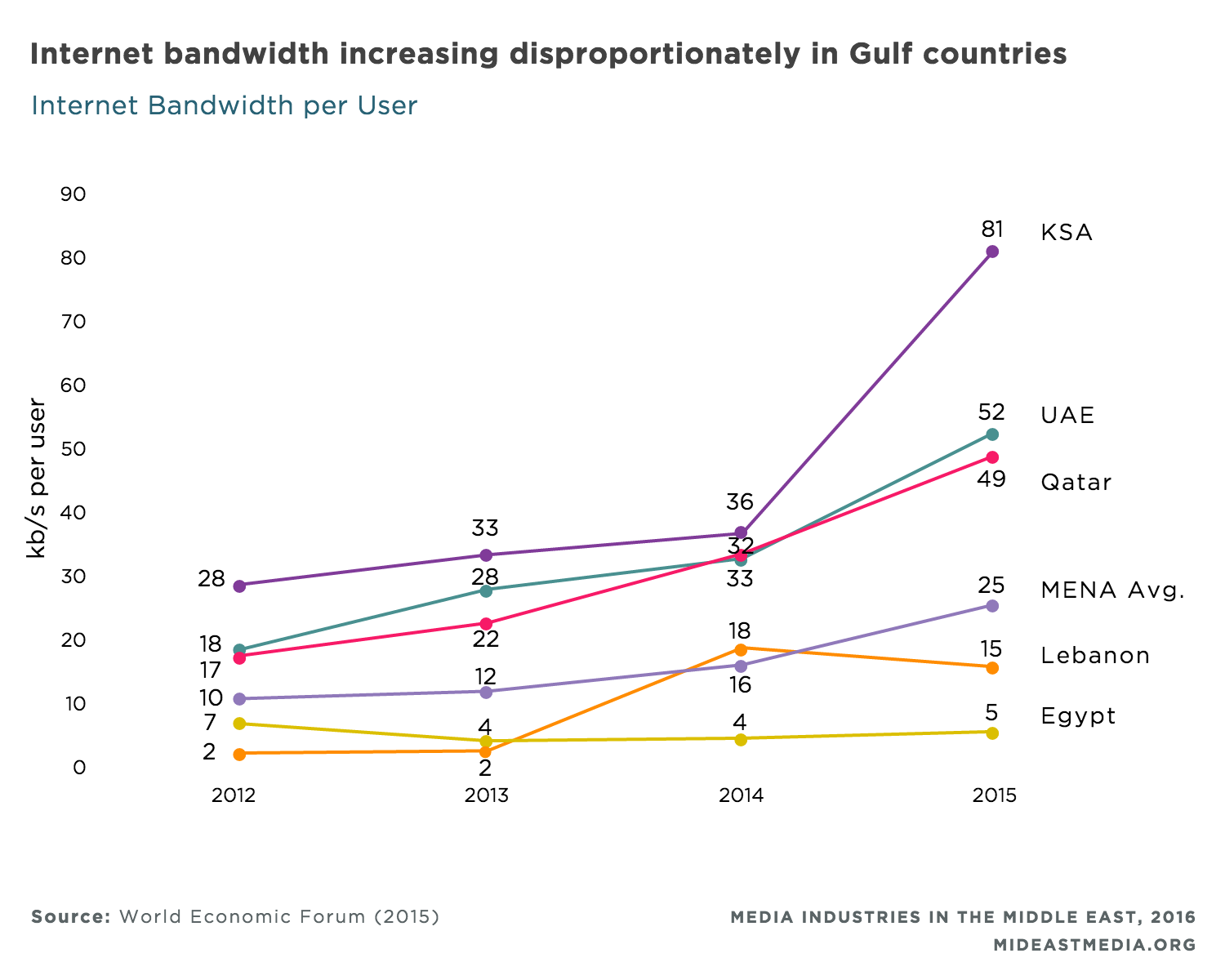 Beyond the lack of connectivity, other impediments to the monetization of online content exist. Primarily, there is a large supply of free, good-quality content and a limited willingness to pay for digital content among MENA populations. Poverty rates and the low penetration of credit cards in some countries in the region also make it difficult to monetize content.
While Arabic Internet users constitute the fastest growing language segment in the world, a big gap exists between the share of Arabic-language websites online and and the number of Arabic-speaking Internet users. Even in a majority Arabic-speaking countries like Egypt, a third of the top websites are not produced locally or at least developed in Arabic. However, by some measures, Arabic content is more common on social media than on traditional websites. Given the relatively late development of Internet infrastructure in much of the region, this may suggest that much of the Arab world came online at a time during or after the emergence of the social web. On Twitter, 6 percent of tweets in 2013 were in Arabic. Similarly four percent of Facebook users are Arabic-speaking.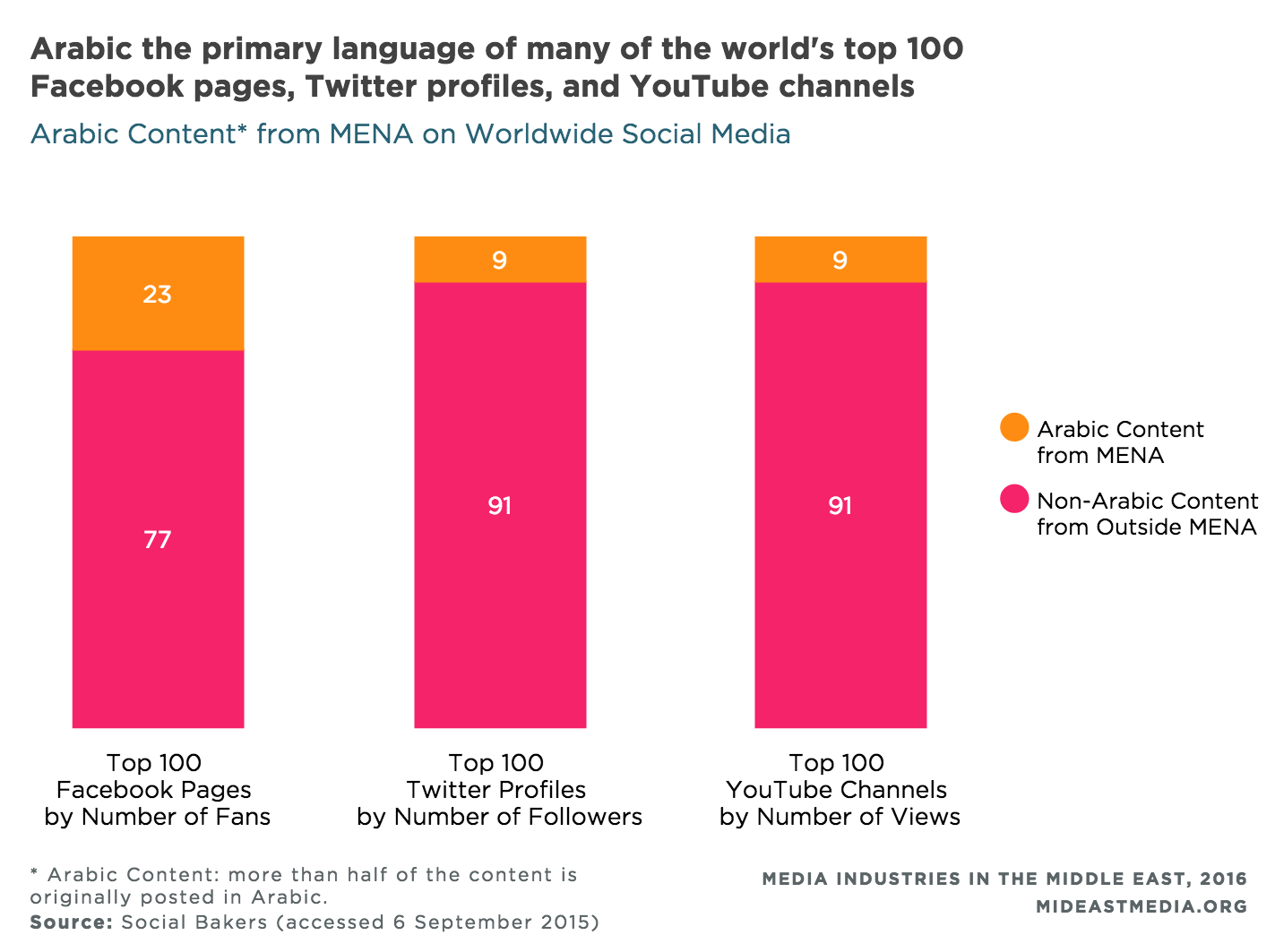 Over the years, traditional media platforms have increasingly introduced digital versions of their content to engage with a wider consumer following. This has been taking place across most traditional media.
Most online newspapers provide key user-engagement features like social media support and the ability to post comments. Also, few online newspapers offer "ease of use" features like "most read' lists and "advanced search." However, a large number of those newspapers still have no online advertising while slightly more than half offer membership – a critical first step in developing paywalls and freemiums.
Although all top 10 newspapers in the five focus countries have a website version, only 64 percent have an app and none charge for content. This would suggest that news and information providers are missing out on a major opportunity by failing to develop highly usable and interactive online and mobile sites.
While magazines in the UAE and Lebanon have developed a significant digital and social media presence, magazines in other markets like Saudi Arabia and Egypt have not kept pace. For example, only up to 60 percent of top 10 magazines across Saudi Arabia and Egypt are on social media, with well under half present on YouTube.
Most of the top radio stations in the region do have some sort of online presence. However, the range of services offered (e.g., non-tuneIn streaming, app, podcast) is generally smaller than in advanced markets (e.g., only 20 percent of radio stations in the UAE offer downloadable podcasts and other countries do not offer this at all). In recent years, local and international music streaming services have entered the market, providing a new vehicle for music consumption. While some local music streaming sites have become popular over the past few years, competition is on the rise as major global brands enter the market (e.g., Deezer, Apple Music). Further, leading online music websites in the region generally focus on local and international music streaming and illegal mp3 file downloads.
In terms of TV and video content, international video sharing platforms, such as YouTube, Dailymotion, and Vimeo, dominate the market. While social media connectivity is ubiquitous, other important online user engagement offerings (e.g., polls) are still missing among the top TV channels. Basic features like schedules and advertising also remain low across the market. Additionally, none of the top 10 TV stations surveyed in September 2015 had any paywalls or freemiums in place. While the global transition to short-form video is important, traditional TV programming continues to be a very important platform both in terms of amount of consumption and ad revenues.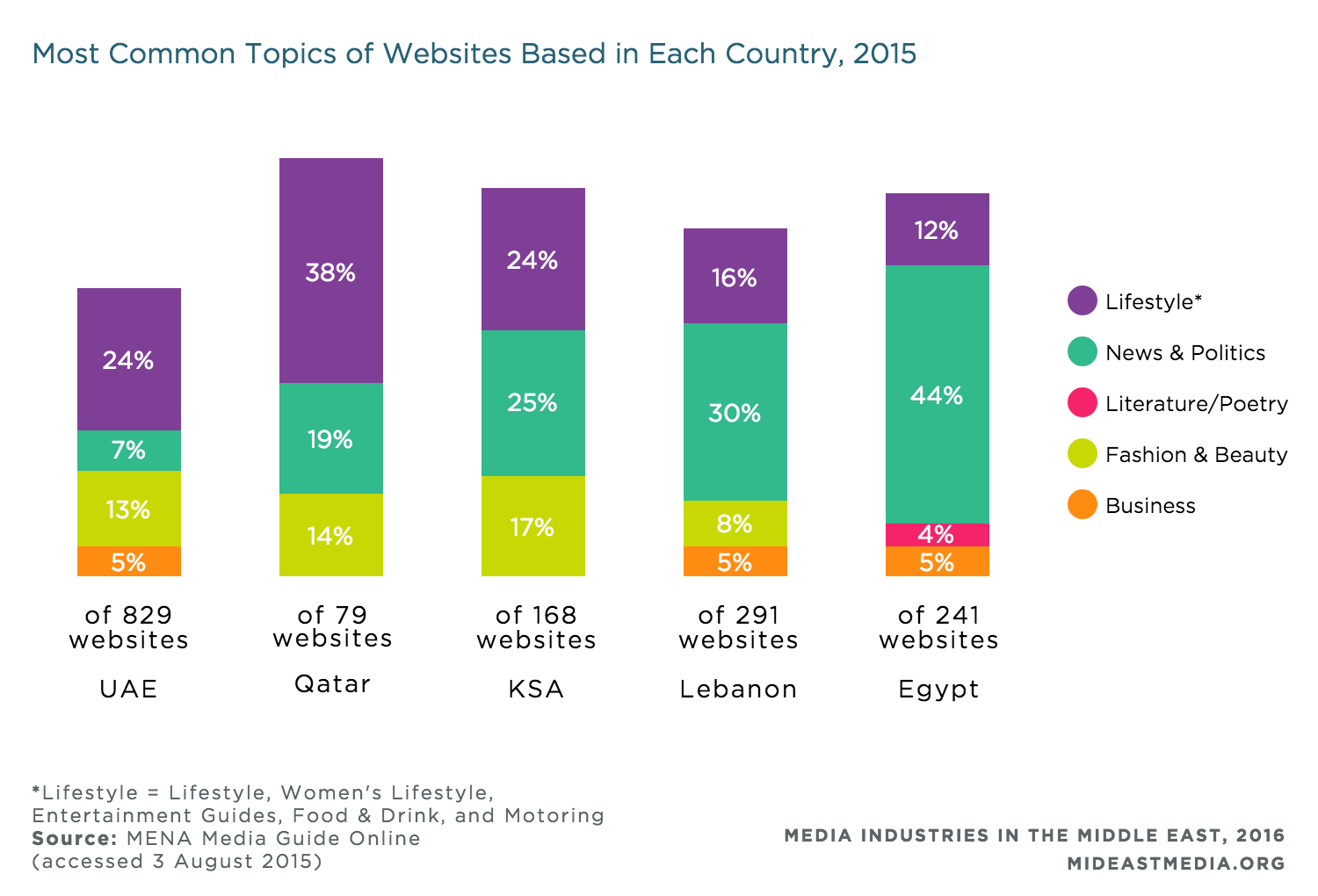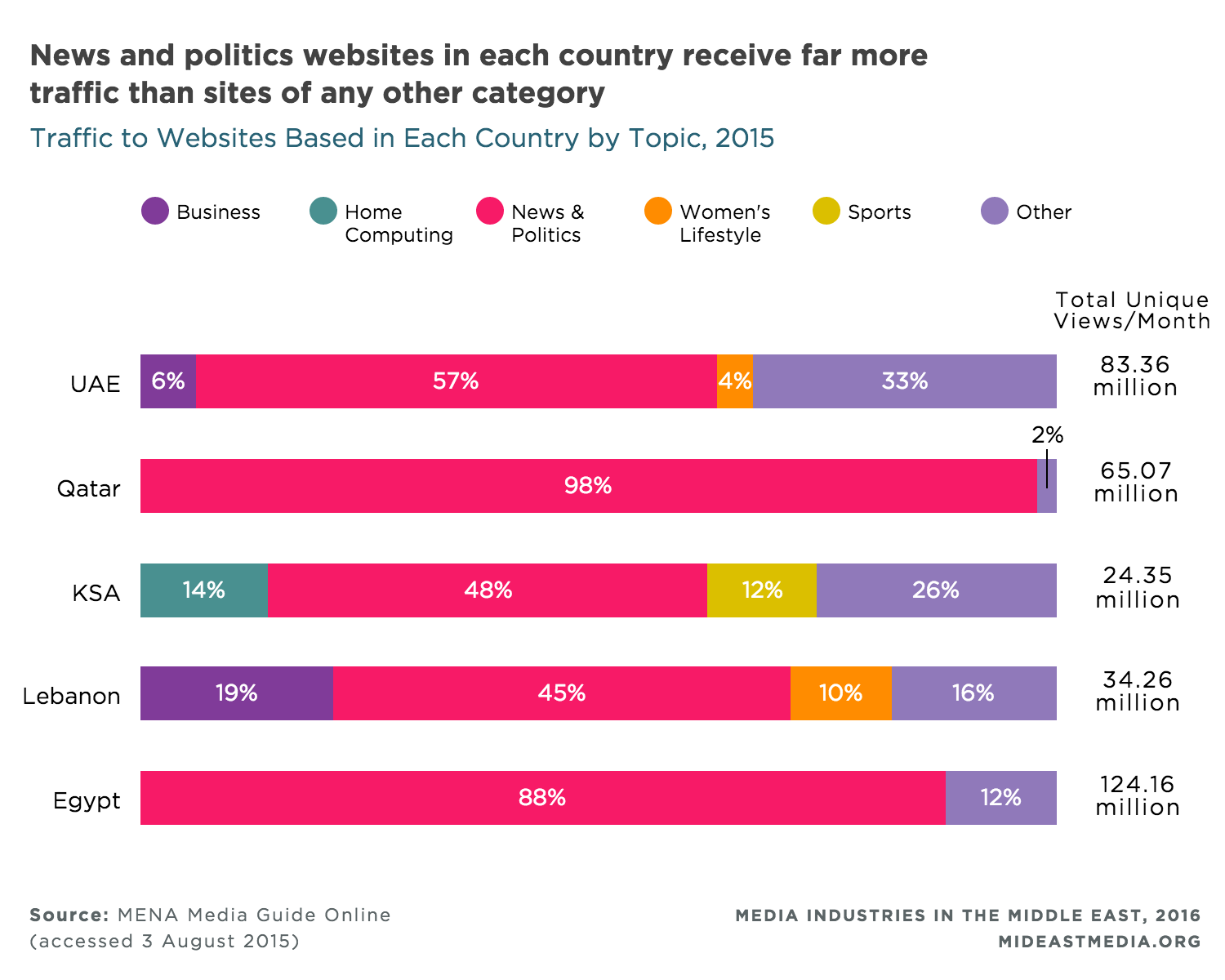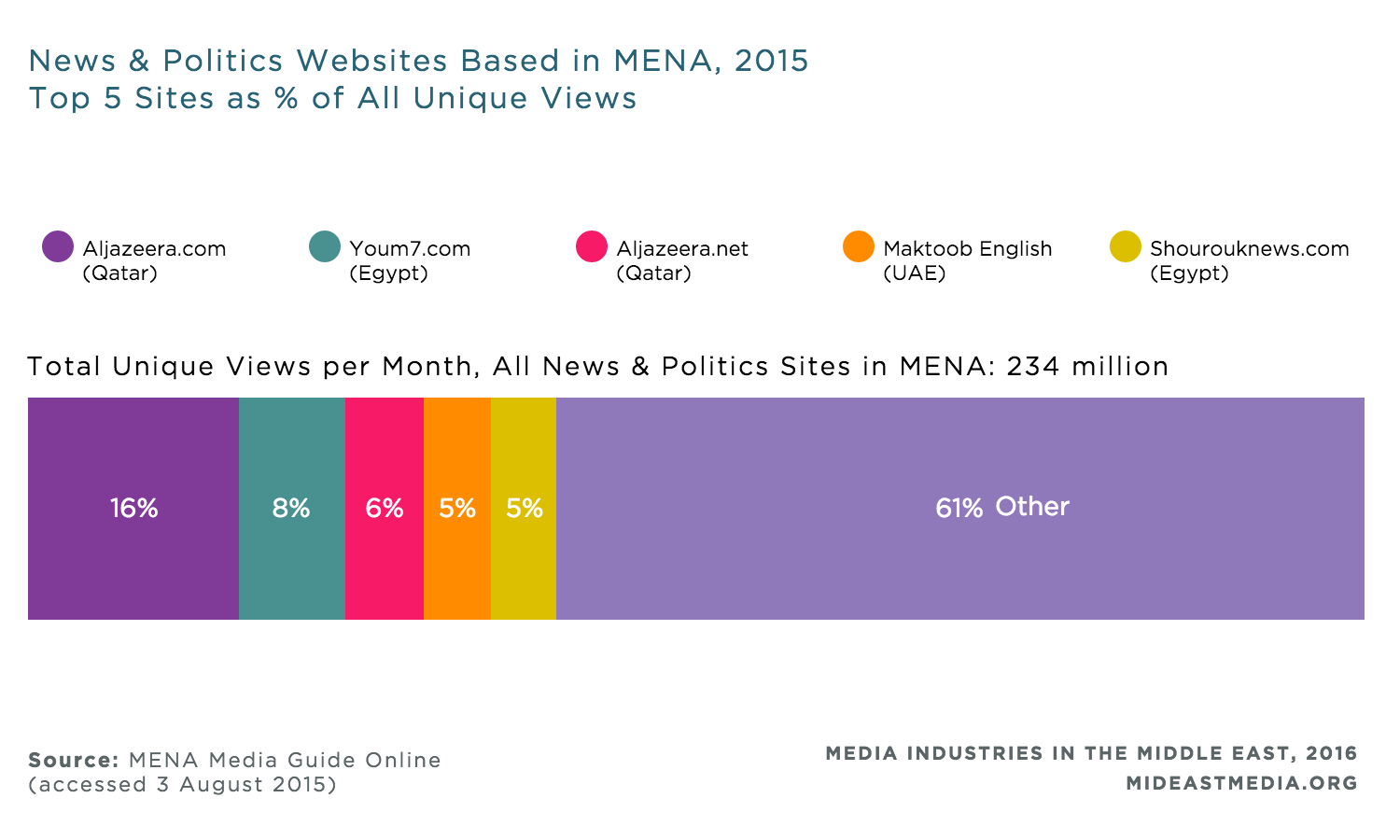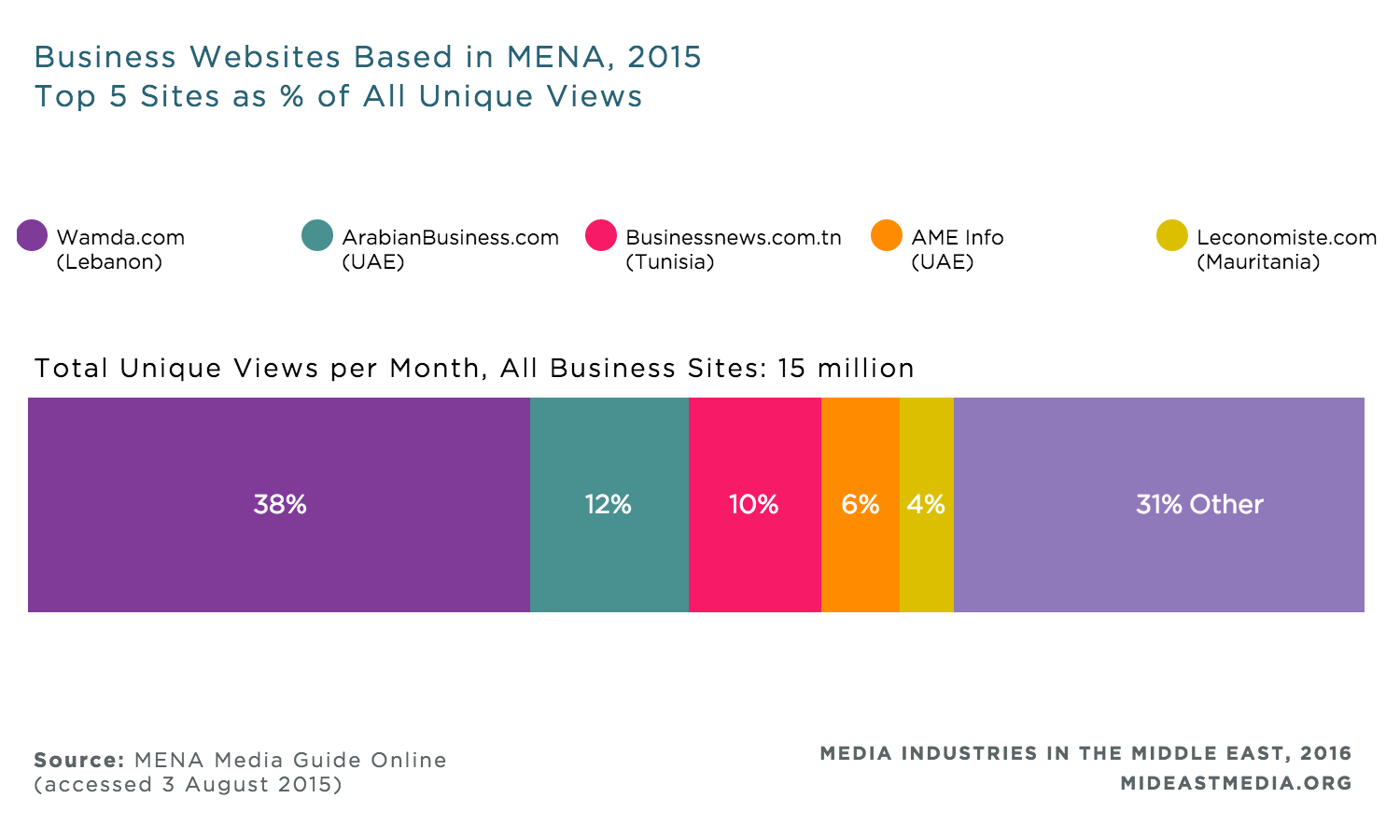 Facebook, Twitter, and YouTube are highly popular social media platforms across the Middle East, which has some of the highest use rates in the world. For instance, Saudi Arabia has the top Twitter penetration rate worldwide. While major social media sites like Facebook, YouTube, and Twitter all rank in the top 5 most popular sites, other major social media sites (e.g., Pinterest, Tumblr) have yet to gain popularity in the region.
In terms of popular content in the region, brands, celebrities, and community pages have a much higher proportion of fans overall that other content categories. While media represent around a third of the top 50 Twitter sites in the UAE, the share is considerably smaller in our other focus countries, where celebrities are the dominant category. Media and entertainment show more presence on YouTube than other categories in most markets, mostly containing popular TV channels and shows.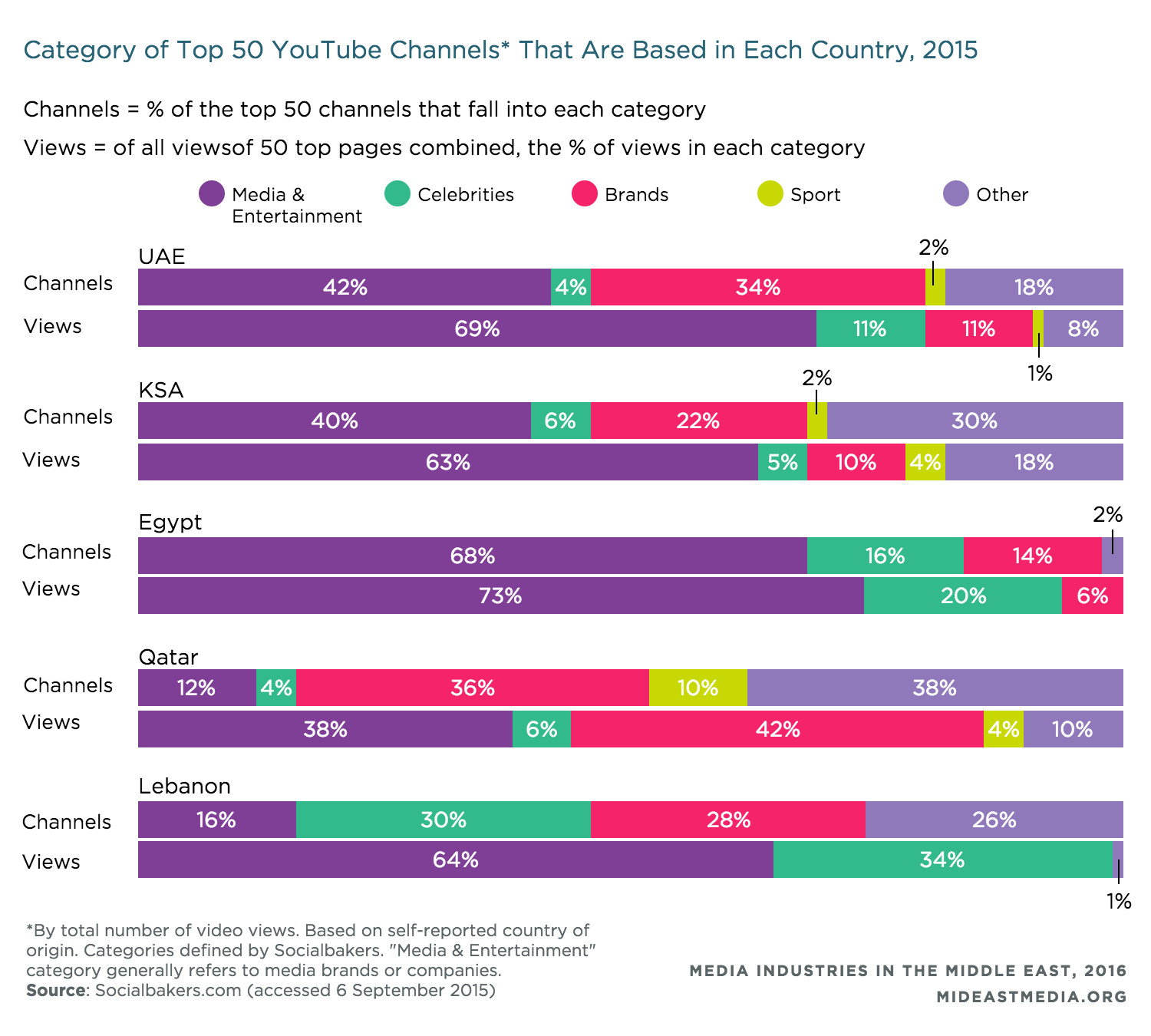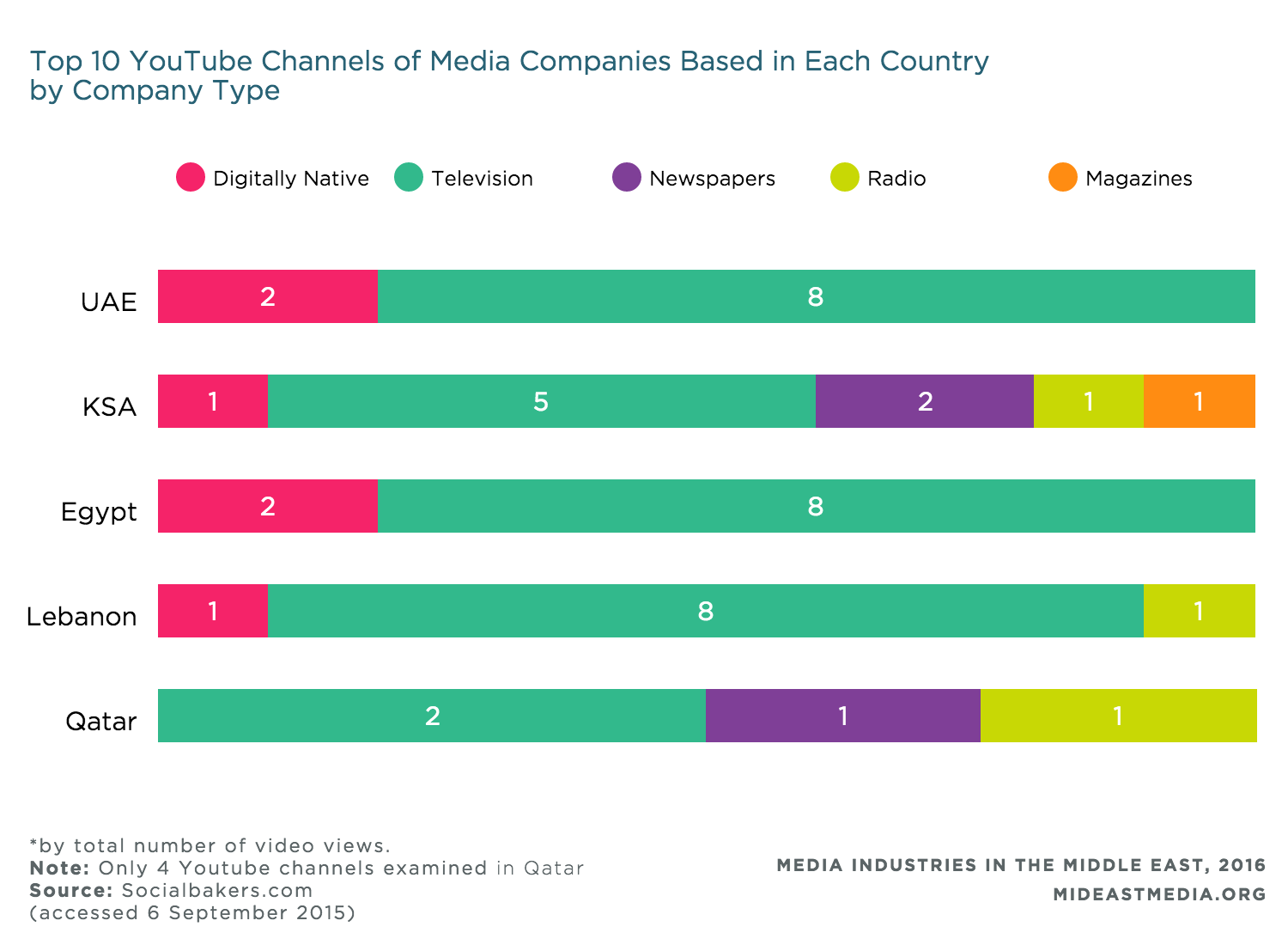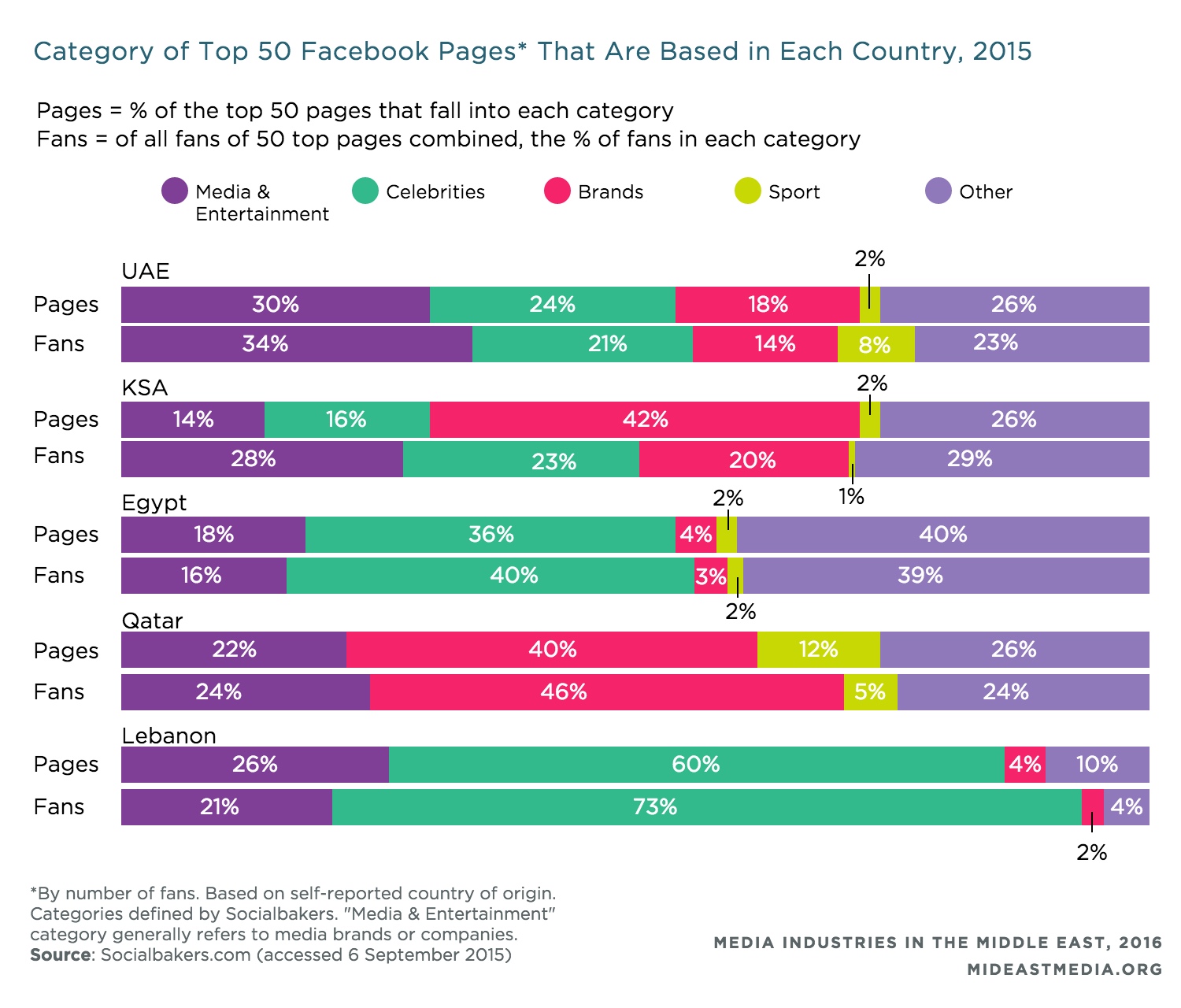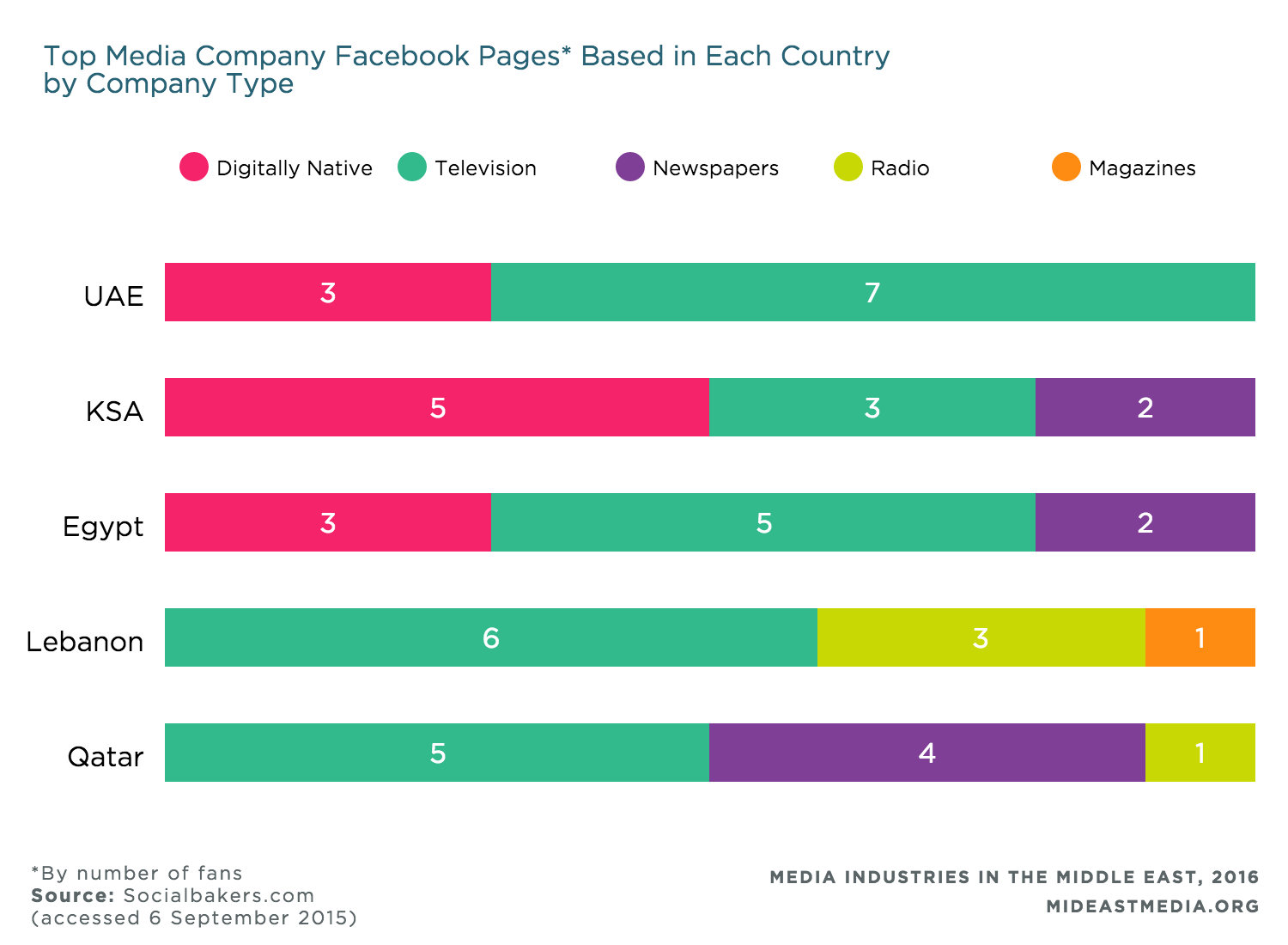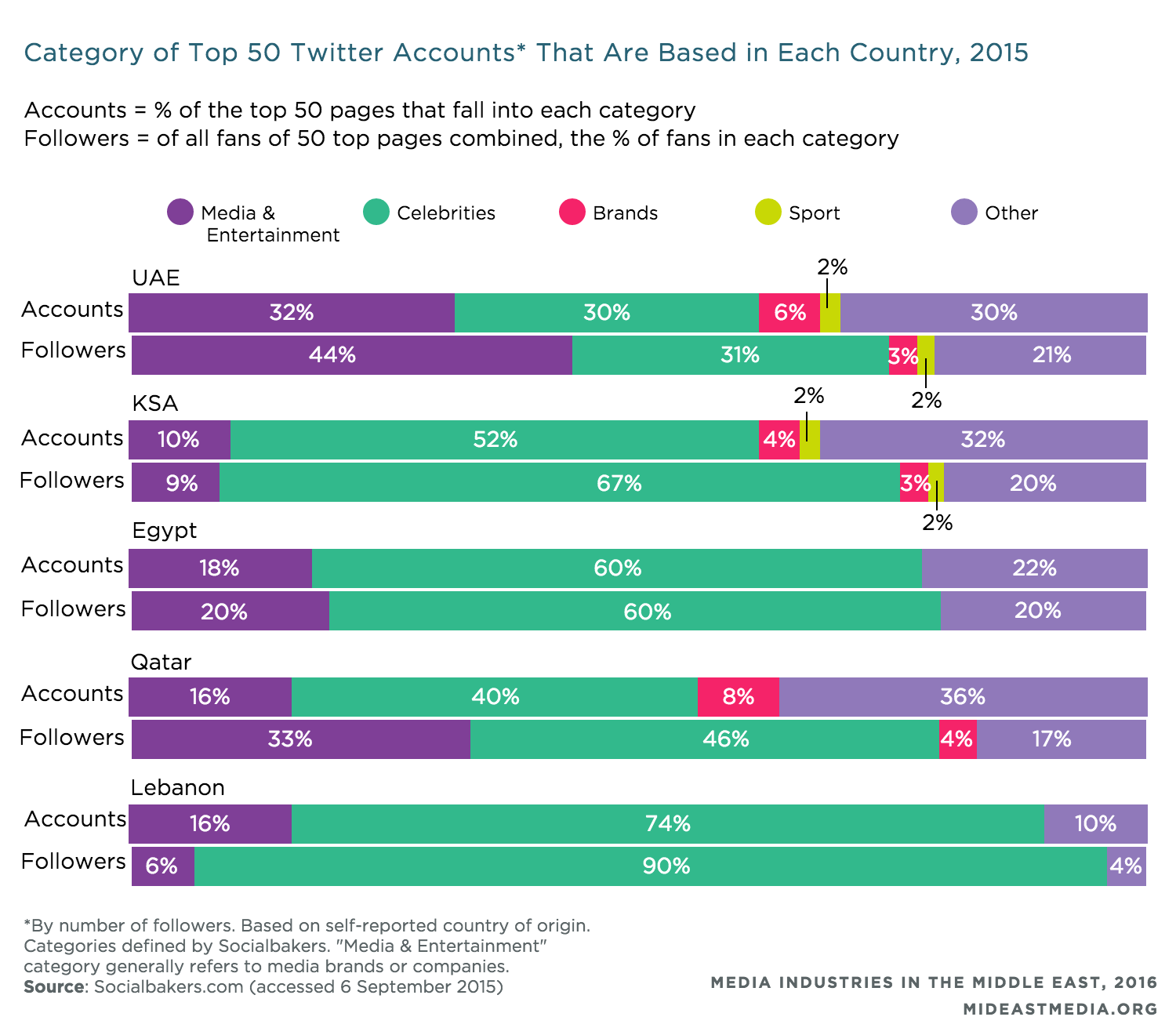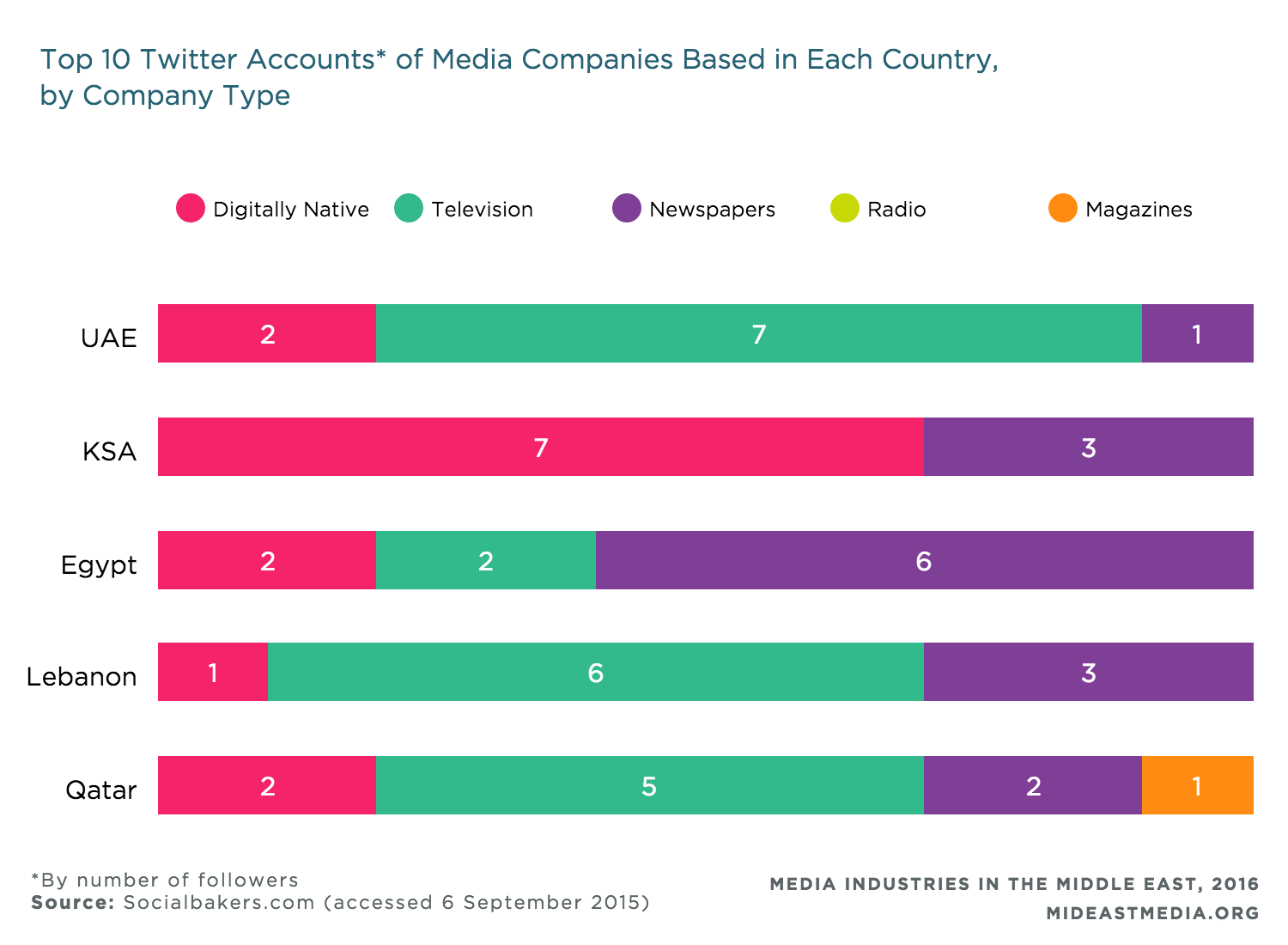 Traditional media platforms have integrated well with major social media across the region (e.g., TV is the most common type of platform among the top media sites on Facebook). Traditional media that have developed an online presence also dominate on Twitter, except in Saudi Arabia which is dominated by digitally native media. General news sites are by far the most popular on Twitter. On YouTube, TV and entertainment are the most important segments, suggesting that the stations of the region have been able to capitalize on the opportunities of social media.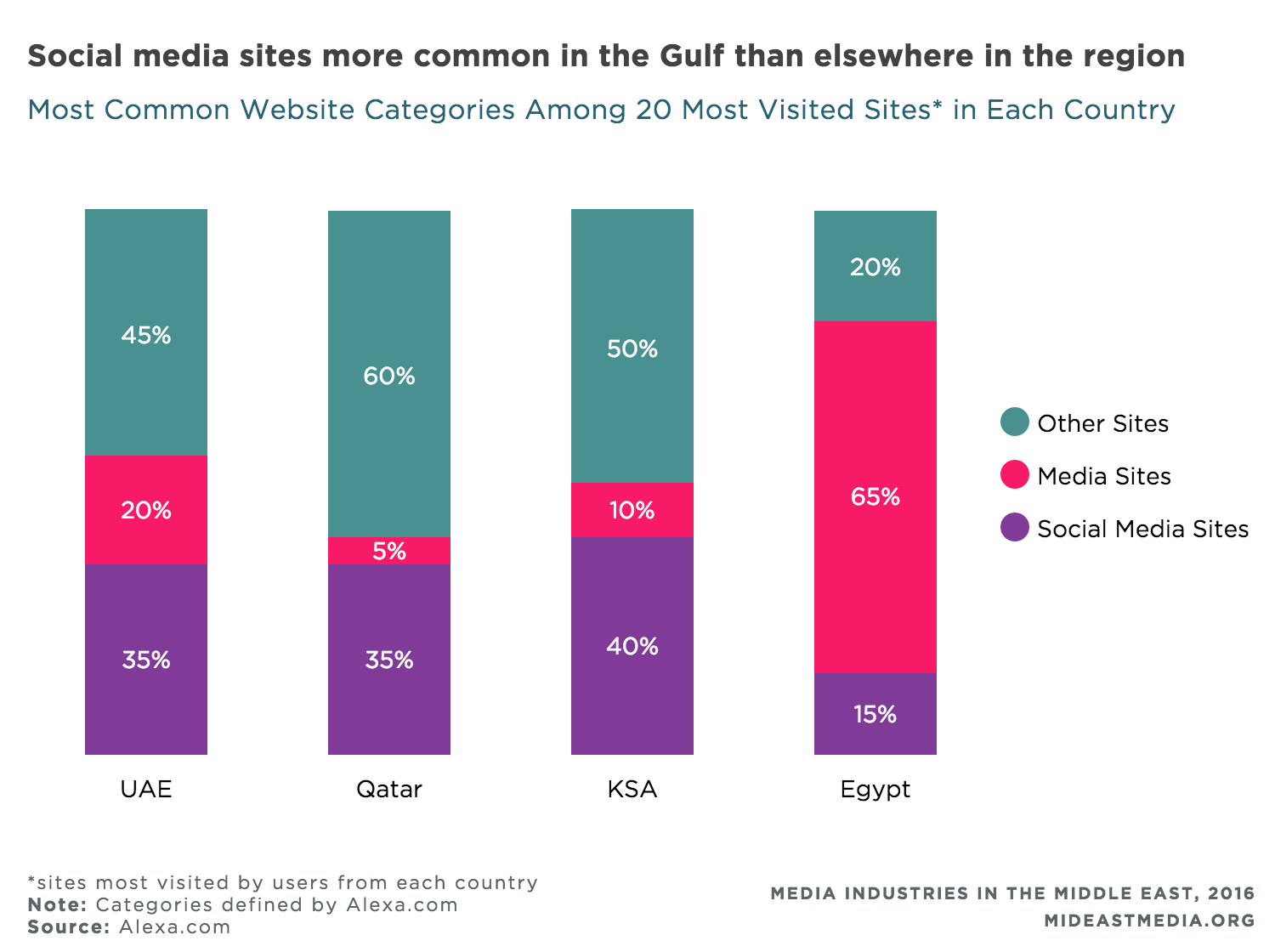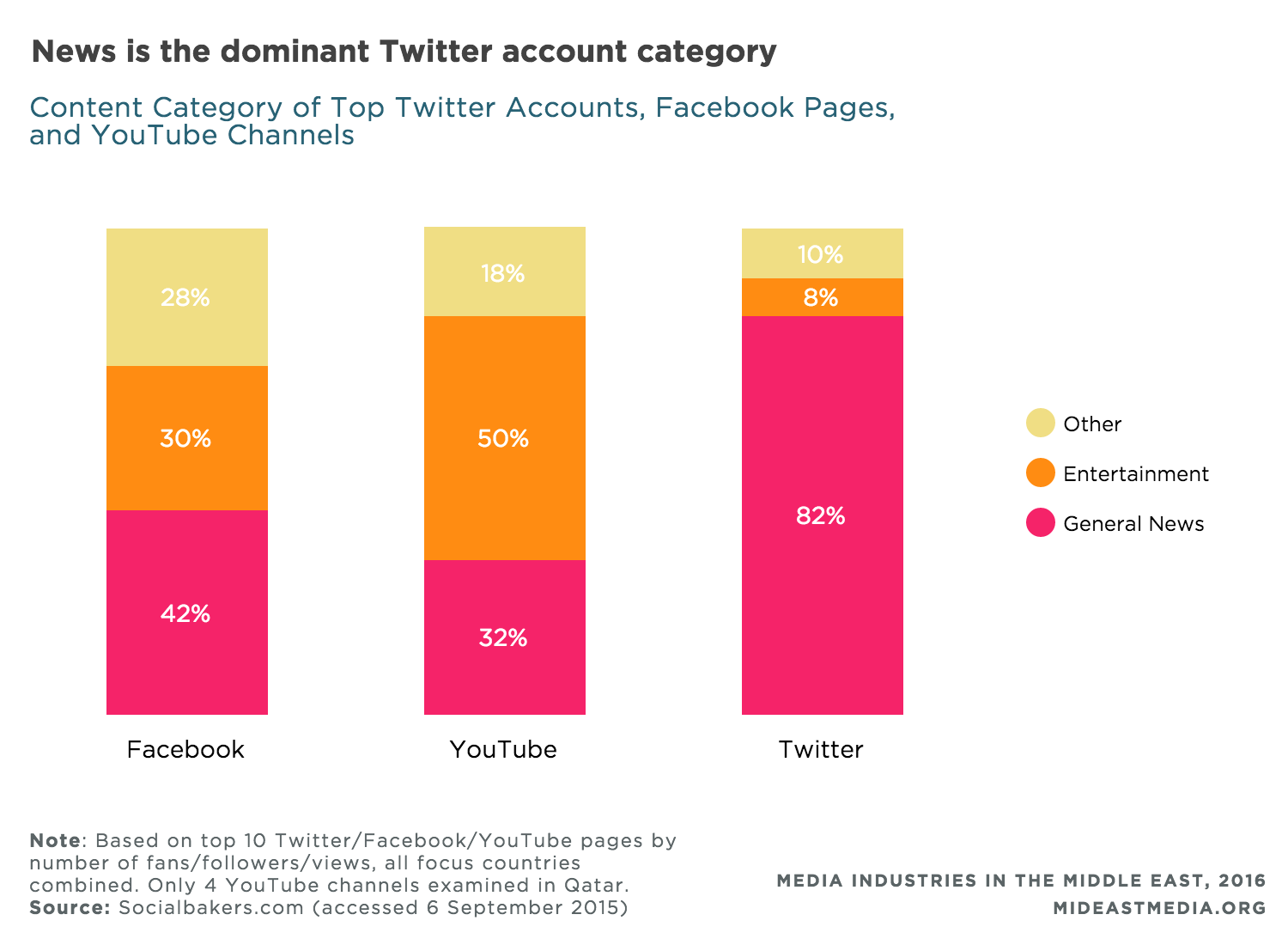 Advertising on digital media is continuing to grow both globally and regionally. Worldwide, total digital advertising spend has sustained high growth over the past five years at an 18 percent CAGR. While MENA only represents 0.3 percent of global digital ad spend, it has grown at a phenomenal CAGR of 39 percent, by far the biggest growth rate in the world and almost double the rate of most other markets. Digital ad revenues were worth USD 550 million in 2015, contributing to about 10n percent of the region's total ad revenues. But while MENA's digital share of ad spend is catching up, it is still far behind advanced markets, where digital ad spend typically holds a 30 percent share.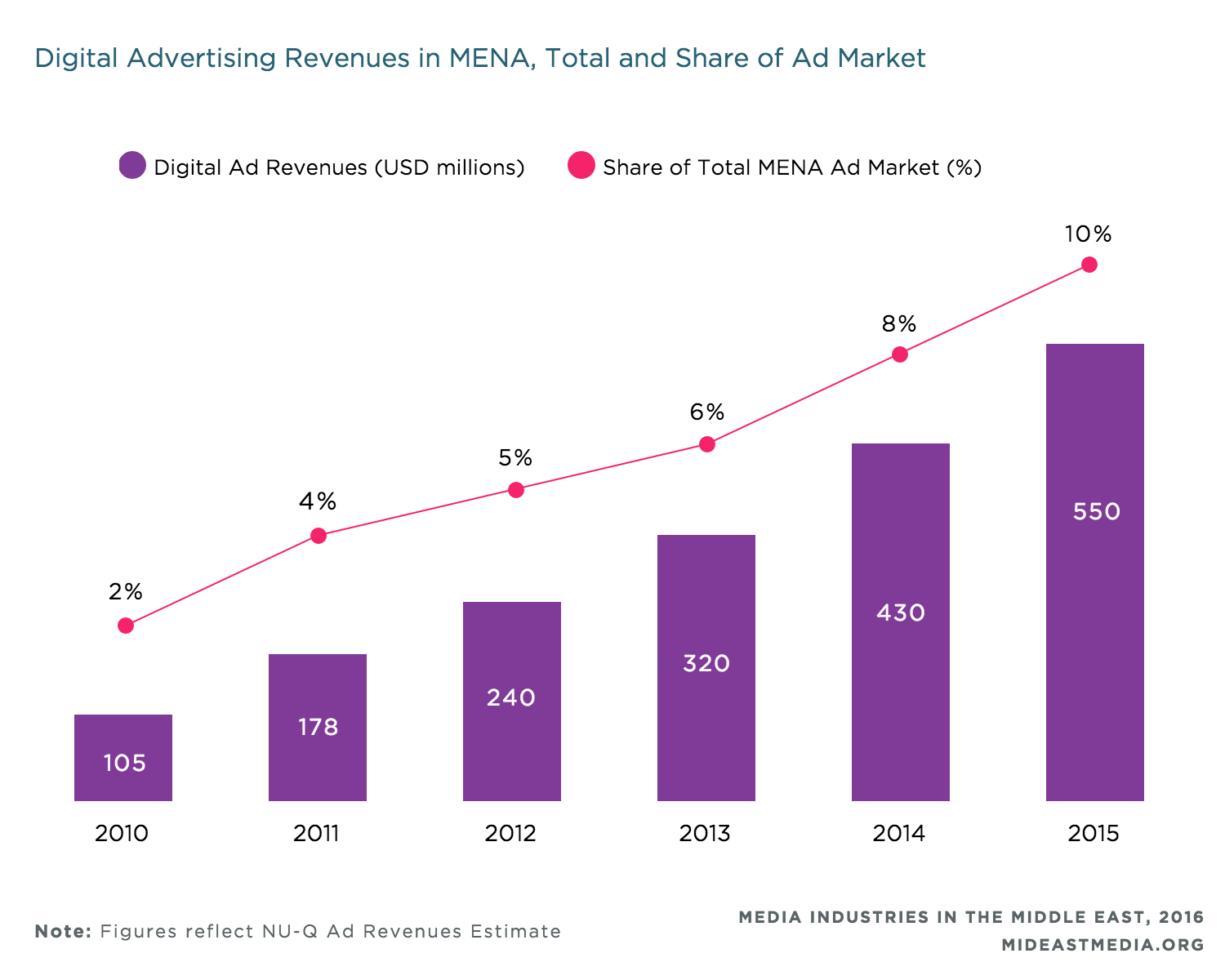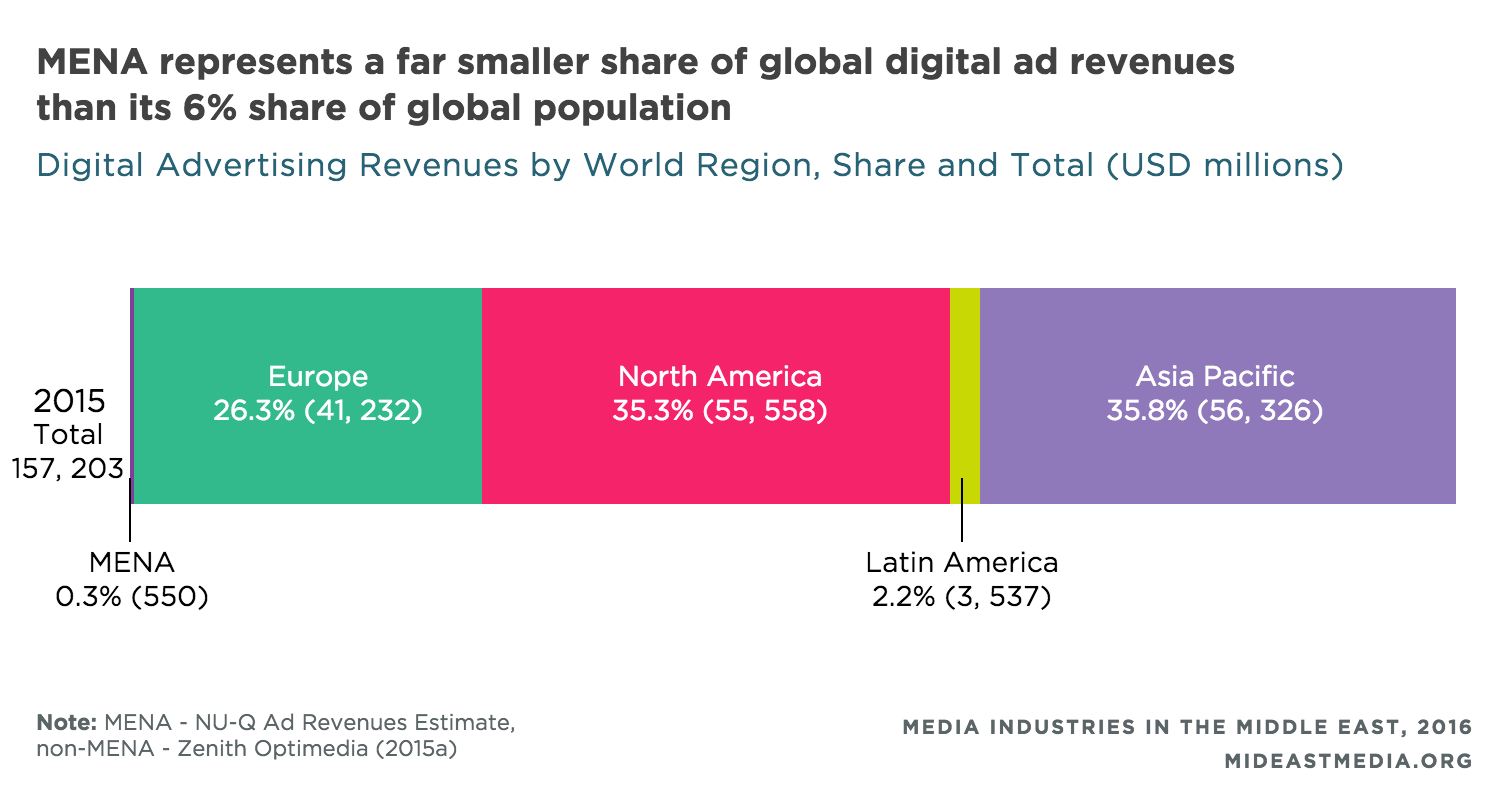 At the moment, regional advertising spend is still heavily focused on traditional media, and when it comes to digital, ad spend is mostly funneled into websites. The relative share of mobile advertising, the fastest growing advertising platform in other markets, is relatively small in the region, despite its popularity with consumers
However, digital content monetization models are evolving. While the Middle East has been moving away from fixed-time billing systems (a fixed price based on ad duration, regardless of traffic), the move is gradual and still far behind business models in developed markets. For example, most online news platforms currently use cost-per-impression (CPM, price per 1,000 "impressions" or views of an ad on a webpage), which gives every impression equal value. Developed markets have shifted towards cost-per-hour (CPH) billing, where brands pay a variable rate based on the time viewers spend on the page.
This new metric values viewer engagement and rates quality over quantity, which in turn reduces the appeal of creating "clickbait" articles. Regional companies such as Al Arabiya, BBC Arabic, and Al Bawaba adopted CPM some time ago. Elaph and AMEInfo have also migrated toward the CPM model, while others are still following a fixed-time billing system. Although local players are changing their billing models, average online ad pricing trends have not shown any correlation with those trends so far.
As for other Pan-Arab media such as TV, advertisers often try to target a specific geographic market. Based on industry interview, we estimate that 30-40 percent of digital ads in the region are targeted at the KSA, 20-30 percent at the UAE. The rest is largely Pan-Arab or targeted at specific North African markets (e.g., Egypt).
Closing the Digital Divide Benefits Content Creators, Not Just Consumers
By Damian Radcliffe
Carolyn S. Chambers Professor in Journalism, University of Oregon
The Middle East has been one of the fastest regions for mobile growth in the past decade. With just 19 million total mobile connections in 2002, the region now boasts 202 million unique subscribers and 182 million mobile broadband connections.
This dramatic increase in mobile connectivity has changed the way mobile users work, rest, and play. Saudi Arabia leads the world for YouTube views on mobile (50 percent of all videos consumed) with the UAE not too far behind (40 percent of total YouTube views).
The types of content being consumed on mobile include music, news, comedy, games, and user generated content, with much of it originating from the region.
Content creators – including new entrants and more established entities – have benefitted from the new distribution models afforded by the Internet and the mobile web, publishing directly to platforms like YouTube and social networks.
Meanwhile, users increasingly embrace opportunities to consume content on the move, or via portable devices. As a result, in the home environment, it's the TV – rather than the mobile or tablet – which is now seen as the "second screen."
However, this explosion of content – and the devices available to consume it on – are not available to everyone. Back in 2014, the World Bank calculated that 60 percent of the people in Algeria, Djibouti, Morocco, Syria, Tunisia, and Yemen, "cannot afford fixed and/or mobile broadband services."
Remedying this is important if the full socio-economic benefits afforded by mobile technology are to be unlocked. These benefits include access to online government services and educational content, as well as output found across social networks, news and information providers, and entertainment media.
The region's mobile divide is already apparent. Closing it is in the interests of mobile providers, governments, and content providers; all of whom stand to benefit from a wider audience base and a greater digital level playing field.
Whether we'll see this happen any time soon, of course, remains to be seen.