The total MENA ad market in 2015 was worth an estimated USD 5.5 billion in net advertising revenues, according to the NU-Q Ad Revenues Estimate. Over the past five years, the industry has shown weak but stable growth. From 2010 to 2015, growth was a modest two percent compound annual growth rate (CAGR).
Several key dynamics are changing the industry, such as the convergence of advertising platforms (traditional vs. digital) and services (strategy-only vs. execution). The market structure of advertising buyers and agencies in MENA is highly fragmented, with strong presence and influence of international players. A number of acquisitions are taking place, mainly by international players seeking to break into or expand their presence in the region.
The region has more than 500 companies offering a range of services in the advertising industry, most of which employ less than 15 people. Unlike in other world regions, governments are the largest buyers of advertising in MENA, accounting for 20 percent of total ad spend in 2015. Consumer brands and telecommunication operators, respectively, represent the next largest buyer segments, with 9–10 percent of ad expenditures.
Egypt and the UAE are the most important economic bases for advertising companies and employees. Egypt represents more than half of the advertising companies and employees in the region, due to its population, low salaries, and its historical role as a local content creation hub. The UAE represents 30 percent of advertising companies and employees, which benefit from its economic-free zones.
Unlike ad creation and production in which work can be contracted to freelancers, media buying is a more large-scale business, involving bulk advertising, space acquisition, and trading. The media buying unit (MBU) market, therefore, consists of fewer but much larger players who deal predominantly with larger buyers. Seventy to 100 percent of their ad spend is sourced through MBUs. However, like advertising agencies, MBUs are typically owned by international companies. MBUs in the region tend to hold premium advertising spaces across the major platforms (60 percent share of digital ad spend, 70 percent of TV, and 50 percent of newspapers). Among smaller platforms, direct sales constitute 80 percent of radio ad spend, as it is a cheaper advertising medium better suited to smaller companies.
The stale growth is largely due to the sluggish transition from traditional to digital media ad spend. Digital still represents only 10 percent of ad spend, compared to 30–35 percent spend on print. Collectively, MENA countries trail other regions in innovation and adoption of new technologies (e.g., limited digital measurement, programmatic buying, and non-advertising forms of marketing). As a result, many of the opportunities of digital advertising have yet to be realized, despite high levels of digital consumption in the region.
Notes for this chapter:
In this report, advertising is defined as the creative content (and the process of creating that content) used as a means of customer communication in order to sell products and services or to increase brand awareness. The definition is restricted to one-way, non-personalized messages distributed by media and communication channels to their ultimate target audiences (e.g., print or online ads, radio or TV commercials, or billboards). In addition, so-called one-way "non-advertising" forms of marketing, such as product placement, brand content, native advertising, and sponsorship are included. This definition does not include in-person promotions or other types of PR and communications. For instance, personal marketing (via phone, etc.) promotions in grocery stores or PR urging media to publish commercial messages as editorial content do not fall under our definition of advertising.
Advertising agencies are defined as organizations that develop the creative concept of advertising of all sorts and coordinate the content production (e.g., the actual advertisements or commercials).
Media buying units (MBUs) are defined as the agencies that buy advertising space, time slots, or other types of media "real estate" on communication channels. MBUs act as intermediaries between companies or organizations that want to advertise products or services; the advertising agencies that create the ad, product placement or commercial, and the media and communication channels that own the advertising real estate. The main functions of MBUs include identifying ideal hosts or platforms to deliver advertising material to target audiences, negotiating lower prices based on bulk purchases, and maximizing the investment return for the advertising company.
Overall, in terms of ad spend, the MENA market structure across advertising buyers and agencies is highly fragmented. It maintains a heavy presence and influence of international companies, creating a highly competitive landscape.
Among share of ad spend, the buyer-market structure across industry segments has been fairly consistent over the past three years. After governments, the second largest industry of buyers is Food, Beverage & Tobacco (FBT), closely followed by Hygiene & Household Products (HHP) and Telecom & Utilities (T&U).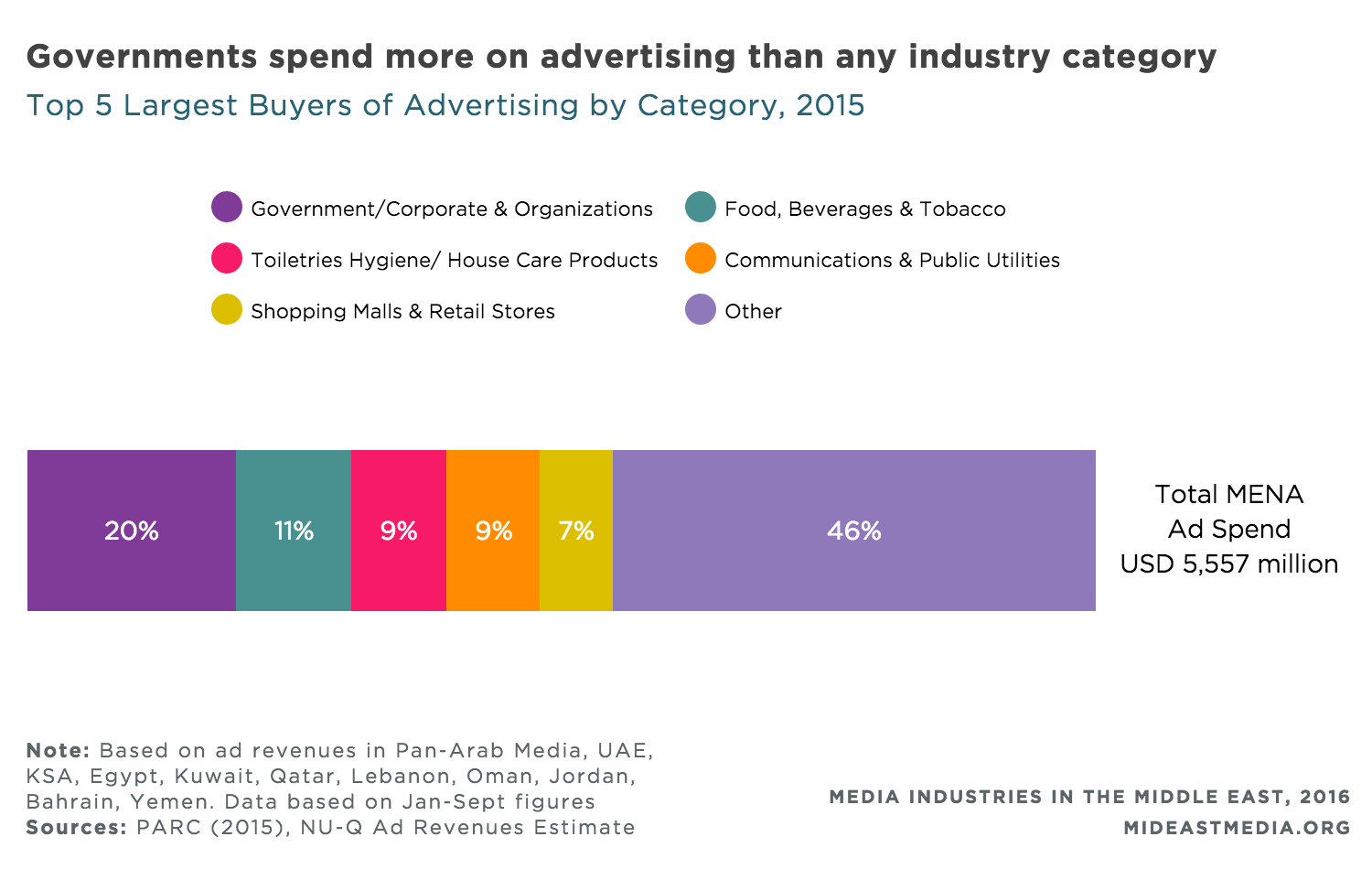 Although all industries allocate advertising spend across major platforms and each industry has a different platform mix, a few salient preferences are apparent among certain sectors. Television is a hugely popular channel among FBT, HHP, and T&U industries. Newspapers are highly popular with Government, Automotive, and Financial Services buyers. A closer examination of the top 10–20 spenders in each platform reveals a few more preferences. For instance, magazines are highly popular among the Luxury Fashion industry, with nine of the top 12 spenders in 2015 among top fashion brands (e.g., Christian Dior, Chanel, Louis Vuitton, and Bulgari). Radio is most popular among telecom operators, who represent four of the top five spenders (e.g., STC, Telecom Egypt, Vodafone).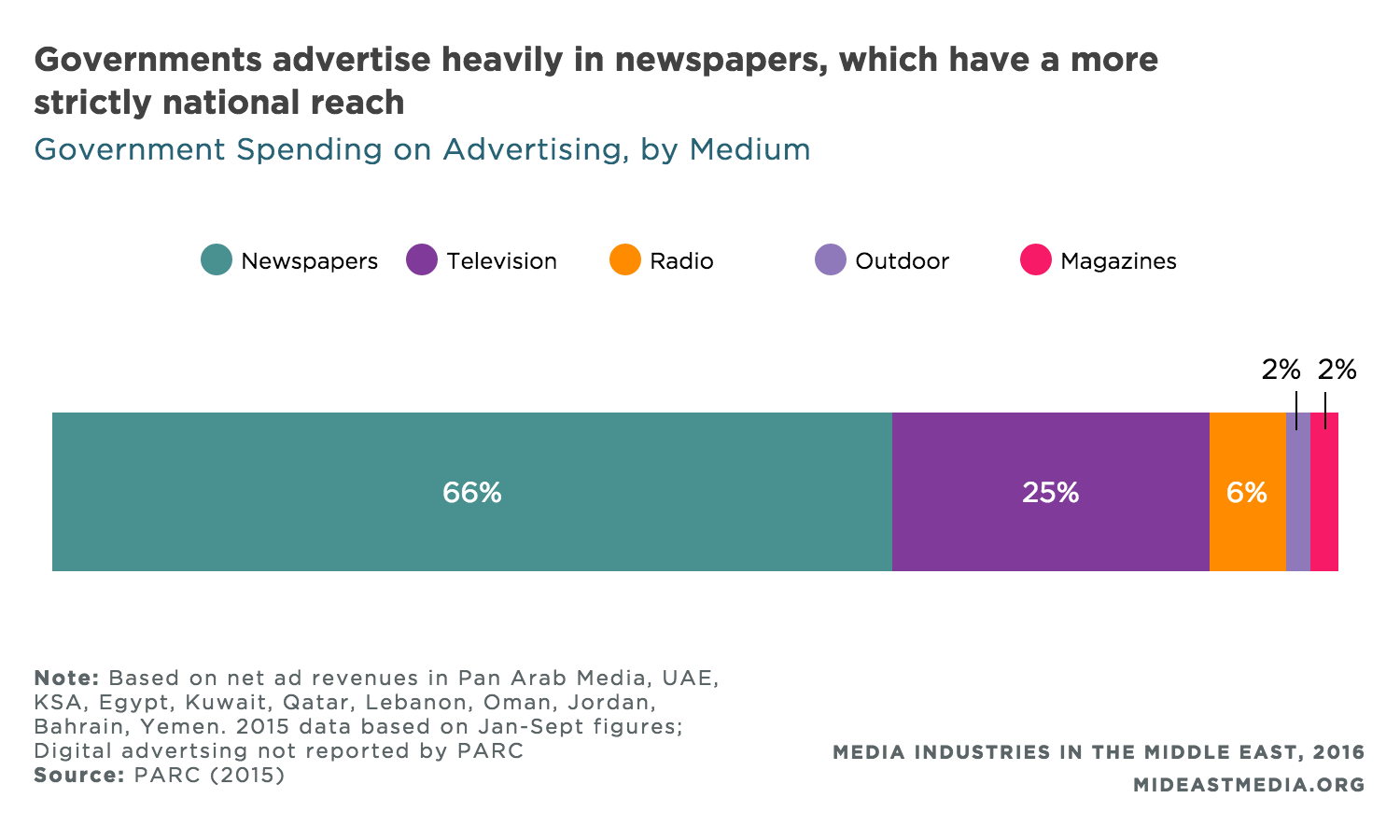 The MENA region is crowded with a large number and range of ad agencies. There are more than 500 advertising companies across the region, with a wide variety of agencies providing core advertising services such as content creation, and also supporting services like digital branding or advertising and design consultancy. The advertising industry can be segmented into four main groups;
Global full-service advertising agencies: Large advertising networks, including the "Big 4" WPP, Omnicom, Publicis, and Interpublic. These players operate globally as full-service advertising agencies including strategy, design, advertising, and, on occasion, technology.
Regional generalists: Some local companies have grown across the MENA region and beyond; Interesting Times, for example, a Beirut-based creative agency, expanded to the UAE after winning the Ferrari advertising account. Other examples include AMC Advertising & Marketing and Tihama.
Global specialists: Global agencies delivering specific services. Some focus on advertising content strategy only or design consultancy services, while others concentrate on execution.
Regional specialists: Companies operating in specific advertising services, such as digital ad agencies.
Structurally, the composition of the region's agencies is fragmented, with a large number of small companies operating from a single location or with freelancers operating from their homes, and a few global firms that service global buyers. The top seven media groups, agencies including MBUs, control only eight percent of all registered companies in our five MENA countries, leaving more than 400 companies to compete with across the region.
However, in terms of ad revenues, large multinational agencies dominate the market. International agencies with local subsidiaries represent 80 percent of MENA ad revenues, whereas local agencies (non-subsidiary agencies headquartered inside the region) represent only 20 percent.
However, the dynamics are changing, as some agencies are increasingly better positioned. For instance, smaller, local agencies are competing on price. The rise of digital and social media advertising has also reduced the need for agencies to have a ubiquitous physical presence across the region. As a response, international agencies have tended to acquire successful local companies and either fully integrate them or develop them as independent subsidiaries, thus maintaining their dominance in the market.
A number of ongoing trends have led to shifts in the nature of advertising agencies and services offered. The convergence of platforms (digital vs. traditional) and services (strategic vs. execution) has shaped the industry into a complex mix of pure specialist agencies (digital marketing specialists, graphic design boutiques, etc.), fully integrated agencies, and hybrids (those offering both consulting and design services). Higher consumption of digital media and the growing spend on digital advertising has increased the number of digital advertising agencies of all sizes. In addition, a more targeted multi-channel advertising approach has developed, as well as wider range of supporting services beyond ad content production. To this end, the "Big 4" advertising networks are acquiring smaller agencies to bolster their range of service offerings and in-house capabilities, both for digital and traditional platforms. At the regional level, more mergers and strategic alliances have occurred.
Geographically, Egypt and the UAE are the largest advertising markets among the focus countries, with the highest concentration of advertising company registrations. More than half of the region's agencies are located in Egypt. Due to its large population and low operating costs, Egypt remains an attractive location for advertising agencies. At the same time, the UAE, much more expensive and with a smaller talent pool, holds about 30 percent of the region's agencies. Over the past couple of decades, the UAE attracted a number of regional and international advertising agencies to various free-media zones across the country. Examples include Dubai Media City, Dubai Studio City, Abu Dhabi's twofour54, and the most recently decreed Sharjah Creative & Media City.
Unlike ad creation and production, where work can be contracted to freelancers, media buying needs more experience and professional expertise for bulk advertising, space acquisition, and trading. The media buying unit (MBU) market, therefore, consists of fewer but much larger players. Accordingly, estimates from industry experts in 2015 show that large multinational buyers in the region exclusively buy advertising spaces through MBUs. MENA's large regional and local companies do the same, with 70 percent of their ad spend via MBUs. On the other hand, small, local companies cannot afford to purchase more expensive advertising spaces with MBUs. Instead they tend to place their advertising directly.
MBUs control a majority of ad spend on the most powerful platforms, including a 50-percent share in print media. Direct sales represent a majority of ad spend on radio, as it is a relatively cheaper advertising medium for smaller companies.
The composition of MBUs in the region is similar to the structure of advertising agencies in terms of their local-international makeup. MBUs in the region largely consist of international players, such as Starcom Mediavest Group (SMG), Mindshare (part of Mindshare World), Media Insight, OMD (part of Omnicom Media Group), and The Media Edge (part of MEC Global, under WPP). A few major regional MBUs are also prevalent throughout the region. For example, the Choueiri Group is known as one of the local industry's largest pioneering companies, creating a multinational footprint in the region and beyond.
There are nearly 20,000 people working in the advertising-service industry in the region. As Egypt and the UAE are the largest advertising markets among our focus countries, they are also the most important employers. More than half of advertising industry employees are located in Egypt. However, the UAE, with only about one-ninth of Egypt's inhabitants, follows as a close second, with a 30 percent share of the region's employees.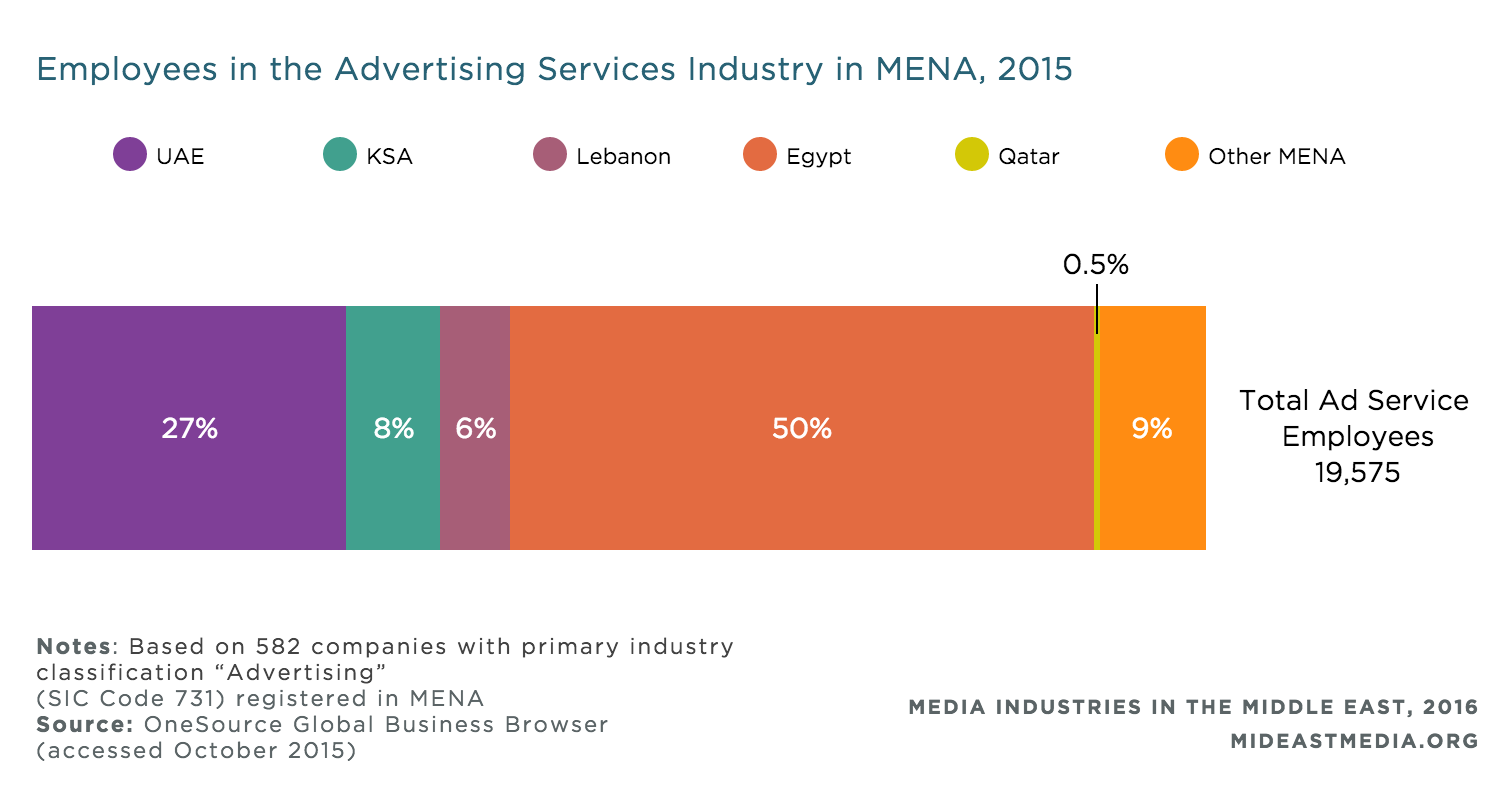 While the advertising industry is fragmented in terms of the number of companies, it is much more concentrated in terms of the number of employees. Industry experts confirm that the top seven companies – all multinational and regional heavyweights – represent as much as 40 percent of all employees in the advertising sector. The vast majority of media companies in Dubai employs fewer than 15 employees and regularly hires freelancers for specific skill-sets. In general, freelancers are also an extremely important segment of the workforce in the region as they represent a source of local talent with the creativity needed for regional ad and media content productions.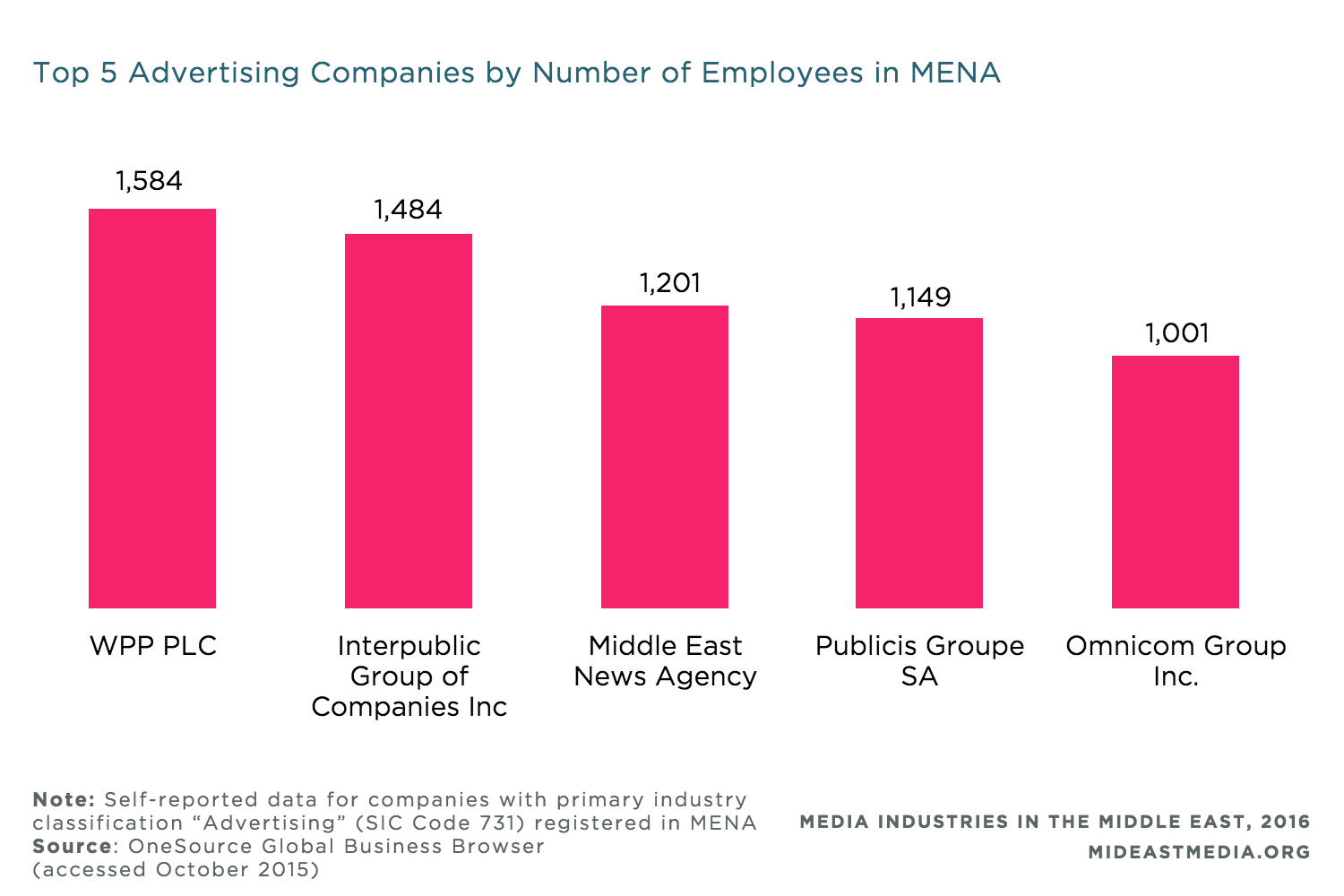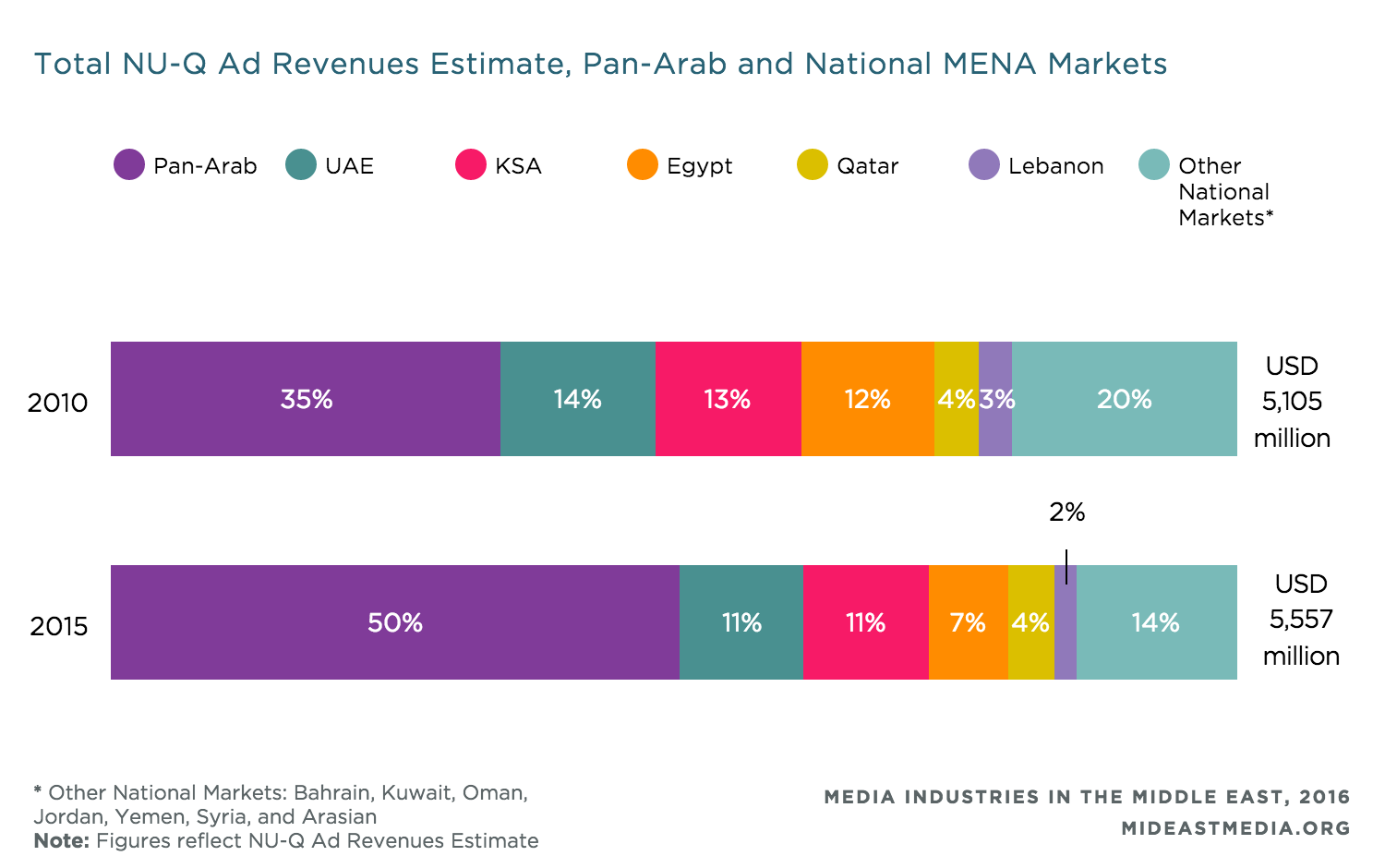 There are a number of challenges associated with understanding the actual size and dynamics of the MENA advertising industry. This is why a rigorous four-step approach has been applied to construct the latest market estimates for the region's advertising revenues. This approach included gathering existing market estimates from various companies and sources, finding the average discounts on advertising rate cards, defining NU-Q's own market size estimate with industry experts, and, finally, testing and validating the market estimates with key media industry players.
Market estimates differ among companies due to different platforms, countries, and gross vs. net reporting. ZenithOptimedia calculates gross spend using estimates by agencies that monitor the volume of advertising of sample members for each medium. Zenith then matches each ad with the official rate card price of the space or time it occupies. It also calculates net figures based on a survey of advertisers, advertising agencies, and media owners. PARC's estimates of ad spend are based on a similar approach, but consider only the official advertising tariffs and therefore represent gross values. PARC's coverage of media platforms, however, was found to be the most comprehensive. Hence, PARC's estimates were used as a basis to arrive at gross ad spend. Interviews conducted in the market provided the basis to reach a consensus of discount rates on standard rate cards applicable to individual platforms. IPSOS estimates do not cover all countries in the region, and were not fully considered for the triangulation.
To develop the NU-Q Advertising Revenues Estimate, triangulation was used, based on estimates provided by PARC, ZenithOptimedia, industry experts, and interviews with media buying agencies and media owners across the region.
Across platforms, discount rates between 40 and 50 percent are generally applied to the official price list, with TV, in particular, offering the highest discount rate at 80 percent. NU-Q's standard market estimate takes these high discount rates into account.
In the case of digital advertising, given the dynamic nature of the platform, an estimate for digital ad spend was developed separately. It is largely based on interviews with stakeholders across media buying agencies and media houses. Finally, our estimates for digital advertising have been sense-checked with industry experts, and also against the relative share of digital advertising spend in MENA's total advertising market and its development over the last few years.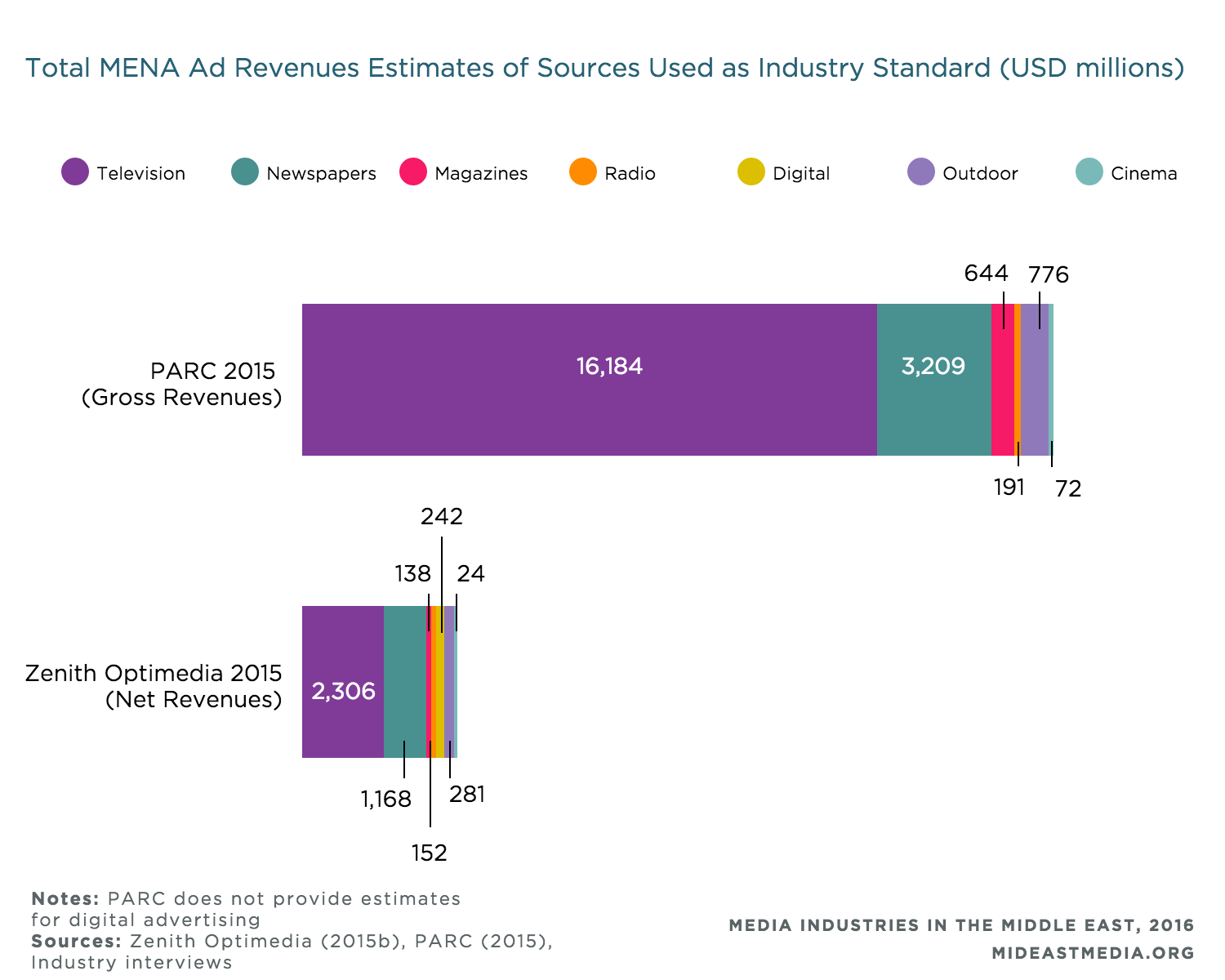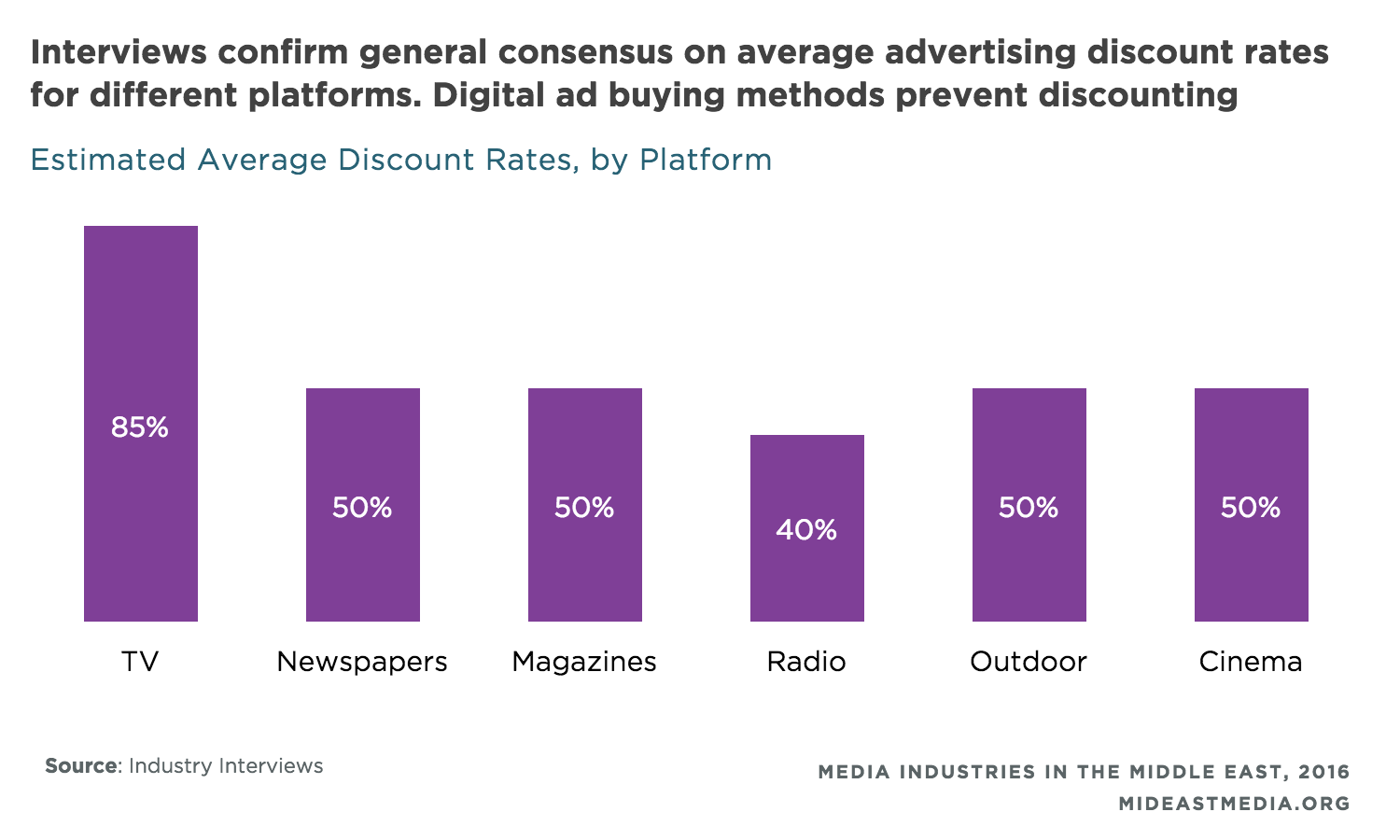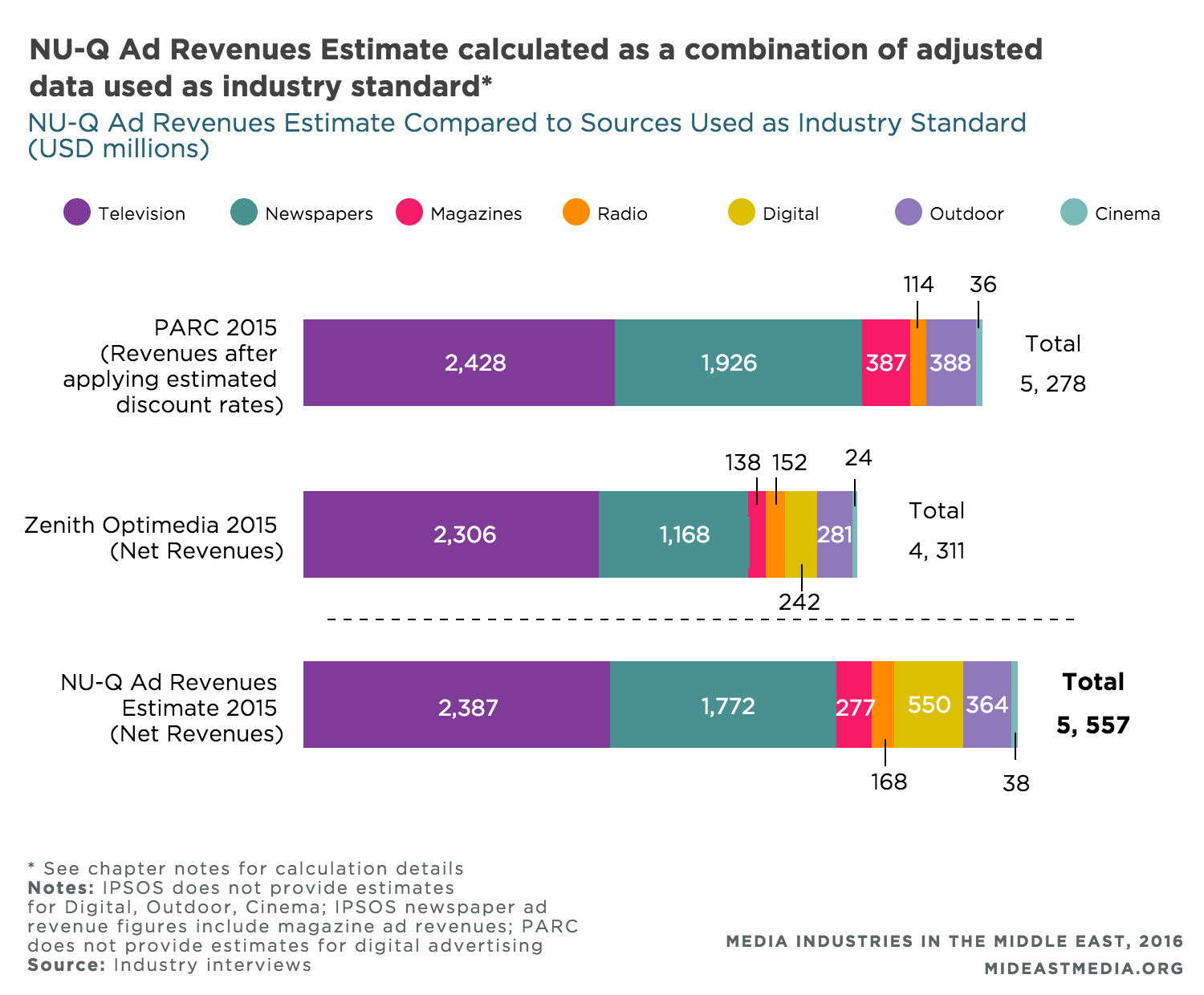 The MENA region's advertising market today, according to our NU-Q Ad Revenues Estimate, seems to be worth USD 5.5 billion in net advertising spend in 2015. Over the past five years, the industry has shown stable but small growth. From 2010 to 2015, this growth remained a modest two percent (of CAGR). This is consistent with the growth estimates of various MENA media industry reports that have covered the advertising market over the past five years.
The stale growth in MENA is largely due to the sluggish transition from traditional to digital media ad spend, compared to markets of other regions. Many of the possibilities of digital have not been realized, despite high digital consumption and the value for advertisers. In fact, even in 2015, total ad spend in MENA seems to have decreased, mainly due to a contracting print industry that was not balanced with digital growth. Fortunately, with digital exhibiting one of the fastest growth rates of any platform in the world, there is cause for optimism.
Television and newspapers continue to drive most of the advertising revenues in the region. Combined, they still collect more than USD 4.1 billion, about 80 percent of all ad revenues, illustrating local advertisers' ongoing reliance on traditional media platforms. While television advertising has increased somewhat since 2010, newspapers' ad revenues have slightly eroded.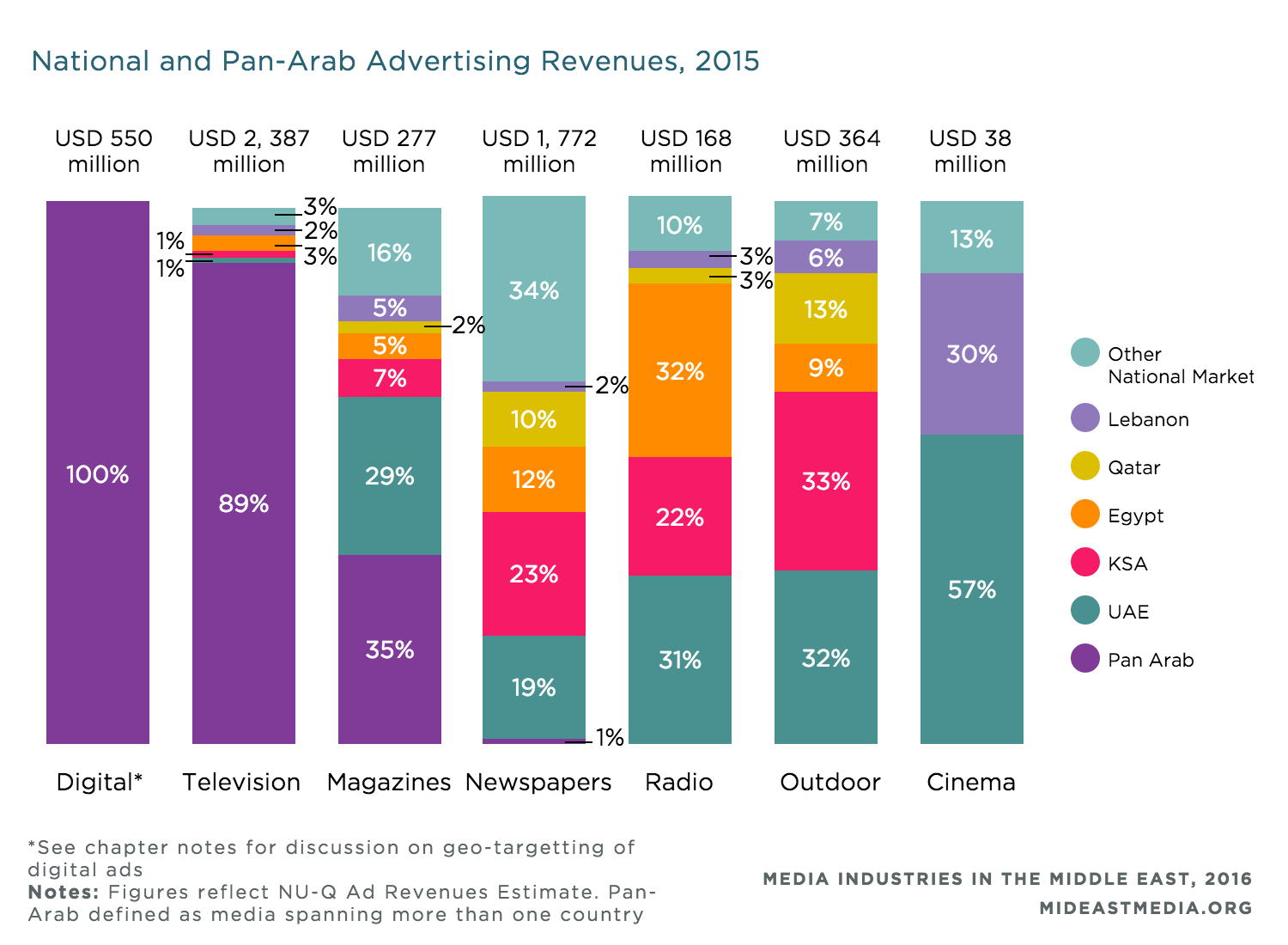 Digital media, standing at USD 550 million, still only represent about ten percent of the region's advertising revenues. Despite the increasingly strong use of digital platforms among customers, the adoption of digital ad spending has been slow.
Although consumers only spend ten percent of their time on print media, that platform still receives 30–40 percent of total ad spend. Despite consumers spending about 30 percent of their media-use time in digital venues, digital-only has a 10-percent share of ad revenues. The allocation of those revenues is therefore considerably out of line with audience consumption trends, and highlights the inefficiency of ad spend allocation in the market.
Across the digital space, there are a number of examples of the inefficiency in ad spend allocated. For instance, social media have become very popular among MENA populations, yet ad spend on those media has not kept pace. Industry experts estimate that online ad spending on social media platforms, including giants like YouTube, are as low as 30–40 percent – far lower than in the Western world.
On average, MENA has one of the highest penetration rates of smartphones in the world, yet mobile ad spend is very low. Despite the fact that an estimated 70 percent of online ads are viewed on mobile devices, industry practitioners estimate that six percent of total ad expenditures, at most, is dedicated to mobile platforms. In segments such as online video, between 60–70 percent of traffic is generated from mobile as opposed to desktop, suggesting the potential of mobile advertising has not been fully realized.
There are a number of reasons behind the slow increase of ad spend on digital. Across MENA, there is a strong preference among local clients to continue using traditional platforms, especially outdoor advertising and newspapers, tendencies that seem stronger among government and semi-government organizations. One important factor inhibiting greater uptake of digital ads could be a lack of understanding of what digital marketing entails; lower Internet connectivity is an impediment in the Levant and North Africa. In addition, lower profitability of digital campaigns (despite higher commissions for clients) is also keeping MBUs from allocating ad spend to digital platforms as opposed to traditional ones.
Fortunately, the market is responding. Digital media continues to grow at an impressive rate: 39 percent CAGR from 2010 to 2015, compared to only 5 percent for television and 5–6 percent for newspapers and magazines. Even with more conservative digital growth of 20 percent CAGR for the next few years, digital is still expected to overtake newspapers as the second largest media ad platform by 2020.
Ad spending by country has remained fairly stable over the past five years. Pan-Arab ad spend remains dominant, retaining both the highest share of ad spend (50 percent) and the largest growth rate, with a CAGR of 9 percent from 2010 to 2015. The scale of this growth has expanded Pan-Arab advertising market share by 15 percent from 2010 to 2015, at the expense of advertising in individual MENA countries.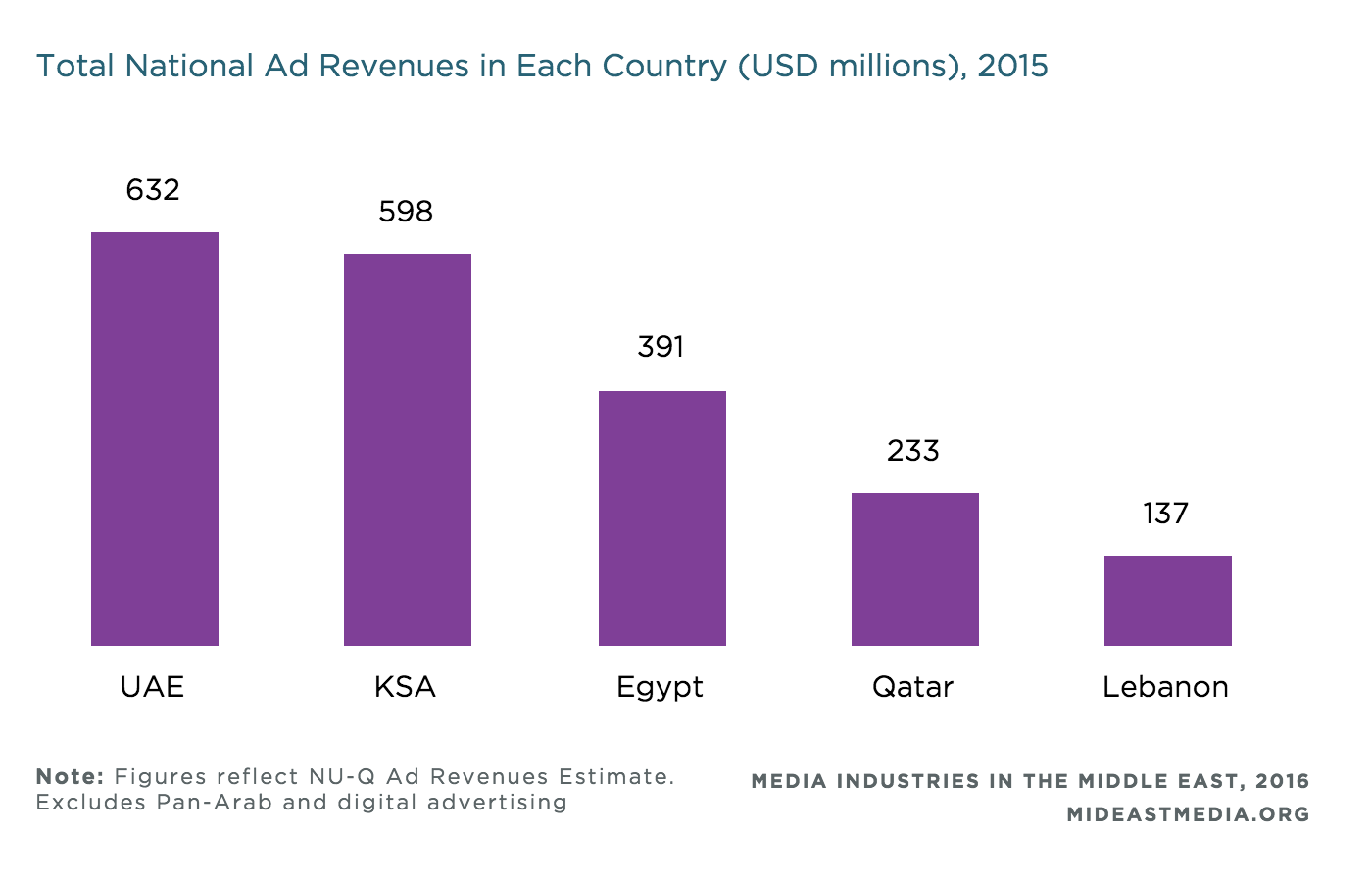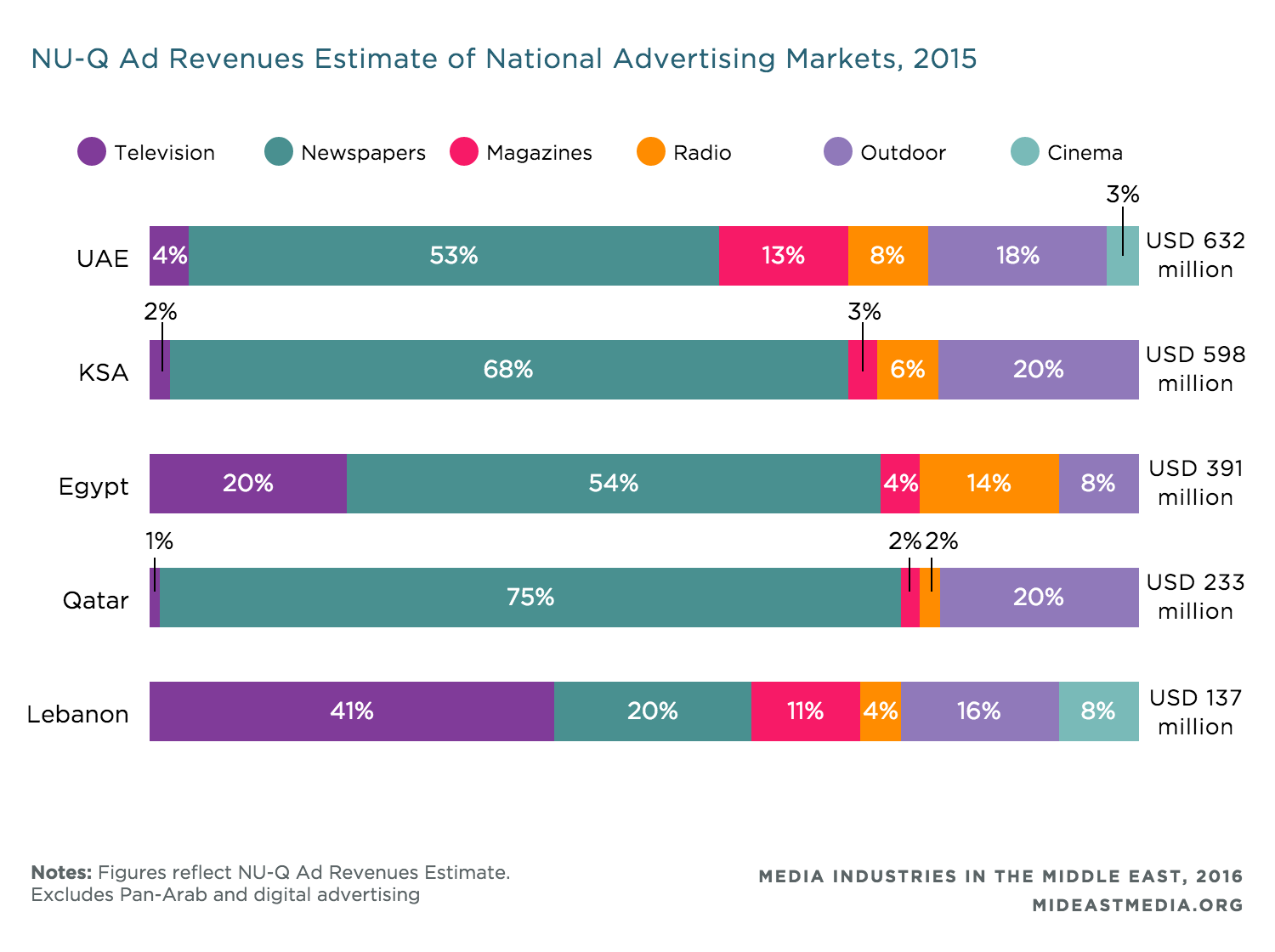 The rise of Pan-Arab is primarily due to its relevance in regional television and digital media. These platforms attract audiences from across the Arab world, and are therefore virtually Pan-Arab in nature. Magazines also include Pan-Arab content (35 percent of their ad revenues) to some extent.
The UAE and Saudi Arabia – two key GCC markets – each represent 11 percent of regional ad spend. Egypt is the third largest market, accounting for 7 percent of ad spend. The remaining MENA countries, with much smaller populations, each represent 5 percent of ad spend or less.
The slight decline in MENA country ad spend is tied to weaker print media sectors. Print media content is often country-specific in nature, and has therefore attracted little Pan-Arab ad spend. The same seems to be true for radio, outdoor, and cinema.
While MENA's advertising industry is following the global advertising market in terms of its structure, it is several years behind in sophistication. A number of emerging advertising trends and innovative technologies that are in place in the advertising industry across the world have yet to take hold to the same degree in the MENA region. This is particularly true for digital services.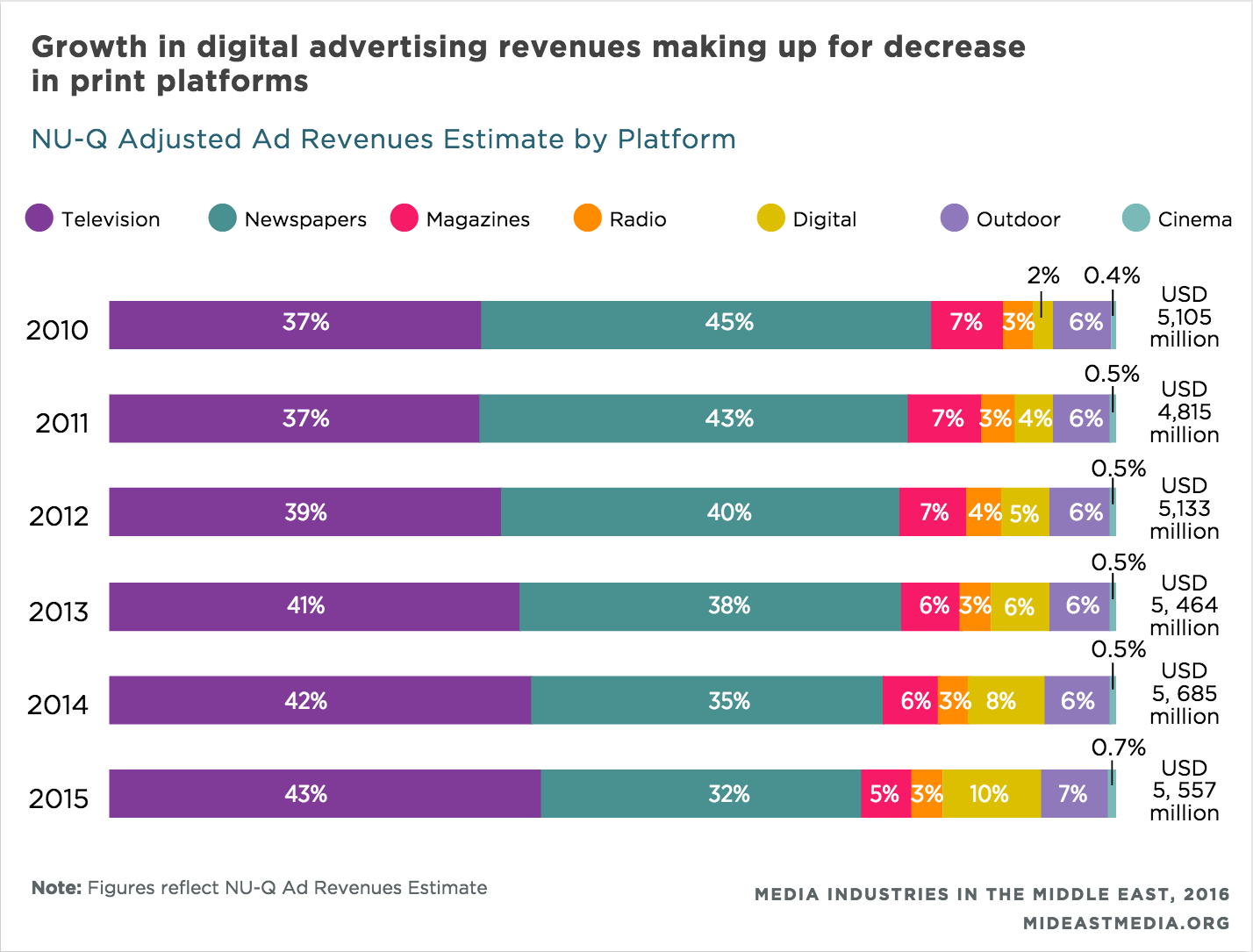 The application of data adoption and automation trends to new automated advertising techniques is a good example of this. Globally, data adoption is increasing significantly, with programmatic buying (defined as digital ad space bought and sold via a computerized online auction – an effective way of distributing highly targeted ads) becoming increasingly widespread (42 percent of global display-related spend) and providing agencies with more precise and insightful measurement tools to gauge ad effectiveness.
While ad agencies and MBUs are slowly adopting more sophisticated measurement and data systems in the region, programmatic is still limited at 15–20 percent of digital ad spend, which remains behind Western markets. Still, MBUs are further along than ad agencies. Programmatic buying requires a large investment and has a steep learning curve. Additionally, there is a lack of specialized talent in the region, though some regional agencies specializing in programmatic buying have emerged, and large multinational agencies have begun acquiring them (such as Publicis' acquisition of LBi) to gain market share and local competencies.
Across the world, mobile has increasingly become the first screen of interaction (40.2 percent of digital media spend in 2015) and agencies are redesigning campaigns to cater to this form of distribution. In MENA, despite very high smartphone usage, especially in the GCC, the region has been slow to adopt mobile-specific ads. Mobile spend remains at around 20 percent of digital ad revenues, a small share compared to its potential reach. Industry practitioners estimate that no more than 6 percent of total ad spend is dedicated to mobile platforms, even though 70 percent of ads viewed are on mobile. Meanwhile, marketers in the U.S. are allocating more than 50 percent spend on mobile versus on desktop.
A majority of industry revenue will likely continue to come from traditional media (newspapers and TV were 14 percent and 39 percent of global ad spend in 2014, respectively) with business models adapting to the changing landscape. In the Middle East, newspapers and TV continue to be extremely popular, more so than in the West, especially among government clients; newspapers and TV collected 31 percent and 51 percent of MENA ad spend in 2014, respectively.
The region also lags in non-advertising forms of marketing, such as brand content, product placement, sponsorship, and native advertising (estimated at 5 percent of marketers' spending in 2015). In the region, native advertising and brand content are only beginning to be adopted, and the market is nascent (less than 5 percent of the digital market).
Globally, native advertising, using brand-sponsored content on media platforms, typically, but not exclusively, on news sites is emerging as an important new revenue source (already 14.7 percent of digital spend in the U.K.). However, its uptake in the region has been slow and still makes up a negligible portion of digital revenue. Clients in the region have typically viewed the shift to digital advertising as simply moving traditional banner ads onto a website, without considering additional options digital platforms provide. The current native ad spend in MENA is estimated by experts to be 7 percent of digital spend at most.
Integration of ad campaigns in the region is also limited, with a stubborn focus on look-alike ads, rather than those utilizing strategic benefits of different platforms. The region is still behind in multi-platform campaigns, but ads in the region are increasingly run across multiple channels. The platforms used vary depending on the campaign and the client, but most large campaigns incorporate at least some digital components. The level of integration within these campaigns is often limited. For the most part, "integrated" campaigns are still primarily created to "make everything look the same" rather than "make everything work towards the same goal."
The Move From Audience Attention to Audience Involvement
By Ilhem Allagui
Associate Professor-in-Residence, Journalism Program
Northwestern University in Qatar
Understanding how agencies buy media today is not simple. It is certainly not as simple as it was before the rise of digital advertising. Agencies have challenges when considering media choices, as measurement is increasingly difficult to trust – more than 35 percent of all traffic on the web is considered fake, more than 30 percent of all online ads are unseen, and about 20 percent of all users have installed ad-blocking software. This also extends to television, as about 90 percent of those who own digital video recorders (DVR) skip ads. The Arab region is no exception.
Advertisers are moving from paid attention to paid involvement, which allows for more precise measurement. Theories in psychology have shown that involvement enables the alignment of thoughts and feelings, hence interactive advertising leads to favorable actions toward brands. Interactive advertising enables earned media that occurs when people share content peer-to-peer. Advertisers may also refer to influencers for positive evocation. These influencers, usually bloggers, have no rate cards and are paid based on their popularity and reach. Most popular Arab influencers are based in the GCC, but also in Egypt and Lebanon, and offer both ad attention and content integration. The industry has witnessed a surge in influencers, particularly for fast-moving consumer goods (FMCG) and fashion and luxury industries, where the amount spent on advertising with influencers reaches an average of about 20 percent of the total digital spend in the region. In other industries such as automotive, the share of the digital ad spend can go up to 10 percent. As ad spend has increased in Pan-Arab markets, brands in MENA increasingly use and spend on influencers in Egypt and Saudi Arabia to take advantage of their reach in large markets.
Social media represent another strand that has influenced the apparatus of advertising. In countries such as Saudi Arabia and Qatar, brands attract a disproportionate number of followers to their social media channels. In Qatar, for instance, among the popular social media platforms that users liked or accessed, more than 40 percent are those of brands. Social media have created conversations and relationships between people and brands like never before, but they can be difficult to grasp due to so-called "dark" social that accounts for more than 50 percent of social shares, and that adds to the multimodal complexity of media research.